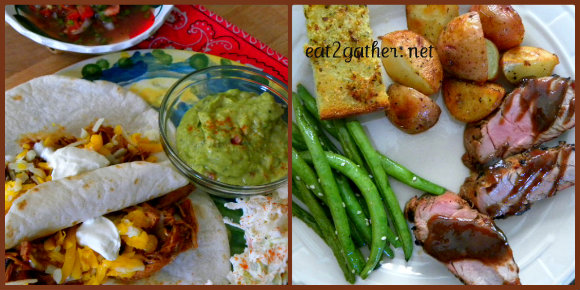 I love Summer!  I love having my kiddos home from school.  But I have to admit, the beginning of Summer is a  bit like child birth.  (If you home school then this may not resonate with you, or maybe it will.)  I look so forward to having the kids home, I can't wait, I anticipate it, I plan for it, and then when school is finally out and they are home all day everyday.  IT HURTS!  No schedule!  Eating around the clock!  Wet bathing suits everywhere.  No one wanting to do the same thing, everyone going in opposite directions. Stretching my patience, no time to myself,  Ow-Weeee….Hep meh………..I want an epi-DUR-ale!!!
But then I fall into the routine of chaos, and the pain lessons, and I have a few more cocktails than usual, and life is good!  I'm beyond thankful to be able to stay home with my four kiddos, to cart them hither and yon, to cook round the clock.  It may sound like they are spoiled rotten….which in all reality they are, but they do have chores, (most of which they do not get paid for, it's just part of being on the team), and I do on occasion say NO!  The kitchen is closed, the chauffeur is off duty, but not too often.
During school I need to get creative, about getting dinner on the table because my kids are so busy with sports and different schedules, and then come Summer I need to get creative so I'm not cooking non-stop.  I try to cook meals that I can eeak 2 or three meals out of one.  Pork tenderloin is so versatile.   So here's how you can can squeeze two easy meals (plus a lunch if you have left overs from the second meal) out of 4 pounds of Pork Tenderloin.  I purchased mine at Costco, paid around $18 for 4+ pounds.  I'd say that's alot of eating for a family of 6, for under $20!
Plum & Soy Pork Tenderloin is super easy.  If you are having
guest over, this meal would really impress and take hardly anytime at all to make!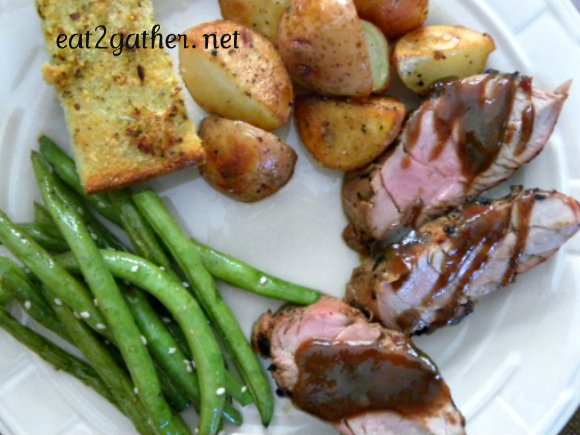 [print_this]
Plum and Soy Grilled Pork Tenderloin
4 pounds Pork Tenderloin
1/2 cup Plum Preserves (any brand is fine)
1/2 cup Soy Sauce
1/2 teaspoon Allspice
1/4 teaspoon Ancho Chili Powder
Whisk the plum preserves, soy sauce, allspice, and ancho chili powder together. Place tenderloin in a Zip-loc bag, pour marinade over pork. Let meat marinade for at least one hour. If you like you can marinade this over night. (You can also throw it in the freezer to have on hand for a later date.) When ready to cook, fire up the grill, and grill to your liking. Take the marinade left in the Zip-loc bag pour it into a sauce pan and bring to a boil for 10 minutes, until sauce becomes thick. Pour over meat just before you serve it.  Voila, #1 quick easy meal!
NOTE: My family of six consumed just under 2 pounds of this pork tenderloin, I put the leftovers in the refrigerator to be cooked in the crock pot with a few additions for Pulled Pork Tacos the next day.
[/print_this]
Pulled Pork Tacos are one of my families favorite meals, there are rarely leftovers, but if there are the get gobbled up at lunch the next day. This would also be a great casual meal to serve when having friends over!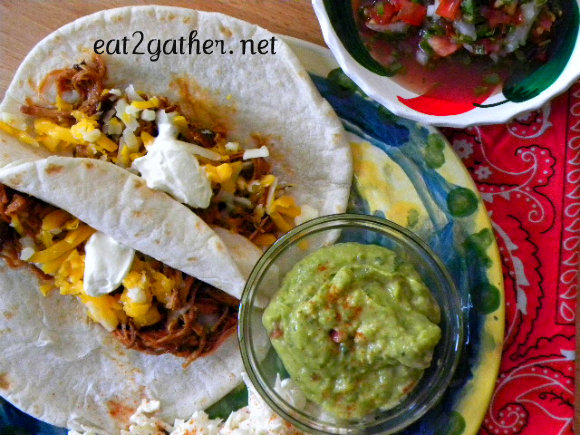 [print_this]
Pulled Pork Tacos
1 7 1/2 ounce can of El Pato Tomato Sauce
1 can full of Barbecue Sauce
Leftover Pork Tenderloin
Open El Pato tomato sauce and empty into crock pot, fill can with your favorite barbecue sauce mix with tomato sauce, place leftover pork tenderloin in crock pot, turn meat around so that sauce coats it. Turn crock pot on high and cook for 3 hours, or until meat is easily shredded with with a fork.
Turn crock pot down to warm until you are ready to eat. Serve with your favorite fixin's. We like pica de galo, guacamole, sour cream, and Oh! of course shredded cheese! I served it with a side of cole slaw. I also like to pile cole slaw on top of my taco's.
[/print_this]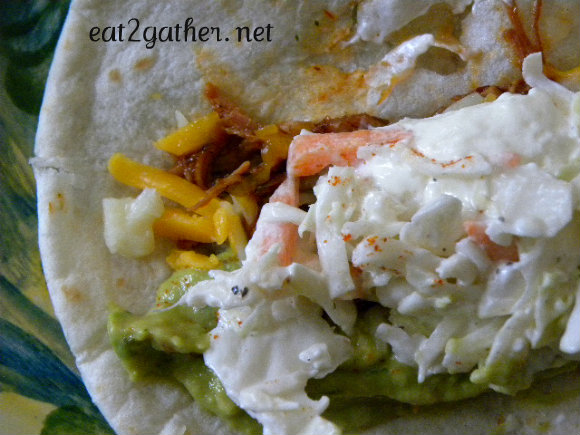 I don't know what your weather is like this Summer, but here in the Mitten it is hot and dry.  It rained for about 10 minutes this morning, but I don't even think the ground got wet the water evaporated before it made it to the earth!!!
I hope my 2 meals in 1 helps you have more chill time and less kitchen time.
Enjoy! Sheila