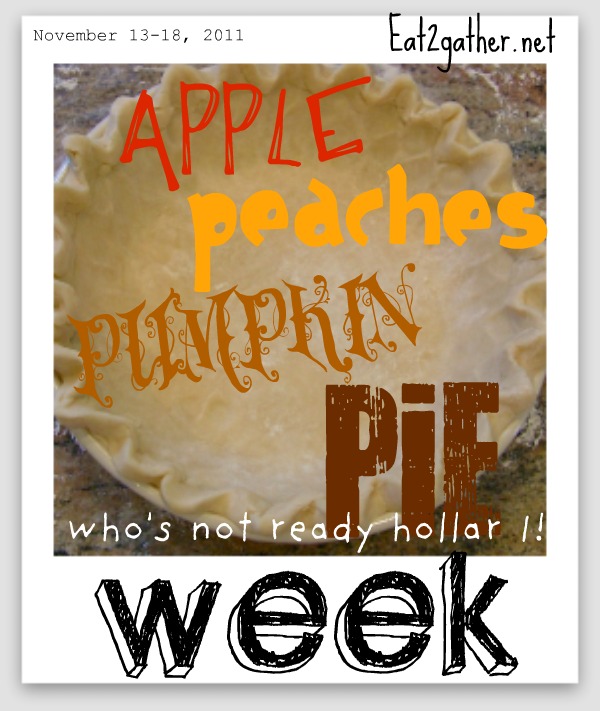 GET READY next week it's going to be everything PIE around here!  Have you been thinking about all the scrumptiously yummy pie you're going to stuff in your pie hole on Thanksgiving Day?  You sure will be if you hang around these parts very long! Have I told you that I LOVE PIE?  I love eating it and baking it.  Come on….Seriously…what's not to love about pie?!
Tidy Mom is also getting us in the PiEmode, on Wednesday the 16th she is hosting the 3rd annual LOVE the PIE Party!

What is a Love the Pie party? Head on over to Tidy Mom and find out!  Pie Partay!  WoooHoo!
I hate to even think about it….but if you are a person who does not love pie….well then I challenge you to say that after next week.  I promise I will make a PIE LOVER out of you!!!
Do you love pie like I love pie? Are we pie soulmates, when you look at the sun do you see Lemon Meringue Pie,  when you see a circle do you think about how many pieces of pie you could cut out of it, do you eat pie for breakfast? Pie for lunch…pie for dinner?  Do you call your mouth a Pie Hole? If you do all these things…you may indeed love pie as much as I do!
WHAT is your favorite flavor? Fruit pies, cream pies, custard pies, toll house cookie pies, nutty pies, nutty creamy pies……do tell!
I hope you have a great day I'm going to put on the polka music and make a few pies!
Apple, peaches, pumpkin pie who's not ready hollar I!
That's the game we used to play…Heh!