This Summer I made the most delectable discovery ever.  The Cheese Lady. Oh my heavens to Betsy, how on earth I hadn't found her until now is beyond me!  But with a little help from my friends I did.  I luv me some cheese.  You really truly have no idea how much I love cheese.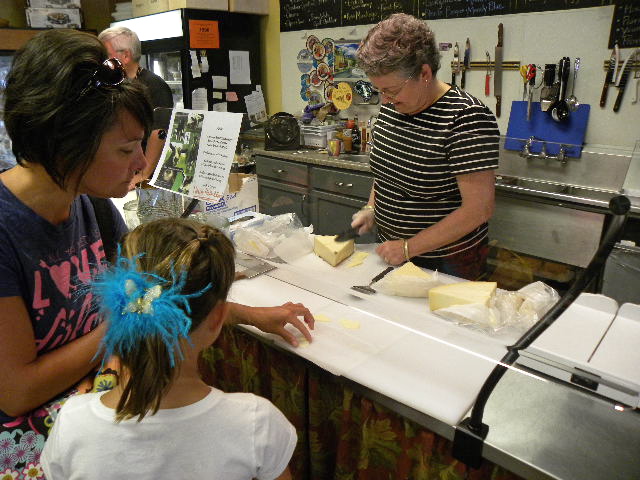 All of it! No cheese is too stinky, too blue, too firm, or too soft.
As a matter a fact I think I should add this to the list of T-shirts I need to create.  "I LUV me some Cheese".
The Cheese Lady can be found at the Farmers Market in Muskegon or at her shop also in Muskegon.  She carries cheeses from all over the world.  The best part is you can try before you buy!  Kathleen and her staff are so knowledgeable about all things cheese.  They will tell you what time of year the cheese was made, what the cow, sheep, or goat ate.  Why it tastes like the sea.  Seriously, if you are in the West Michigan area hop in your car and take yourself on a little Cheese Field Trip to The Cheese Lady's shop!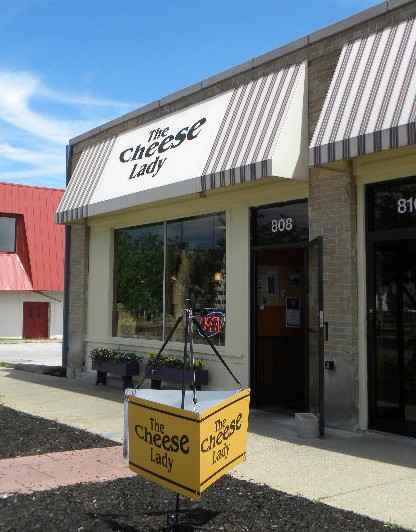 808 Terrace Street/Muskegon, Mi/1-231-728-300
Kenny and I spent a weekend at Lake Michigan with a group of friends, all cheese lovers….I might add, so I thought it was a must that we have a cheese platter for the weekend.  I headed on out to visit Kathleen, and she shared with me all the tricks of putting together the perfect cheese platter.  So I thought I would share them with you!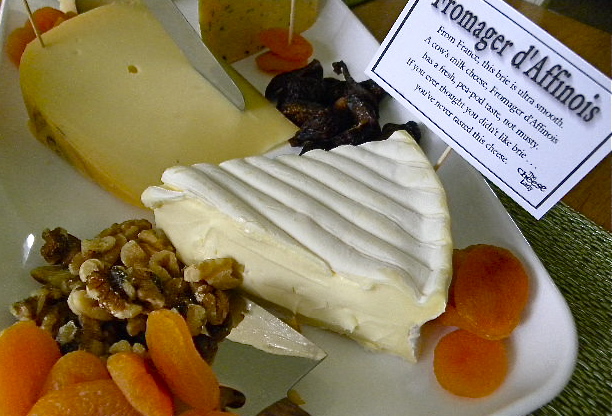 After you read Cheese Platter 101, see if you can tell me what I did wrong on this platter.
[print_this]
Cheese Platter 101
What to consider:
~How many people are you serving?
~What time of day, and for how long will the cheese platter be out?
~How much other food will there be?
~Are there any must have's or have nots?  (There are no have nots on my platter.)
After you have taken all of the above questions into consideration then you may determine the following needs.
Quantity:
~If you are serving your cheese platter as an hors d'oeuvre you will need 2-3 ounces of cheese per person.
~If you cheese platter will be served as an after dinner cheese course you can figure 1-1 1/2 ounces of cheese per person.
~If the cheese platter is the centerpiece, of your party, you will need three to five cheeses.  Depending on the time of day, because closer to mealtime means dinner to some, plan on 4+ ounces of cheese per person. (6-10 if I'm at your party!)
Choosing your Cheese:
The Cheese Lady says there are no wrongs when it comes to cheeses.  I tend to be a believer in this advise as well!  It may seem really intimidating, especially if you find yourself at a store with a wonderful cheese selection.
Here are a few things to keep in mind that will hopefully keep you on track:
~Choose one cheese made with each type of milk. Cow, goat, and sheep's milk.  (If you think you are not a lover of goat cheese you need to visit explore the world of goat cheese there are so many varieties, textures, and flavors it will blow your mind.)
~You could do a tray that is made up of cheeses with just one type of milk.  For example a Sheep's Milk Cheese Tray.  What a great way to try all the styles of cheese within one milk category.
~A platter make up of different cheeses within the same family of cheeses might be fun.  Examples of this would be three or four styles of soft ripened cheeses, or you could select a few distinct styles of blue cheese (This is one I would love to try!).  Doing a cheese platter this way would help you learn how similar cheeses can differ in flavor.
~Choose cheeses with different textures.  Soft and creamy such as a Brie; a firmer style cheese such as a cheddar, gouda, or Gruyere; and a hard grating-style cheese like  Parmigiano-Reggiano.
Arranging your Cheese Platter
Make this fun.  Add your own personality to your presentation.  Here you will find there also is no right or wrong way to arrange your platter just a few loose guidelines that will help your guest enjoy the cheese to the fullest.
~ Serve the cheeses either on a platter or board, more than one if needed.  Never crowd your cheese platter.  (In my cheese enthusiasm I broke this rule guideline.)  The reason for not over crowding your cheese is to give people room for partaking in the cheese with out, bumping into each other and the other cheeses on the tray.
~Each cheese should have it's own knife.  They don't need to be fancy.  I once put Ikea plastic  knives out with my cheese.  Hey, it was colorful!
~Use signage for your cheese.  If you get your cheese from The Cheese Lady she will give you cute little label/signs to poke in your cheese.  My sweet Seestor bought me some very useful porcelain signs that I can re-use.  I can write on them poke them in the cheese, wash, and repeat!  Letting your guests know exactly what they are eating makes the tasting more fun. (I have also written on cut out pieces of poster board, taped a toothpick to it with scotch tape and Voila…..cheese signage!)
~I sprinkle walnuts, dried fruit, and cut up fresh Granny Smith Apples around on my platters.  I also like to buy some sort of delicious Quince or Fig Spread to accompany my cheeses.
~Slices of baguette or crackers should be served in a separate basket or bowl.  Kathleen (the Cheese Lady) suggests you stick to plain bread and neutral crackers.  Flavored breads/crackers can overwhelm the flavors of the cheeses.  Exceptions to this rule: breads containing walnuts, dried fruit or olives, these are all great with cheese.
Serving Cheese:
*Serve cheese at room temperature.  To do this, take the cheeses out of the fridge at least one hour ahead of time.
*Serve before-dinner cheeses with relatively savory accompaniments such as olives prosciutto, nuts and/or chutney.
*Serve after-dinner cheeses with sweet accompaniments such as jams, honey, dried fruit,and toasted nuts.
[/print_this]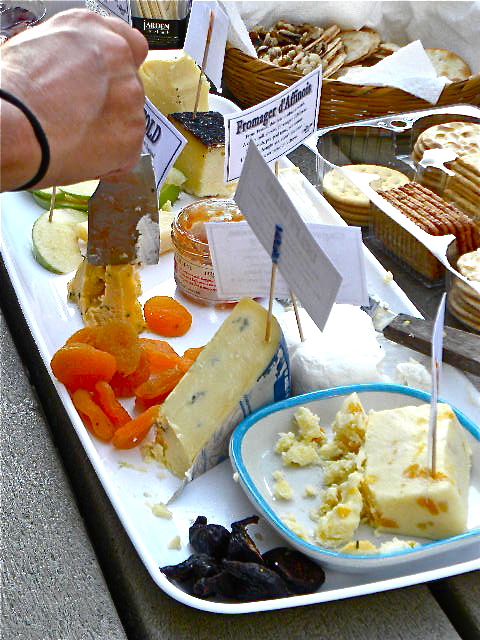 Ok what did I do wrong? My error didn't keep people from eating the cheese, but if I would have payed closer attention to Kathleens advise it would have made the cheese eating more pleasant for my guests.
I hope this is helpful in your pursuit of the perfect cheese platter.  Pour yourself a glass of Vino and enjoy!
Cheers!
Sheila