Pie of the Month: Key Lime Pie
As you know we are vacationing in Flor-eee-da, so I thought I would share with you one of my husbands favorite pies, Key Lime.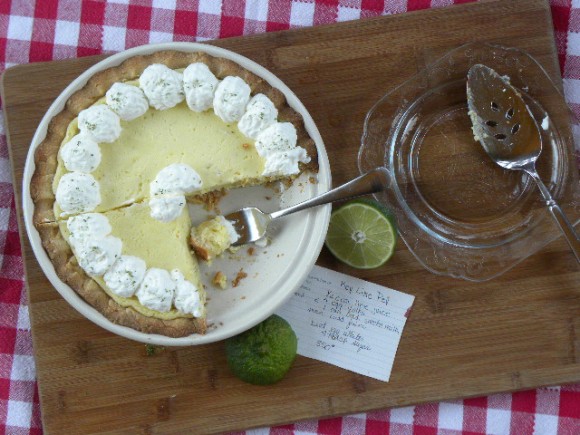 My Grandparents moved to Florida when I was 14  My mom moved there to be closer to them about 16 years ago. My Grandma was given this recipe from a Floridian and has been making it for years. I think it's a requirement or something if you live in Florida you must learn to make Key Lime Pie. What ever the case, my grandma can make a mean pie. Actually in her prime she could make any pie pretty mean…or I mean, ah shoot you know what I mean!
Unfortunately, my Grandmother has lost her sight to macular degeneration, in the last two years, so her pie making days are sadly over. I am more than thankful and extremely blessed that she passed her pie making skills down to me. My husband used to beg her to make this pie when we would visit her, and also when she would come to visit us. That's why I call it Kenny's Favorite Key Lime Pie. He always tries to order it in restaurants, I'm not sure why, because he always has the same response, "It's not as good as your Grandma's.".
The crazy thing about this recipe is it's so easy! Basically 4 ingredients…plus the crust…and the whip topping, it's really easy. I hope you agree with my husband, it's delicious!
The crust that I make is a short bread cookie crust, with a titch of lime.  My Grandmother made hers either with a pastry crust or a graham cracker crust, which are both delicious.  I think the short bread crust holds up better, it doesn't get soggy if you don't eat right away, or if you want to make a day ahead….it's perfect for that!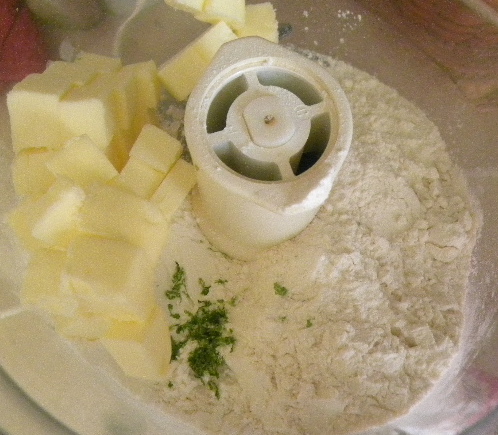 Add 1 cup Flour, 1/2 cup Powdered Sugar, 1 stick Butter, and 1/4 teaspoon Lime Zest to food processor.  This step can also be done by hand with a pastry cutter.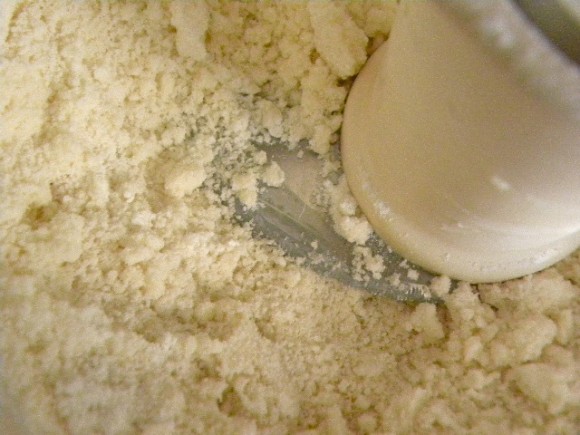 Pulse until ingredients look like this.  Set this aside and get out the limeys.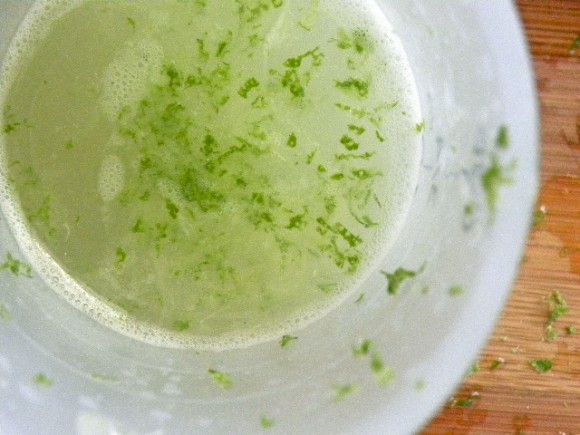 You can use bottled lime juice or fresh squeezed.  Juice 2 limes and add the zest of half a lime.  You will need 1/2 cup lime juice for the pie, plus 1-2 teaspoons for the crust.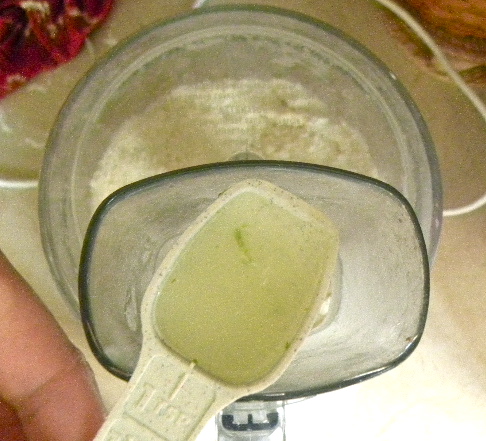 Now back to the crust, add in 1-2 teaspoons of the lime juice, give food processor a couple pulses.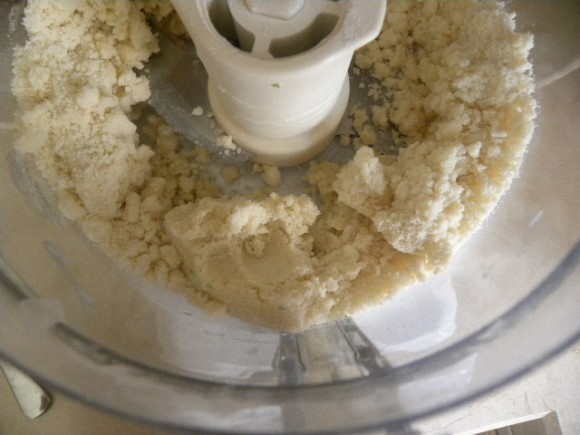 Just enough liquid, so that if you pinch dough it will hold together, but it should still be a bit crumbly.  Now get out your pie plate and give it a light spray with non-stick cooking spray….don't forget this step, I did and that is why you will not see a picture of a slice of pie in this post…because although this pie tasted scrumptious, I could not remove it prettily from the pie plate it was a disaster.  So do not forget to spray pie plate!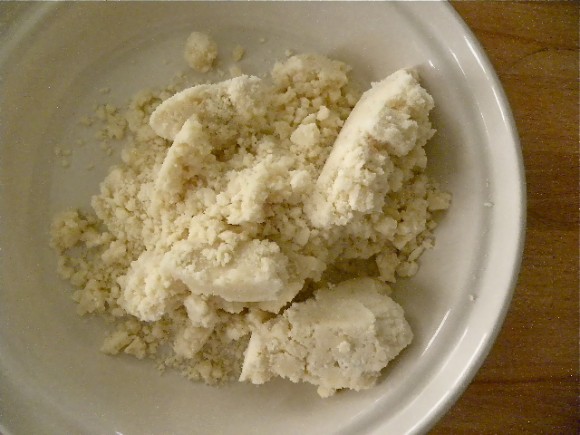 (spray dish with non-stick spray) Dump shortbread crust in pie plate, and turn your oven on 350 degrees to preheat.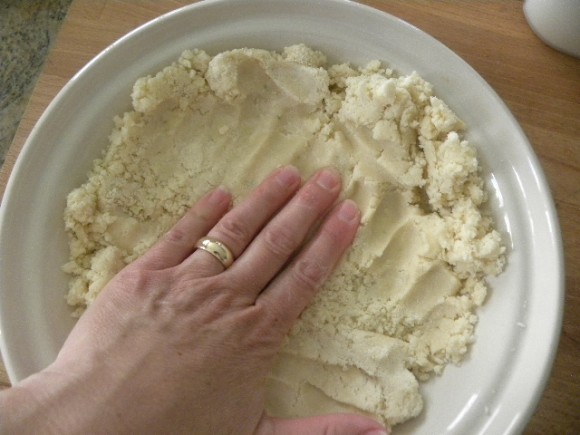 Using your phalanges press the dough into the pie plate…making sure that you get it evenly dispersed.  You don't want thin or thick spots of crust.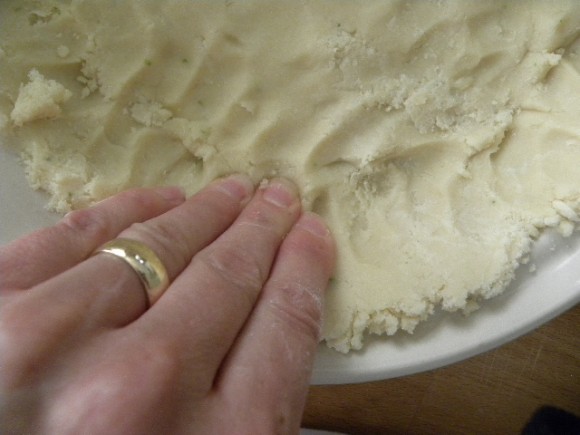 Press it up the sides of the pie plate.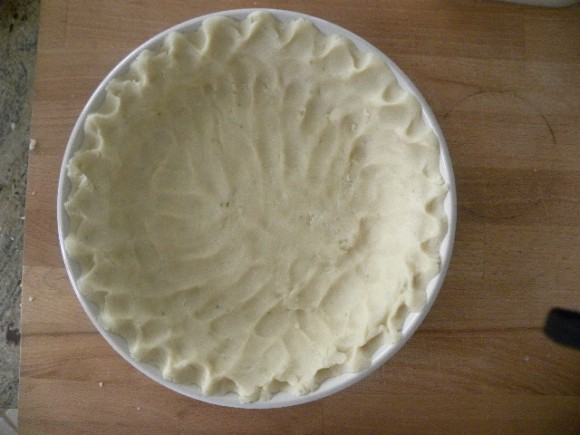 Until it looks somewhat like this.   Pop it in the oven and bake for 12-15 minutes.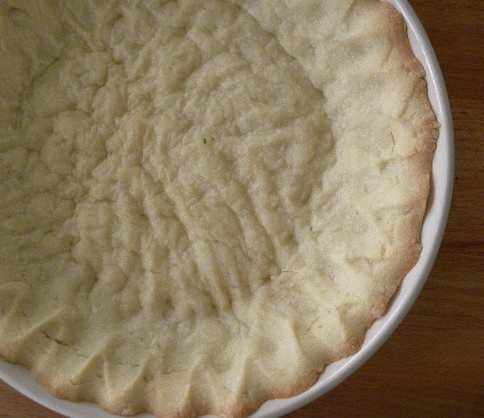 Remove and let cool slightly.  While crust is cooling, slightly, you can whip up the Key Lime filling.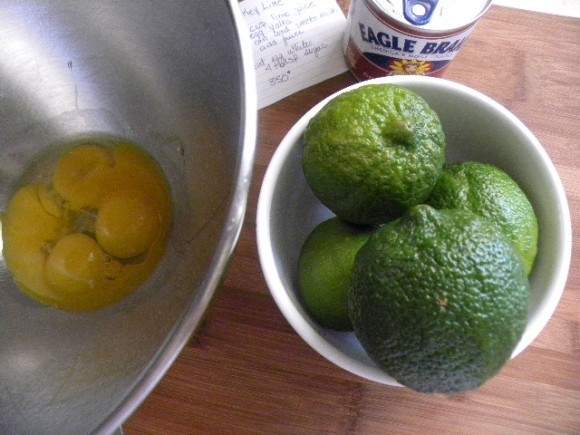 This is it: 4 Egg Yolks, 1 can of Sweetened Condensed Milk, and 1/2 cup Lime Juice!  Easy peasy.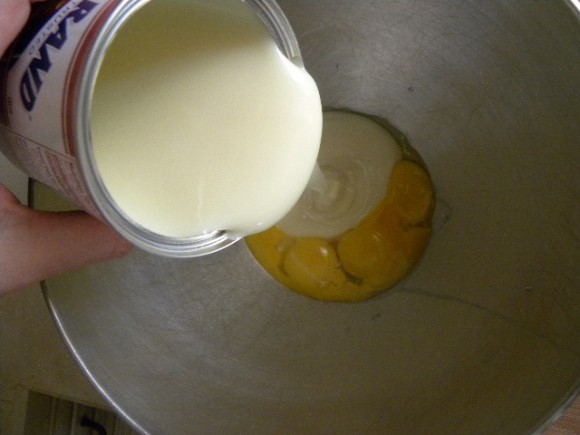 Separate 4 Egg Yolks, add them to mixer with 1 can Sweetened Condensed Milk.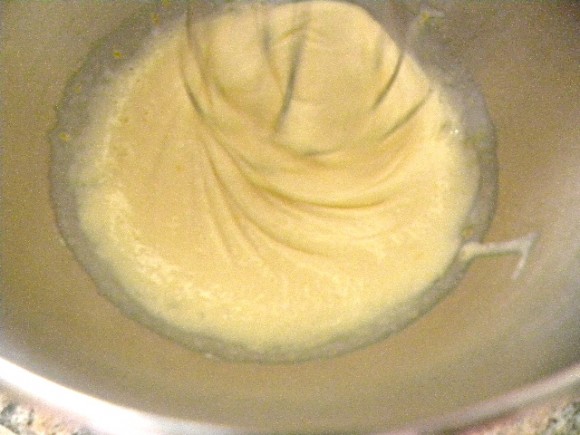 Turn mixer on medium-high speed for 3 minutes.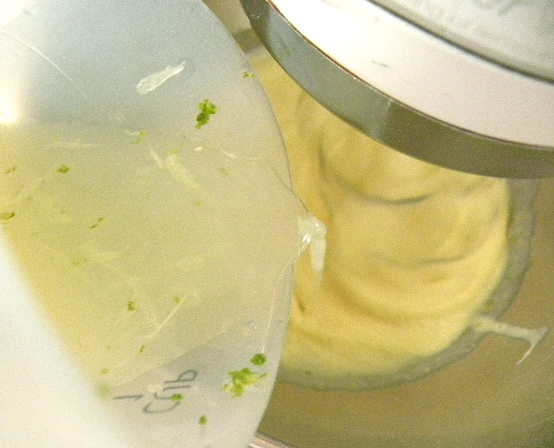 Slowly add in 1/2 cup Lime Juice, continue to whip on medium to high speed for 5 minutes, until light and fluffy.  I think the key to giving this pie a light and fluffy texture is to whip the dickens out of it, don't be afraid to "whip it good"!  That's a song, isn't it?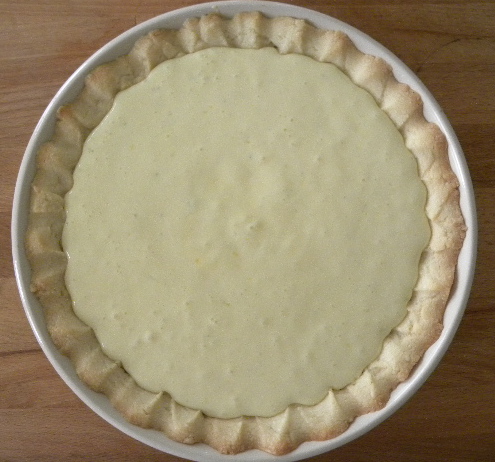 Poor into pre-baked shortbread crust, or if you prefer a graham cracker or pastry crust. Cover with foil, so crust doesn't get too brown, then bake for 30 minutes.  Remove from oven and let cool completely.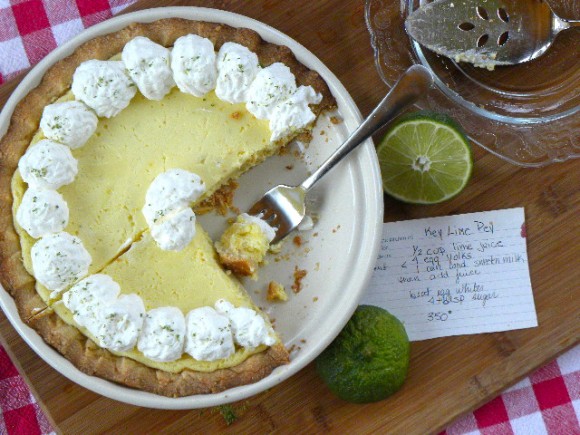 Garnish with Whipped Cream and a sprinkle of Lime Zest, serve immediately or refrigerate for up to 1 day.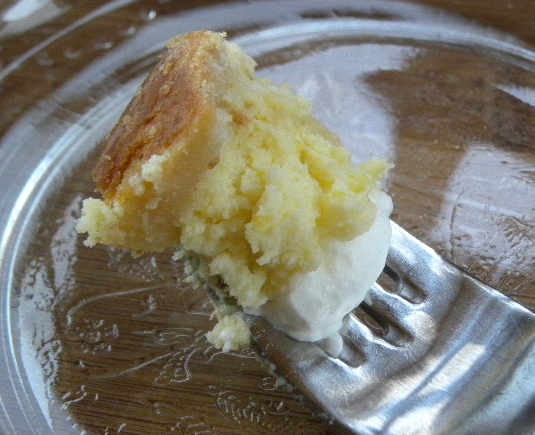 This Key Lime Pie has almost a cheesecake texture, but it isn't heavy or dense if that makes sense.  It's light, and refreshing.  The tartness of the lime  in combination with the sweetness of the cookie crust will make your taste buds do the happy dance!  Nothing brightens up your day like a sunny serving of Key Lime Pie!
[print_this]
Kenny's Favorite Key Lime Pie
Crust:
1 cup Flour
1/4 cup Powdered Sugar
1 stick Butter
1/4 teaspoon Lime Zest
1-2 teaspoons Lime Juice
Combine flour,sugar, and lime zest, cut butter into dry ingredients until completely incorporated and crumbly. Drizzle lime juice into dry ingredients. Dough should be crumbly but hold together when you pinch it. Dump into 9″pie plate and press into bottom and up the sides. Bake in a 350 degree oven for 12-15 minutes. Remove and make filling.
Filling:
4 Eggs Yolks
1 can Sweetened Condensed Milk
1/2 cup Lime Juice (2-3 limes juiced)+ zest of 1/2 lime
Separate eggs, add yolks to mixing bowl with sweetened condensed milk, mix on medium high speed for 3 minutes, gradually add lime juice, continue to mix for another 5 minutes until light and fluffy. Pour into pre-baked shortbread cookie crust. Bake in a 350 degree oven for 25-30 minutes or until set, no jiggles. Cover with foil if you are afraid of your crust becoming too brown.
Whipped Topping
1 cup Heavy Whipping Cream
2 tablespoons Sugar
Whip until forms peaks. If you have a decorating bag you can pipe it on your pie. Or you can use a Zip-loc bag and snip the corner, this works great for piping. Or of course you can pile it high, and cover the whole pie surface with whip topping this always is a good idea!
[/print_this]

Are you on Spring Break right now? Or have you already been there done that? Or quite possibly you don't have school age children and so you are like who care about Spring Break. Ok, so just tell me if you would….for kicks and grins, where was your last vacation spent?
I'd love to know!
Sheila