Hello! If you are new to Meals 4 Sharing Fridays, let me just show you around quick.
I love to feed people, and I love to hear what others like to feed their people,
so Meals 4 Sharing Fridays was created after I wrote 31 Days of Meals 4 Sharing back
in October, to carry on the spirit of loving others through the gift of food!
Please feel free to LINK-UP your favorites below or share them in the COMMENTS.
I decided I might as well keep going with the Pioneer Woman theme this week.  After reading everyones PW favorites, I have to say many of your favorites are mine too, but not many people, as I thought,  mentioned Ree's Spicy Dr. Pepper Shredded Pork.  This recipe is in my top 10 recipes for sharing.  It's extremely easy.  This recipe took me less than 5 minutes to throw (quite literally throw) together, pop in the oven and forget about it for the entire day. Dr Pepper Spicy Pork is always a crowd favorite.  This recipe yields a generous amount of pulled pork, which I love because this means leftovers!   Invite  friends and family over and send them home with yum yums for the next day.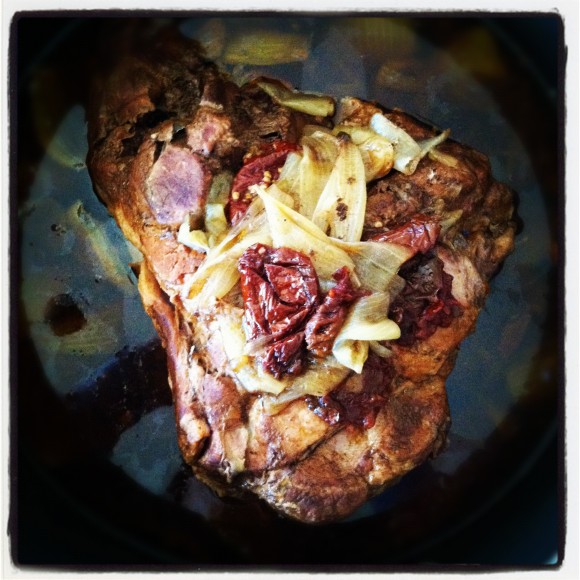 I'm not one to push food on people, but well I take that back…I am one to push food off on people.  I always have containers on hand, so I can fill them up and send my peeps home with food for the next day.  I do admit, sometimes I feel selfish, like I just want it all for myself, but I'm telling you this Dr. Pepper Shredded Pork from The Pioneer Woman's website is a meal you must share.  I have even doubled this recipe so I have enough to freeze and pull out for a quick meal on those crazy busy days.
Are you a food pusher? Do you offer to send leftovers home with your guest?
This recipe is so versatile.  It can be used for tacos, sandwiches, burritos, enchiladas, quesadilla, top a taco salad with it, or a pizza, the list goes on and on.  Did I mention using the leftovers for a TDF Breakfast Hash with potatoes and peppers.  Heaven help us!  So good. (Promise to share recipe soon.)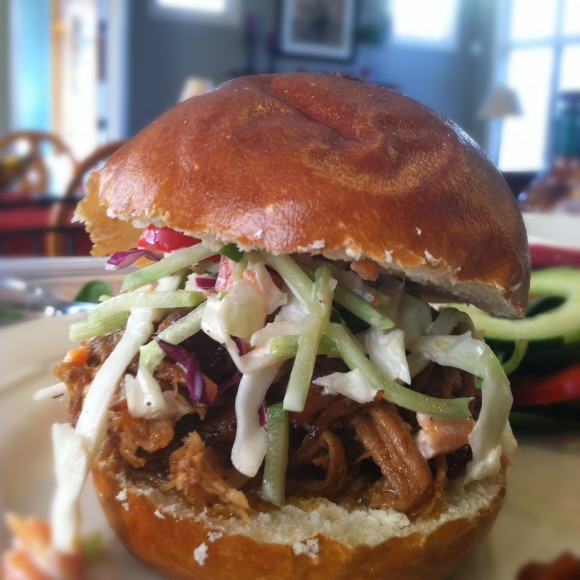 Wednesday night it was my daughters last basketball game, so we had Grandpa over for dinner afterward.  I had thrown the pork shoulder in the oven that morning, and later in the day I whipped up my Spicy Ginger Coleslaw, and baked beans.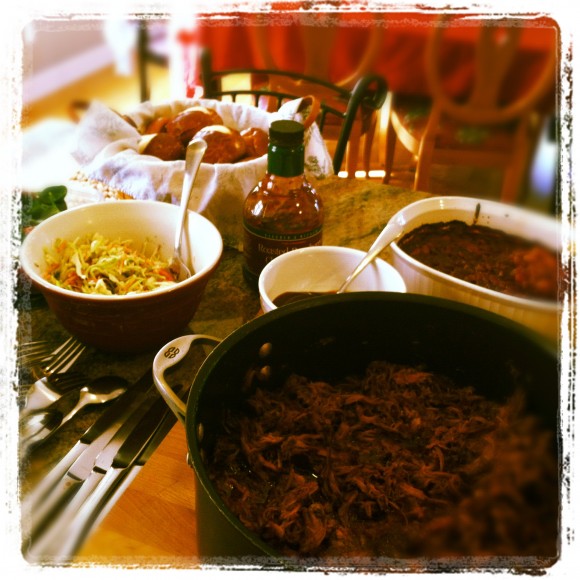 We quite often eat our dinner buffet style.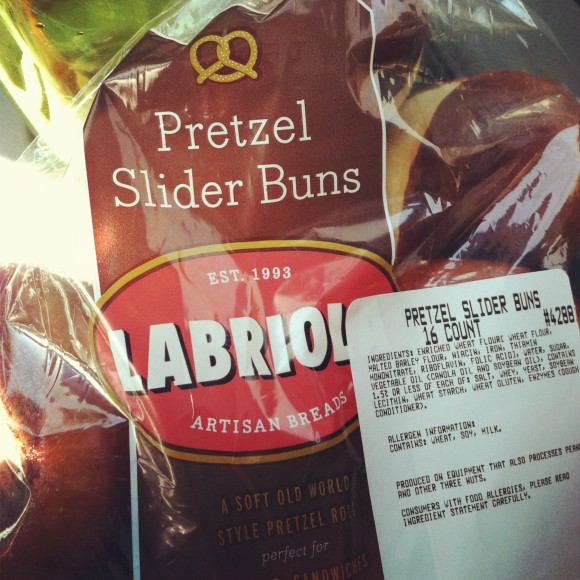 Have you seen these Pretzel Slider Buns from  Labriola?  I found them at Costco.  I ripped the bag open in the car on the way home, and ate one.  Forgive me, I have no self control.  I do live a whole 2 miles from Costco.  That's a long drive with these babies sitting in the seat next to you!
I am also a fan of Ree's Cinnamon Rolls, and Chocolate Sheet Cake and many others, but I think this shredded pork recipes is my favorite.  I agree with many of you it's hard to pick, but it ya'll had a gun to my head I would  say Spicy Dr. Pepper Shredded Pork.  The funny thing is I don't even like Dr. Pepper…yuck pooey..taste like medicine to me, but it redeems itself in the recipe.
You can go here for  Ree's Spicy Dr. Pepper Shredded Pork recipe.  And below is my Spicy Ginger Coleslaw recipe that taste marvelous piled on top of the pork in a pulled pork sammy. (as seen above, wink)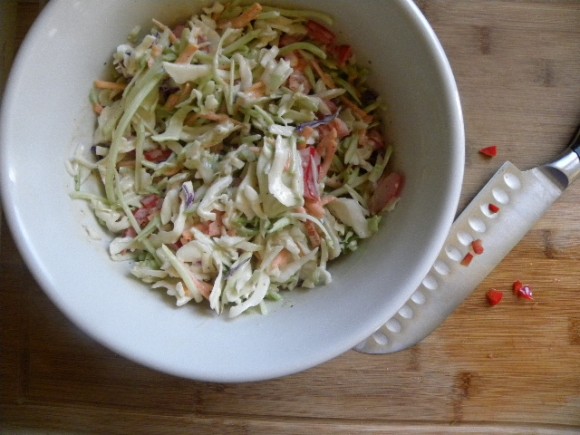 [print_this]
Spicy Ginger Coleslaw
1 14 ounce bag Coleslaw
1/2 Red Bell Pepper, sliced thin
1 cup or half a bag, Matchstick Carrots
1 Granny Smith Apple, shredded (optional)
1 tablespoon fresh Ginger grated
1 cup Mayonnaise
1 tablespoon Apple Cider Vinegar
1 tablespoon Sugar, more if you like your slaw sweeter
1/2 teaspoon Morton's natures Seasonings Salt
1/8 teaspoon Cayenne Pepper, more or less per your taste
1/2 teaspoon Coleman's Mustard Powder
salt and fresh cracked pepper, to taste
-In a mixing bowl combine bag of coleslaw, matchstick carrots, shredded apple, and red bell pepper, toss to combine.
-In a smaller bowl or large measuring cup whisk together the mayonnaise, sugar, vinegar, seasoning salt, cayenne pepper, and mustard powder.
-Pour dressing over slaw mixture, fold until combined. Give it a taste add salt and pepper to your liking.
-Transfer to a serving bowl cover and refrigerate for at least 30 minutes before serving, to let the flavors mingle.
Note: Make this coleslaw your own…I will never know (wink). If you like spicy don't be afraid to add more cayenne pepper, or more sugar if you prefer a sweeter slaw. This slaw is amazing paired with these ribs.
Enjoy!
[/print_this]
So now it's time to let the SHARING begin!  Here's how……

1. Click on the Add link below then Add the permalink from your post.  Please do not link your websites homepage.
2. Select the photo you wish to link to your site and include the title of what you are sharing!
3. Create a link to Eat2gather.net within your post, to share all the great recipes with your readers.  Please feel free to grab my  blog button from the sidebar.  If you share the button on your sidebar or in your post I will hug you and kiss you!!  Well not literally, but maybe if I happen to run into you. (wink)
It's nice to share 🙂
Love,
Sheila