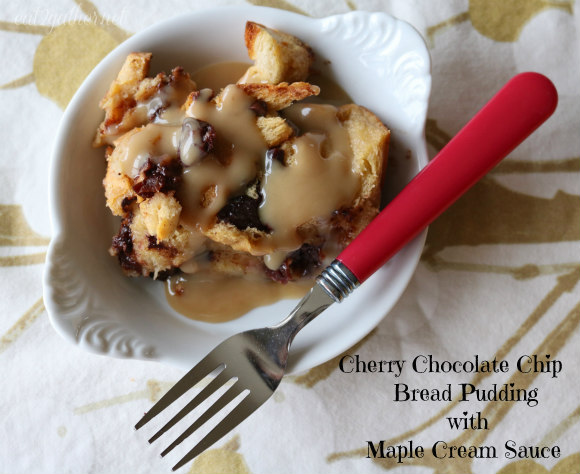 Oh boy are you sitting down?  You really should be sitting down for this one.  This dessert is so simple, yet perfectly sweet, beautiful, and tasty in every possible way.  Cherry Chocolate Chip Bread Pudding with Maple Cream Sauce, one word, heavenly!  One bite and your head is going to snap backwards, eyes to the heavens and you will no doubt make the loudest MMMM mmmm sound of your life.  No doubt, this will happen.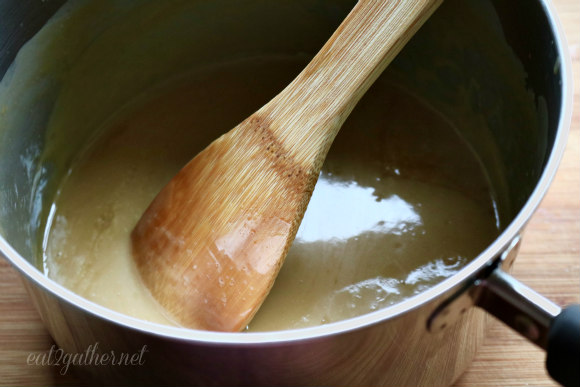 Over reacting?  Me? I never, ever over react, I do not exaggerate when it comes to food.  Life in general yes, I've been known to embellish.  Food.  Never.  Food is serious stuff people.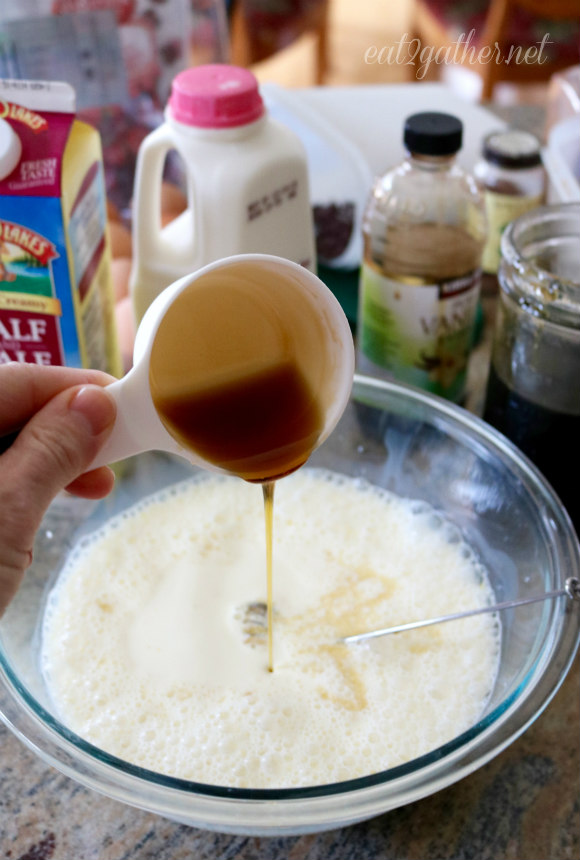 And this dessert needs to be made.  In your kitchen.  SOON!!  Indulge people.  The hour is nigh!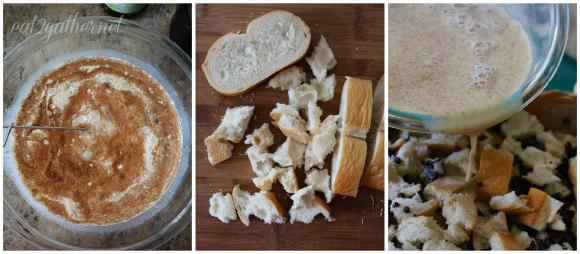 Go forth and maketh ye Cherry Chocolate Chip Bread Pudding with Maple Cream Sauce.  But be AWARE!  Not to be confused with beware.  Be aware, that your life will change.  As will your hips, thighs, jodpers, and the like.  It's all good, and well worth it.  I speaketh the truth!
Me thinkest the pilgrims hast taken over my speech.  LOL!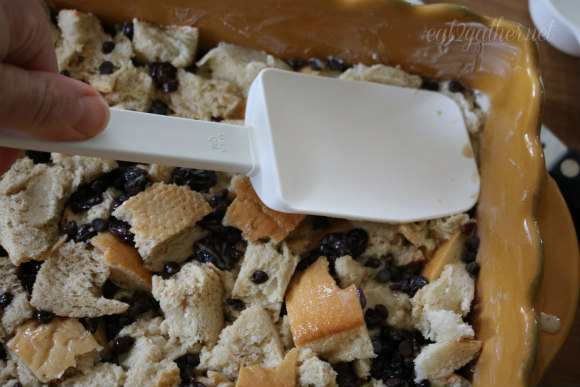 But seriously, I grew up eating bread pudding like it was no big deal.  It was something my mom made when the bread got dried out and she wanted to make a sweet treat for us.  Usually on Sunday night, we would have bread pudding with homemade chocolate sauce and we'd watch the Sunday night Disney movie or later on it was The Muppet Show.  Remember?  Remember Disney movies on Sunday night?  Where has that life gone?  I long for simpler days, sometimes, don't you?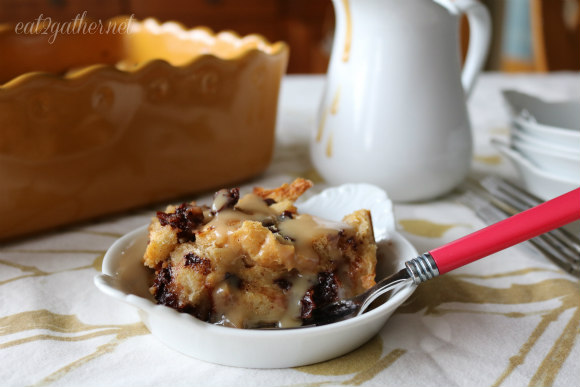 OK again I digress.  This recipe is so quick, easy and you most likely have everything you need on hand.  If you don't have mini chocolate chips, or dried cherries no worries leave them out or substitute chopped up chocolate chips and raisins, apricots, pecan, or use whatever our heart desires!  However, my mom never made this cream sauce.  Probably because it's bad.  Very. Very. Bad.  I seriously found myself drinking it out of the pan, scalding hot.  Dipping bread scraps in it.  Eating it like soup.  I became so obsessed with it, it  nearly ruined my life, for a minute.  Then my kids walked through the door and I snapped out of it.
Don't say I didn't warn you.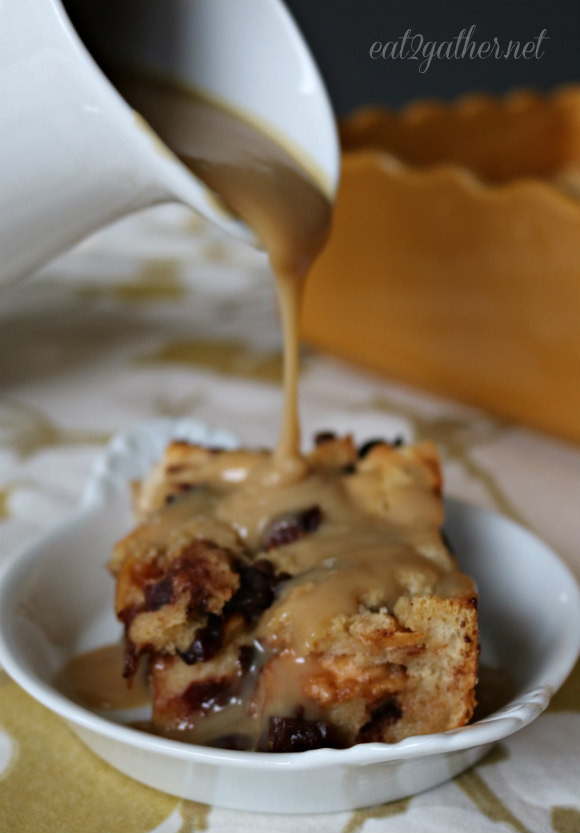 DO NOT be left alone with the sauce!
[print_this]
Cherry Chocolate Chip Bread Pudding with Maple Cream Sauce
serves 8
level: beginner/easy
kid friendly: absolutely!
prep time: 20 minutes
bake/cooking time: 45 minutes
2 cups Half and Half
2 whole Eggs
2 Egg Yolks
1/2 cup Brown Sugar
1/2 cup pure Maple Syrup
1 teaspoon Vanilla extract
1/2 teaspoon ground Cinnamon
1/4 teaspoon ground Nutmeg
1/2 cup chopped dried Cherries
1/4 cup + 1 tablespoon Mini Chocolate Chips
10 cups White Bread ripped into cubes or one 1 pound Italian Loaf
1 tablespoon Butter
Maple Cream Sauce
2 cups Heavy Whipping Cream
1/3 cup pure Maple Syrup
1/4 cup dark Karo Syrup
1/2 teaspoon Maple Extract
Preheat oven to 350 degrees, butter an 11×7 inch baking dish with 1 tablespoon butter.
1. In a bowl whisk together, half and half, eggs, syrup, sugar, spices, and vanilla until smooth. About 1 minute with whisk.
2. Tear bread into small pieces 1/2 inch to 1 inch and place in buttered baking dish.
3. Sprinkle dried cherries, and mini chocolate chips over bread cubes, and help them fall down in leaving a few peeking out the top. (Don't be tempted to add more chips. I'm all about an abundance of chocolate but this amount is really perfect. Trust me.)
4. Pour egg mixture over bread, evenly, and pressed bread into the egg mixture with the back of a spatula. Let sit for 10 minutes, allowing bread to soak up egg. Place in preheated 350 degree oven for 45 minutes. Remove to a cooling rack. Let cool for 30 minutes, before cutting into 8 or 12 pieces.
Maple Cream Sauce Directions: Combine ingredients together in a medium-sized sauce pan, place on stove top and turn burner on medium-low to low. Cook, continually stirring for 20 minutes or until sauce as reduced by 1/3 and has thickened enough to coat the back of a wooden spoon.
Serve maple cream sauce over warm bread pudding. Be prepared to be WOWWED!
Enjoy!
Note:  Bread pudding can be made a day ahead of time, as well as the maple cream sauce.  Let bread pudding come to room temperature, and warm sauce in the microwave before serving.  Bread pudding and maple cream sauce contain dairy and eggs so make sure to store any leftovers in the refrigerator.
[/print_this]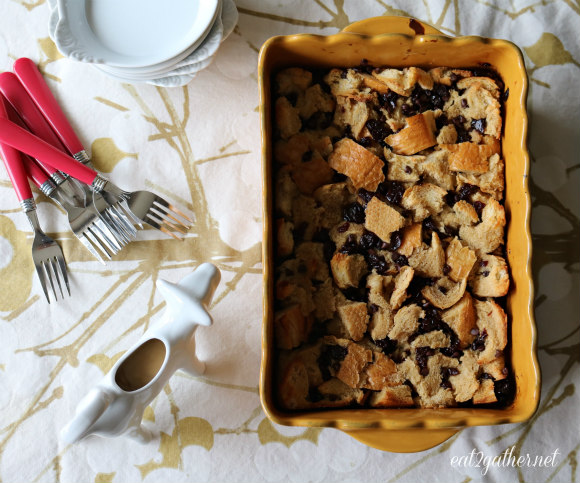 This will definitely find its way into my holiday dessert making! I hope it makes an appearance at your table as well!!
Joy to the World!
Sheila
Disclaimer:  I am proud to be a part of  blogger network that works with the United Dairy Industry of Michigan.  Thank you for helping support Eat2gather by supporting your local dairy farmers!