Potlucks, the Holidays, and comfort food all go hand in hand.  There is nothing better counter full of warm comforting family favorites and  a gathering of friends and/or family!  Wouldn't you agree?!
Many thanks to ADA Mideast for sponsoring this post!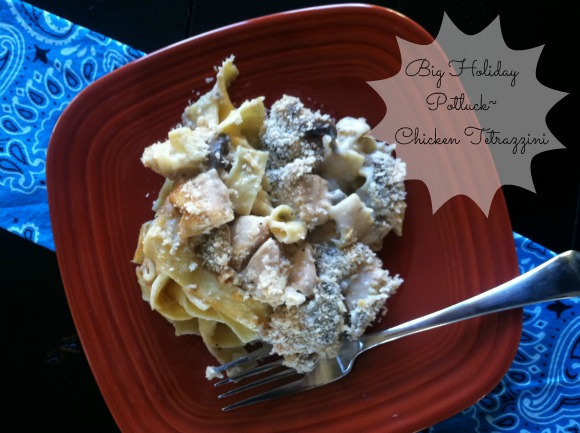 Sigh….there ain't nuttin like a plate of warm creamy cheesy Chicken Tetrazzini.  Scuze my grammar.  This dish is pure comfort food, and the perfect casserole to bring to that Holiday potluck you've been invited to!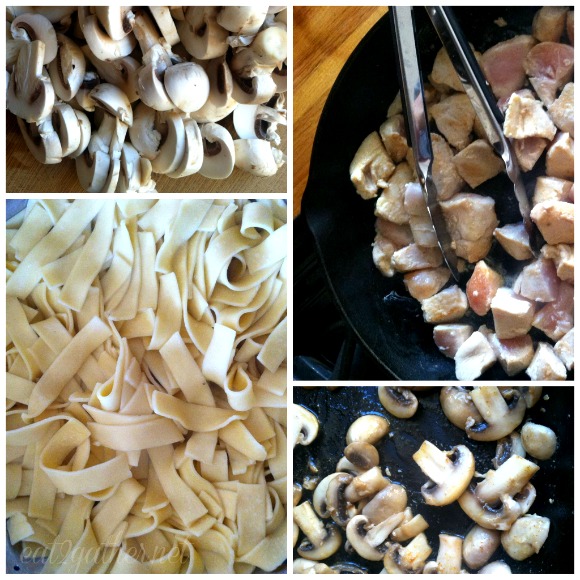 The first time I sank my teeth into this scrumptious recipe was years ago at a Christmas Potluck office party.  I loved those people, for many reasons!  One being they had some amazing recipe boxes, and I did not mind being on the receiving end of any and all of the delicious food that was shared at office potlucks.  At the time I was single living on my own and eating cold baked beans out of the can with tortilla chips for dinner.  (I know…seriously, who was that girl?)   So when there was an office potluck and a chance for me to not only get some good eats at work but bring some leftovers home I was all about it!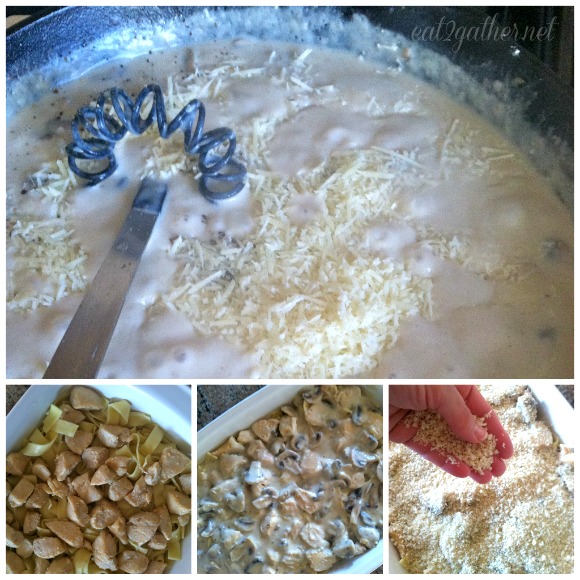 Over the years I have modified the recipe a bit, it's still is in line with what one would think of as tetrazzini.  Thank you Debbie for sharing this scrumptious recipe with me nineteensome-odd years ago.   The only thing that bothers me about this recipe is its lack of color, but now that I think of it most foods that are considered "comfort food" (to me at least) are colorless.  What's that all about? Homemade Mac-n-Cheese, fried chicken, biscuits, gravy, stuffing, apple pie, bacon, butter (oh whoops I guess that's not a food….ok then buttered toast) all are colorless or monotone, but scrumptious none the less and not to be live without!! Amen? Amen!  Here's to monotone food.  I think I'm going to start a new Pinterest board Monotone Food, er maybe not.
What would you say your  "comfort" food is?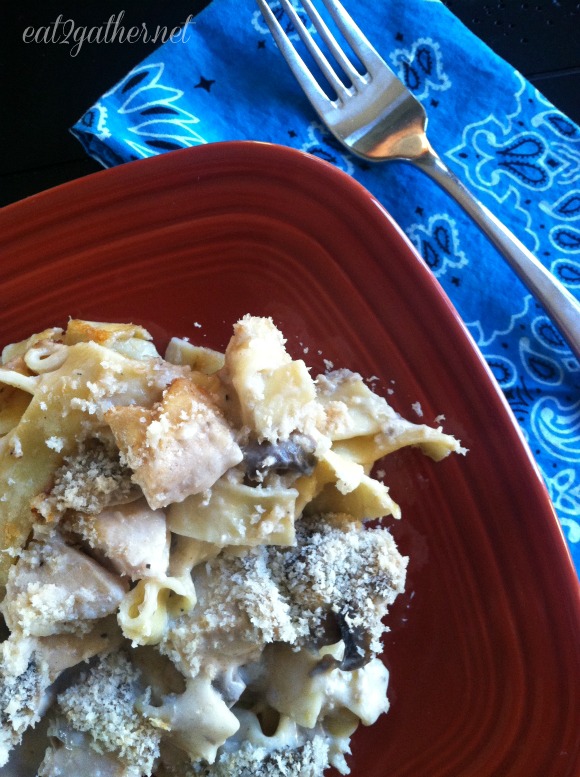 This recipe is easy and I would dare to bet you have all of the ingredients in your pantry!  Making Chicken Tetrazzini is a no brainer for tonight's dinner or your next Holiday Potluck.
[print_this]
Chicken Tetrazzini
serves 8
4 Chicken Breast, cut into cubes
6 tablespoons Butter, divided
1/2 teaspoon Lawrys Season Salt
1 8 ounce package white button Mushrooms
1 teaspoon minced Garlic
1 tablespoon Flour
2 cups Whole Milk
1 10 ounce can Cream of Mushroom soup
1 cup grated Parmesan Cheese
1/2 teaspoon fresh ground Pepper
1 pound wide Egg Noodles
1 cup Panko Bread Crumbs
Preheat oven 350 degrees. Grease a 9×13 baking dish with 1 tablespoon butter.
-Boil a large pot of salted water, cook noodles in boiling water, drain and place in bottom of the buttered baking dish.
-Melt 2 tablespoons of butter in a large skillet, sprinkle chicken pieces with Lawrys season salt, cook in pan with butter, when chicken is cooked through remove from pan to baking dish in a layer over the noodles.
-Add remaining butter to the pan when butter is melted add in mushrooms and garlic cook until mushrooms begin to brown. Sprinkle with flour and stir to coat. Gradually add in milk whisking to make sure no lumps form, continue to cook until mushroom sauce becomes thick, about 5 minutes on medium low heat.
-Add in cream of mushroom soup, cheese, and pepper whisk to combine. Pour over chicken and noodles. Sprinkle panko bread crumbs evenly over casserole. Bake at 350 degrees for 30 minutes or until bubbly and browned on top.
Enjoy!
[/print_this]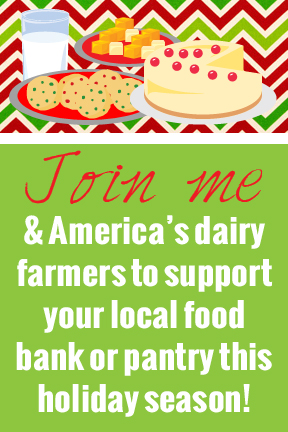 Feeding America can provide nine meals for each dollar donated. The American Dairy Association Mideast has partnered with myself and 11 other fabulous food bloggers from around the country to prepare for you a "Big Holiday Potluck," and ADA Mideast will donate $1 to Feeding America for every "like," comment or share each of the bloggers' 12 recipes receive on its Facebook page between Dec. 6 and 13.
 It's never been so easy to help Feed America!!   Go on shoo shoo times a wastin' go feed America!
Jocelyn of Inside BruCrew Life
Tanya of Lemons for Lulu
Erin of The Law Student's Wife
Lisa & Anna of Garnish with Lemon
Lauren of Climbing Grier Mountain
Karly of Buns in My Oven
Aimee of Shugary Sweets
Christina of Dessert for Two
Lindsay of The Lean Green Bean
Katrina of In Katrina's Kitchen
Willow of Will Cook for Friends
Feeding America
Dairy farmers are committed to the health and wellness of Americans, with an emphasis on child health, which includes addressing hunger and helping ensure every American has access to nutrient-rich foods, such as low-fat and fat-free milk and milk products. Join America's dairy farmers making sure everyone can enjoy a healthy meal this holiday season!
Dairy foods provide nine essential nutrients that are important for improving overall health, and research shows consuming dairy foods is linked to improved bone health, especially in children and adolescents.
However, finding and distributing a consistent supply of milk and milk products is a challenge for America's hunger relief system.  Of the pounds of food available in food banks, only 5.3 percent is dairy.
Today, more than 50 million people in America are food insecure. Of these, nearly 17 million (one in five) are children. These children have an increased risk of health and development issues, including obesity and poor academic performance.
 Thank you so much for your support in helping Feeding America!
XO, Sheila
Disclosure: This post has been sponsored by the ADAMideast.  As always all feelings, thoughts, stories, ideas, and what-not are mine and mine alone.