Meals 4 Sharing Fridays:Pork Chops & Stuffing
It's that time again TIME TO LINK UP your favorite recipes and ideas about sharing FOOD!  What have you been making lately anyway?? I'd love to know!
Link-Up your favorites!
What is a meal for sharing?  Well really it's any recipe that you would make and share.  You could share it with your family, or  take a meal to a friend, or neighbor in need.  Or just because.
So what have you been sharing lately??
Other than with my family I have not been sharing a whole lot lately.  I hate how life can get so busy it's hard to make time for others.  I find I need to be deliberate about sharing and reaching out to others.  If I don't mark it off on my calendar and make it a date, then it usually doesn't happen.  Sometimes I am spontaneous, but mostly I have to admit I get busy with my own family and forget everyone else.
Saturday my calendar is telling me to bring my dear friends a meal and I am hoping they like Pork Chops & Stuffing, because that's what they're getting! (wink)  Pork Chops & Stuffing is my Mom's recipe.  My kiddos love it! But  because of my need to eliminate "boxed" stuffing from the recipe, I have made this recipe a bit more time consuming.  I will give you  both versions of the recipe.  It's actually really good with Stove Top Stuffing…well, don't ask sometimes I just like to make things more "homemade", but it's not really necessary….if you get my drift.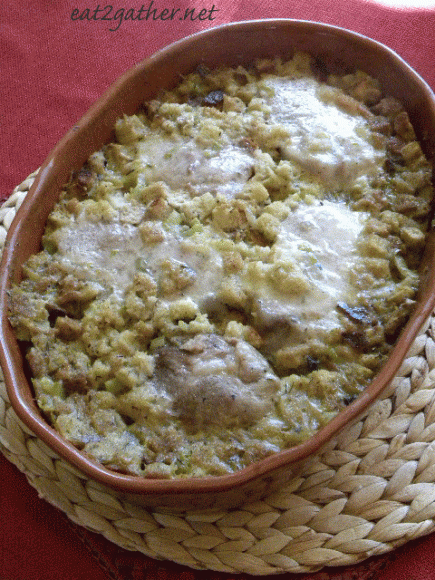 [print_this]
Pork Chops & Stuffing
6 bone in Pork Chops (boneless can be used, bone in are generally more tender)
6 tablespoons of Butter, divided into 2 tablespoons for sauteing, melt 4 tablespoons for end
1 cup Onion, diced
1 cup Celery, diced
2 Garlic Cloves, minced
6 cups of Herb Seasoned Stuffing Croutons
2 cups Chicken Stock/Broth
1 can Cream of Mushroom Soup
1 teaspoon Poultry Seasoning
salt and pepper to taste
Preheat oven to 350 degrees.
Melt 2 tablespoons butter in large skillet, saute onion, celery, and garlic until tender. Turn off heat and add stuffing to pan. Combine broth and soup, pour over stuffing mix, stir to combine. If stuffing seems a little dry add a little more stock or water just a tablespoon at a time. Add poultry seasoning, and salt and pepper. Butter a 9×13 baking dish, pour stuffing into dish, take pork chops and nestle them down into stuffing. Take last 4 tablespoons of melted butter and drizzle it evenly over the stuffing and chops. Cover with aluminum foil and bake for 1 hour, remove foil and bake for an additional 15 minutes or until stuffing starts to crisp up around the edge.
Serves 6
Stove-top Stuffing version: Make 1 box of Stove Top Stuffing according to box directions, when finished cooking mix in 1 can of Cream of Mushroom soup, spread into a buttered 9×13 baking dish, press Pork Chops into stuffing, cover with foil and bake for 45 minutes at 350 degrees, remove foil and continue to bake for an additional 15 minutes.
[/print_this]
So now it's time to let the SHARING begin!  Here's how……

1. Click on the Add link below then Add the permalink from your post.  Please do not link your websites homepage.
2. Select the photo you wish to link to your site and include the title of what you are sharing!
3. Create a link to Eat2gather.net within your post, to share all the great recipes with your readers.  Please feel free to grab my  blog button from the sidebar.  If you share the button on your sidebar or in your post I will hug you and kiss you!!  Well not literally, but maybe if I happen to run into you. (wink)
It's nice to share