my Ohio Dairy Adventure ~ from farm to table
I just want to start out by saying Thank You to the American Dairy Association 
Mideast for inviting me on this wonderful trip. I learned a lifetime of information 
about milks journey from farm to table. I thought I would start out by giving you my 
take away from this journey. 
Here are my thoughts: I would like to preface this by saying these 
statements are my own, and in no way shape or form am I being compensated by the 
American Dairy Association Mideast.  Most of the information they gave me was
of no surprise, and I was happy to find that the confidence I already had in the dairy 
products I buy was confirmed. The dairy in this country is SAFE, it's 
nutritious, and is of vital importance to the health and growth of our 
children, and the continued health of adults. 
Dairy farmers in Ohio, and no doubt across the US, are committed to
 producing safe milk, they are stringently regulated, and only want the best for
 their families and yours!! 


So now if you'd like, I'd love for you to join me on my Ohio Dairy Adventure!!!
I love my cheese! So when I was asked by the American Dairy Association Mideast to be a part of their Ohio Dairy Adventure, I said sign me up!

I was very curious what this "adventure" was all about, because if I may be very frank…..Ohio is not the first state I think of when it comes to dairy or cheese!  So, because I am all about connecting with my food,  I was obviously pretty geeked about following milks journey from farm to table! 
Being from Michigan I am no stranger to Ohio.  We have good friends in Columbus and my husband went to college in Oxford, Ohio near Cincinnati, but until last week I had never had the opportunity to see this side of Ohio.  Beautiful rolling hills, farm land for as far as the eyes could see, creeks, rivers and streams, Amish country, peaceful, serene, perfect rural tranquility…truly an amazing and magical part of the country.   And lucky for me I got to ride through it on a bus fit for a rock star with 7 other bloggers!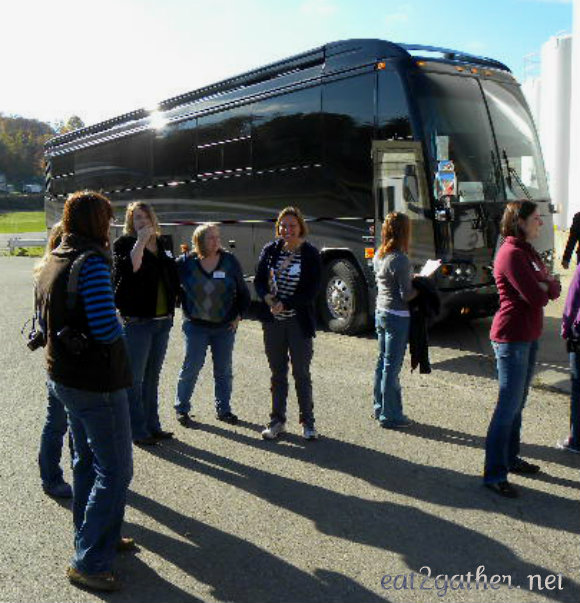 "I grew up on my family's dairy farm so I personally know the care that goes into
 producing milk and I'm proud to share the dairy farmer story!"
 Allison Ryan, American Dairy Association Mideast, Industry Relations
Please indulge me for a few seconds while I give you some Ohio dairy facts!
– Ohio is the #1 producer of Swiss cheese in the USA!  5th overall, in the nation, for their cheese production.
– Ohio has 268,000 dairy cows who live on the 3100 dairy farms located throughout the state.
– Average size of a herd of dairy cows in Ohio is 86.
– In 2011 Ohio dairy cows produced 5.14 billion pounds or more than 605 million gallons of milk!  That means that each Ohio farm produces enough milk to provide dairy products to 2500 people for a year! 
-Ohio is 11th in the nation for milk production.  And if all these numbers surprise you, this fact may really surprise you.  Ohio only produces enough milk for 80% of it's population, the other 20% comes from surrounding states.
Hokey Pete!!  Who woulda known?!  Ohio Dairy is a $4.2 billion industry, that creates a total of 14,350 jobs for Ohions.
The adventure begins:
I had the pleasure of riding to Cleveland with Liz, of The Lemon Bowl.  We arrived just in time to check into our  lovely hotel in downtown Cleveland,  and freshen up.  Then our adventure began with a Wine and Cheese Pairing Reception.  It was amazing!  Mariann Franz founder of  the American Wine School guided us through the night.   She paired 6 different Ohio made cheeses with wine from vineyards in Ohio and beyond.  Yes Sir!  Ohio produces some darn good wine too!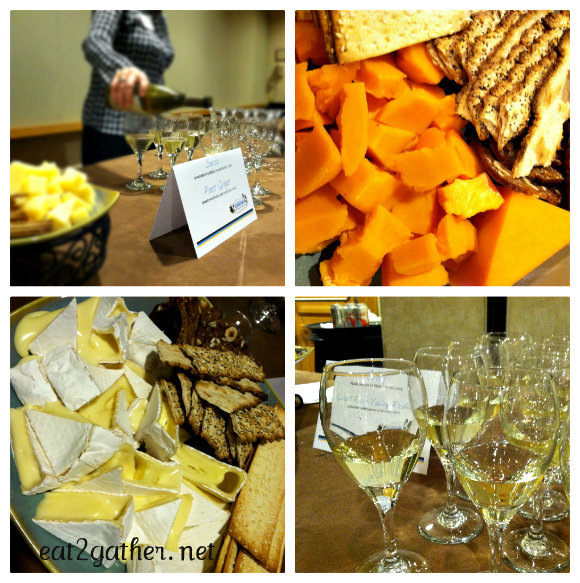 Now you must know that I've never met a cheese I didn't like, and I don't mind myself a glass of wine either.  So the fact that I had the oppoutunity to spend the evening with Marianne  learning  how to pair them best, was amazing.  Marianne is a great teacher, she filled our night with wonderful foodie stories, and her comfortable approach made learning easy and fun!
If you are looking for amazing cheese, Ohio is the place to go!  Here is a run down of the cheese we tried and the wine they were paired with.
Cheddar Middlefield Original Cheese from Middlfield, Ohio paired with Cabernet Sauvignon, Rodney Strong Vineyards, California
Colby Pearl Valley Cheese, Fresno, Ohio paired with Grand River Valley Riesling, Debonne Vineyards, Madison, Ohio
Swiss Guggisberg Cheese, Millersburg, Ohio paired with a Pinot Grigio Grand River Cellars, Madison, Ohio
Brie Mayfield Road Creamery, Orwell, Ohio paired with a Merlot Clos du Bois Winery, California
Applewood Smoked Cheddar Young's Jersey Dairy, Yellow Springs, Ohio paired with a Chardonnay Markko Vineyards, Conneau, Ohio
Vegetable Yogurt Cheese Heini's Cheese, Sugarcreek, Ohio paired with Sauvignon Blanc Kim Crawford Wines, New Zealand
Our Journey though Northeast Ohio Dairy Country: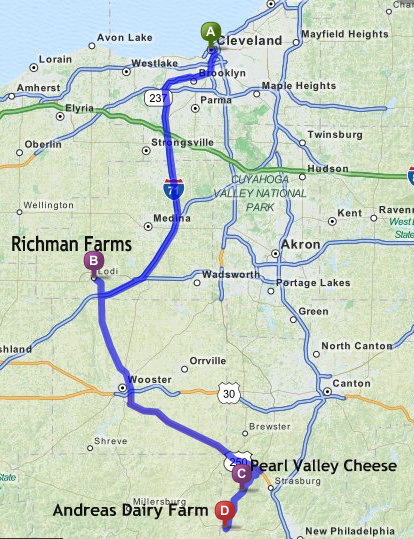 If you know me at all, you know I am not a morning person. Getting up at 5am to get on the Rock Star bus was a bit of a groaner…but as soon as I was aboard, and joined by my lovely fellow bloggers and our American Dairy Association Mideast tour guides, Karen, Jenny, and Allison I was never more glad to be up before the cows….literally……before the cows.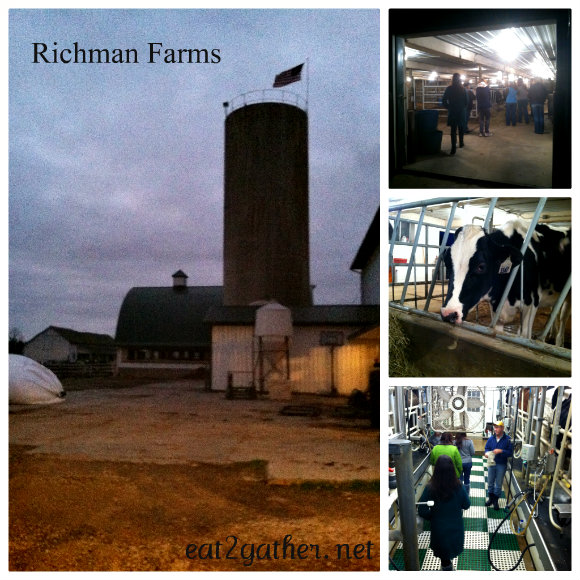 First stop Richman Farm near Lodi, Ohio where we were greeted and given a tour by the Indoe Family.  This farm has 80 dairy cows which include Holsteins, Brown Swiss, and Jerseys.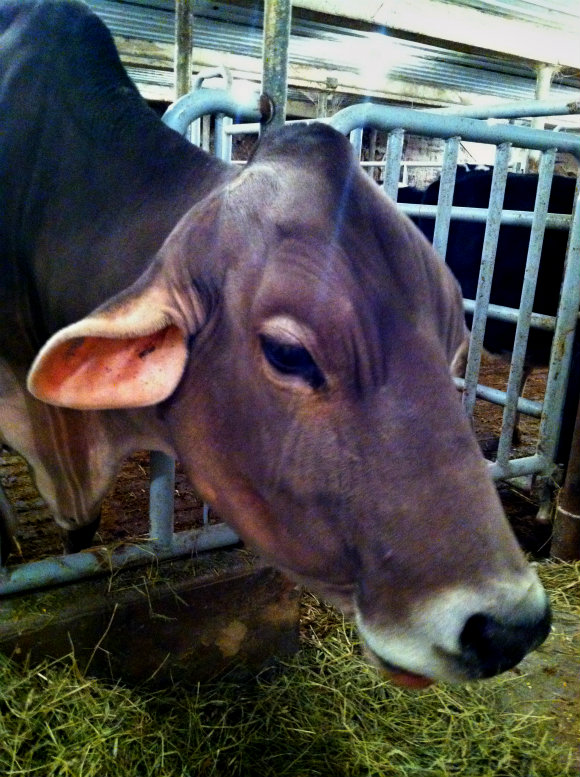 Good Morning Mildred!  Isn't she sweet?  
The Indoes shared with us their passion for what they do.  There is never a day off in the life of a dairy farmer.  The cows are part of their family, they love and care for them all day everyday.  The Indoe family also pours into their communities youth with their heavy involvement  in 4-H, and FFA.
"All dairy farmers are committed to producing safe milk, no matter their farm size.
 They love what they do and want to share their story."
 Jenny Hubble Vice President of Communications for American Dairy Assoc. Mideast
Heading south through the tranquil Amish countryside of NE Ohio we found ourselves at Pearl Valley Cheese, near the historic Roscoe Village,  where four generations of the Stalder Family has been making award winning cheese for over 80 years.  Chuck Ellis, husband to Stalder daughter gave us a tour of the family cheese factory.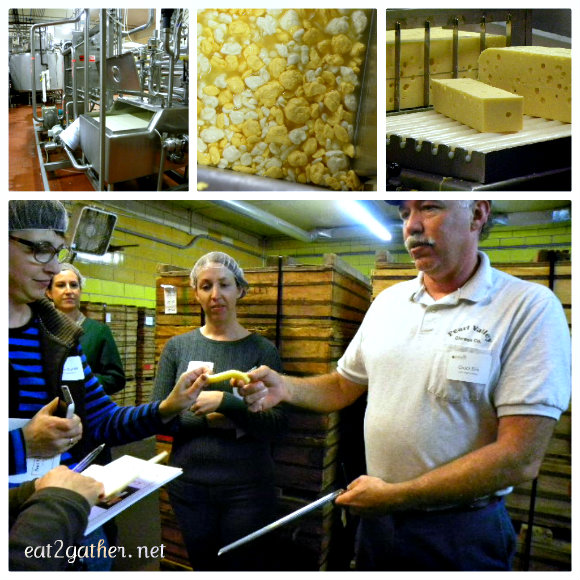 Although, Pearl Valley is smaller  and family owned, it is a state of the art cheese making facility, with production capabilities being  up to 200,000 lbs. of milk each day or about 20,000 lbs. of cheese.  All the milk used in Pearl Valley Cheeses comes from dairy farms in the surrounding area.
So we started our journey at Richman Farm and we followed the milk, so to speak, to Pearl Valley, where Chuck showed us the process from milks arrival to final aging of the cheese.  We got to wear beautiful bonnets while tasting their award winning Swiss Cheese.  Swiss Cheese is what the family started making back in 1928.  Ernest Stalder would make 1, 200lb wheel of it a day.  If he could only see that his family is still putting out the same amazing product, but are able to share it with so many more, thanks to modern technology.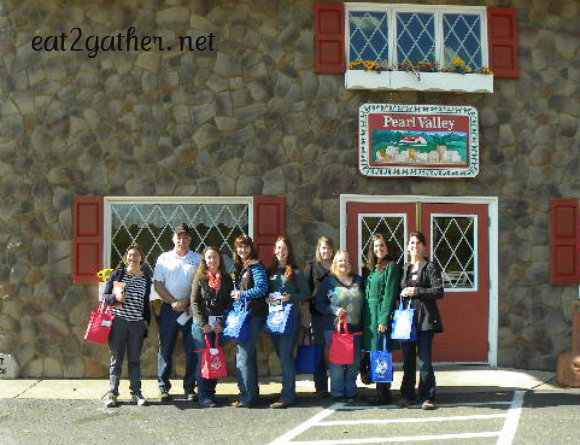 Meet my cheesy companions.  Pearl Valley did not send us away empty handed.  We each walked out full, from cheese tasting and with a tote full of our choice of their award winning cheeses!  Thank you Pearl Valley!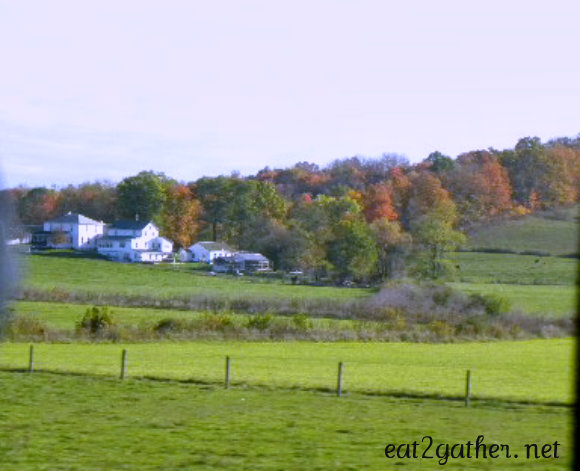 View of the Ohio countryside as we head to our next destination. Andreas Farms Inc.
"As a registered dietitian and a mom, all milk is safe and nutritious, no matter what kind
 you choose, both kids and adults need at least 3 servings per day."
 Karen Bakies, RD, LD Nutrition Affairs, American Dairy Association Mideast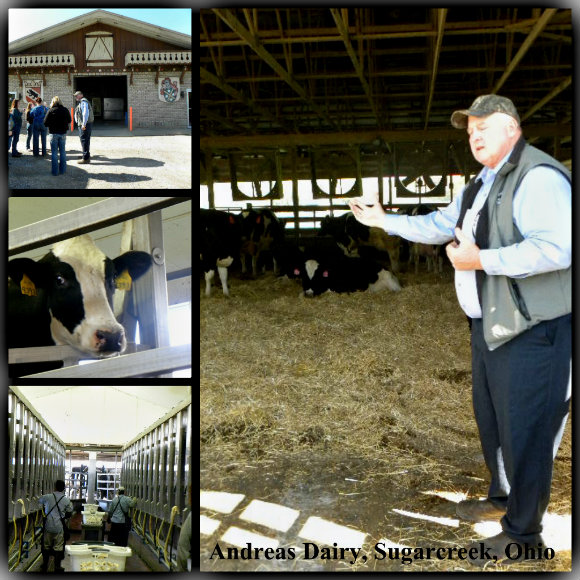 After an enormous family style lunch at Dutch Valley Restaurant, we arrived at the family dairy farm of Dan Andreas.  The Andreas family left Switzerland in 1851 and settled in Eastern Ohio, they eventually purchased the original homestead in 1881 and have been commited to producing quality milk ever since.  The Andreas farm is now in it's 6th generation of family ownership.  The present day dairy includes 1500 dairy cows.
I can definitely say that for a farm of this enormity, I was shocked at the cleanliness and care that goes into making sure the Andreas  cows are comfortable, well fed, and in the best of health.  Not too many dairy farms have their own ICU and maternity ward, where cows that are expecting or  sick get to go and get away from the rest of the herd for a little R&R.   These cows are loved!
"We take care of our cows, because they take care of us."Dan Andreas,
5th generation dairy farmer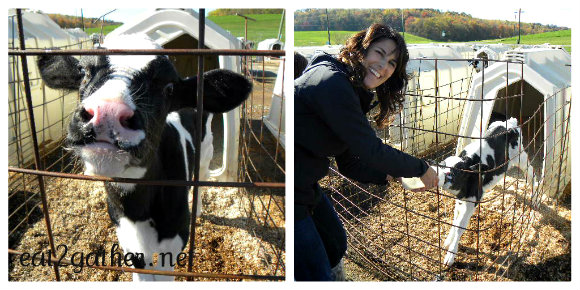 Look what I got to do!!! I got to feet a baby cow.  Oh my goodness…I wanted to take her home with me.  Isn't she the cutest!  I named her Apple.  Mr.  Andreas said I had to leave her with him, but that I could visit her anytime.  Kelly (Calf Supervisor extraordinaire) would take good care of her for me.  I decided it was probably best, Apple might not be too happy at my house, with my hairball golden retriever Jack, and the mini hairball Schmidty the guinea pig.   I think she misses her Michigan momma though.   Apple you will always have a place in my heart Darlin'!
So after an wonderful information filled day in Eastern Ohio Dairy Country we headed back to the big city for some fine dining…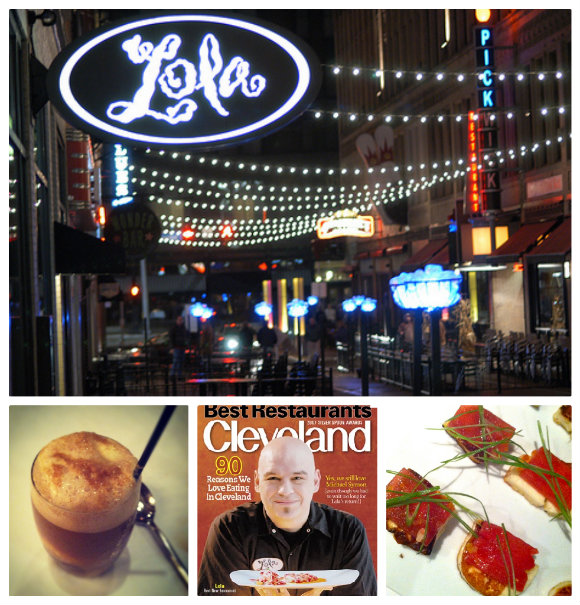 at Michael Symons restaurant Lola.  Michael was not in the house….sorry Liz.  But a few other celebrities where!  We were joined by Joe Thomas of the Cleveland Browns, and his lovely wife Annie.  Joe is the official spokesperson for Fuel up to Play 60.  I was blessed to be able to sit at Joe and Annie's table at dinner.  Let me just say WOW, you couldn't meet two nicer, more down to earth people!!  We were also joined by Izma Khaliq the Fuel up to Play 60 Ambassador for Ohio.  Izma is a 6th grader from Solon, Ohio she is one of 33 kids chosen across the country to represent the Fuel up program, and Stephanie Joliff the Fuel up Advisor of the year, as well as a Brenda Hastings of The Dairy Mom blog.  What a fun night! Great food,  and amazing people, I couldn't have dreamed of a better way to end the day!
What is Fuel up to Play 60?  It is an in-school nutrition and physical activity program created in partnership with the American Dairy Assoc., and the NFL, in collaboration with the USDA, that encourages students to eat healthy, be active and make positive, healthy changes in their schools and communities.  Visit the Fuel up to Play 60 website to learn more!
The adventure continues!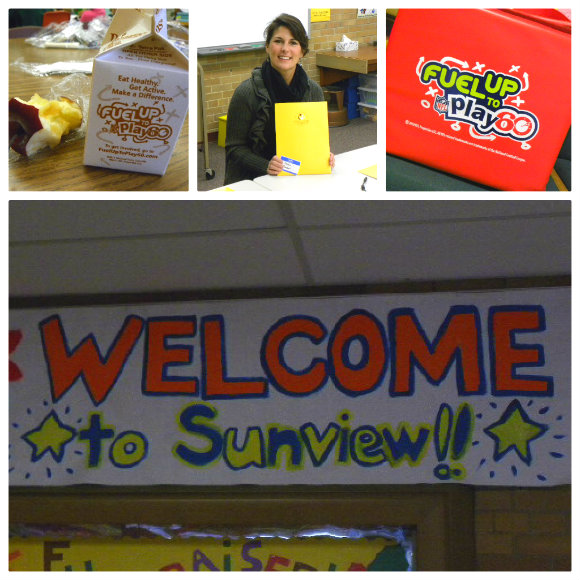 Well we didn't have to get up before the cows the next morning, but we did have to get up with the kids!  We got to be special guest at Sunview Elementary School, in South Euclid/Lyndhurst School District in Cleveland, Ohio.  Here we were able to see how Fuel up to Play 60 is put into action.  Unfortunately we were not able to take pictures of the sweet kiddos that so graciously hosted us in their classrooms, and serenaded us with songs about loving school, and taking good care of our bodies with healthy food, and exercise.  More than once I found myself with a tear in my eye, and my heart aching to get back to my own chick-munkah's back home!
The children were asked what the Fuel up to Play 60 breakfast program meant to them, this is what one 3rd grade boy responded:
"It helps so you can learn better, and it helps out my mom, cause she struggles to make me breakfast."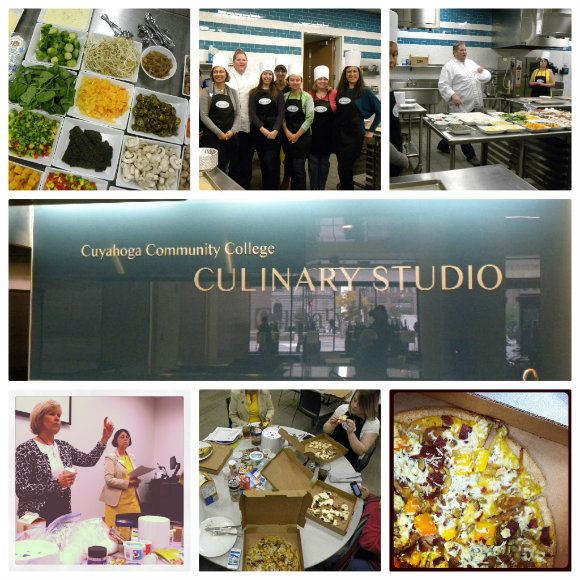 We ended our adventure at  the Culinary Institute of Cuyahoga Community College.  Where we went back to school for the morning and were graced with the abundant nutritional knowledge of Karen Bakies (Nutrition Affairs Director for the American Dairy Assoc. Mideast)  and Judy Kaplan (program manager of Dietetic Technology at Cyuahoga Community College).  Honestly after the morning was over I wanted to go home and enroll myself in school to be a registered dietician.  It was all so fascinating to me.  What we don't know really will hurt us….we as Americans need to eat more Vegetables and Fruits, make sure we watch our sugar intake, and get 3 servings of dairy per day!  And don't forget to get your exercise!
We got to get in the kitchen and make ourselves pizza's with a plethora of amazing toppings.  I made what I call a Fall Pie.  It consisted of Whole Wheat crust, Squash puree was the sauce, my toppings were roasted Squash, Bacon, roasted Pumpkin Seeds, Caramelized Onions, Gouda, and Blue Cheese.  I ate half for lunch and then chomped the other half down on the ride home.  Pour Liz had to smell my pizza and then listen to me smacking while she did the hard work of driving in traffic and rain through Detroit.
So there you have it!  There is so much more that I could have shared, but this is already so long!  Again thanks to the Hana, and Hinda from CMA that put this whole Adventure into action, and to Jenny, Karen, and Allison for being marvelous hosts!
I WOULD ALSO like to make note of the other bloggers that I was so lucky to be apart of this adventure with,  Liz ~ The Lemon Bowl, Rachel ~ Hounds in the Kitchen, Christina ~ A Mommy Story, Susan ~ Doughmesstic, Heather ~ Domestic Extraordinaire, Vanessa ~ French Foodie Mom, Katrina ~ In Katrina's Kitchen