Honey White Bread ~ bread machine recipe
Do you remember my Meals 4 Sharing series?   I kinda miss posting about ways to love on others through the gift of food.  I think I might just start that up on a regular basis again…..what do you all think?  If you have no idea what I'm talking about or what Meals 4 Sharing even is, check out the posts below, or you can click on the Meals 4 Sharing button below.
I'm not comfortable with bringing someone a meal
A few final thoughts and 31 days of Meals 4 Sharing
Recently my friend Jayanne called me about something to do with our boys, and then she asked what I was up to.  I was hesitant to say, because the last time Jayanne had called I was doing the same thing, and the time before that, and the time before that.
"Um…nuttin' just clippin my toe nails"
"What!  You are not!  Are you cookin for somebody again?!"
me…sheepishly, "yes"
"You must really like to cook, as much as you do it for others,"
She had me there.  I do love to cook, and I love to cook for others even more!  Loving others through the gift of food doesn't always have to mean that you bring them a big elaborate meal, with salad, and bread, and cookies….although I do like to do that when I can.  Sometimes it just means a pan of cinnamon rolls, or a tin of puppy chow.  Sharing what we already have.
I hate it when I don't take the time to share something I've made, and then it goes to waste because my family didn't eat it all.  Pit in my stomach…hate when that happens.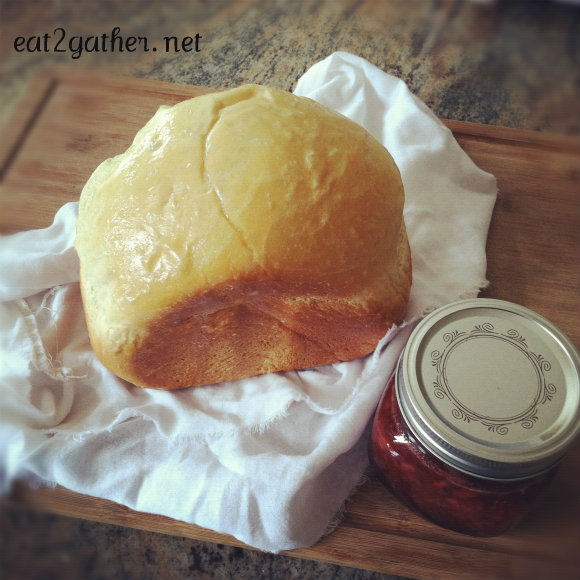 Do you have a bread machine?  I love my bread machine!  Today it was such a big help, I quickly threw in the ingredients, let the machine do it's stuff, while I did my stuff, and three hours later I had a nice warm loaf of bread to bring to a friend that just moved into a new home.  I grabbed a jar of Strawberry Jam from the pantry, and Voila!  I had the best house warming gift ever, and it took me no time at all.  Now if you don't make your own jam, then go buy a purdy jar of it at the store, OR for goodness sakes, skip the jam, just bring the bread!
Just don't over think it, or you will never share!
[print_this]
Honey White Bread ~ for your bread machine
yields 1 loaf
1 cup tepid Water
1/4 cup Milk
2 tablespoons Canola Oil
1 1/2 teaspoons Salt
3 tablespoons Honey
3 1/4 cups White Bread Flour
1 3/4 teaspoon Active Dry Yeast
Add ingredients in order. Set bread machine at desired setting to make a 1.5 pound loaf of white bread.
(This recipe was adapted from the Kenmoor bread machine recipe booklet.)
[/print_this]
What's the last bite you shared or someone shared with you?
Much love, Sheila