Caramel Toffee Bundt Cake
This cake is a treat.  Sometimes you  just need a treat.  Throw caution to the wind!
What was it that Marie Antoinette said?….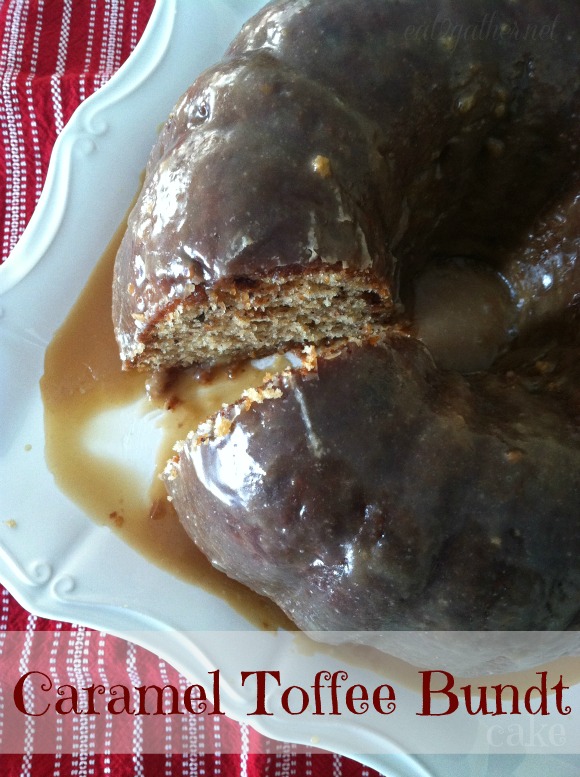 Good men eat cake.
Make cake not war….er no maybe it was Make love not cake.  No no no no, that can't be it!
Real women eat cake. Um maybe…
Let them eat cake!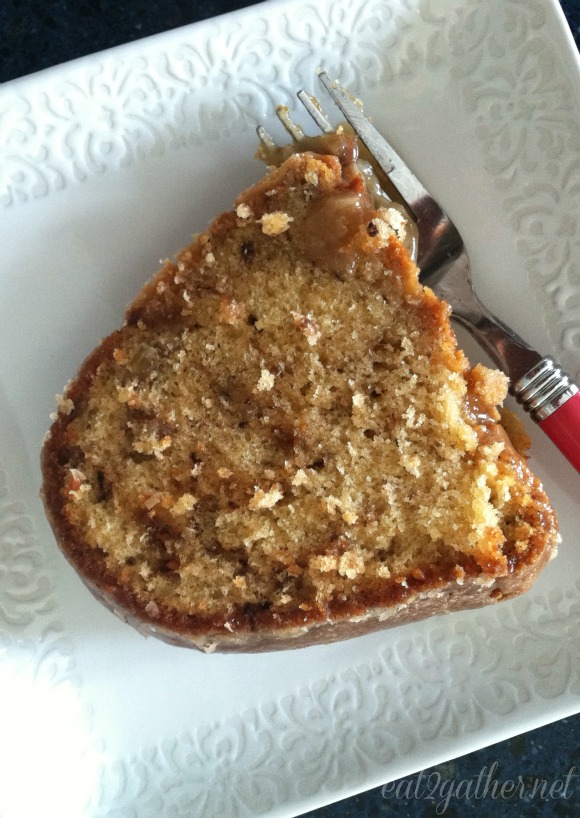 My mom makes this for a breakfast or brunch treat when she has visitors.  It holds up well.  Caramel Toffee Bundt is dense, moist, and buttery.  It also freezes well, so if you are thinking ahead you can make one, freeze it and take it out the night before it will taste like you just baked it!  I recently shipped this cake to someone.  She said that after arriving three days later it tasted as if she had just baked it!
Our dear German friends arrived a week ago, and will be with us one more week.  I am trying to think of treats to have around for nibbling.  This cake is a nibbling cake, perfect for afternoon tea or coffee….just a little treat.  When you have guest staying with you that is what you need little treats to enjoy, that bring you back to the table mid afternoon for a cup of coffee and a sliver of cake, to relax and enjoy each others company.
What are some treats you like to make for guests?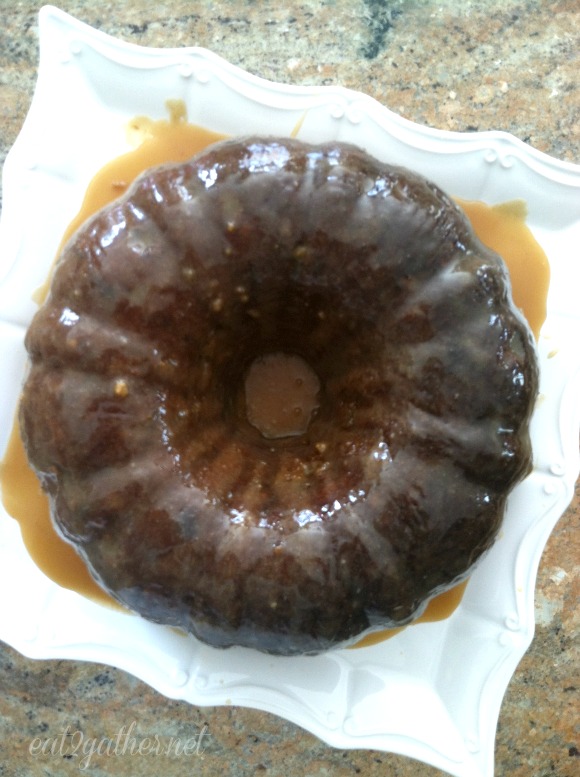 [print_this]
Caramel Toffee Bundt Cake
1 stick Butter
1/2 cup Shortening
2 cups Brown Sugar, packed down
1 cup granulated Sugar
5 Eggs
1 tablespoon Vanilla
3 cups Flour
1/2 teaspoon Baking Powder
1/2 teaspoon Salt
1 cup Milk
1/2 cup chopped Pecans
1 cup Heath Toffee Bits
Caramel Glaze
4 tablespoons Butter
1 cup Brown Sugar
1/4 cup granulated Sugar
1/2 cup Half & Half
1 teaspoon Vanilla
Preheat oven to 325 degrees.  Grease bundt pan with shortening and dust will flour.
1. In mixing bowl cream together butter, shortening, and sugars. Beat until smooth and creamy.
2. Add eggs in one at a time, beating well after each. Add in vanilla and mix.
3. Measure out flour and combine with baking powder, and salt. Gradually add flour mixture alternating with milk, until just combined. Scrape down sides of bowl once, and mix a few seconds longer.
4. Fold in chopped pecans and toffee bits.
5. Pour into a bundt pan that has been greased and dusted with flour.
Bake for 90 minutes, when toothpick comes out clean remove from oven and set on cooling wrack. Spoon a few spoonfuls of the caramel glaze over warm cake while it's still in pan, allowing it to soak in. Let cake rest for 15 minutes before inverting cake onto a cake plate. Slowly spoon remaining caramel glaze over cake allowing it to soak in, and ensuring that every inch of the cake is covered with caramel.
Caramel Glaze
Melt butter, add sugars and half & half, bring to a boil and whisk until smooth, making sure there are no sugar crystals, whisk in vanilla.
This cake stays moist for days…not that it will last that long!
Note: This cake is great for making ahead and freezing. Make cake as directed above. Allow to cook completely, then wrap tightly in plastic wrap. Wrap cake completely in plastic wrap three times. Then wrap in foil and freeze. Take out the night before you want to serve. I have shipped this cake frozen, the recipients said that it was as delicious and fresh when it arrived three days later.
[/print_this]
So now we are off on another adventure,  to Blandford Nature Center!  I'm taking this tour guide stuff serious, cake and all!
Hope you are well!
With love, Sheila