Some days just call for a bit of sunshine; and if getting it from the great out doors is out of the question then baking up a batch of these bars will certainly cast a ray or two of sunshine on your kitchen and sunshiney smiles across faces.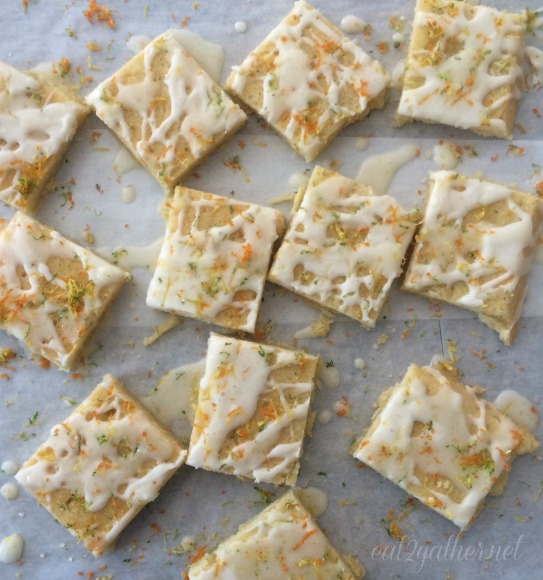 Usually if I make anything but chocolate chip cookies I get a little push back from my kids.  They will eat other goodies, but they prefer chocolate chip cookies to all other forms of sweet finger foods.  Except for now.  They literally went bonkers for these bars!  My picky son ate four of them before I told him to stop because they were for Kens staff luncheon.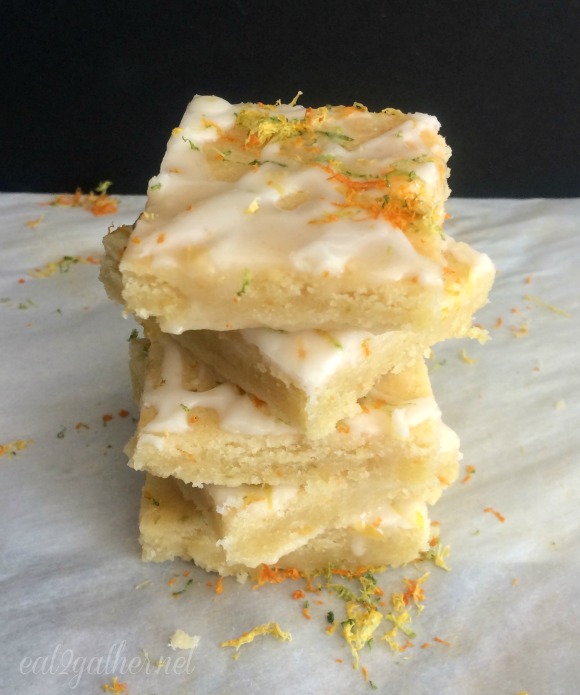 I am all about simplicity these days.  Keep it simple. Keep it simple.  Everyday I find myself saying this over and over again.  One way I've chose to keep life simple is by turning my beloved cookie recipes into bars.  They taste the same, but take a fraction of the time.  No going back to the oven five times over and inevitably I always burn the last pan of cookies! Argh nothing worse than wasted cookies!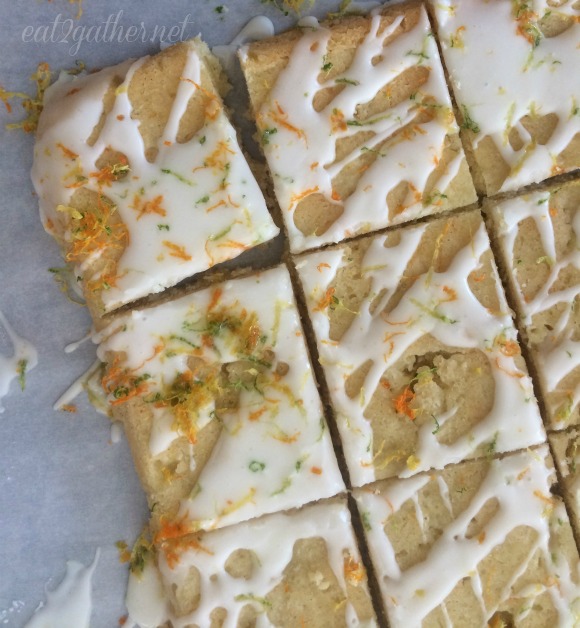 The hardest thing about these cookie bars is zesting and juicing the fruit.  (Which isn't really that hard unless you don't have a zester…well then can I ask you do you have a cheese grater?  There might be a zester side on it.  If not, you're hosed.  You then need to buy one.  I'm sure they sell them at your grocery store.  Invest.  Invest in the sunshine of your people.  I have one similar to this.  This is not an affiliate thingamabobber, I'm just trying to help you understand what you need.)  You will need the zest of 6 citrus, I used lemons, limes, and oranges.  There will be some juice left over, just drink it!
[print_this]
Glazed Citrus Butter Bars
makes 48 squares
4 sticks Butter, room temperature
1 cup Sugar
1 cup Powdered Sugar
3 Egg Yolks
1/2 teaspoon Salt
4 cups Flour
zest and juice 2 Limes, 2 Lemons, 2 Oranges
Glaze = 2 cups Powdered Sugar + 4-5 tablespoons of the juice from citrus fruits + 1/2 teaspoon Vanilla
Preheat oven to 325 degrees. You will need a 12x 15 baking sheet, see directions for prep below.
Beat together sugars and butter, taking time to scrape down sides of the bowl. Add egg yolks one at a time. Add 3 tablespoons of the zest from the lemons/limes/oranges. Mix salt and flour together gradually add to butter mixture. Dough will be crumbly. Drizzle in 4 tablespoons citrus juice while mixing, scrape down sides of bowl making sure that everything is combined.
Prepare pan by spraying with a non-stick baking spray or whipping crisco evenly over inside of the baking sheet.
Place dough in pan (12×15″ pan, baking sheet type with low rim is what I used), lightly flour hands and then press dough evenly in to all corners of the pan.
Bake at 350 degrees for 25 minutes. Allow to cool for 5 minutes in pan, then flip bars out on to parchment paper. You will have to make a quick flip of the pan to do this so the bars don't break in half. Allow to cool.
Whisk glaze together and drizzle glaze over top of bars, and sprinkle with the remaining citrus zest. Cut into squares, store in an airtight container.
Enjoy!
Note: You can leave bars in the pan glaze and cut, with out flipping out if you wish.  I like to do it this way because the glazed surface is flat and makes for a prettier cookie bar.  You can also spread glaze over bars and then sprinkle zest giving a more even distribution of glaze to bar.
These bars were inspired by The Pioneer Womans Citrus Butter Cookies. 
[/print_this]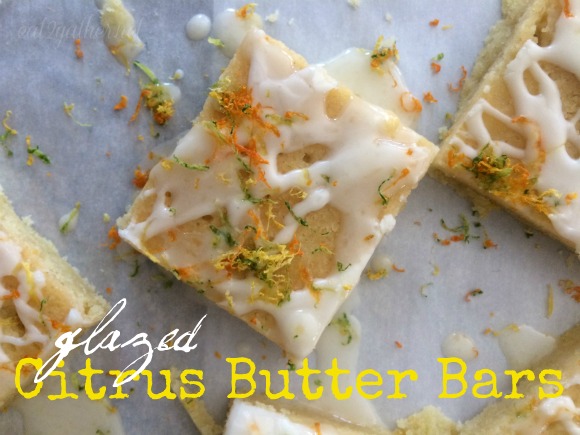 Is the sun shining for you today?  It is not shining here.  I'm thankful the ground is white with snow, it makes everything seem clean an bright…at least.  Wherever you are, whatever the weather, you need to make these bars soon!
Happy Wednesday, Sheila
P.S. I could have said Happy Hu_p Day, but I dislike the word h_mP.  It's a weird word, and reminds me of gross farm dogs that have not been neutered.  This word that rhymes with jump is my icky word.  Like some of you don't like the words moist, rag, scum, fungi, barf and the likes…well now you know my word is a word that rhymes with dump another word that may be on your icky word list.
😉 mwah right in the kisser!