These buttery, moist little treasures are my Luke's favorite. I love making them just before school gets out, so when he gets home they are setting on the counter warm and screaming to be devoured. Are your kiddos starving when they get home from school? Mine always are. So I like to have a snack out for them on the counter when they get home…it doesn't happen everyday, but I try for once a week.
Now that it's Summer, my kiddos are just starving all the time. I feel like it's a non-stop eatfest! How is one suppose to keep her girlish figure when she has 4 (plus friends) teens and tweens around eating non-stop? Answer me that wouldja!!
And it doesn't help that I love to bake.  I also love to see the look on their faces when they round the corner into the kitchen and they see goodies on the counter, and then to hear the oohs and aahhs.  And sometimes they even tell me I'm the bomb-diggity.   The only part I don't really care for is the cleaning up part, oh yeah and the part where I eat 5 or 10 Mini Chocolate Chip Banana Muffins, and then I look down at my middle and it looks like mini muffins are taking over my body, all lumpy and bumpy….Aaahhh!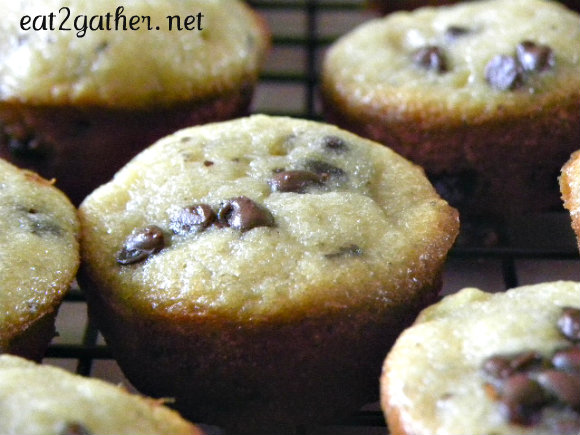 You can make these tasty morsels in a cake pan if you don't have mini muffin pans, or in regular sized muffin pans, or make it into a loaf. Really anyway you cut it, this recipe is delectable!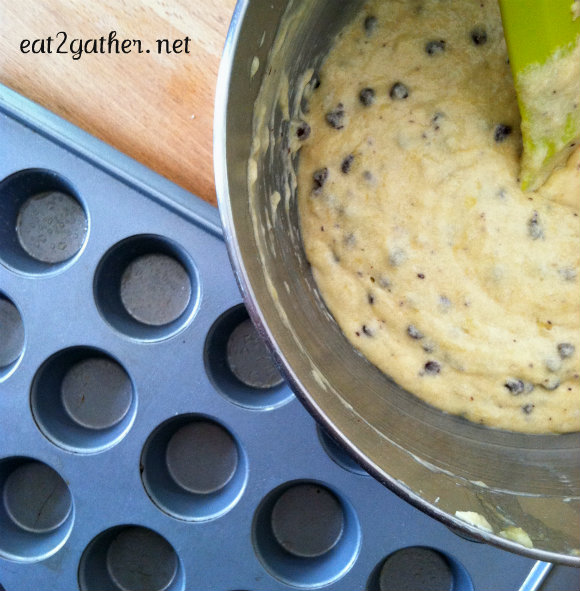 Only mini chocolate chips will do for this recipe.  I have used regular sized chips, but they over power, and sink to the bottom of the pan, unlike the mini's that stay perfectly suspended  in the batter.   The mini chips, are just the right amount of chocolate, they don't compete with the banana, and the butter flavors.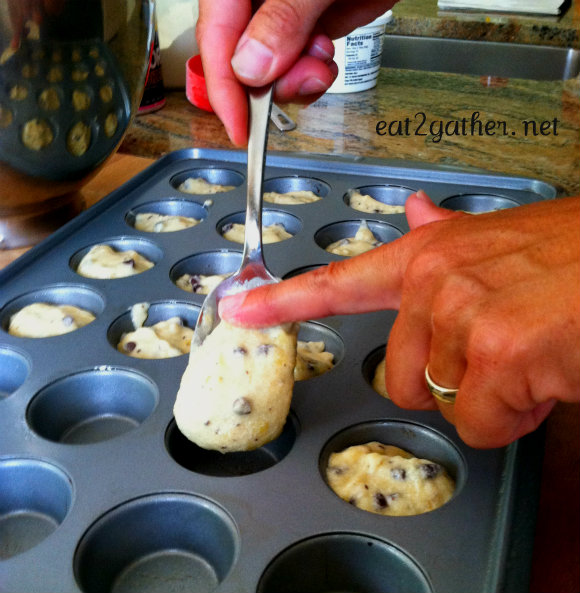 When making mini muffins, don't be afraid to fill the muffin tins nearly to the top.
[print_this]
Mini Chocolate Chip Banana Muffins
48 mini muffins, 12 regular muffins, 1 9×13 sheet cake
1 stick Butter, softened
3/4 cup Sugar
2 Eggs
1 teaspoon Vanilla
1/2 cup Sour Cream
2 cups Flour
1 teaspoon Baking Soda
1/2 teaspoon Salt
3 very ripe Bananas, mashed
3/4 cup Mini Semi-Sweet Chocolate Chips (sometimes I use a whole cup…depending on my mood)
Preheat oven to 350 degrees, grease mini muffin pan.
In mixing bowl cream together butter, and sugar until smooth and creamy. Add in one egg at a time, until batter is fluffy. Measure out 1 teaspoon vanilla add to batter and mix to combine. Add sour cream and mix until just combined. Measure out flour, add baking soda and salt to it, add to batter, mix until just combined. Add mashed bananas and mini chocolate chips, give your mixer a spin or two. Scrape down sides of bowl, give your mixer another whirl, and now you are ready to fill your mini muffin tins. Grease tins, fill 3/4 full with batter, bake for 10-12 minutes. Remove and let rest for a few minute before removing them to cooling rack.
I bet you can't eat just one!
Enjoy!
[/print_this]
I dare you to eat only one!  Betcha can't do it.  Well and why would you want to eat only one….really, I should have asked you how many of these you think you can throw down in a minute.  Bet I've got you beat!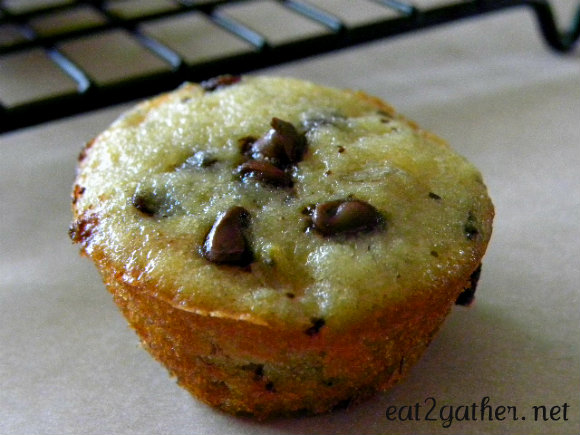 They're just little things…not like a whole muffin or anything!  Come on pop a one in your piehole!  Enjoy life a little bit.
Hows the peer pressure working?  Am I breaking you down?
How's this?
Just one won't hurt ya, there's more calories in a bite of air.  Eat just one, you never have to do it again.  You don't even have to inhale, just chew.
You will really be able to chill and relax after a few mini's….
You husband will never know.  Your secret is safe with me.
I'd love to know how you took the pressure…..
Have a wonderfuly muffineee Monday!
Luv, Sheila