Meals 4 Sharing Fridays: Grilling
Did you know I have a crush on Bobby Flay?  Ugh! Well now you do….I'm embarrassed.  I'm not the kinda girl who usually comes out with her crushes, especially since I'm happily married to my biggest crush ever.  But yeh I have a crush on Bobby, and I'm pretty sure if I ever bump into him anywhere I might just pass out cold, or at least trip and fall and splay myself out like Patrick Star in front of him.  Bumping into BF would be the perfect recipe for making a complete fool out of myself…..not that Bobby would notice.  I used to have a crush on Tyler Florence…but I'm not sure what happened there, I think I was just infatuated or something.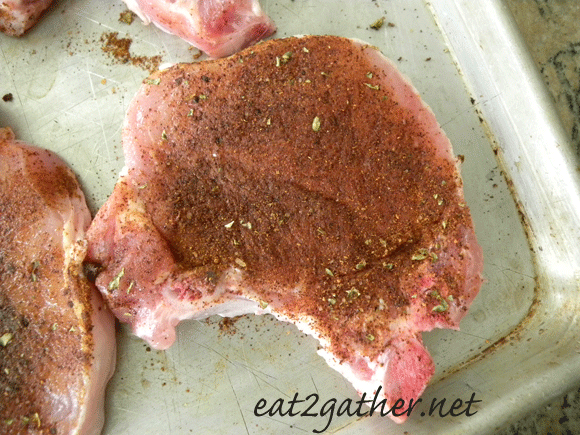 So besides the fact that this man can cook, or what I meant to say was, besides the fact that this man is kEE-yute, this man can COOK!   Surprisingly, I have just one of his cookbooks.  Grill It is full of amazing and easy recipes.  I love a cookbook that inspires, and that's what this one does.  I can flip through it and get great ideas, It's easy to make Bobby's recipes my own.  My goto seasoning rub for Pork Chops and Steaks is Bobby's Bar Americana Steak Rub…I changed it up a bit, but it's what inspired me to make my own rub that I keep in the refrigerator in a container at all times.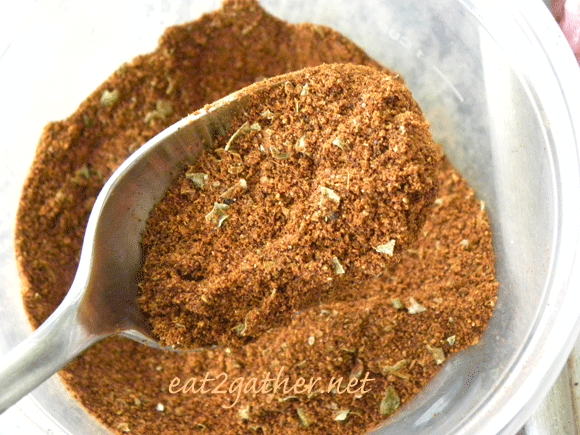 [print_this]
Grillin' Rub
2 tablespoon Ancho Chili Powder
1 1/2 tablespoons Kosher Salt
2 tablespoons Brown Sugar
2 teaspoon Pepper
2 teaspoons Dried Oregano
1 teaspoon Garlic Powder
1 tablespoon Sweet Paprika
1 teaspoon Coriander
1/2 teaspoon Cumin
1/4 teaspoon Cayenne Pepper
Mix spices together, keep in an airtight container. I rub on Steaks, Pork, and Chicken before grilling.
[/print_this]
 Do you have a favorite rub or jarred spice that is your "goto" for grilling?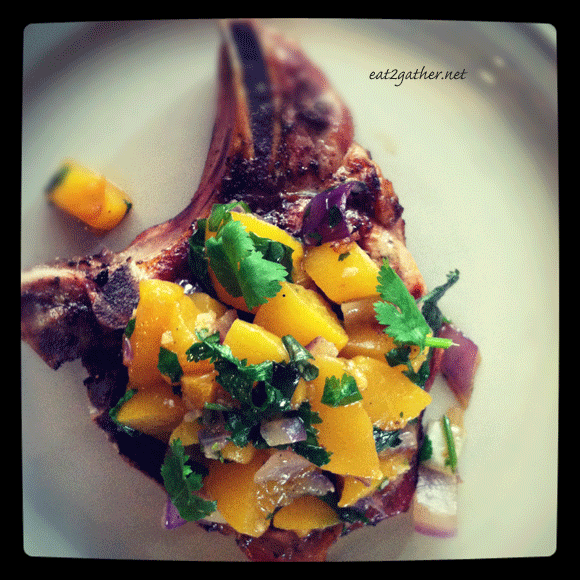 Grilled Pork Chops with Peach Salsa
I can honestly say that I have shared more meals to guest that were prepared on the grill than any other type of food.  What is it about grilling that makes you want to invite friends over and have a party?   Is it the casualness of grilling, the deliciousness of the food, the way the men sort of gather around the grill?    Grilling is the perfect Meal 4 Sharing!
Sharing Idea: My good friend Michelle and her husband take grilling a step further when it come to sharing.  When a friend has a baby, Michelle will make them a nice salad, one of her delicious sides,  bread, and I'm sure dessert too.  Then she sends her husband Steve over with the goodies and some nice steaks, and he grills them for the new parents and serves them dinner!  Is that not a spectacular idea!!!!! It's a celebration dinner.  I LOVE this idea.
What is your favorite food to throw on the grill?
We love bone in pork chops on the grill.  I admit pork chops can be tricky, you want them done, but not over done.  I am the primary griller in this family, Kenny does it when he's home in time, which is not often.  When I grill pork chops I don't leave the grill.  I get the grill pretty hot 400 throw them on and turn them only once.  Depending on the thickness your chops will cook fast.  Thin chops 2-3 minutes on a side , thicker chops 4-6 minutes.  Once you take them off the grill let them rest for 10 minutes they will continue to cook.  If you cut in to them too soon, you will release all the juices and have a tough dry pork chop. Bluck.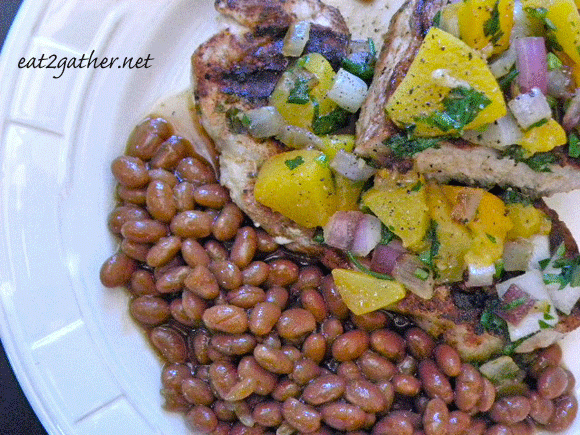 I love pairing pork with fruit.  Fruit lends itself well to the slight gaminess of pork.  Pork with peaches is one of my favorites. The above pork chop was rubbed with my spice rub and topped with Peach Salsa, which is quick and easy to make and your guest with think you really pulled out the big guns for them.
[print_this]
Peach Salsa~ grilled pork chops
makes 4-6 servings
1 teaspoon Butter
1/2 cup Red Onion, diced
1 Garlic Clove, minced
1 cup Peaches, diced (fresh or from a can, I used canned)
1/4 cup fresh Cilantro, chopped
salt and pepper to taste
Saute' onion and garlic in butter for one minute, just until onions start to soften, but not brown. You want the red onion to retain their color. Add in diced peaches saute' until warmed through, about 1 minute. Remove from heat and toss in cilantro. Add salt and pepper to taste. Set aside until ready to serve with pork chops.  This can be made hours in advance or even the day before, just make sure you bring it up to room temperature before serving on meat.
[/print_this]
Peach Salsa can be make in literally in 5 minutes, that includes prep time. A couple other variations could be made with pineapple instead  of peaches, or substitute basil for the cilantro.  I also make a quick Apple and Thyme topping for chops same concept just different fruits and herbs.  Get creative, let me know what you come up with!
I just realized that Meals 4 Sharing was pork chops last week too!  I hope you don't mind.  Next week I'll try to steer clear of the pig!
So now it's time to  SHARE youR FAVORITE RECIPES!  Here's how……

1. Click on the Add link below then Add the permalink from your post.  Please do not link your websites homepage.
2. Select the photo you wish to link to your site and include the title of what you are sharing!
3. Create a link to Eat2gather.net within your post, to share all the great recipes with your readers.  Please feel free to grab my  blog button from the sidebar.  If you share the button on your sidebar or in your post I will hug you and kiss you!!  Well not literally, but maybe if I happen to run into you. (wink)
It's nice to share