Mango Ginger Power Smoothie
Can you believe that it's the last day of April?  Tomorrow is May!   May is Osteoporosis Awareness and Prevention Month.  I am partnering with the American Dairy Association Mideast  to help bring more delicious dairy recipes to your table!  Did you know that by incorporating 3 servings of low-fat or fat-free milk, yogurt, or cheese  into your diet every day  families, especially children and teens in their peak bone building years,  can help reduce the risk of osteoporosis later in life?!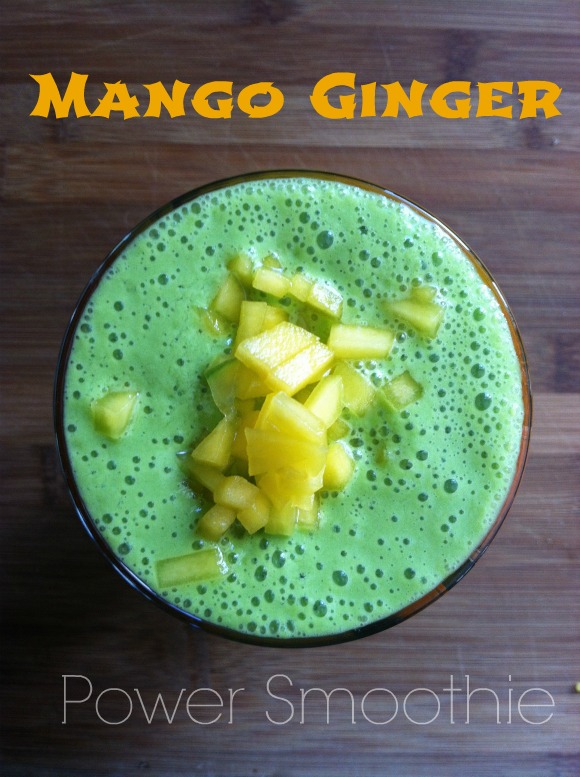 In two weeks I get to represent the ADA Mideast at BlogHer Food in Miami, Florida.  I will be at their exhibitor booth serving up my favorite smoothie recipe!!!! Can you tell how excited I am by the amount of exclamation marks?!!!
Will you be at BlogHer Food 2014 in Miami on May 16 & 17?
If so please stop and see me at the ADA Mideast's Booth!  I would love to  meet you and share my smoothie with you!!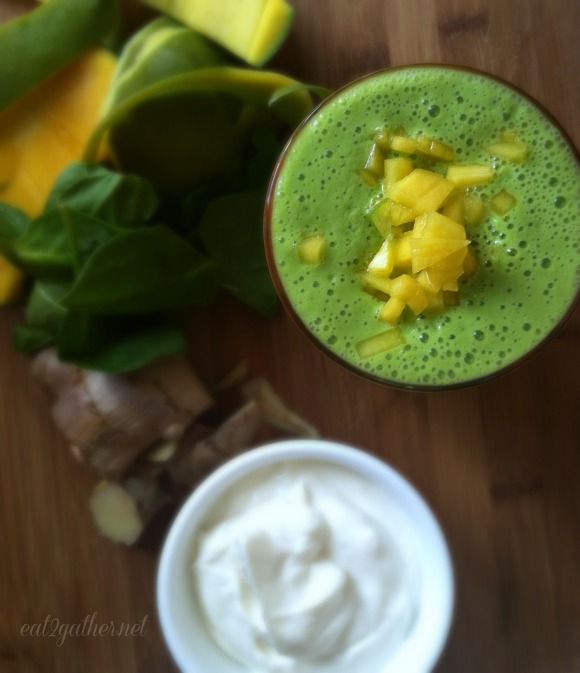 This is my goto smoothie….really it's the only smoothie I make for myself. I drink 2 or three of these a week! The 0% fat greek yogurt gives me the nutrients and protein I need as well as giving this smoothie a creamy texture.  The mango and spinach are packed with vitamins and minerals not to mention fiber, the ginger adds that smack of flavor that literally wakes you up and gets you going. Ginger serves many medicinal purposes from anti nausea, to intestinal, not to mention it's been used for years as an anti-inflammatory. This would be a great smoothie for you pregnant momma's out there!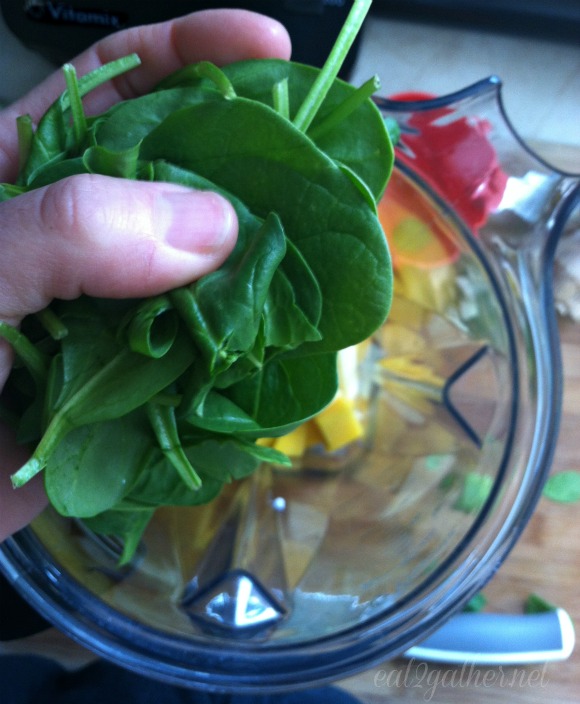 The recipe calls for 1 inch of fresh ginger peeled, but don't let me hold you back, I often will double that.  I love ginger, I want to feel the burn on the back of my throat, some of you might not be the thrill seeker that I am when it comes to flavor, if not then I would say stick to the inch.  Make sure you blend well so that the ginger is completely pulverized and it's not left banging around in the bottom of your blender.
The goodness and flavor are abundant in this smoothie, however the most important and key ingredient is not to be overlooked!  I use Vanilla flavored 0% Fat Greek Yogurt as the base for this smoothie as well as a splash of skim milk.  Feel free to use whatever yogurt is your favorite!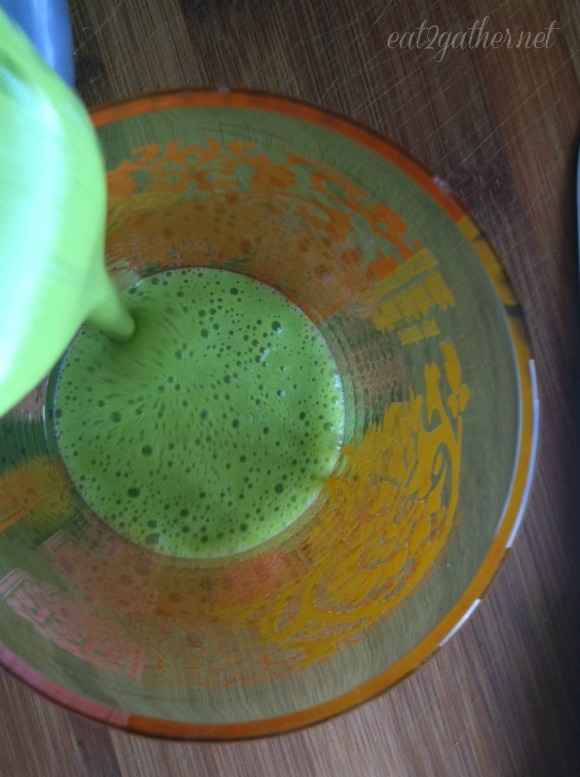 Dairy foods are the perfect source of calcium, magnesium, phosphorus, potassium, protein and vitamin D these nutrients work together to help protect our bones against Osteoporosis.
What is Osteoporosis?  Osteoporosis is a disease that makes bones become weak and more likely to break, about 10 million Americans have this disease.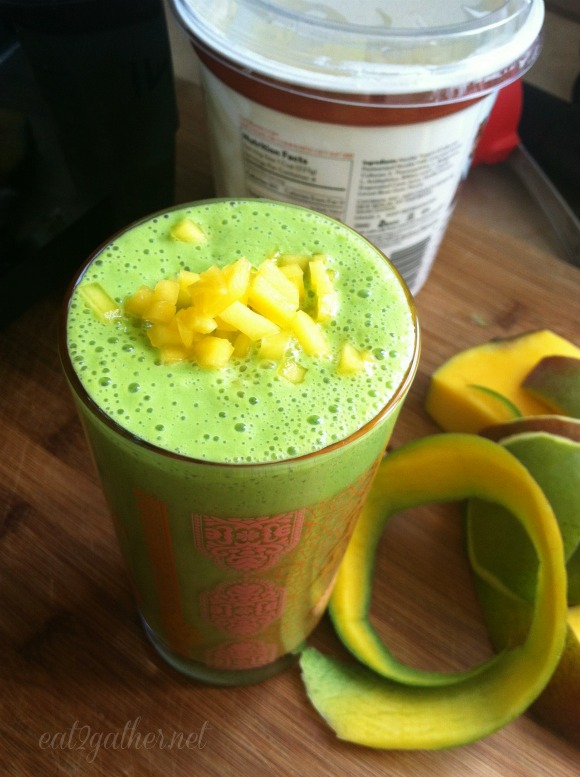 Osteoporosis is preventable!  Here are a few tips for building strong bones and preventing osteoporosis:
~ Be active.  Participate in weight-bearing and cardiovascular activities daily or at least several times a week.
~ Own your diet.  Adopt a lifestyle of proper nutrition that reflects dietary guidelines for Americans and includes 3 servings every day of low fat or fat-free milk, cheese or yogurt.
~ Nourish your bones. Dairy is the best source of essential bone-building nutrients.
~ Encourage others. Be a role model by setting a good example of eating healthy.  Family, friends, and your children will follow your lead!
~ Begin mornings with dairy. Jump start your families day by blending low fat or no-fat yogurt with fruit for a homemade healthy start to their day!
~ Make meal time family time.  You know this is my thing!  It is so important to involve your kids in getting creative in the kitchen and meal planning. Your kiddos are more likely to eat foods that they help prepare or have input on.  Eating together as a family promotes good eating habits and improves overall nutrition. Amen.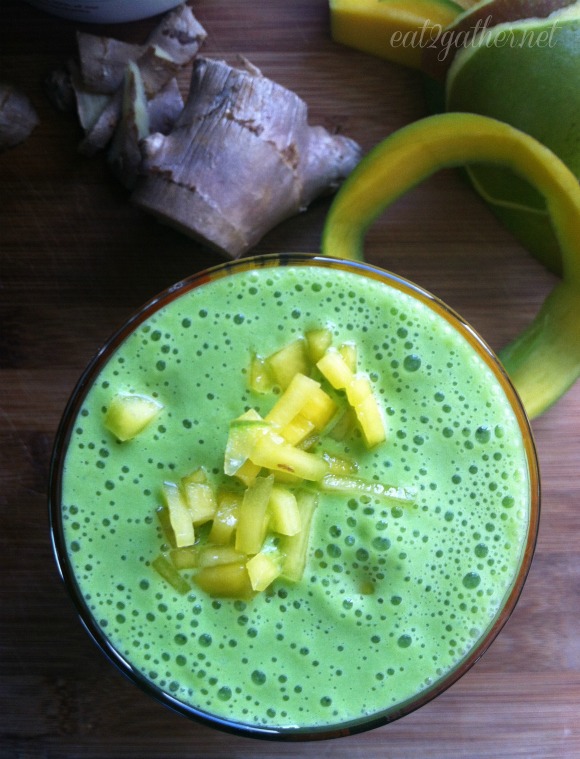 You can find the recipe for my favorite Mango Ginger Power Smoothie and so much more on the ADA Mideasts website.
My friends at the ADA Mideast are not only gracious enough to be sponsoring my attendance to this amazing conference but in case you missed it earlier I'll tell ya again…..they have invited me to share my favorite smoothie recipe with everyone at the event!   I get to represent ADA Mideast and hang out at their booth serving my Mango Ginger Power Smoothie!  Can you say geeked?  I love working for ADA Mideast and I am very honored to be representing them in this way.  So if you are going to Blogher Food please stop by and say Hi to me, I would love to meet you and serve you some dairylicious smoothie!
Disclaimer: The ADA Mideast is compensating me by way of a sponsorship to the Blogher Food conference in Miami Florida. Sponsorships such as these are what make Eat2gather possible. As always the thoughts, recipes, and all that is shared  here is my own. Thank you for eating and drinking dairy products from the states and supporting your local dairy farmers.