June is National Dairy Month and I'm partnering with the American Dairy Association MidEast to celebrate dairy and the farming families, who work hard to provide us with healthy, wholesome dairy foods!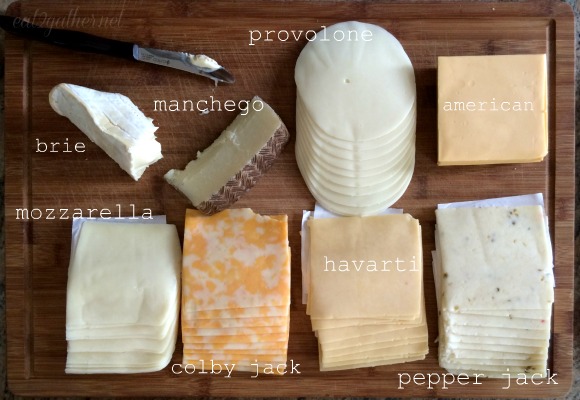 Grilled Cheese has been a favorite in our family since forever.  Even before Ken and I had kiddos we would make ourselves grilled cheese for lunch or dinner!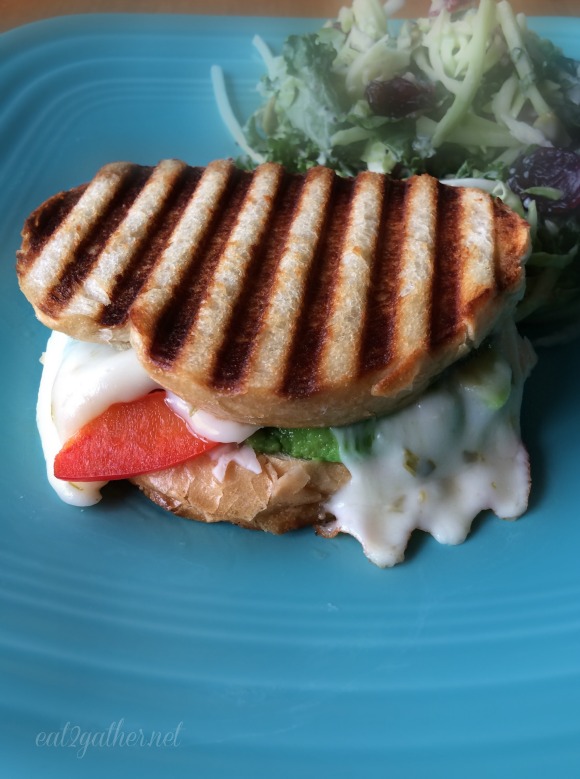 (sandwich= pepper jack cheese, avocado, red bell pepper, turkey, and more cheese)
It's the last week of school!! My oldest son, Noah,  graduated from high school this year, he has been out of school for a few weeks, but the other three have school until Friday and then its OH-fishally summer!! Lord help me. Let the never ending stream of kids in and out of our house begin!  Eat, swim, eat, swim, play basketball, skateboard, swim, eat, eat, eat, REPEAT!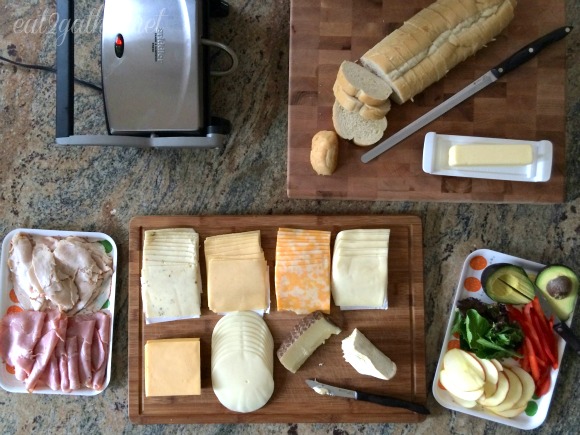 If you find yourself with a houseful and you're not quite sure what to feed them, may I suggest setting up a grilled cheese bar?  Because who doesn't like grilled cheese?  You already know how cheesy I am, we always have several varieties of cheese on hand.
Cheese is so good for you!  Let me give you some cheesy facts…..
It takes 10 pounds of milk to make 1 pound of cheese.
Cheese is the No. 2 source of dietary calcium for Americans.
Cheese is more than just calcium; it also provides high-quality protein needed to help you stay healthy.
For those with lactose intolerance, cheese can be an important source of calcium. Natural cheeses such as Cheddar, Colby, Monterey Jack, mozzarella and Swiss contain minimal amounts of lactose, because most of the lactose is removed when the curds are separated from the whey in the cheese making process.
Most dairy foods are gluten-free. Natural cheeses are gluten-free and in the case of cheeses that have added flavors or are processed, check the food label's ingredient list to make sure ingredients sourced from wheat, barley or rye aren't added.
Grilled Cheese Bar:
You do not need a special panini maker, a regular ol' frying pan works just fine!  I promise!  Or you can use my oven method for making 8 sandwiches at a time, it's a life saver when you have hungry teens breathing down your neck!  I'd also like to note a Grilled Cheese Bar would be great for any number of events you are planning, baby or bridal shower, book club, small group.  You could make it as elaborate or as simple as you like!  The skies the limit.  Have fun, and eat some cheese 😉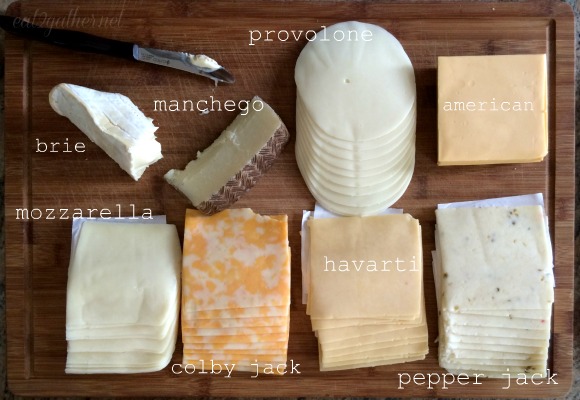 1. Put out every kind of cheese you have in your refrigerator….hold nothing back!  No cheese should be discriminated against when it comes to a grilled sandwich!
2. This is not necessary, but it's fun to add additional options to the grilled cheese extravaganza.  Such as, meats, and vegetables; even fruit!

Here you can see I have avocado, sliced red bell pepper, thin sliced apples, some greens.  I always have ham, turkey and pepperoni on had so I threw those out there too!  The sky is the limit put out what you have.  Let the kids get creative…or not.  Half of them will do the traditional grilled american cheese sandwich, but then the other 50% will step out of their comfort zone. I love to see kids get excited about having choices and making their own food, even if it's as simple as making a grilled cheese sandwich!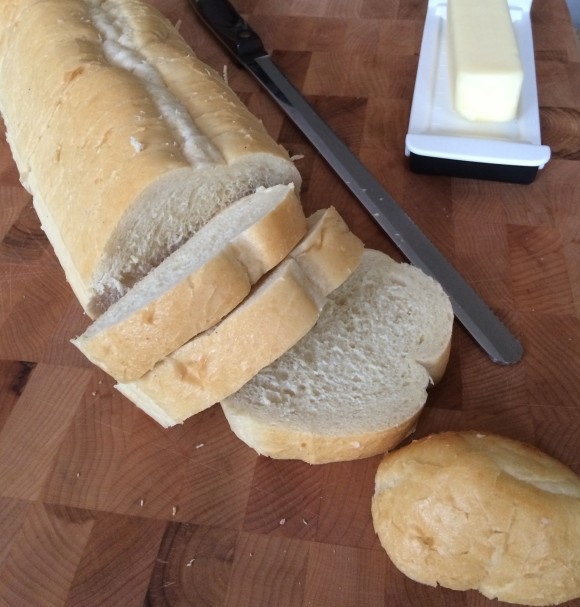 3. The bread.  You can't have a sandwich without bread.  I prefer to use Italian loaf bread for grilled sandwiches, because the crumb is dense and it holds up great to lots of cheese without getting soggy.  I slice it myself, but you can buy it already sliced.  I like to slice 1/2 inch thickness on a slight angle to get a larger surface for the CHEESE!   Do not let the lack of Italian loaf stop you from breaking out the grilled cheese bar for lunch or dinner.  ANY BREAD WILL WORK!
4. Butter.  Don't forget the buttah.  When it comes to butter I always say "more cowbell".  A generous slather of butter on both sides of the sandwich before grilling is recommended, by Me.

5. Remember the skies the limit!  I made the above sandwich with brie, ham, and a thin slice of apple.  I'm drooling now, I could definitely eat this for breakfast, lunch, and dinner!
The skies the limit!!  Get crazy!  Try something new!   Engaging people and giving them choices with their food, especially children,  is the first step in helping them be more adventurous, and healthy eaters!
I want to know:What would you put out for your grilled cheese bar??
[print_this]
Grilled Cheese Bar
Amounts are flexible depending on how many you are feeding. You can use your best judgement.
Italian Bread, sliced 1/2 inches thickness on a slight angle
Cheese -Cheddar, Swiss, American, Mozzarella, Havarti, Provolone, Pepper Jack, Colby (did I miss a cheese, put out what you have no cheese is off limits)
Butter
Extras: Deli Meat (sliced thin), bacon, vegetables (tomato, avocado, pepper, greens), thin sliced Apples, Pineapple (put out what you have!)
Directions: Get griddle or pan hot. Butter one side of two pieces of bread. Place butter sides down on a clean plate or surface, place a slice of cheese on both sides of bread, and then add any other additional ingredients you like in the middle. Place stacked sandwich on hot surface, press down with a spatula, flip when sandwich is desired amount of crispy brown.
Note:  Have fun with this and get as creative or fancy as you like, or keep it simple like have done above. This can be put out as a quick last minute supper, or planned ahead and done to the nines for a wedding/baby shower, or any other sort of event you are planning.
Enjoy!
[/print_this]
June is National Dairy Month, a time to celebrate America's dairy farming families, who provide us with healthy, wholesome dairy foods. Join me and a herd of 9 food blogging friends for a Dairy Month #BarnParty on Twitter on Wednesday, June 10, from 9-10 p.m. EST, hosted by the American Dairy Association Mideast! We'll be partying 'til the cows come home.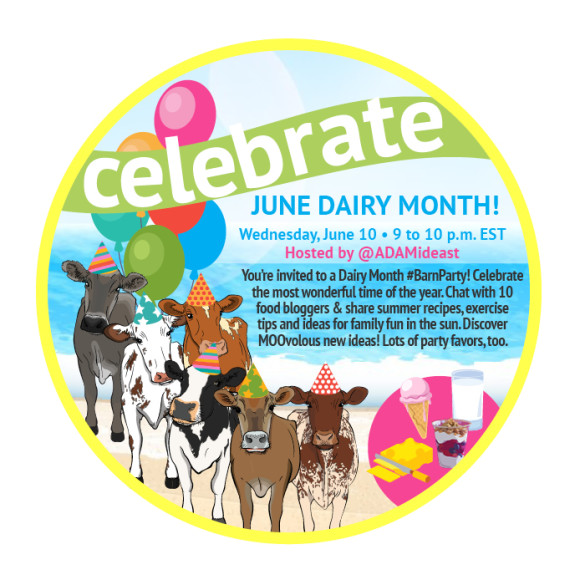 Win prizes including ice cream, milkshake and pop makers and a smoothie blender! Follow this link to get all the details + a prize list!
Check out  the amoozing recipes from my "herd" of blogging friends!
Inside BruCrew Life: Pina Colada Cake Trifle
Lemons for Lulu: Coconut Banana Cream Pie
Country Cleaver: Chocolate Chip Mini Greek Yogurt Pops
Climbing Grier Mountain: Chicken Shawarma Gratin with Jalapeno Mint Yogurt
Food Faith Fitness: Cauliflower Pizza with Greek Yogurt Pesto
Well-Plated: Berry Breakfast Yogurt Popsicles
Love Grows Wild: Smoothie Popsicles
Eat2Gather: Grilled Cheese Bar
In Katrina's Kitchen: Milk and Cereal Breakfast Popsicles
Shugary Sweets: S'Mores Coffee Milkshake
Find the American Dairy Association Mideast -> Facebook -> Twitter -> Pinterest -> YouTube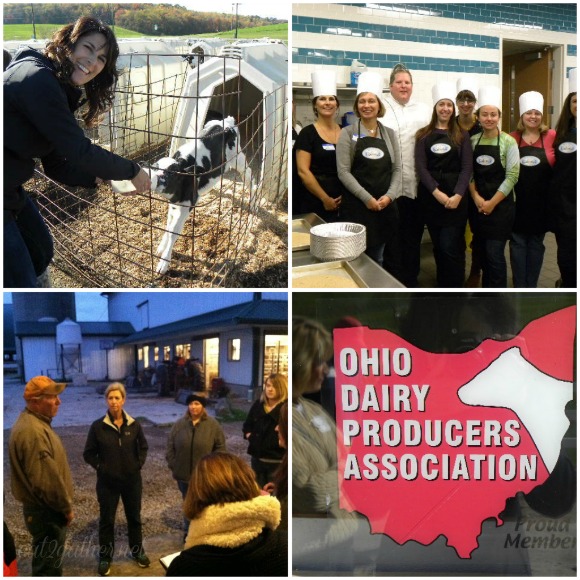 All this talk of cheese has me reminiscing back to my Ohio Dairy Adventure back in October of 2012, I can't believe its been nearly 3 years!  I miss my Ohio Dairy friends.   I was blessed to tour Pearl Valley Cheese factory and the farm of the Indoe Family in Lodi, Ohio, who milk about 80 cows and have been farming for nearly five generations. Go inside the milking parlor with Bill Indoe and see how cows are milked!  I also had the pleasure of meeting the Andreas family in Sugarcreek, Ohio, they been dairy farming since 1881!  (Now if that ain't aMOOzing, I'm not sure what is!)  Today, they milk 1,300 head of Holstein cows and farm about 3,200 acres. Meet them and take a virtual tour of their farm.
Disclaimer: I was compensated by American Dairy Association Mideast to write this post.   Know that I only work with a select brands and campaigns that fit my philosophy on getting your family to the table and feeding them well! Thank you in advance for supporting the brands that make E2g possible.  As always all thoughts are 100%  my own!