June is National Dairy Month and I'm partnering with the American Dairy Association MidEast to celebrate dairy and the farming families, who work hard to provide us with healthy, wholesome dairy foods!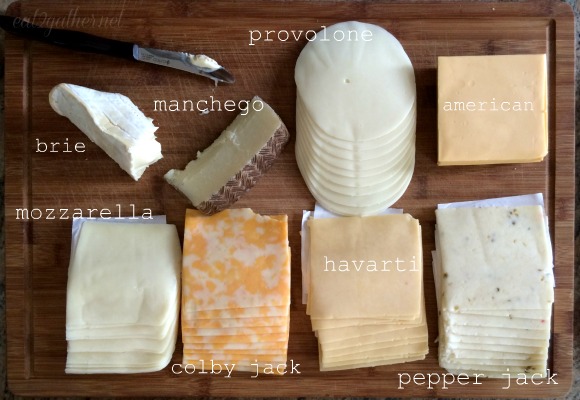 Grilled Cheese has been a favorite in our family since forever.  Even before Ken and I had kiddos we would make ourselves grilled cheese for lunch or dinner!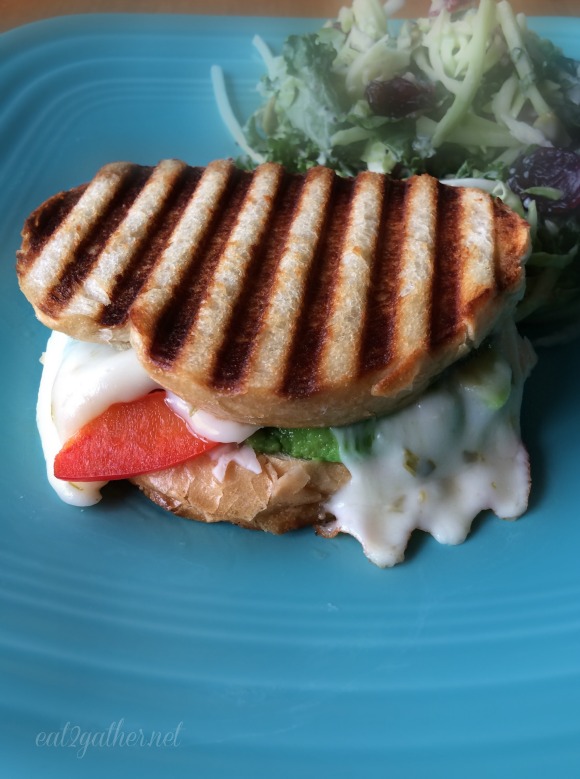 (sandwich= pepper jack cheese, avocado, red bell pepper, turkey, and more cheese)
It's the last week of school!! My oldest son, Noah,  graduated from high school this year, he has been out of school for a few weeks, but the other three have school until Friday and then its OH-fishally summer!! Lord help me. Let the never ending stream of kids in and out of our house begin!  Eat, swim, eat, swim, play basketball, skateboard, swim, eat, eat, eat, REPEAT!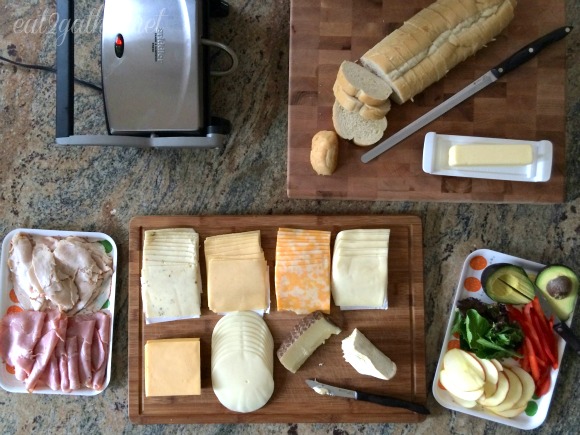 If you find yourself with a houseful and you're not quite sure what to feed them, may I suggest setting up a grilled cheese bar?  Because who doesn't like grilled cheese?  You already know how cheesy I am, we always have several varieties of cheese on hand.
Cheese is so good for you!  Let me give you some cheesy facts…..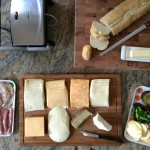 Print Recipe
Grilled Cheese Bar
Ingredients
Italian Bread

sliced 1/2 inches thickness on a slight angle

Cheese -Cheddar

Swiss, American, Mozzarella, Havarti, Provolone, Pepper Jack, Colby (did I miss a cheese, put out what you have no cheese is off limits)

Butter

Extras: Deli Meat

sliced thin, bacon, vegetables (tomato, avocado, pepper, greens), thin sliced Apples, Pineapple (put out what you have!)
Instructions
Preheat griddle or panini press. Butter one side of two pieces of bread. Place butter sides down on a clean plate or surface, place a slice of cheese on both sides of bread, and then add any other additional ingredients you like in the middle. Place stacked sandwich on hot surface, press down with a spatula, flip when sandwich is desired amount of crispy brown. If using a panini press, place prepared sandwich and press until desired doneness.
Notes
Amounts are flexible depending on how many you are feeding. You can use your best judgement.
Have fun with this and get as creative or fancy as you like, or keep it simple like have done above. This can be put out as a quick last minute supper, or planned ahead and done to the nines for a wedding/baby shower, or any other sort of event you are planning.
June is National Dairy Month, a time to celebrate America's dairy farming families, who provide us with healthy, wholesome dairy foods. Join me and a herd of 9 food blogging friends for a Dairy Month #BarnParty on Twitter on Wednesday, June 10, from 9-10 p.m. EST, hosted by the American Dairy Association Mideast! We'll be partying 'til the cows come home.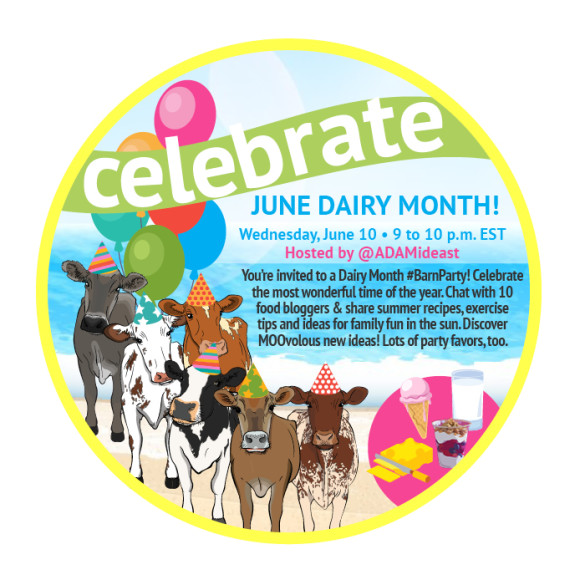 Check out  the amoozing recipes from my "herd" of blogging friends!
Inside BruCrew Life: Pina Colada Cake Trifle
Lemons for Lulu: Coconut Banana Cream Pie
Country Cleaver: Chocolate Chip Mini Greek Yogurt Pops
Climbing Grier Mountain: Chicken Shawarma Gratin with Jalapeno Mint Yogurt
Food Faith Fitness: Cauliflower Pizza with Greek Yogurt Pesto
Well-Plated: Berry Breakfast Yogurt Popsicles
Love Grows Wild: Smoothie Popsicles
Eat2Gather: Grilled Cheese Bar
In Katrina's Kitchen: Milk and Cereal Breakfast Popsicles
Shugary Sweets: S'Mores Coffee Milkshake