Here is a Christmas Scone Poem….for your reading pleasure.
I have this friend, she likes scones.
I love this friend…she is so sweet and dear and,
I thought she needed a few more pounds on her bones so…
I baked a new treat for her, this year.
Christmassy scone.  
The end. 
So since I just happened to have eggnog staring me down every time I open my fridge I decided "hey why not give scones with eggnog a whirl."   Eggnog is Christmassy right?!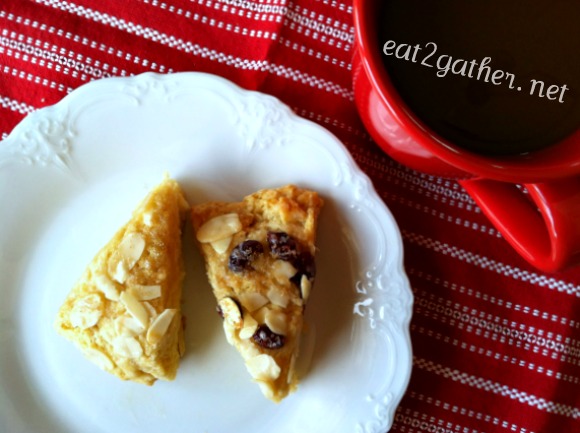 Lovelyness…the eggnog gives these scones just the perfect hint of nutmeg and rich eggy flavor.  I didn't add any extra spices I wanted to see if the eggnog could do it all on it's own.  And it did!  I suppose you could add nutmeg and cinnamon, but why?   I think the perfect scone is simple, tender, and not too big for it's britches…(meaning not too overpowering in the flavor department).  And that is just what this recipe achieved!
If you have a scone lover in your life I think you should whip up a batch of these Cranberry Eggnog & Almond Scones wrap them in plastic wrap, top it with a bow, and go knock on their door.
DING dong Scone delivery ; )!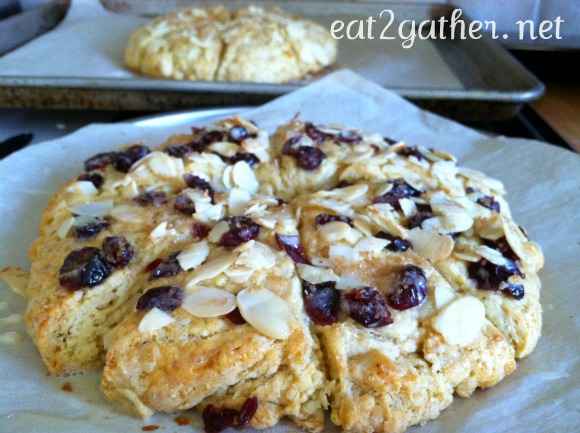 So here's the recipe…if you would like a few more details….you can continue on past the print out!
[print_this]
Cranberry Eggnog & Almond Scones
16 scones
2 3/4 cup all purpose unbleached Flour
1/3 cup Turbinado Raw Cane Sugar (or brown sugar)
1 tablespoon Baking Powder
1 teaspoon Salt
10 tablespoons cold Butter, cubed
1 cup Eggnog (whole fat)
1 Egg
1/2 teaspoon Almond Extract
1/4 cup Eggnog for wash
Toppings
3/4 cup slivered Almonds
1 cup dried Cranberries
2 tablespoons Turbinado Sugar or Raw Sugar (or white sugar will work too)
Icing
1/2 cup Powdered Sugar
2-3 tablespoons Eggnog
Preheat oven to 350 degrees.
1. Combine flour, sugar, baking powder, and salt. Cut butter in with a fork or pastry cutter, until uniformly crumbly.
2. Whisk together eggnog, egg, and almond extract.
3. Make a well in the middle of the flour mixture, pour in eggnog mixture. Gently fold ingredients together. Dough will be crumbly, that's ok do not overwork.
4. Dump scone dough out on to a lightly floured surface. Carefully bring dough together, with your hands, do not knead it, just press it together. Divide in two.
5. Form two 8″ round discs. Place on a parchment covered baking sheet. Brush with eggnog. Press dried cranberries into top of discs, sprinkle with almond slivers, and sugar.
6. Before baking place scones in freezer for 20 minutes. Remove and cut scones like a pie with a serrated knife. Slice down into disc, rock knife back and forth to separate slices just a little bit.
6. Place in a 350 degree oven for 25-30 minutes. Or until scone is lightly browned and a toothpick comes out clean when pricked in to the middle.
7. Whisk together powdered sugar and eggnog, for the glaze, drizzle over hot scones.
Cool, serve, ENJOY!
[/print_this]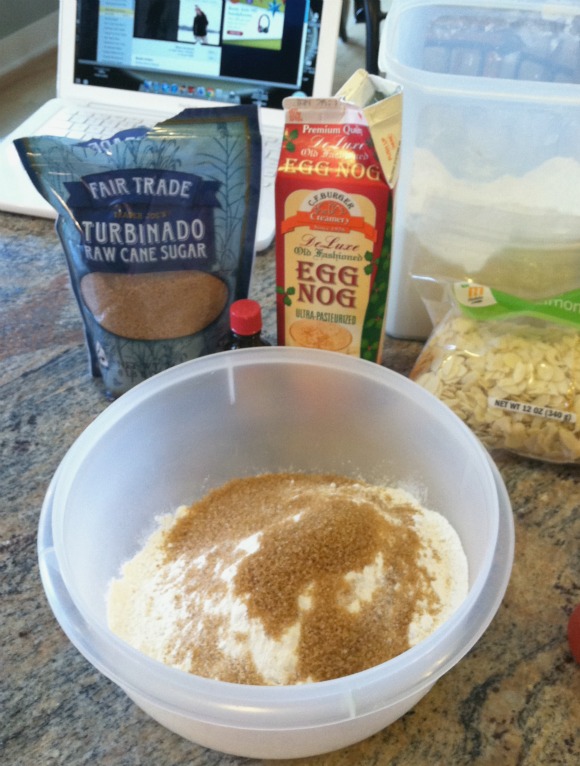 An awesome ingredient that I recently discovered is turbinado sugar, it's pure and full of flavor, I love it.  But if you can't find it brown sugar will do just fine…I promise.   Notice I have my laptop tuned in to Pandora Christmas music…ahh Christmas music, and pandora are the best.  Thumbs up if I want more of the same, thumbs down if I don't want to hear a song.  Pandora where have you been all my life?!

Ok so here's how ya do it!  1. Mix dry ingredients together in a bowl, cut in butter with a pastry cutter.  2. Whisk together eggnog, egg, and almond flavoring.  Feel free to add more almond flavoring if you like or if you don't like feel free to leave it out all together.  3. Make a well in your dry ingredients, pour in wet and combine.  Do not over mix, dough will still be crumbly.  4. Dump out on to lightly floured surface bring dough together with hands, divide into two.  Form two 8″ discs.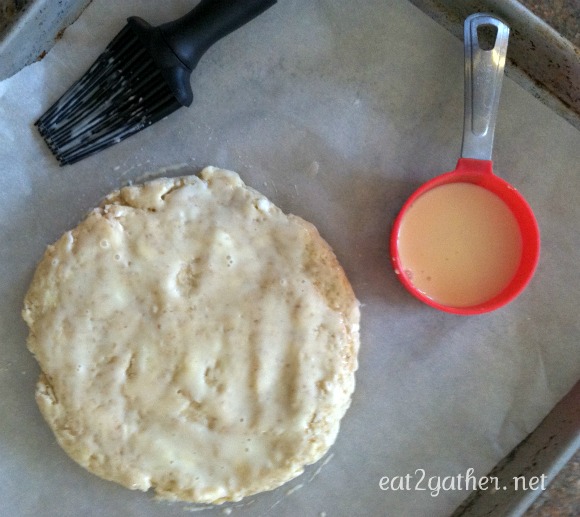 Place dough on parchment lined baking sheets and brush with eggnog.  This step adds another layer of eggnog flavor…but wait there's more!

Press cranberries, if you like, into the top, or leave them out, I left them off one of the rounds.  Sprinkle with slivered almond, and sugar.  Place in freezer for 20 minutes.  Remove and cut like a pie into 6 or 8 wedges.  Rocking the knife back and forth a bit to just barely separate the wedges. Then into a 350 degree oven for 30 minutes.
 Why the freezer?
King Arthur Flour
 website says this gives scones great texture and a higher rise…and I have found this to be absolutely true.  The times that I have skipped this step, my scones are not as tender and fluffy as when I take the time to pop them in the freezer for 20-30 minutes.

Now for yet another layer of eggnoggyness.  Mix powdered sugar with eggnog to and drizzle it all over, the hot from the oven, scones!
Do you hear the angels singing?  Heavenly.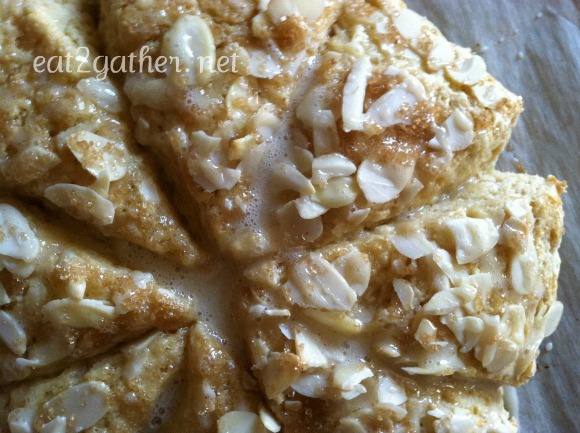 Will you make these for your scone loving friends…or maybe for Christmas morn?  I hope so!  What have you been baking these days?  Or are you just reaping the benefits of others baking frenzies?
Stay well! Blessings to you during these busy days! Remember to relax and enjoy!
Love ya, Sheila