Peach Crumble Pie ~ Pie of the Month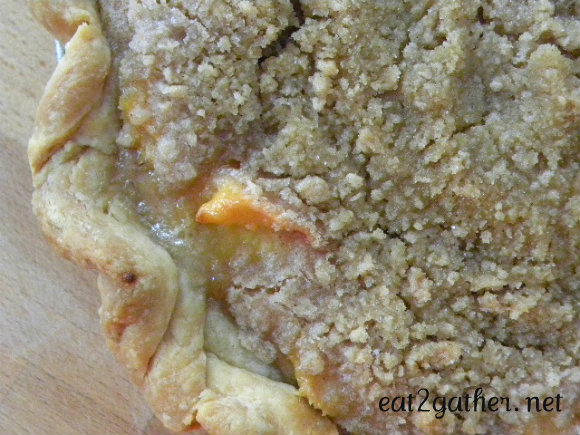 Yum already!
Peach Pie makes me week in the knees. Well pie in general makes me week in knees….but peach pie really makes me swoon. Oh my, the caramely smell of brown sugar,nutmeg, and peach juices oozing out and burning on the bottom of my oven…heavenly I tell you!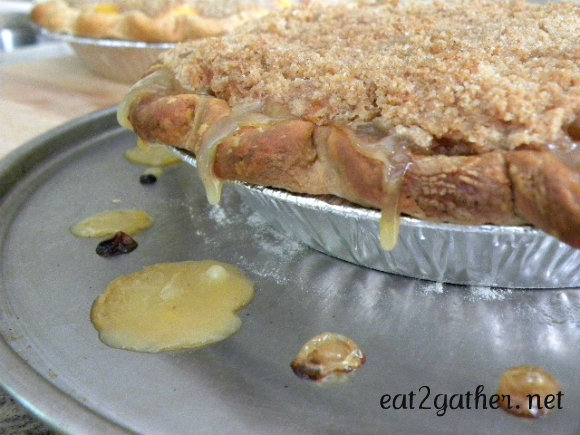 I bought peaches at the farmers market last weekend, enough for a smoothie, a few for eating and three pies.  Why make one pie?  Who does that?!  Come on, one is never enough!
So I made three!
One for me, one for the neighbors and one for a sweet friend.
For three pies you need about 12-15 peaches.  I'm not too good at math unless it applies to baking….so that equals 4-5 peaches per pie.  I realize that not everyone is quite as pie crazed as I, so I'll give you the down-low on how to make yourself  just one, and if you like you may feel free to double, triple, even quadruple the recipe….God love ya!
First you will need to make a pie crust or two.  Click HERE  for my Easy 'NO FAIL' Pie Crust recipe.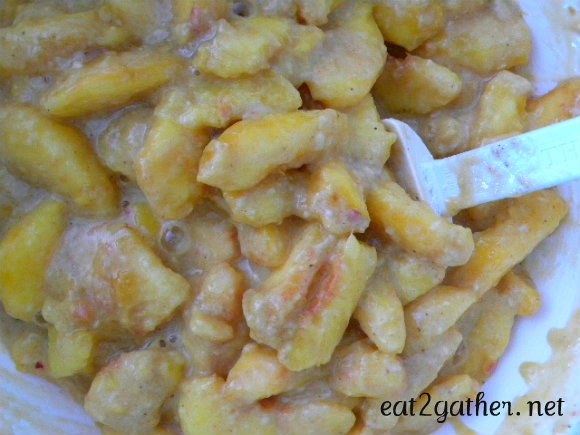 For 1 peach pie: Skin and slice 4-5 peaches, then add 1/3 cup Flour, 1/3 cup Brown Sugar, and 1/4 teaspoon Nutmeg mix well to combine.  Set aside.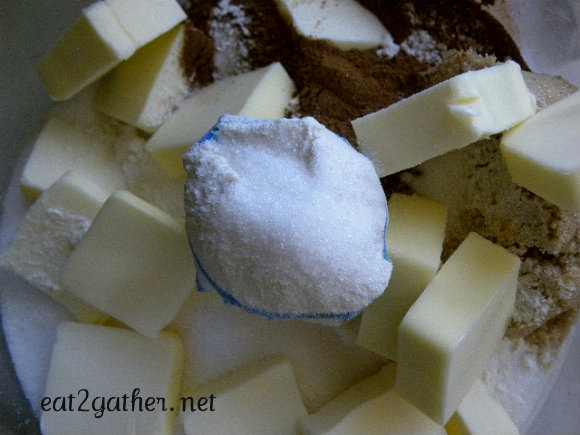 Combine 4 tablespoons of Butter, 1/3 cup Flour, 1/3 cup Sugar (brown or white), 1/4 teaspoon Salt, 1/2 teaspoon ground Cinnamon.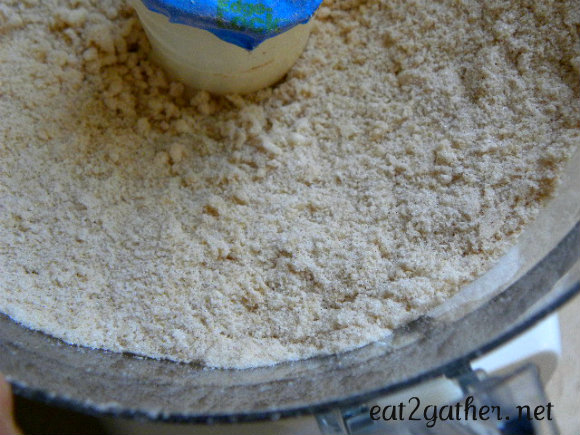 Give this a whirl in your food processor or cut together with a fork or pastry cutter until it resembles oatmeal.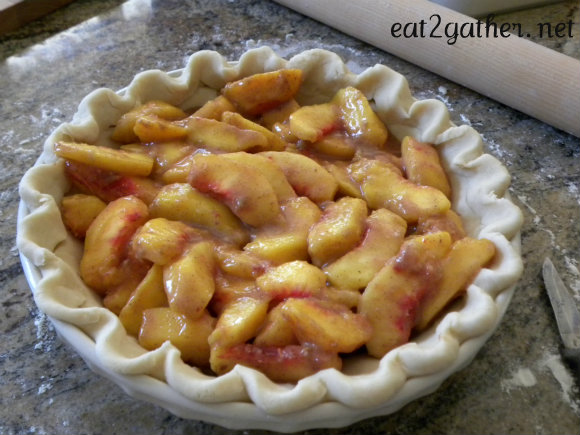 Preheat oven to 350 degrees…sometimes if I want my pie to be done quicker (as in 15 minutes) I will bump up the heat to 375, but then I often will cover my crust with tin foil so it doesn't burn.  Now it's time for the assembly!  Roll out pie dough, place in plate, and crimp the edges.  Fill crust with peaches.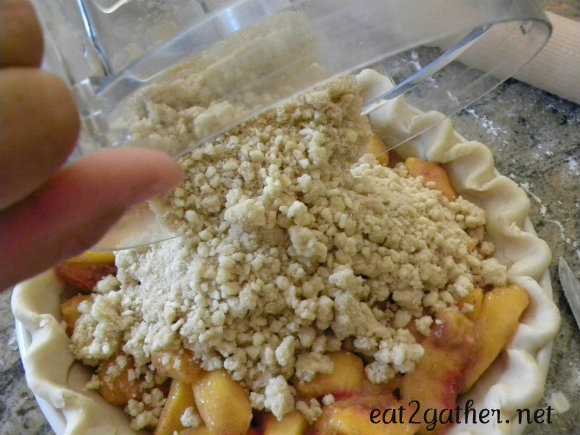 Pour the crumble crust over the top.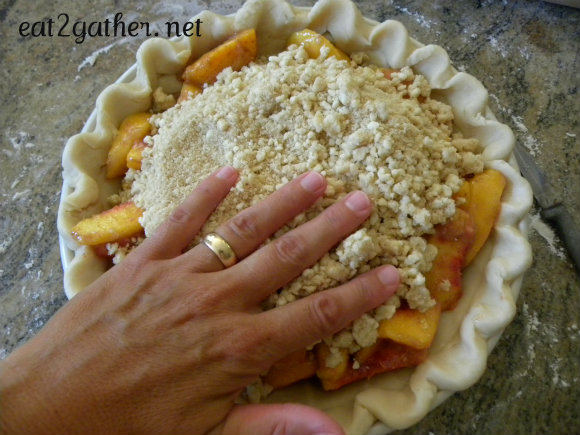 Does my hand look like it's from a giantess?  Or what?  I really don't have large hands…but for some reason I think my hand makes this pie look like a mini pie.  It's a normal 9 inch pie…..so anyway moving right along…..spread the crumble out over the peaches leaving a little of the fruit showing between the crust and the crumble, just a little.  Why?  The crumble topping will sort of settle in toward the crust, but it also allows some of the beautiful fruit to show through, teasing and tempting you to dive in to this mouthwatering pie.
Place Peach Crumble Pie on a baking sheet, to save your oven from possible pie over bake.  Bake pie at 350 degrees for 1 hour.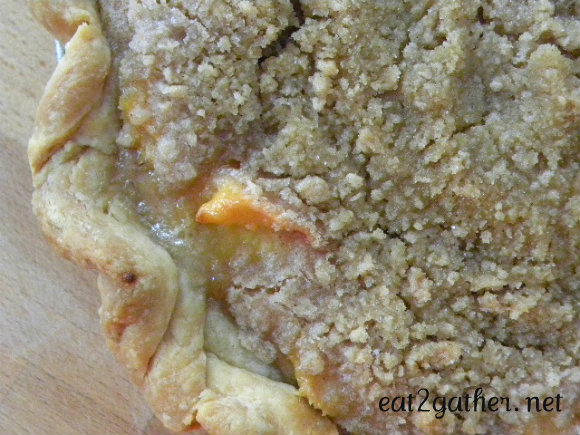 Case in point with the fruit peeking out.  Knees wobbling.
[print_this]
Peach Crumble Pie
1- 9 inch pie
4-5 Peaches, peeled skinned and pitted
1/3 cup Flour
1/3 cup Brown Sugar
1/4 teaspoon ground Nutmeg
1 Pie Crust
Crumble
4 tablespoons Butter, cold and cubed
1/3 cup Flour
1/3 cup Sugar (brown or white)
1/4 teaspoon Salt
1/2 teaspoon ground Cinnamon
Preheat oven to 350 degrees.
1. Roll out pie crust, lay in pie pan, crimp edges and set aside.
2. Peel, pit, and slice peaches into a bowl. Add flour, sugar, and nutmeg mix until combined. Set aside.
3. Crumble: You can use a food processor for this step or a bowl and fork work too. Combine flour, sugar, and butter give a whirl in food processor or cut with fork until combines and resembles oatmeal.
Assembly: Pour peach filling into pie crust, pour crumble on top of peaches and flatten down, letting crumble fall into the nooks and crannies of the peaches, but leaving some fruit showing around the edges. Place pie plate on a baking sheet (this is to avoid a sugary sticky drippy mess in the bottom of your oven) place in oven and bake for 1 hour.
[/print_this]
What is your favorite fruit pie? Blueberry? Raspberry? Apple?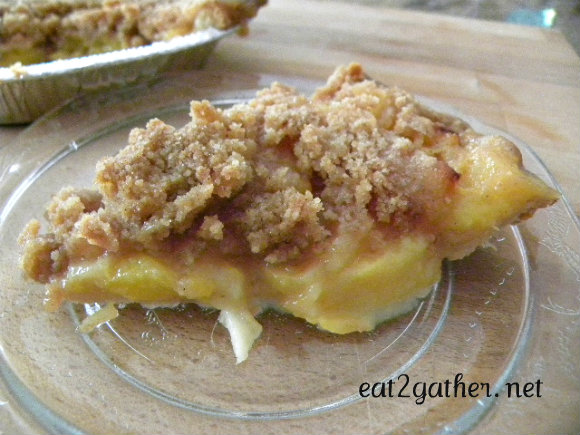 Have a great weekend! Enjoy! Luvya, Sheila