Book Club – Whistling Past the Graveyard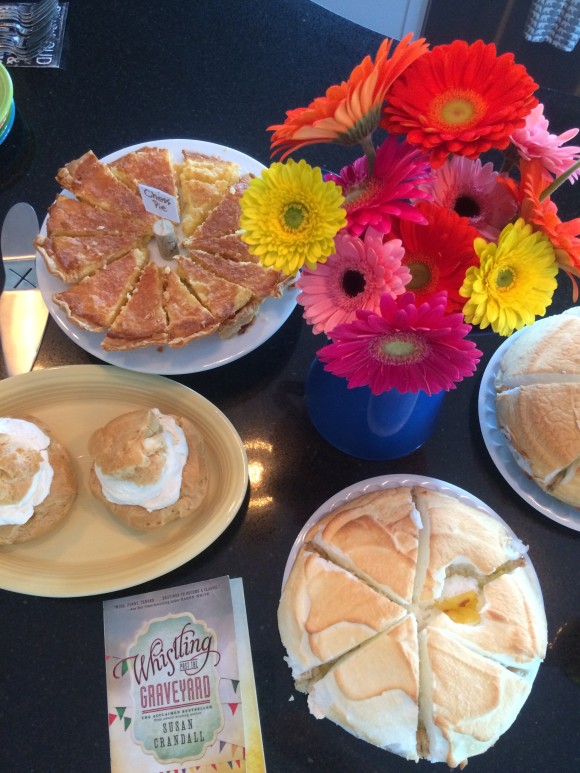 It's almost time for our May book club so I thought I'd best tell you about our March book!!  We read Whistling Past the Graveyard by Susan Crandall.  I personally loved this book.  If  you loved The Help, or Kitchen House you will love this book too.  The characters were so real to me, I literally felt like I could reach out and hug them, and I wanted to, especially the main character Starla.  Oh golly what heartache some kids endure!  I loved every minute of this book, even though a few tears were shed along the way.   I cannot fail to mention that food was a big element in this book, the other main character Eula used baking as an escape.  When she was sad or distraught she baked her tears away, it brought her joy.  I could seriously relate to Eula, not her exact struggles but that baking and cooking brought her peace.  Eula had so many great nuggets of wisdom through out this book one of my favorites came near the end when she said to Starla….
"Child, the good Lord got plans for all of us that we don't know- and he always got his reasons.  He want us to learn and rejoice in the good that come from his design."
Words to live by!
Here's what Goodreads had to say: The summer of 1963 begins like any other for nine-year-old Starla Claudelle. Born to teenage parents in Mississippi, Starla is being raised by a strict paternal grandmother, Mamie, whose worst fear is that Starla will turn out like her mother. Starla hasn't seen her momma since she was three, but is convinced that her mother will keep her promise to take Starla and her daddy to Nashville, where her mother hopes to become a famous singer—and that one day her family will be whole and perfect.
When Starla is grounded on the Fourth of July, she sneaks out to see the parade. After getting caught, Starla's fear that Mamie will make good on her threats and send her to reform school cause her to panic and run away from home. Once out in the country, Starla is offered a ride by a black woman, Eula, who is traveling with a white baby. She happily accepts a ride, with the ultimate goal of reaching her mother in Nashville.
As the two unlikely companions make their long and sometimes dangerous journey, Starla's eyes are opened to the harsh realities of 1963 southern segregation. Through talks with Eula, reconnecting with her parents, and encountering a series of surprising misadventures, Starla learns to let go of long-held dreams and realizes family is forged from those who will sacrifice all for you, no matter if bound by blood or by the heart.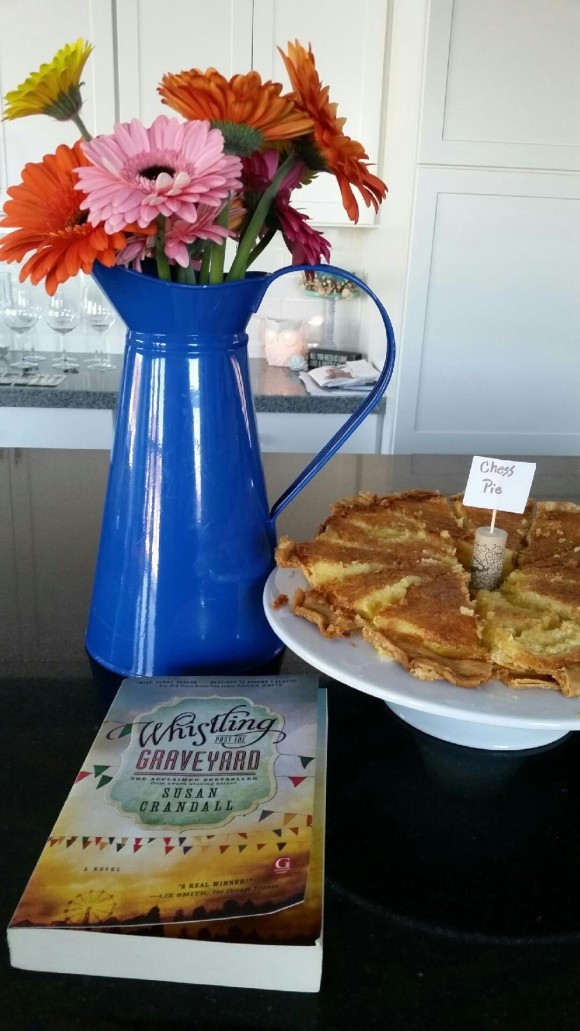 Details of the night…. Linda was our host and she did a fabulous job!  As does every one of the Babes Under Covers when it's their turn to host.  I always love seeing everybody's unique style and how they draw from the book for hostess inspiration. Linda baked us her momma's Chess Pie (and she shared the recipe with us!!) which was DEEliscious! as well as other goodies that were made and mentioned by Eula in the book.  She did warn us ahead of time that there would only be sweets and libations, so we needed to eat our din-din before we came! LOL.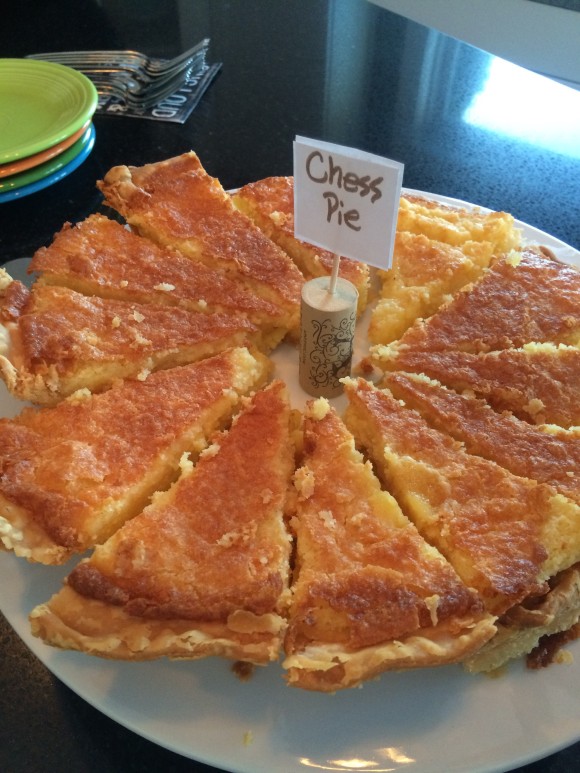 [print_this]
Chess Pie
from the recipe box of Sharon Wingert
1 unbaked Pie Crust
3 Eggs
2 cups Sugar
1/2 cup Butter, melted (the recipe called for oleo)
1 tablespoon Lemon Extract
1/4 scant cup Flour
1 cup Buttermilk or Sweet Milk
Preheat oven to 350 degrees.
Place unbaked pie crust in pie pan, crimp edges. Mix eggs, sugar, melted butter, lemon extract, flour and buttermilk together, pour into pie shell and bake at 350 degrees for 45 minutes or until filling has set or is no longer loose in the middle when pie is jiggled.
"Good and quick and easy to make!"
Thanks you Linda for sharing your momma's perfectly easy and scrumptious pie recipe!
[/print_this]
Overall: We all really enjoyed Whistling Past the Graveyard.  Giving it a solid 4 out of 5  stars! We agreed it was an easy read.  If I remember correctly some BUCs thought that the book ended too perfectly.  Which without giving away the ending, I will say I would disagree.  I thought the book was realistic all the way through.  Overall the BUCs said they would recommend this book, thumbs up to Whistling Past the Graveyard!
By the way had you heard the expression "whistling past the graveyard" before?  I had not.  It's a great title for a great book whose characters persevere and maintain a positive attitude through some of the most difficult circumstances.
What have you been reading lately?  Please share in the comments!! I've read…………..
Little Bee  I loved this book, I could not put it down, but let me caution you do not read this book on a beach vacation!  If you've read you know why, if you haven't read you will know soon enough.  I give this book a 4 1/2 out of 5.
Still Life with Bread Crumbs This book started out slow for me, and at times I was mixed up about what was going on, but it could have been when and where I was reading it. (In a jam packed car with my family for 22 hour drive to Florida…..brain squished.)  I nearly quit this book, but I'm glad I did not it was a unique story that I ended up really enjoying.  Because of slow start I'm giving it a 3 out of 5 stars.
Orphan Train I loved this book.  The story of two very different women, and how their lives unexpectedly converge.  I love this book, did I say that already?  I never read books twice, but I might consider reading this again.  I'm giving it 5 stars.
The Kitchen House I've been on a roll of good books lately.  This book is set back in the late 1700's.  It's the story of two women one being an orphaned Irish girl who finds herself a home on a plantation as a servant.  There she works closely with the slaves in the kitchen house and they become her family.  She has some hard lessons to learn about freedom, love, and truth.  The other woman is a kitchen house slave that becomes like a sister to the Irish servant.  This era in our countries history fascinates and saddens me all that the same time!  This book was a page turner.  I'm giving it a 4 1/2 stars.
What I'm reading next……….
Three Many Cooks by my all time favorite cookbook author and her daughters Pam Anderson I have anticipated this book for so long, and it arrived as a gift on my doorstep from Pam, Maggie, and Sharon yesterday!  I literally hugged it!  Can't wait to dig in.  I'm guessing I'll give this book 5 forks 😉  Three Many Cooks is also a blog and an amazing resource for tried and true recipes!
Join the Babes Under Covers for our next book club reads….
May     Station Eleven by Emily St. John Mandel
July     The Rent Collector by Camron Wright
Happy Reading! XOX, Sheila
PS don't forget to share with me what you've been reading or if you've read any of the above and thoughts!!!