Easy Beef and Bean Enchiladas
What makes this meal perfect is that as good as it is the first day the leftovers are twice as good! Layers of corn tortillas, beef and beans, cheese, and red enchilada sauce, this meal comes together in less than 30 minutes!
Beef and Bean Enchilada's are a crowd pleaser!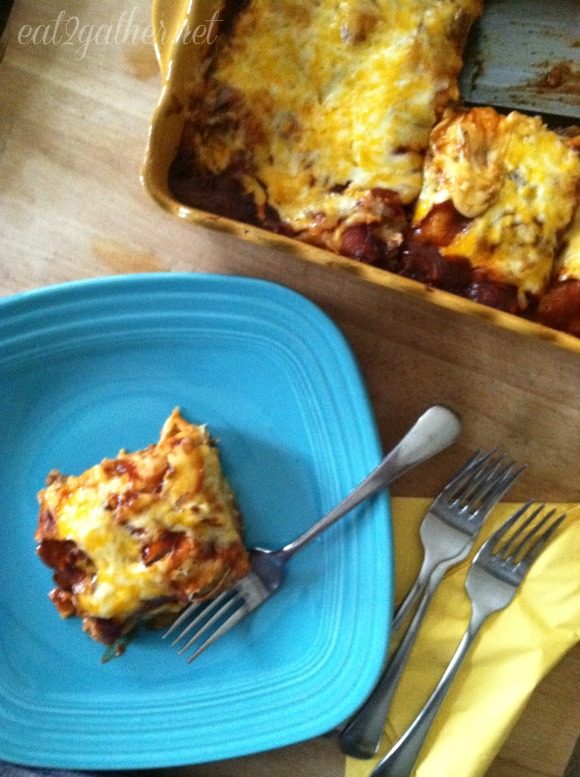 This recipe is a new favorite at our house.  My son told me that it was definitely blog worthy and on top of that it was restaurant quality!  Wow really?!  I'll take it.  I kinda found his statement funny because aren't restaurants always trying to make food "just like homemade". And we are trying to copy-cat our favorite restaurants all the time.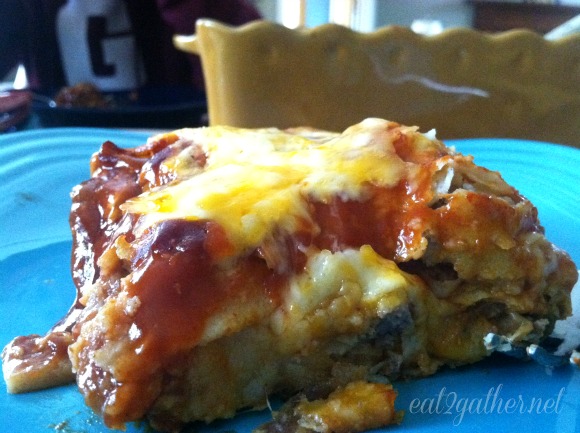 Well I've never had beef and bean enchiladas quite like this in any restaurant. Not only is this recipe super easy it is a great make-ahead meal, it's also easily doubled, freeze one for later and throw one in the oven for dinner tonight!
[print_this]
Beef and Bean Enchiladas
serves 6, 7×11 inch casserole dish
1 pound ground Beef
1/2 cup chopped Onion
1 cup chopped Pepper, red or green or a combination of both
1 16 ounce can Refried Beans
1 teaspoon Chili Powder
1/2 teaspoon Cumin
12 Corn Tortillas
1/3 cup Vegetable Oil
1 28 ounce can red Enchilada Sauce
2 1/2 cups shredded Cheddar or Colby Jack Cheese
preheat oven to 350 degrees
1. In a medium sized skillet brown ground beef, when meat is completely browned add in onion, and pepper, cook until soft. Add in refried beans, chili powder, and cumin stir and continue to cook for an additional 2 minutes. Remove from heat.
2. This step can be skipped, however I think it adds more texture and defines the layers of the casserole more, but it you are in a hurry or rather not add the calories skip 2. and move to 3.
In a small frying pan add 1 tablespoon of vegetable oil just enough to coat bottom of the pan, heat until oil is smoking place corn tortillas in oil one at a time for 10 seconds on each side, remove from pan with tongs and place on paper towel help soak up excess oil. Repeat this, adding more oil as you need it, until all 12 corn tortillas have been fried.
3. Next step assembly. Spread a ladle of sauce over the bottom of baking dish, place 4 tortillas over sauce in a pattern that will best cover the sauce. Take 1/3 of the meat mixture and spread it over the tortillas, sprinkle with 1/2 cup of cheese. Place 4 more corn tortillas over cheese, spread a ladle of sauce over tortillas, then meat, and cheese and repeat. There should be 3 meat layers and 4 tortilla layers. After the last layer of tortillas ladle the remaining sauce over the top and sprinkle remaining 1 cup of shredded cheese over the top.
Bake at 350 degree for 45 minutes, remove from oven allow to sit for 15 minutes before cutting into squares.
Serve with sour cream, guacamole, lettuce, fresh cut tomato, whatever your heart desires!
Note: This casserole freezes really well. Press plastic wrap tightly over top of cheese layer and cover with aluminum foil or another layer of heavy-duty plastic wrap to avoid freezer burn. Thaw and bake.
Enjoy!
[/print_this]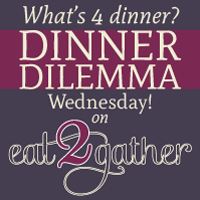 If the rush of the holidays are pulling you away from the table, I encourage you to make your family this easy meal, grab a bag of chips and some salsa call everyone to the table and spend some time with those you love!
Much love,
Sheila