31 days of Meals 4 Sharing ~ my Heart for Meal Ministry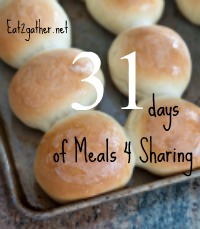 Does bringing a meal to someone freak you out?  My hope is that, as I share with you my story of how I discovered to love others through the gift of food , I will encourage you to step out of your comfort zone, and do so too.  I think the title Meal Ministry puts the idea of gray haired grandmas (nothing against gray hairs…I have more than a few myself) delivering casseroles chocked full of canned soup to the sick in our minds.  Maybe the word ministry makes some feel uncomfortable.  So, what does ministry actually mean?
Ministry: the act of serving.
WE can do that!
Meal Ministry: the act of serving others through the gift of food.
Hey, we can do that too!  That's not so scary…or is it?
I'm renaming meal ministry Meals 4 Sharing.  Maybe the word ministry is intimidating to you.  Sharing is basically the same thing as serving.  When you share you are giving, ministering, bestowing upon others some sort of goodwill.  So incase the word ministry freaks you out I'm going to say share…because it's nice to share!  OK all better no more intimidating words.  Lets move on.
My Story:
Nice collar.  Of course I decided to give myself a haircut the night before school pictures.  Egads!  I was what you might call a scraggle tooth kid.  In case you wondered I still smile like that.  Geeee
The seed was planted in me many years ago, by my mom who was a member of the Womens Guild at our church, she was always whipping up a jello salads, cakes, baked beans, you name it and hauling it off to church for something or another.  I also remember helping her carrying in a full meals to peoples homes, they had a need of some sort, and by preparing them a meal she was providing them with a basic need.  Food comforts.  By preparing a meal my mom had showed them she cared about even the most basic thing in their life, nourishment.
I wasn't made aware of of my heart for sharing meals until after the birth of my first child.  We were living away from family.  Ken and I had made the decision that I would stay home and not go back to work.  We were new to our church.  And relatively new to our neighborhood.  Needless to say I was feeling a little isolated.  But when the phone rang the day we brought our Noah home and a complete stranger from our church asked me when she could bring me my meal, I was dumbfounded.  Bring me a meal?  Why?  It was just the three of us, I had plenty of time to cook, I like to cook, why should someone cook for me. I very politely told the woman, "Oh my we're fine, you don't need to bring us a meal, but thank you so much, I really appreciate you thinking of us."   This is what she said to me that day, and now thinking back it brings tears to my eyes, "Please let me do this for you.  I really want to meet you.  Some ladies and I, at church, pray for expecting/new mothers, we have been praying for you….".  What huh?!  She had been praying for me….. "Uh sure."  I said.  How could I refuse her?  She asked what the best time to come the next day would be…..and there it began!
Kenny with our first born, Noah, circa 1996.
She arrived the next day meal in tow, the best meal I had ever eaten…..let me tell you what.  (I will be sharing the recipe sometime in the next 31 days.)  She promised she wouldn't take up much of my time, but she would love to see my new baby, and could she hold him?  She washed her hands, and plucked him up.  I could tell she had done this a few times.  We chatted for a few minutes.  And then she asked,
"How many meals a week would you like the ladies to bring?"
"What ladies?"
"The women in the church Meal Ministry."
"Oh, golly!"  I said…cause I say stupid stuff like golly and gee-wiz.  "Really we are good, we don't need alot of meals brought to us, I would hate for people to take the time…….."
"But we want to, just let us do it.  Noah is sleeping alot now, but in a couple days you will be glad not to have to worry about grocery shopping and thinking about what you will prepare, you need to sleep, eat well, and take care of your baby.  I promise you, you will be glad you let us do it."
I would later realize that these were words of wisdom.  Because after the adrenaline rush from having a baby wore off, the meals that arrived to our door every other day for four weeks were an amazing blessing to us.  As were all the wonderful people that delivered the meals.   I started to look forward to meeting someone new, more than the meal itself.
I also learned from Mary Jane (that was the name of the sweet persistent lady that prayed for me and brought me the most marvelous meal ever) that by receiving her meal I blessed her equally by letting her serve me.  You see it comes full circle, this sharing thing.
So the seed was planted in me by watching my mom, and that very same seed was watered by a woman named Mary Jane many years later.  Maybe the seed has never been planted in you. Maybe, then….this is your seed.
-Are you thinking I can barely get a meal on the table for my own family let alone someone elses?
-Maybe you have never had a meal brought to you.
-Or are you thinking I don't even know these people, why am I being asked to bring them a meal.
-Possibly you live in an affluent area where chefs are hired or take out is commonplace.  Or you are on the opposite side of the coin and you feel like you can't afford to bring someone a meal.
-I could be that you don't even know who you would bring a meal to.
These are all topics I will discuss in the next 31 days.  I promise you, with all my heart, that there is someone in your life that you could bless more than you ever dreamed with the gift of food.  I also promise that you will be nourishing more than their bodies.  You will be nourishing their soul, by letting them know you care enough to make sure a need was met in their life!  The blessings you receive back will be ten fold!
I would love to hear your heart in regards to sharing meals.
Please leave me a comment! And hey by the way have you liked Eat 2gathers Facebook page?  Do you follow my Twitter?  Come on people "you know I luv ya…ya you know I do…I just want you-oo to luv me too".   Sorry random little diddy.
AND don't forget to check out these eight luverly ladies 31 day series.  The Nester, Sandy at The Reluctant Entertainer, Darcy, Emily, Melissa at The Inspired Room, The Creative Mom, Jen from Beauty and Bedlam, Emily at Remodeling this Life,
Much love,
Sheila