I LOVE GRAND RAPIDS!!!  Sorry I just had to say that.  For so many reasons I love this little corner of the planet I reside in.  People here are family oriented, and are always looking for a reason to help out a good cause or to broaden their horizons, or to just have fun for the sake of having fun! I can't even keep up with all Grand Rapids has to offer, if I tried to I would run my family ragged!  That's not to mention that we are only 30 minutes from the shore of Lake Michigan, and are surrounded by 100's of smaller lakes!  Seriously I need this t-shirt: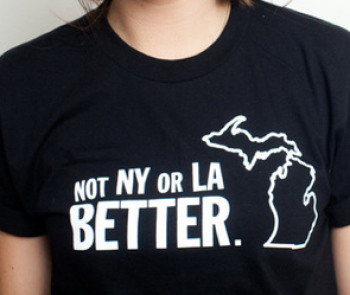 Or I dunno maybe this one suits me better…
Ok so now if you don't know about it already, you are probably wondering what does all this my babble about Grand Rapids and West Michigan,  have to do with Grandwich…and what the heck is a Grandwich anyway???
Last year Grand Rapids held its first ever sandwich competition to declare an official sandwich of Grand Rapids.  Local restaurants created and put unique sandwiches on their menu, the public was invited to go out and taste each sandwich and vote for their top 10 favorites.  A panel of judges tried all  top 10 sandwiches and declared the GWrap from Bobarinos to be the official Grandwich of 2011, a title they've held proudly for one year.  Now its time to decide if a new Grandwich will reign in 2012.
The competition begins Monday, July 23.  Visit participating businesses and try their Grandwich.  If you like it, you have until Monday, August 13 to vote.  At that time, the top 10 sandwiches will be declared.
The judging portion of the competition will take place on Friday, August 17 during GRAM on the Green on the outdoor plaza.  The winner will be announced then and the event is open to the public.  Admission to the judging event will be a donation to Kids Food Basket.  In it's inaugural year Grandwich raised $2000 and approximately 400 lbs of food for Kids Food Basket….so awesome!  Can't wait to see what the competition will bring to the basket this year. 
So now it's time to let the taste testing begin!!!!
Get out there Grand Rapids and get your Grandwich on!
Too many sandwiches not enough time???  Here's an idea: grab a few friends and do a Grandwich crawl.  Pick 4-6 restaurants (or more) to visit in one night.  Depending on the number of friends order a sandwich or two to split, and then move on to the next Grandwich stop!  Then don't forget to VOTE!
This is what my Seestor, brother-n-law and I are doing next Thursday night!
Grandwich details can be found at Downtowngr.org, or you can click HERE to find out which restaurants in Grand Rapids are in it to win it!
If you could create your own Grandwich what would you put on it?
Are you going to head out in search of your favorite Grandwich?  Let me know your top pick.  And if you see me out on the town packin it in my pie hole, don't be shy, stop by my table and say Howdy!