Corn and Sweet Potato Chowder with Feta and Bacon
This recipe requires a bit of time in the kitchen, but once you have a bowl of this smoky sweet and tangy soup topped with bacon you won't look back! (at the sink full of dishes that is!)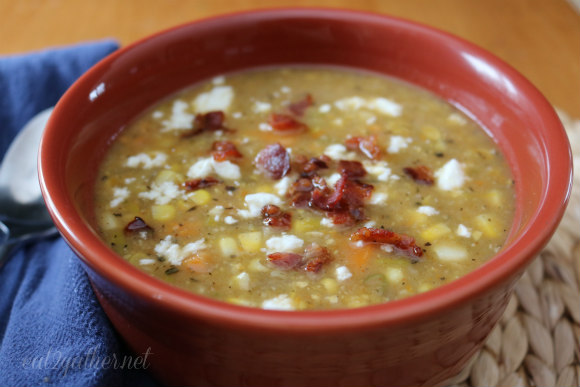 There's this little place in a city near where I live, Grand Rapids, Uncle Cheetahs Soup Shop, its magical.  Truly.  It's a true gem, comforting, lovely, and quaint, and the soup! The soup is nothing shy of spectacular.  On any given day you have 8 or more made from scratch soups to choose from, and you can try them all before you decide.  All. The only problem with that is instead of making the decision easier, it usually makes the decision harder because with flavors like Dill Havarti, Saffron Tomato, Potato Gouda, Spiced Pumpkin Bisque WHO CAN CHOOSE?  Last week my seestor and I went and we shared the Lobster Bisque and this soup.  I basically stole the whole bowl of chowder and left my sister smacking.  Once I got home I could not stop thinking about this soup, of course I had to try to recreate.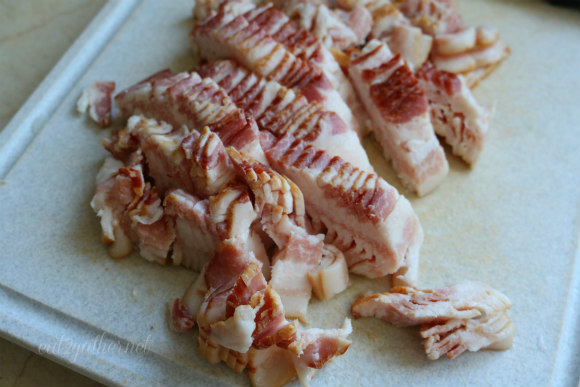 I had to add my own twist to the recipe, and everything is better with bacon right?  I knew you'd agree!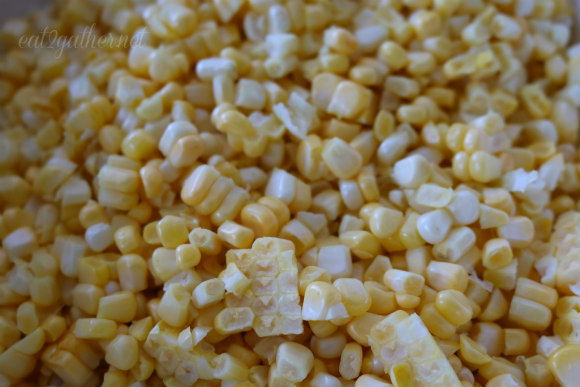 Well, I regretted wolfing it down so fast and not taking the time to dissect the flavors, but I decided that fresh corn with homemade corn stock is where I needed to start.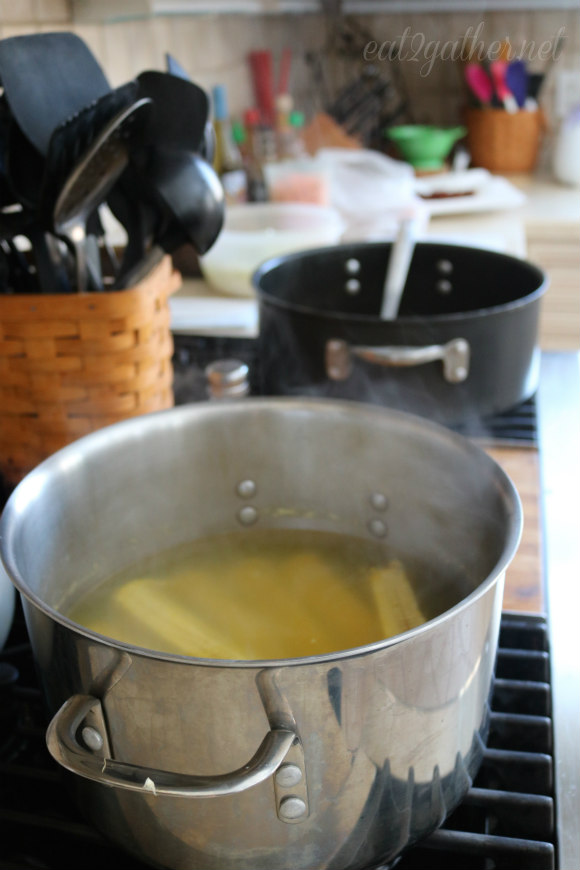 One of my all time favorite cookbooks The Soup Club Cookbook was the first one to introduce me to the idea of corn stock.  Stock made simply from cooking the cobs after the kernels have been cut off.  It becomes this sweet rich corn flavored goodness.   See my messy process?  Corn cobs cooking, bacon sizzling, onion choppen, ahhh making soup is therapeutic.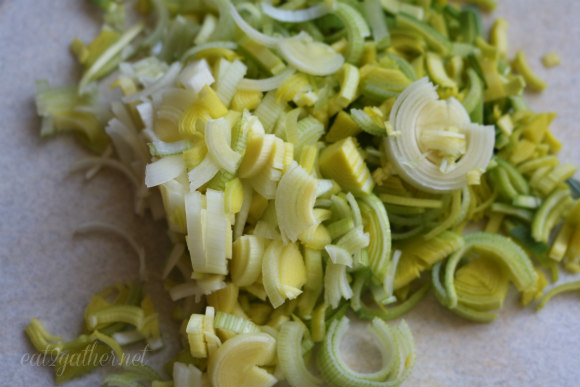 Next up, leeks.  Leeks are so underrated!  Leeks for president.  The will need to be cleaned properly here is how you do it.
Corn, sweet potatoes, leeks, and corn stock are the main players in this tasty CHOWdah.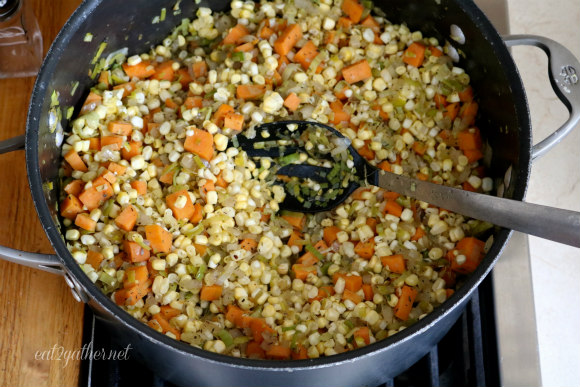 Wish you could smell this!!  First, I cooked the bacon, removed it to a paper towel covered plate,  reserving a tablespoon of the grease for cooking the leeks, onions, and sweet potatoes.
Oh hey I meant to tell you about the soup I had today at Uncle Cheetahs, yes I was back today.  Don't judge me.  I ordered the Thanksgiving Dinner soup, it was magical.  Willy Wonkahish.  One minute it tasted like green bean casserole, next gravy and potatoes, turkey, and then sweet potato casserole so crazy, it was like the never ending gobstopper of soups! I honestly don't think I can recreate that one.  There was something completely mysterious and heavenly about Uncles Cheetahs Thanksgiving Soup.  I didn't even take a picture I was so mesmerized!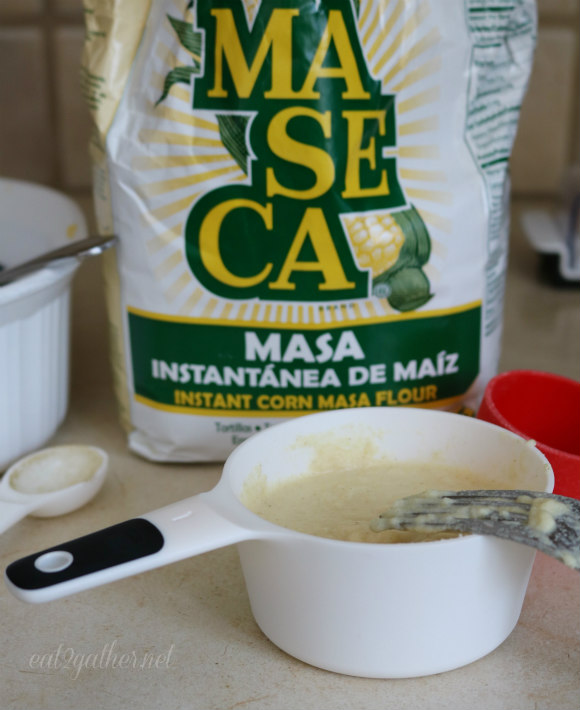 OK back to the Corn and Sweet Potato Chowder,  it needed to be thickened up a bit, to do this I used a combination of masa and my handy dandy immersion blender.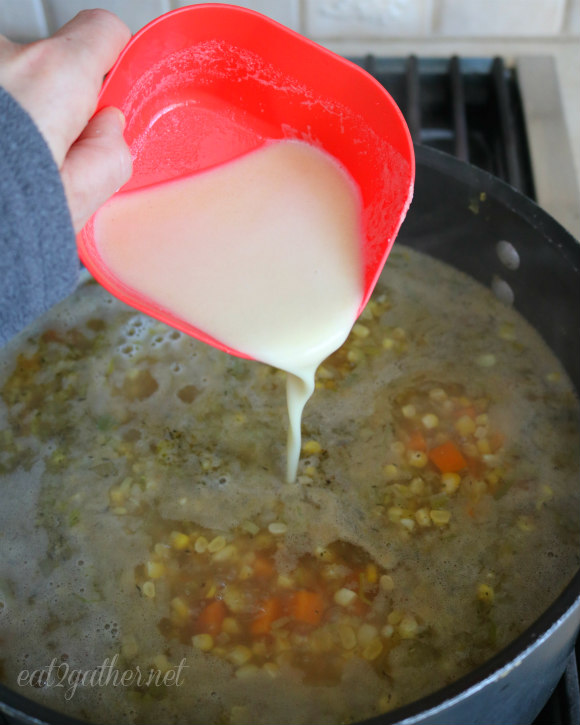 After the claw poured in the masa slurry, I gave it a good whisk and let it cook a bit, then I used my immersion blender to break it up a bit, make it a little smoother, still leaving the majority of the veggies intact.  If you don't have an immersion blender you can scoop a couple of cups out and blend them in your blender and then adding it back in will do the same thing!  I'm not a big kitchen doodad person, but I do love my immersion blender it's one of those things I thought I wanted for years, but thought it frivolous and then my seestor got me one for Christmas (because sisters know what you really need) and now I can't imagine life with out this gadget!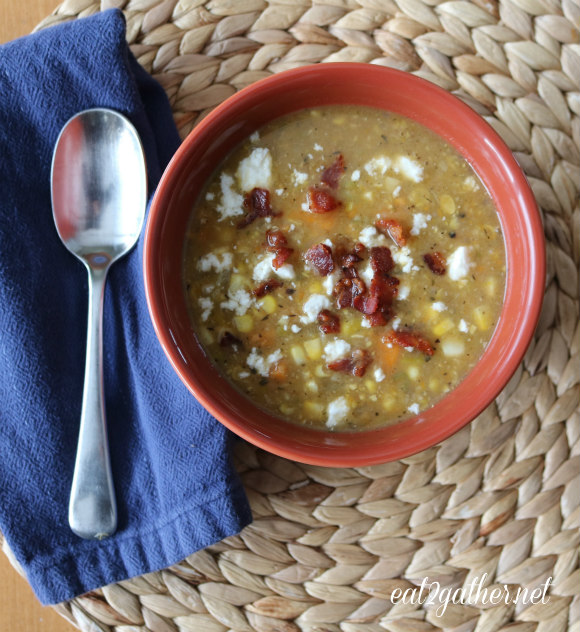 Lets talk about the feta.  I thought feta was an odd addition at first.  What do I know!!  The briney tang of the feta lends the perfect complement to this sweet soup.  I stirred a cup into the soup and then used the rest for garnish along with the bacon.  I hear you smacking.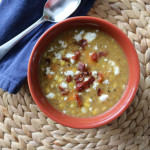 Print Recipe
Corn and Sweet Potato Chowder
Top this comforting soup with feta and bacon and you have yourself the perfect meal!
Equipment
1 8 quart soup pot

blender or immersion blender
Ingredients
8

cobs of corn

3

quarts

water

4

cups

sweet potatoes, peeled and cubed

1

cup

sweet onion, diced

such as vidalia

2

whole

leeks

cleaned and sliced, see notes

1

pound

bacon

1

tbsp

reserved bacon grease

1

tbsp

dried thyme

1/2

tbsp

poultry seasoning

2

tsp

salt

1

tsp

smoked paprika

1/2

tsp

dried oregano

1/2

cup

masa

finely ground cornmeal

1

cup

cold water

fresh ground pepper to taste

1

cup

feta cheese
Instructions
Cut corn from cob and set aside in a bowl you should have about 6 cups of corn.Place corn cobs in a large pot with 3 quarts (12 cups) of water. Bring to a boil, turn down low and let simmer for 1 hour. Remove cobs from water strain corn stock through a wire strainer or a colander. Set aside. You should end up with about 8 cups of stock.

Cut the pound of bacon into 1/2 inch pieces, and cook in a large pot (at least 8 quarts). When bacon is crispy and brown remove to a paper towel with slotted spoon. Pour grease from pan. Do not clean pan, leave brown bacon bits for next step!

Add 1 tablespoon of bacon grease back to large pot, and turn heat up to medium high, when grease is sizzling add onions and leeks to pot. Cook for about 5 minutes, then add sweet potato cook until potato starts to soften. Add thyme, poultry seasoning, 1 teaspoon of salt, smoked paprika, oregano and stir, cook for a minute longer bringing out the fragrance of the spices. Add corn stock to the pot and cook for about 10 minutes at a low boil.

Combine masa and water until it makes a loose paste, pour into chowder stirring vigorously. Cook for another 10 minutes. At this point if you have an immersion blender take your blender and give the chowder a few whizzes around the pot. You don't want the chowder to be smooth you just want to break up a little bit of the vegetables to make for a smoother, thicker soup.

** If you don't have an immersion blender, have no fear, just take 2 cups of soup and put it in your blender and blend until smooth, add back to the pot.**

Continue to cook for another 10 minutes, taste and add 1 teaspoon of salt or more if needed, as well as a good teaspoon of fresh cracked pepper.

Just before serving add 3/4 cup of feta cheese stir.

Serve topped with additional feta and bacon crumbles.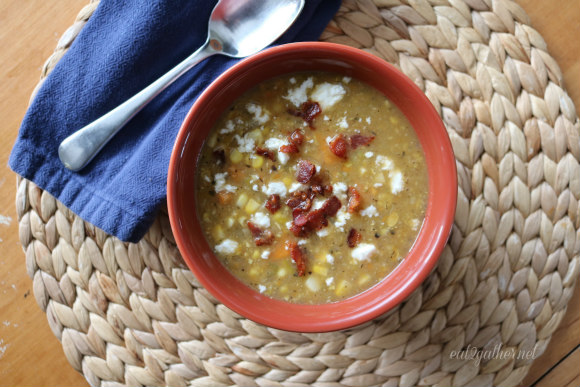 There is no such thing as making just a little bit of soup!  I've tried,  it's impossible.  Not sure you would be able to eat such a large pot of soup?  May I suggest freezing?  I have not tried freezing this soup, but I'm sure it would freeze wonderfully.  Or fill a couple quart jars and share with family, friends, or a neighbor.  Soup is best when shared!!
Keep warm,
Sheila