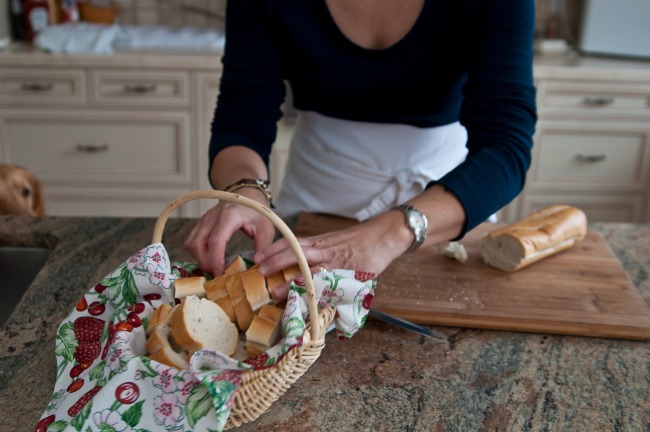 I personally think bringing a meal, to a new neighbor, is the most intimidating of all the reasons. What do you think? You don't want to descend on them like the mod squad and freak them out. Ding Dong Ding Dong HELLO Welcome to the neighborhood WE WANT TO FEED YOU!   It's hard to know your boundaries with new neighbors…it's a whole new ball game.  Maybe you loved your old neighbors, that just moved out, they were like your family,  your feeling a bit sad,  and don't feel like  putting your heart out there again to someone new.  It's just a meal not an engagement ring.
There is one thing I know for sure, unless they are super humans, their cupboards are going to be bare for at least the first 3 days of moving.  So what better way to say Welcome to the Neighborhood than to walk over a nice hot meal. Better yet. Head over a couple hours prior and tell them that you are bringing them a meal, so they don't order pizza instead.  Or if you are busy, and making a meal is not going to happen, you can bring them pizza!  Whip together a salad, and a boxed mix of brownies, Voila!
If it looks like they have lots of help and family around and it's just one big moving in party that you feel uncomfortable about crashing. Well then when the cardboard dust has cleared and all the boxes have been picked up by the moving company, then head over with a meal. Chances are they are still trying to get their barrings in their new home, neighborhood, and community.

Here's an IDEA, invite them into your home for a meal, then you can get to know them, and they you. They could probably use a break from the unpacking, and would welcome stepping out for an hour or so!
Bringing a new neighbor a meal is also a great time to get other neighbors involved. (Read day 10 for a refresher.) Call around,  you can all piece together a meal for the newbies. What was that saying again……
Oh yeh "many hands make light work."
Many hands can also bring many blessings! Nothing is harder than being new to something.  But when someone breaks the ice and shares a meal it could the beginning of a great neighbor relationship!  Or not, I realize neighbors can be challenging at times…..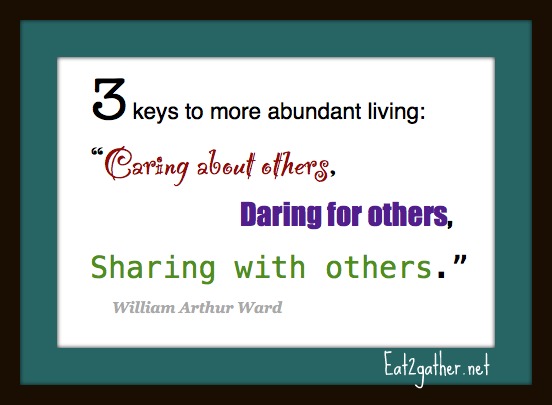 But if we step out of your comfort zones and show the new kids on the block some love, even though you may never be best friends you will most likely be crossing paths daily, so it's nice to make them feel welcomed.
The above quote encourages me, it's a reminder that I need to care about others, not just MY family.   I have to step out in faith and dare to put myself  out there.   I need to share with others my time and resources, ie. vittles!  AND when we do this we will live ABUNDANTLY! I want to live abundantly,  don't you?
If you are just now joining me in my 31 day journey of Meals 4 Sharing feel free to catch up on the past 17 days! 31 days of Meals 4 Sharing
Day 1~ my Heart for Meal Ministry
Day 2~ "I'm not comfortable with bringing someone a meal"....
Day 3~ Reasons 4 sharing a meal.
Day 4~ Quick Easy Apple Sauce
Day 5~ Organizing a Meal Schedule
Day 6~ #1 reason -No reason at all!
Day 7~ #2 reason 4 sharing a meal - Baby...baby....baby..oooo
Day 8~ Chicken Supreme
Day 9~ It doesn't have to be home cooked to be a Blessing
Day 10~ partnering 2 SHARE a meal
Day 11~ Dare
Day 12~ #3 reason Hostess Meal
Day 13~ #4 reason Back 2 Work
Day 14~ Chicken Salad - the perfect meal 4 SHARING
Day 15~ Containers
Day 16~ reason #5 illness/injury
Day 17~ (#6) Loss & an update on BwoB JOPLIN
Believe it or not, I am not the only one doing a 31 day series in October.  There are like 80 gagillion of us out there…or maybe it was 700ish, that sounds more like it.  If you have a second  check some of them out, go here.
Here are a few of my favorites, My 3 Monsters, Texas Cottage, Wellsprings of Life, The Inspired Room, The Reluctant Entertainer, My 3Boybarians, The Great Read .  These are just a few!  There are so many talented writers out there it just boggles my noodle!
Remember the good Book says "love your neighbor as yourself and bring them a meal when they move in." Look it up…it's in there!
Much LUV!
Sheila