The secret ingredient in this Lasagna recipe sends this lasagna flying off the charts! Lasagna is the  Italian comfort food, that always gets applause from my family. Why not make a few pans ahead and freeze them, so you can have this cheesy comfort food more often!

My friends and I recently made this recipe during our freezer meal cooking day.   I have a lasagna recipe that I have never veered from, so I have to admit I was a little apprehensive about trying a new one.  Even though I love cream cheese I was skeptical of the cream cheese sauce.  So when Jill (freezer meal pal) said that her family loved this lasagna, "it was the best they had ever had!!".   I had to get it out of the freezer, like pronto, and see for myself.  Yep, she was right my family said the same….new favorite cheesy lasagna!!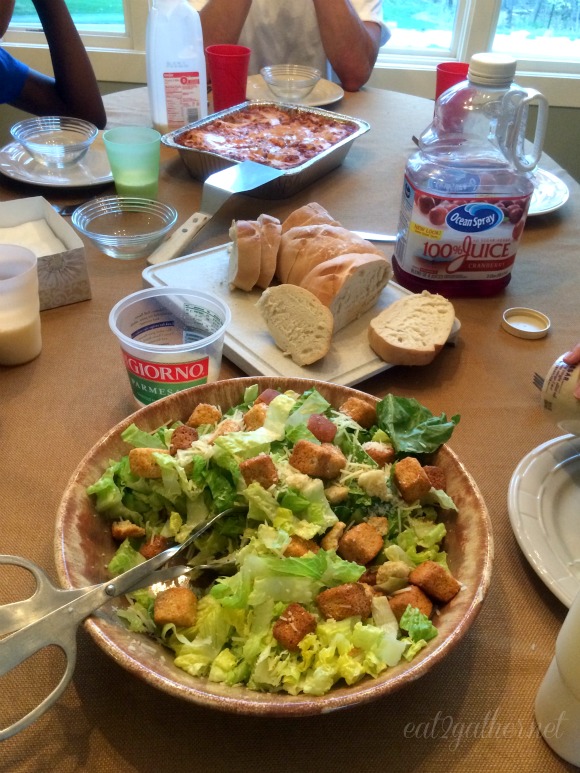 Hows that for a beautiful dinner table?!  Love it!  I love dinner table photos.  If a picture speaks a thousand words, what does this one say to you?  Everything thrown shelter skelter, elbows on the table……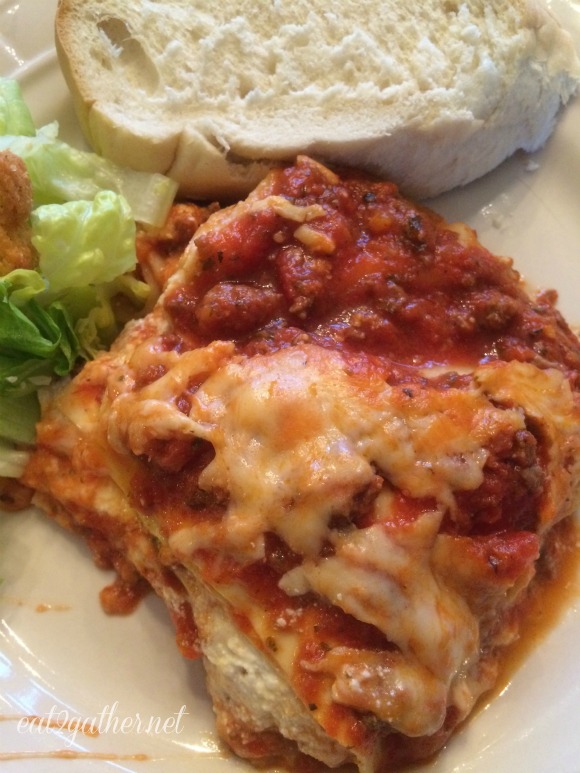 This lasagna recipe is from one of my well-loved community cookbooks.   I texted my friend Michelle who submitted the recipe and asked her if I could use it.  I told her I was skeptical of the cream cheese layer, but that it was amazing; so creamy, cheese, and so on and so forth and what have you…..(name that sitcom, and who said that line,  and I will make you this lasagna).   Like the true foodie friend that she is she texted back " Oh my dear friend you should never ever be skeptical of cream cheese.  Cream cheese is a beautiful thing."  I hung my head in shame.  Of course she was right.  How could I ever have doubted cream cheese?
Now all you cream cheese nay sayers out there…trust me on this.  My husband is a weird freekin' guy who doesn't eat cream cheese, sour cream, cream fresh, mayonnaise or anything marvelous and wonderful of the sort, and he loved this lasagna.  He has no idea what he was eating…of course.  He loved it.
[print_this]
Lasagna
makes 1 9×13 pan of lasagna
serves 8
1 pound Ground Beef
1/2 cup chopped Onion
1 24 ounce jar of your favorite Spaghetti Sauce
1 tablespoon Italian Seasoning
1 8 ounce brick Cream Cheese
1/2 cup Milk
1 16 ounce bag shredded Mozzarella Cheese
1/2 cup Parmesan Cheese
1 package 16 ounce Lasagna Noodles
1. Brown ground beef with onions, add spaghetti sauce, and Italian seasoning, salt and pepper to taste. Allow sauce to cook for 30 minutes on medium low heat.
2. Cook noodles according to the package directions.
3. Place cream cheese and milk in a microwave safe bowl, microwave for 1 minute remove and stir, continue to heat in microwave at 30 second intervals, stirring after each, until cream cheese and milk are melted together and smooth.
4. Layer in a 9×13 pan: Noodles, meat sauce, cream cheese sauce, mozzarella, a sprinkle of parmesan cheese. Repeat this step two more times. Three times total.
5. Bake for 45 minutes at 350 degrees.
Freeze Meal: Make lasagna in a freezer safe dish. (I like to use a 9×13 disposable aluminum pans.) Cover with plastic wrap pushing plastic down over top of lasagna, so there is not space between plastic wrap and lasagna, cover with foil, seal tight, write cooking direction with a sharpie on top of foil. Before cooking make sure lasagna is completely thawed. Directions for cooking -> Thaw. Uncover and bake for 1 hour at 350 degrees.
This recipe was slightly adapted from the Friends or Portage Lake a heart for camp Cookbook it was submitted by Michelle Hansma.  
[/print_this]
What's on your meal plan this week?
XO, Sheila