CHILI COOK OFF Week ~ Smoky Turkey Verde Chili & Giveaway
Nothing brings people together like a big pot of chili.  Chili is meant to be shared.  Who makes a pot of chili for themselves?  No one that's who! Chili seems to cross all culinary borders, even the most timid cooks have their own chili recipe!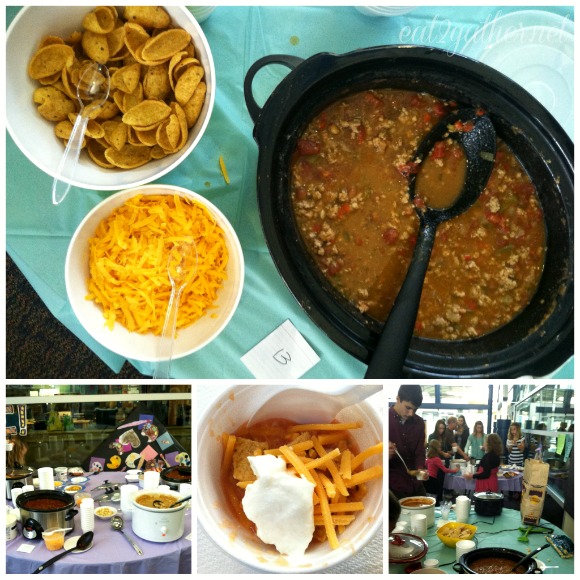 Quite a few years back Ken and I started a Fall tradition of hosting a Chili Cook-Off at our house with a group of friends.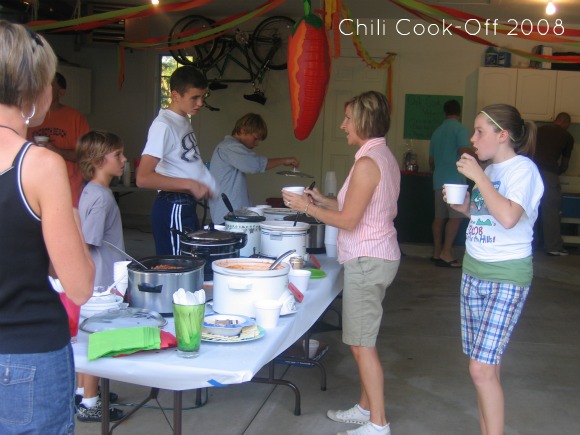 Having everyone over and tasting the different chilis everyone came up with year after  year was the highlight of our Fall!  Over the years the cook-off has transitioned from being at our home to our church,and anyone is welcome, so if you're in the area cook up your signature chili recipe and come visit the LifeChurch Chili Cook Off! (It's the last Sunday of October.)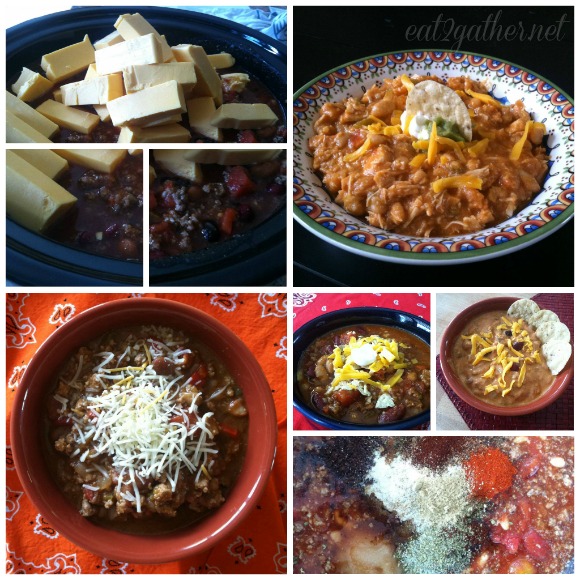 I have a story or two from the  years we hosted, we had some good times!!  I will share one for sure. I have been given permission to share a few prize-winning chili recipes from our years of chili cook-offs, so make sure your printer ink is full because you are gonna wanna print these babies off!
Every year my seestor cooks up a big pot of pre-thanksgiving chicken chili, its tradition!  It's perfect because you do need to eat the day before Thanksgiving, but who wants to make a whole big meal and chili is way better than take out pizza!  Chili is actually the perfect holiday fare!  So what better way to start celebrating the holidays than with Chili Cook Off Week!!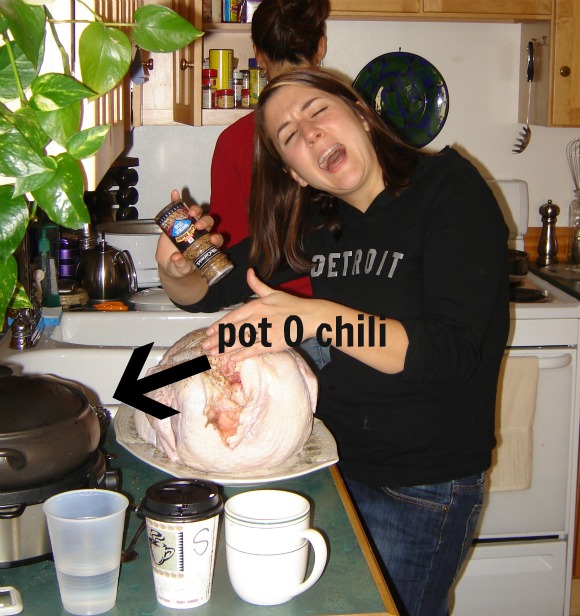 I'm pretty confident the blogosphere is well stock with traditional holiday recipes so I thought it would be fun to change it up!!  I think my seestor is singing my praises!
And ya can't do a Chili Cook Off with out prizes so I've got a week full of prizes as well!!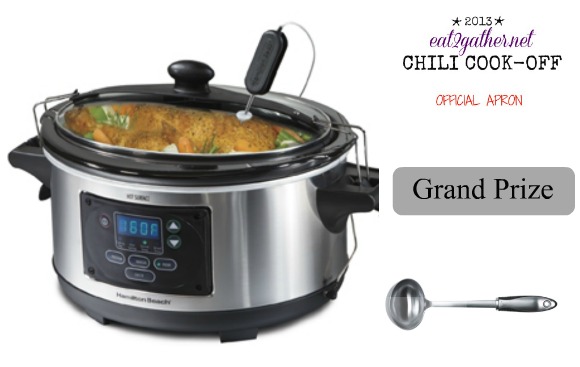 Grand Prize ~ Hamilton Beach Set & Forget Slow Cooker, the official Eat2gather Chili Cook-Off apron, and a ladle from OXO
Other prizes will be announced as the cook-off progresses!
What's your favorite Chili and who makes it best?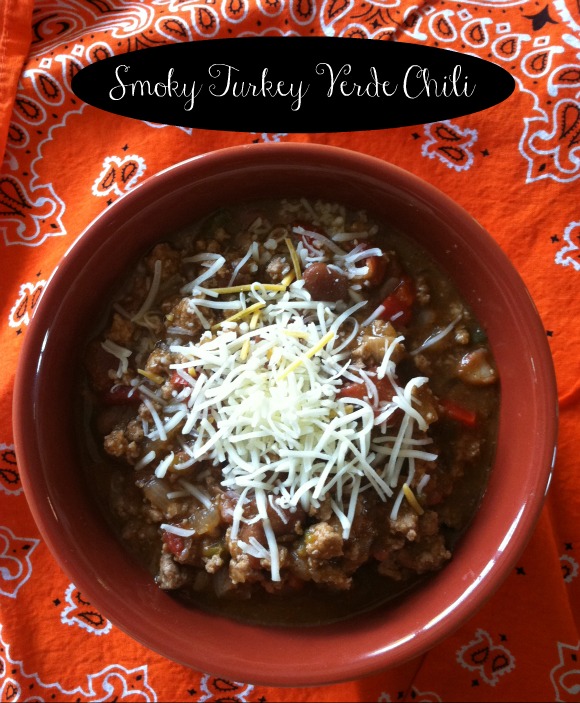 This isn't an official prize winner, but it's easy and my family loves it!  Feel free to play with the level of heat.  If you prefer your chili spicier add in more chili powder;  if you have a tender palate then cut down on the chili powder.  The ancho chili powder and smoked paprika work together to give this chili its rich smoky flavor!
Dig IN!!
[print_this]
Smoky Turkey Verde Chili
2 pounds ground Turkey
1 medium Onion, chopped
1 Red Bell Pepper, seeded and chopped
1 Green Pepper, seeded and chopped
1 tablespoon Oil
1 28 ounce can Green Chili Verde Enchilada Sauce
1 10 ounce can Original Rotel tomatoes
1 14 ounce can fire roasted Tomatoes
1 14 ounce can Chicken Broth
1 1/2 tablespoons Ancho Chili Powder
1 teaspoon Smoked Paprika
1 teaspoon Salt
2 16 ounce cans Pinto Beans, drained and rinsed
1/4 cup Masa + 1/2 cup cold Water
Brown ground turkey place in slow cooker, in the same pan add olive oil and peppers and onion, saute' vegetables until soft and starting to brown, add this to slow cooker. Add remaining 8 ingredients. Whisk Masa and water together whisk into chili. Cook on High for 3 hours.
Serve with tortilla chips, shredded cheddar, sour cream, guacamole…or just plain 😉 that works too!
[/print_this]
OFFICIAL Chili Cook-Off GRAND PRIZE Rules:
Answer the question from the body of this post  in the comments for a chance to WIN Grand Prize mentioned above!  
One comment per person purdy please.
**ONE extra bonus entry allowed for sharing 😉 It's nice to share.  If you share this giveaway on your facebook, twitter, or pinterest accounts copypaste the url in the comments for a second chance to win!
This contest will close Friday, November 22, 2013 at midnight EST. This giveaway is open to US Residents 18 years or older the winner will be selected random.org and will be notified via email. 
Good Luck and may the best person win!!
XOX, Sheila
Please note none of the prizes this week were given to me by any companies or brands, ALL prizes have been purchased by E2g for you by me.  I am not being sponsored to do this Chili Cook-Off week, it is strictly for fun and because I love my readers!!