I'm very excited to be helping with a SURPRISE virtual Baby Shower for Rachel at Rachel Cooks!  It's been such a long time since  I've been able to be a part of a BABY SHOWER!  Yeh!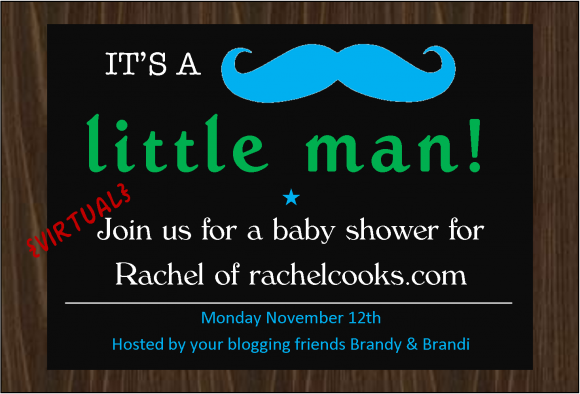 I am sure every family has their traditions when it comes to Baby Showers and how to throw them.  In our family the one thing besides punch and baby bootie cupcakes (that my mom is a genius at making!) that was always on the table at a baby shower was my moms Chicken Salad, served with her delicious buttery rolls.  So I just knew I had to bring my momma's Chicken Salad recipe to Rachel's Baby Shower!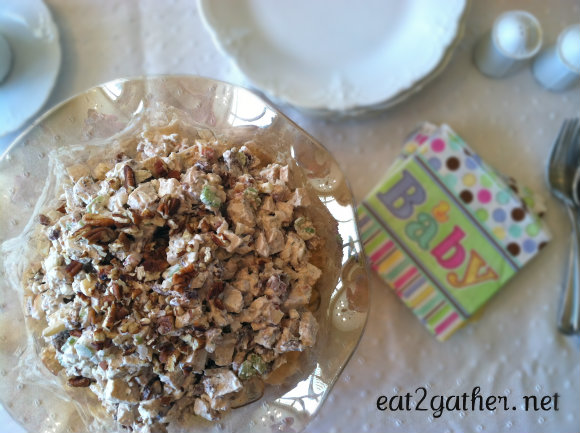 What are some Baby Shower traditions your family has?
Another family tradition is to use the good china!  Not sure why, but no paper plates where allowed.  Maybe it was a subtle reminder from the older generation to the new, "Honey, this the last time your going to be eatin off the fancy stuff for awhile!"  The glass punch bowl always made an appearance, with some sort of sherbert laden punch.  When I was a kid, I always volunteered to be the punch bowl helper, and then I would O.D. on the sticky sweet punch!  Those where the days!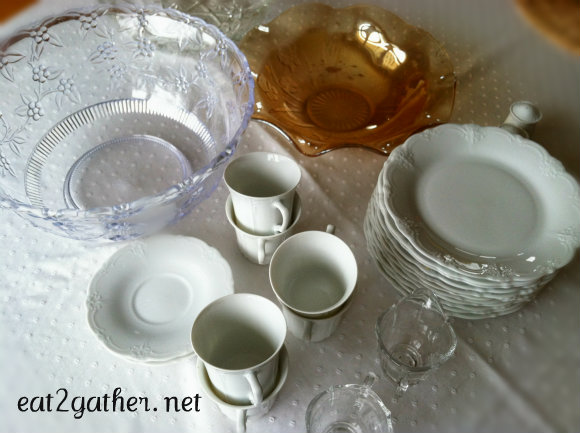 So to keeping with our families tradition, I'm sharing my Mom's Chicken Salad, but with a Michigan twist since Rachel and I are both Michiganders!   I added cherries (which I normally put in my chicken salad) and apples.   Not only does it taste fantastic, it makes the Chicken Salad so pretty!
Besides how delicious this salad is, the best thing is it's better if you make it the day before, which is perfect for party planning,  you can have your main dish all finished a day ahead, and have extra time to set a pretty table, and prepare silly baby shower games!  Which I  loose miserably at every time….for the record I have four kids!  Those games are rigged!
This is what you'll need to make our chicken salad: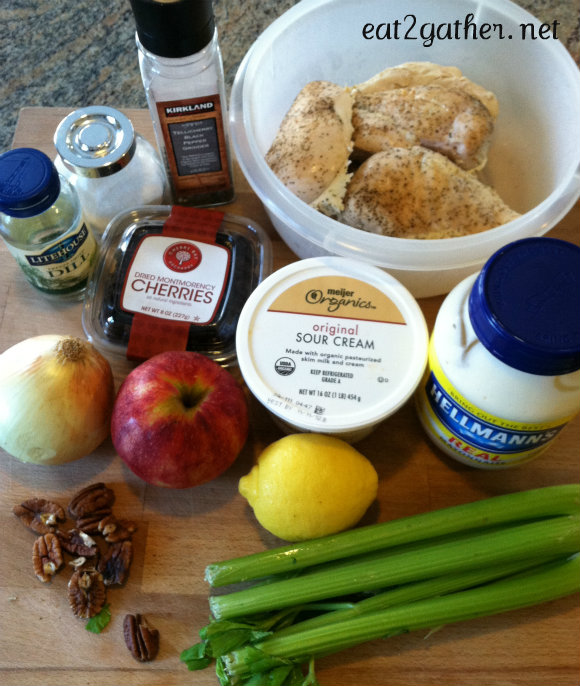 Here's how you do it!

Bake 6 chicken breasts, allow to cool, and then chopped into small pieces.  1 cup each of dried cherries, apple, celery, and onion add to chicken in a bowl and toss together.

Dressing: 1 cup mayonnaise, 1 cup sour cream, the juice of one lemon, 1 tablespoon sugar, 1 teaspoon salt, 1/2 teaspoon black pepper (more if you like), 1 tablespoon dried dill, whisk together, pour over ingredients, and fold together.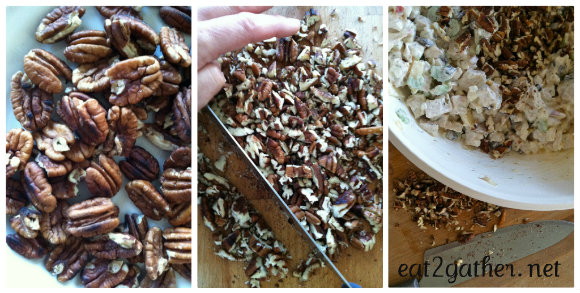 Now for my favorite part. Toast 1 cup of pecans, (walnuts, or almonds work too).  Rough chop the nuts after you have toasted them, add 3/4 of the nuts to the bowl and stir them in, reserve the rest for garnish.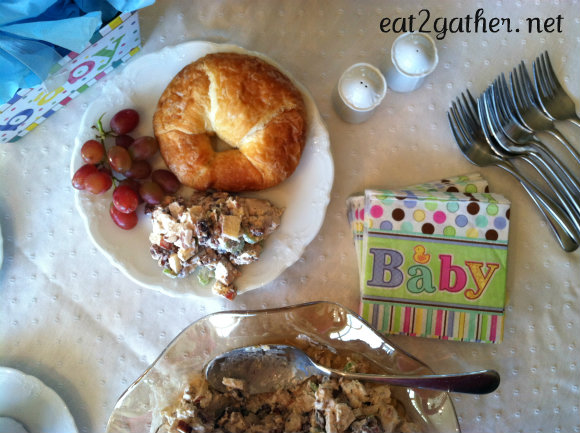 I served the Chicken Salad in the amber colored iris bowl my grandma gave me.  It only comes out from behind my glass cupboard for special occasions!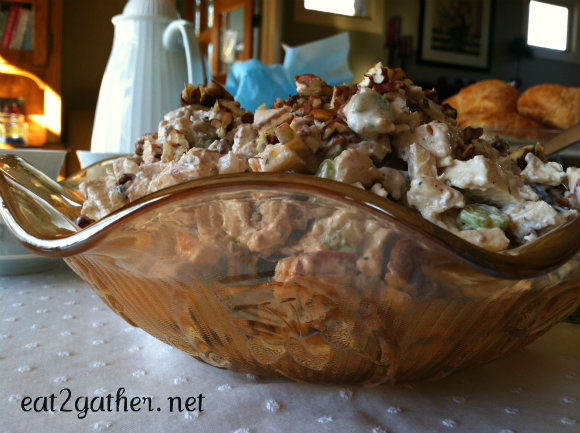 I think Chicken Salad looks so pretty pilled high in this bowl.
[print_this]
Chicken Salad
Serves 12-16
6 boneless skinless Chicken Breast
salt and pepper
1 cup dried Cherries, rough chopped
1 Apple, chopped into small pieces
1 cup chopped Onion
1 cup chopped Celery
1 cup toasted Pecans, Walnuts, or Almonds, rough chopped
Dressing:
1 cup Mayonnaise
1 cup Sour Cream
juice of 1 Lemon (or 2-3 tablespoons lemon juice)
1 tablespoon Sugar
1 tablespoon dried Dill
1 teaspoon Salt
1/2 teaspoon ground Pepper
1. Place chicken breasts in baking pan, and sprinkle with salt and pepper, bake at 350 degrees for 30 minutes. Remove from oven, let cool, cut into small pieces.
2. Chop cherries, apple, onion, and celery add to bowl with chopped chicken, toss.
3. Dressing: Whisk together mayonnaise, sour cream, dill, sugar, salt, pepper, and the juice of 1 lemon.
4. Pour dressing over chopped ingredients, and fold together.
5. Toast 1 cup of nuts, and rough chop, add 3/4 of the nuts to the salad and stir. Reserve the remaining nuts for garnish.
Place chicken salad in refrigerator for at least 1 hour before serving. Best if made a day before serving. Serve with croissant or buttery rolls. Also makes pretty mini sandwiches if you are doing sandwich trays.
Hope you enjoy!
[/print_this]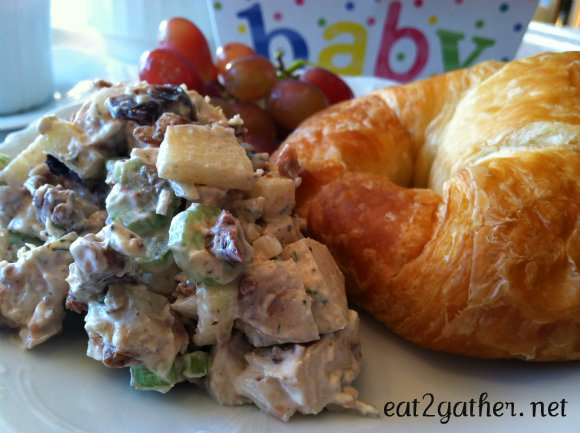 All the best to you Rachel! Can't wait to your little guy arrives!!
Love, Sheila
Thanks to Brandy and Brandi for hosting this super fun Baby Shower today for Rachel at Rachel Cooks!
Be sure to check out what everyone else brought to the party!!!!
For The Love of Popcorn
Bourbon Toffee Popcorn | Bran Appetit
Salted Caramel Cashew Popcorn | Bake Your Day
Salted Caramel Popcorn Balls | Bakeaholic Mama
S'mores Popcorn | Nutmeg Nanny
Savory Nibbles
Apple Asiago Prosciutto Bites | Sarah's Cucina Bella
Baby Blue Cheese Burgers | Budget Gourmet Mom
Chicken Salad | Eat2Gather
Creamy Sweet Potato Soup with Maple Cream | Pass the Sushi
Cucumber Sandwiches | Susie Freaking Homemaker
Cranberry Citrus Meatballs (Slow Cooker) | Diabetic Foodie
Curried Salmon Phyllo Cups | Cooking with Books
Mini Onion and Feta Pizzas | London Bakes
Roasted Butternut Squash and Sage Pesto Crostini | Thrifty Veggie Mama
30A Eats | Southern Cheese Straws
A Little Something Sweet
Baby Blueberry Pies | Steph's Bite by Bite
Blue Layered Jello | Taste and Tell Blog
Dark Chocolate Cashew Brittle Cookies | Farmgirl Gourmet
Hermit Bars – Chewy Molasses Cookies | The Lemon Bowl
Itty Bitty Chocolate Thumbprint Cookies | Chip Chip Hooray
Mini Blackberry Pies | Oh Sweet Basil
Primal Pumpkin Whoopie Pies | Bread & Butter
Pumpkin Cinnamon Rolls | Mother Thyme
Snickerdoodle Scones | Fake Ginger
Sweet Potato Pie Dip with Pie Crust Dippers | The Spiffy Cookie
Turtle Pumpkin Ice Cream Cake | A Spicy Perspective
Walnut Streusel Coffee Cake | Cookistry
White Chocolate Biscoff Muddy Buddies | Miss In The Kitchen
White Chocolate 'Quilted' Cupcakes | Creative Culinary