Italian Lemon Roast Chicken Pot
Nothing is more fun for me than surprising a friend!  Or more nerve wracking!!!  I can't believe this day arrived without me letting this surprise slip past my big fat lips.
SURPRISE Liz!! It's a baby shower just for you!
So what am I bringing to the party table?  Well something healthy that includes lemon of course.
Italian Lemon Roast Chicken Pot
is a one pot meal and it's simply delicious!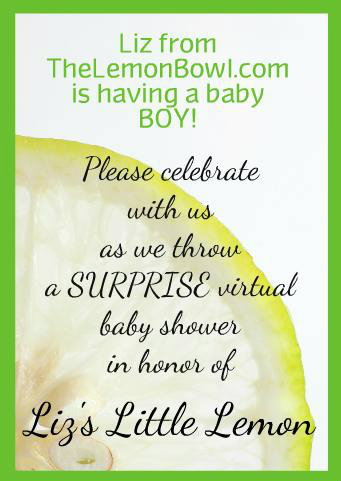 This meal could not be any easier, or more delicious and it is one of my families favorites.  I knew when Rachel, Kristen, and I decided to throw Liz this lemon inspired virtual surprise party that this is what I wanted to bring to the table!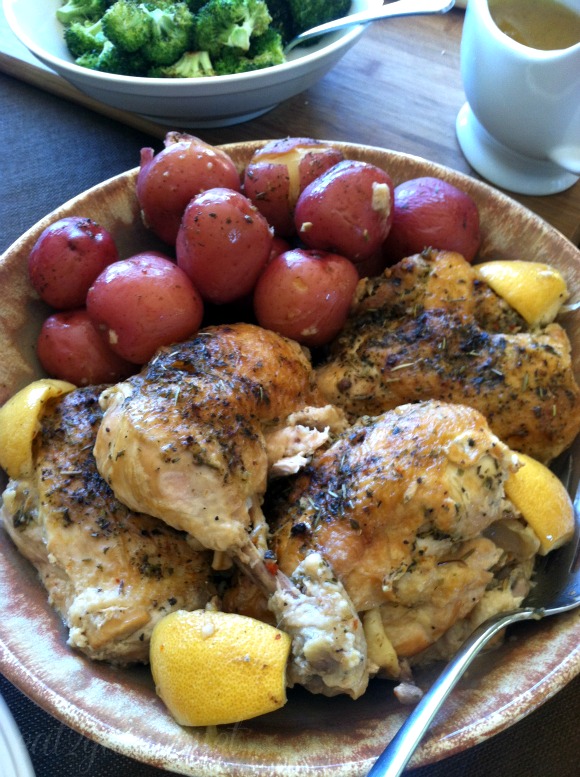 So let me give you the low down on just how easy this recipe is and then you need to visit the rest of  the  lemon inspired scrumptiousness at this lemony baby shower!!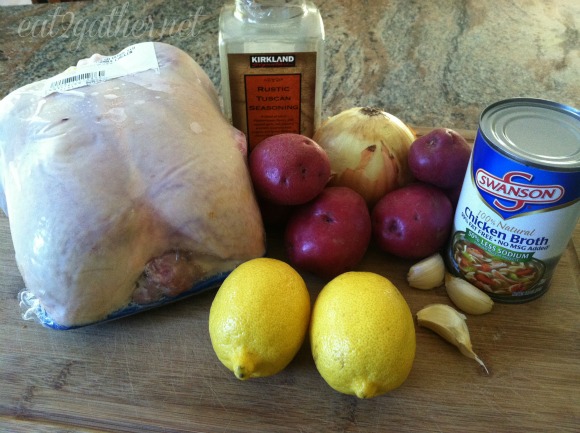 Here's what you will need: 1 roasting chicken, 1 sweet onion, 12 small red potatoes, 1-2 lemons, 3 cloves garlic, 1 14 ounce can chicken broth, and Italian seasoning,  ( I love the Kirkland brand Rustic Tuscan Seasoning, but I have used other Italian blends and they work just as well.) plus some oil, butter, salt and pepper.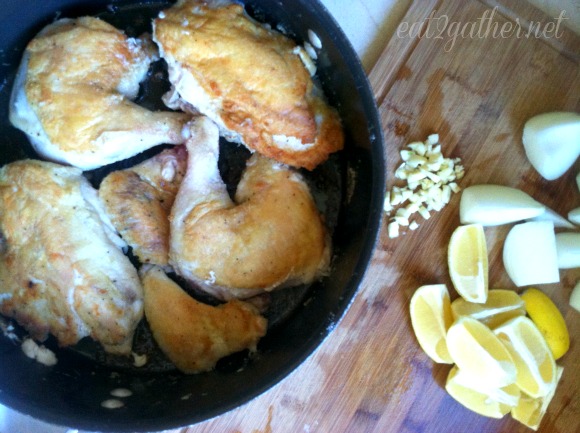 Before you start, preheat oven to 400 degrees.
Cut chicken into 4  pieces (feel free to purchase your chicken already cut, I just like to pretend I'm a butcher) and season with salt and pepper.  In a dutch oven or a large oven safe pot melt 1 tablespoon butter and 2 tablespoons olive oil over medium high heat, when oil is melted and pan is very hot, place chicken in pan skin side down.  This step is to get the skin crispy, you will be finishing the chicken off in the oven,  so as soon as the skin is golden brown you can turn chicken pieces over skin side up and remove pan from heat.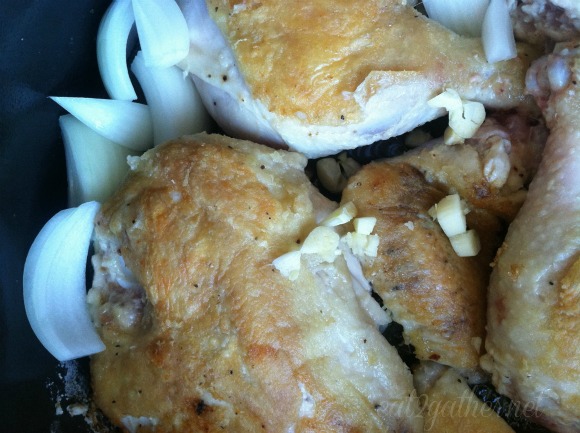 Sprinkle chopped garlic over chicken and tuck the chunks of onion around where ever you like.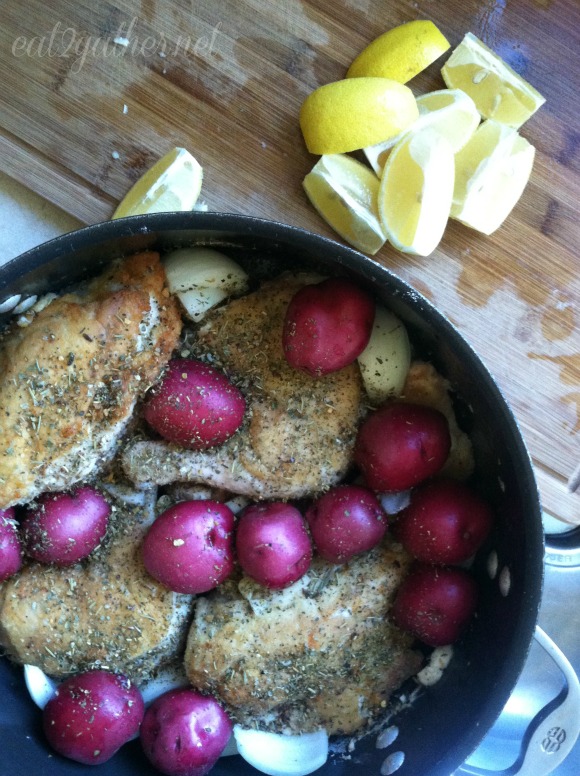 Sprinkle 1 heaping tablespoon of Italian seasoning over the chicken, and snuggle the potatoes in around chicken.
Cut lemons into wedges.  Squeeze lemon juice over chicken and then place wedges around in the pot, depending on how much lemon flavor you like you can used one or two lemons.
Pour the can of chicken broth around the edges of the pan, I do it this way so I don't wash the seasoning off the chicken, some will be in the cooking liquids just from sprinkling, but I like most of it to stay on the chicken.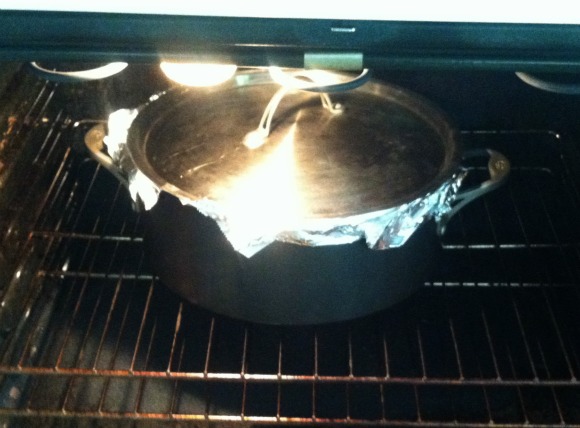 Cover pot with aluminum foil and then place lid over foil to seal off the pan and keep all the juices in. Cook at 400 degrees for 30 minutes then lower the temperature to 325 degrees and continue to cook for 1 hour.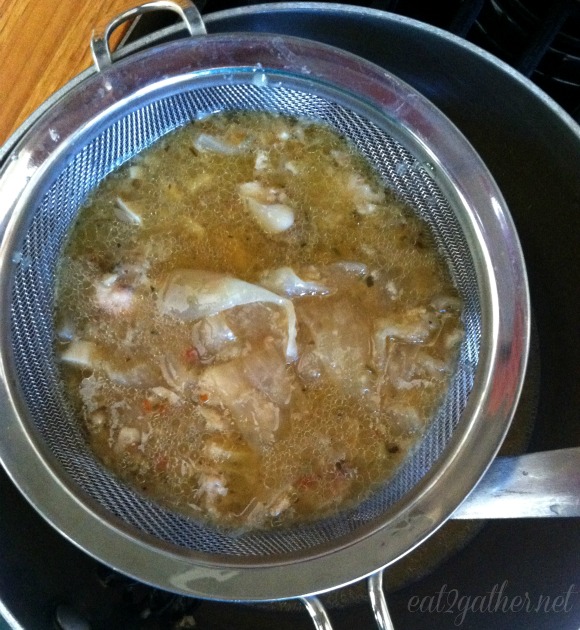 Remove from oven, uncover, and make sure chicken is done.  It should be falling off the bone, if it's not return to oven for an additional 30 minutes.   When you've determined chicken is done, remove chicken and potatoes to a platter.  Place a strainer over a sauce pan and pour all the cooking liquid and bits and pieces through the strainer, pressing the liquid out through strainer with a large spoon,  bring to a boil, turn down to simmer for 10 minutes, season with salt and pepper to taste.  If there is quite a bit of fat in your sauce skim it off the top with a spoon.  That's it!  You are ready to eat.
[print_this]
Lemon Roast Chicken Pot
serves 6
1 whole Chicken, quartered
1/2 cup Flour
1 teaspoon Salt
1 teaspoon Pepper
2 tablespoons Olive Oil
1 tablespoon Butter
1 Sweet Onion, peeled and quartered
3 cloves Garlic, peeled and roughly chopped
12 small Red Potatoes
1-2 Lemons, cut into wedges
1 tablespoon Italian Seasoning Blend
1 14.5 ounce can low-sodium Chicken Broth
Preheat oven to 400 degrees.
1. Quarter chicken, rinse and pat dry. Combine flour salt and pepper in a shallow dish. Toss chicken pieces in flour, giving them a light dusting. Place dutch oven or large oven proof pan (that has a cover) on stove top heat butter and olive oil on high heat when oil starts to sizzle place chicken in pan skin side down and pan fry until skin is golden brown, flip over and remove from heat.
2. Sprinkle chopped garlic over chicken pieces, tuck onions and potatoes in around chicken, sprinkle italian seasoning over the top.
3 Wash and cut lemon into 4 wedges. Squeeze lemons wedges over chicken in the pot then toss them in with the other goodies.
4. Pour chicken broth around the edges of the pan, so that you don't wash the lemon and spices off the chicken. Cover pan with aluminum foil and place lid on top of foil. This seals the pan so none of the juices escape!
5 Place pan in a 400 degree oven, after 30 minutes reduce heat to 325 and let bake for an additional 60 minutes. Remove and allow to rest for 15 minutes before serving.
How to Serve: Remove chicken and potatoes to a platter.  Pour pan juices through a strainer in to a sauce pan, bring to a boil and allow to simmer for 10 minutes.  Skim fat off the top of the pan juices.  Serve in a gravy boat along side chicken and potatoes.
I like to serve this dish with a crusty loaf for sopping up the lemony juices and a roasted vegetable like green beans or broccoli.
Enjoy!
[/print_this]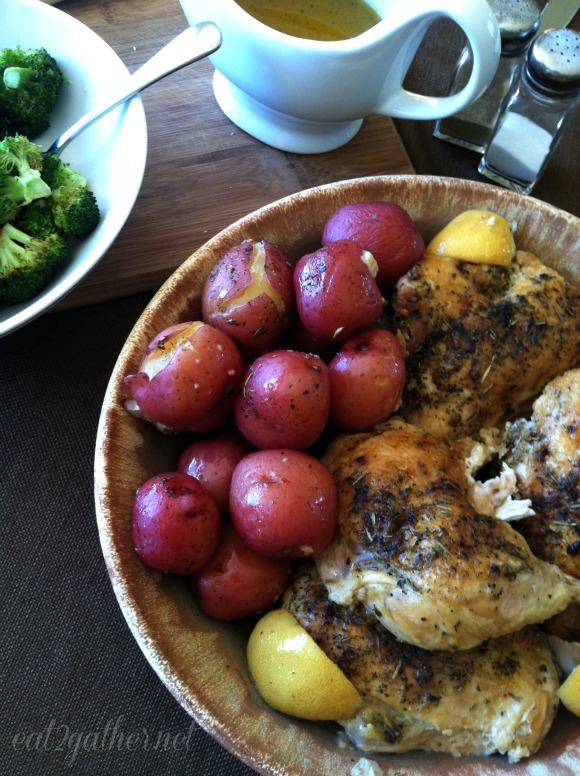 There you have it.  It's easy, it does need a little time to cook, but you can be getting a few things done while it bakes.  In my opinion this is a great Sunday dinner.  I like to serve it with a crusty loaf…as I do everything.  (I serve a crusty loaf with a side of crusty loaf 😉 .)
Thank you for stopping by today!  I hope you take the time to visit the rest of our Virtual Baby Shower for Liz at The Lemon Bowl.
Appetizers
Beverages
Salads
Main Dish
Desserts
Liz you da best! I hope you are surprised!
Much Love, Sheila