Chicken Fried Rice qualifies as a quick and easy meal; by using leftover chicken and rice, and taking advantage of packaged frozen stir fry vegetables you can have this meal from stove to table in 15 minutes or less!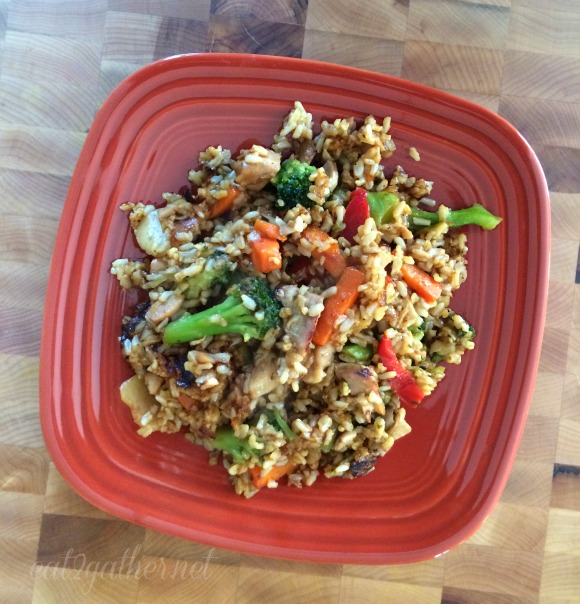 I guarantee your family will ask for this meal time and time again! Full of vegetables and chicken it's a wonderful dinner that should be added to every meal plan!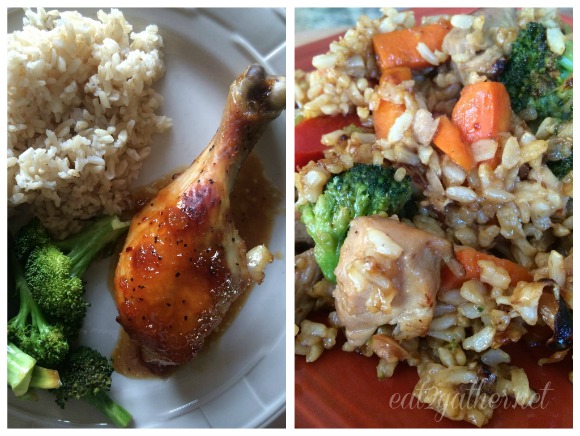 You don't have to make the Chinese BBQ Chicken to make this meal.  You can use any leftover chicken and make fresh rice.  However, I have to say getting two meal out of one is quite literally a "winner winner chicken dinner" in the purest sense of the phrase!!   So if you missed my Chinese BBQ Chicken Leg recipe you can go here, make it, then make this recipe the next day.  Voila!  Two meals ferrrr yoooou.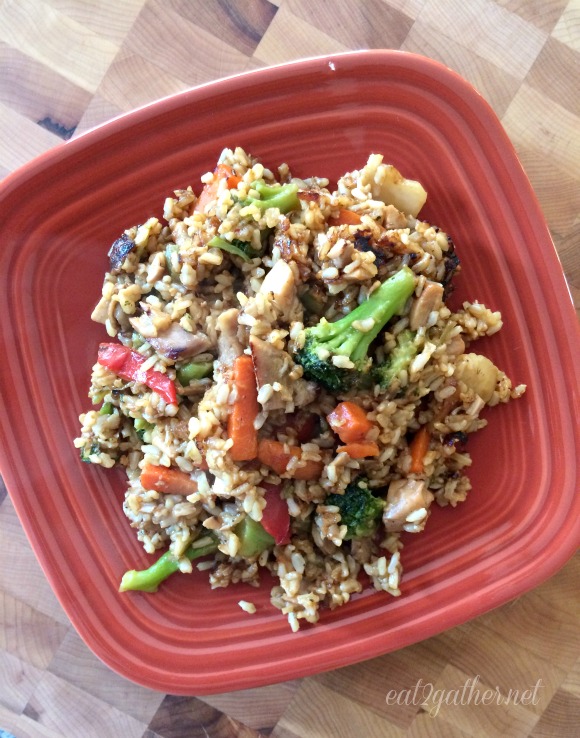 That's really all I have to say about that…go forth and make this easy meal my friends.
with love and chicken skin (cause its cold), Sheila
P. S. see p.s. below recipe….thank you.
[print_this]
Chicken Fried Rice
This meal is so quick and easy when using rice and chicken leftovers. You will have yourself delicious chicken fried rice in less than 15 minutes!
6-4 servings
1 tablespoon Vegetable Oil
4 cups cooked Rice (works best if it's leftover rice that's a little dried out)
2 Eggs, whisked together
2 cups cooked Chicken, use leftovers from Chinese BBQ Chicken Legs
1 16 ounce package frozen Stir Fry Vegetables
Sauce
1/3 cup bottled Teriyaki Sauce, any brand
2 tablespoons Soy Sauce
1 tablespoon Fish Sauce
1. Whisk sauce ingredients together and set aside.
2. Heat oil over high heat in a large skillet or wok add rice to skillet and move around getting rice heated through.
3. Drizzle beaten egg into rice and continue to move around with spatula until egg is cooked and evenly distributed throughout the rice.
4. Add chicken and vegetables to hot skillet with rice egg mixture, continue to move ingredients around in pan.
5. Pour sauce in to the skillet. Mix until sauce is completely incorporated. Allow rice to cook for a minute until it begins to brown, move rice around and repeat this process, so there are little bits of caramelization and crunchy bits through out your friend rice. Continue to do this for 5 minutes on high heat.
Remove from heat and Enjoy!!
[/print_this]
P. S. I wanted to suggest in case you have yet to subscribe to my weekly emails that maybe you want to do that….cause then you won't miss any easy peasy meals.  Also if you like to dabble in  Facebook, Tweetter, or god forbid Pinterest you can follow me around those parts too. Thank you for listening you've been extremely accommodating and lovely.