What did you say?  April is National Grilled Cheese month……OK, you had me at grilled cheese!
Wait for me!  I'm running to the table!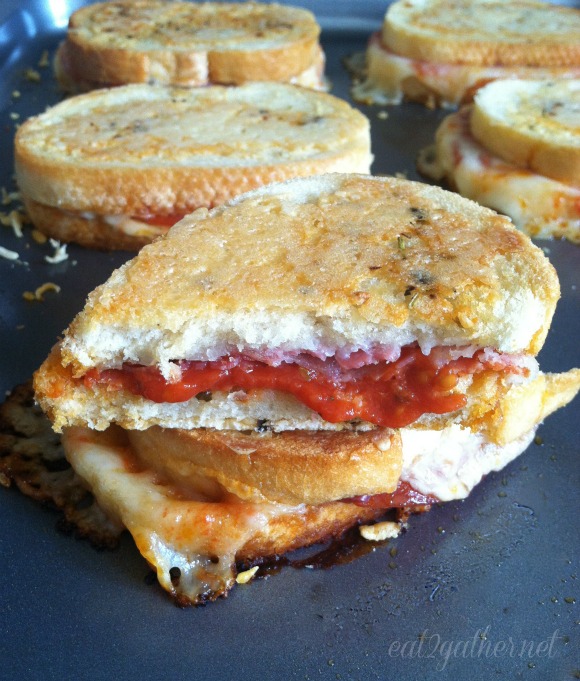 This doesn't look like any  ol' grilled cheese.  What's that you say?  Parmesan crusted….pizza grilled cheese!  For a crowd!?  I can make this for a crowd?  Eight Sandwiches at a time…in the oven?  Sign me up!
This recipe is perfect for a adults and kids alike.  Big and small, old and new, little and mini…er well you get what I'm trying to say, all people (at least in this house) love this grilled cheese sandwich!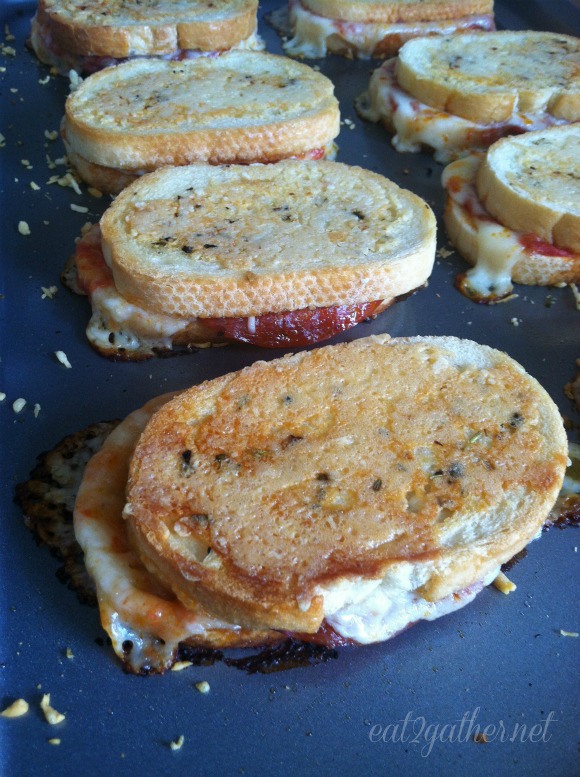 It don't get much better than this peep-OL.
By baking this grilled cheese in the oven you can make up to 10 sandwiches at a time!  And I should tell you that you can make this ahead of time, and reheat it in the oven and it's just as good as the first time around!  So if you have a busy night make this earlier in the day and then as the fam rolls in you can reheat their Parmesan Crusted Grilled Cheese for them.  I know. It don't get any better than this…am I right?! It tastes like pizza but it looks like grilled cheese, but my kiddos say it's better than both!
So here is howy doey.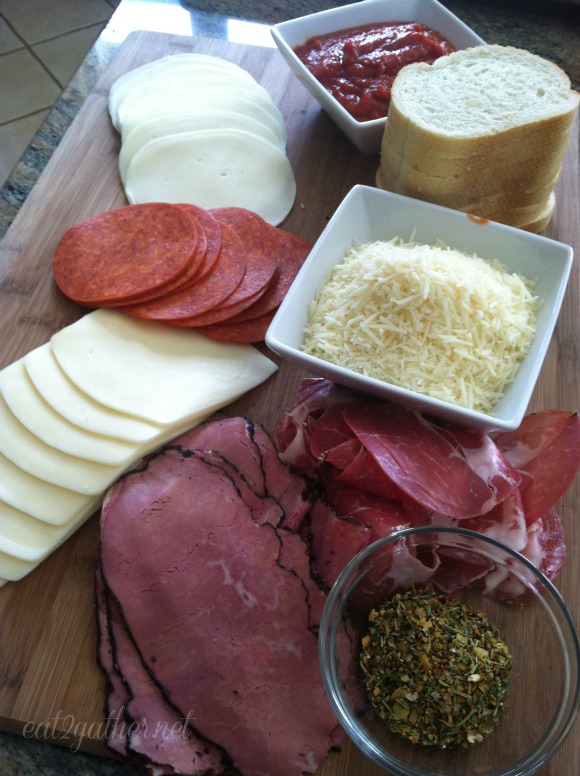 Gather your ingredients: bread, butter, cheese, meats, pizza sauce, italian spices.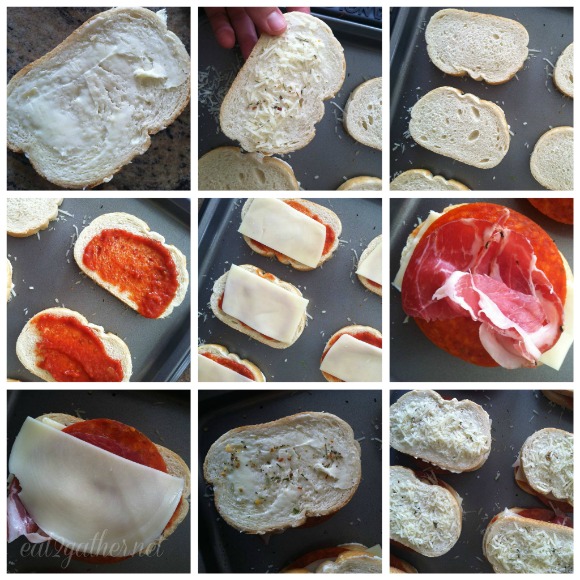 Step by step.  There are a few steps, but oh it really is no big deal. Butter some bread, layer some cheese and meat, sprinkle some spices and cheese…..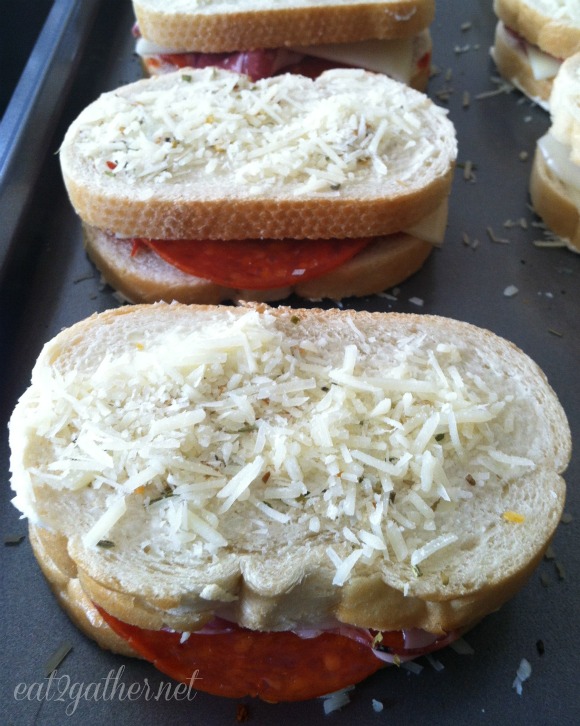 There she is all ready and waiting for her first bake.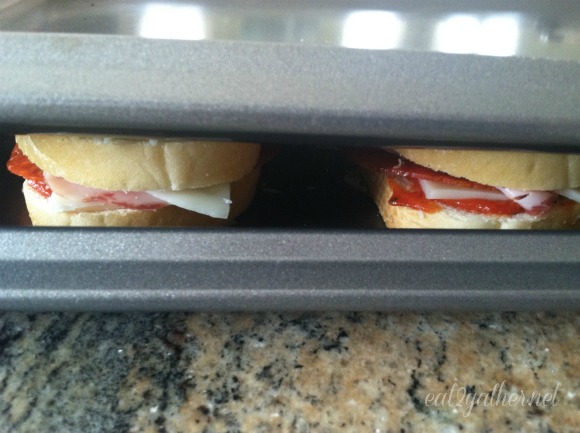 The key to the parmesan getting all crusty and scrumptious on the outside  is a hot oven, and preheating the top pan first.  So while you are assembling the sandwiches, place a baking sheet in the oven allowing it to get hot, then place it on top of the grilled cheeses,  give it a light press with your oven-mitted paws,  put this back in a 450 degree oven for 10 minutes and zer ya go!
The best grilled cheese on the planet is ready and waiting!
[print_this]
Parmesan Crusted (baked) Grilled Cheese
makes 8 sandwiches
16 slices Italian Bread
Butter
8 slices of deli Pepperoni
8 slices Capocollo (Italian ham, thinly sliced)
4-8 slices Mozzarella (depending on the size of the bread)
4-8 slices Provolone
1 can Pizza Sauce (homemade is wonderful or just use your favorite brand of canned sauce)
1 cup grated Parmesan Cheese
1 1/2 teaspoons Italian Seasoning Blend
Preheat oven to 450 degrees. Place a non-stick baking sheet in the oven while you assemble the pizza grilled cheese on the other non stick baking sheet. If you don't have non-stick no worries you just may have to use a spatula to remove the grilled cheese from the pan.
1. Butter all 16 slices of bread on one side.
2. Using half of the parmesan cheese place eight piles of cheese on baking sheet, spreading them out slightly to mimic the shape of your bread, sprinkle parmesan piles with half to the Italian seasoning blend.
3. Place one piece of bread butter side down onto the parmesan.
4. Spread a light layer of pizza sauce on top of bread slices.
5. Place one piece of mozzarella cheese on each slice of bread with pizza sauce on it. If bread is smaller than slice of cheese cut cheese slice in half, add slice of pepperoni, and slice of Capocollo top with slice or 1/2 slice of provolone.
6. Place second slice of buttered bread buttered side up on top of provolone cheese, sprinkle bread with remaining italian seasoning and then top with remaining parmesan cheese.
7. Remove hot baking sheet from oven, while wearing oven mitts, place hot baking sheet bottom side down on top of grilled cheeses, press down lightly, return to oven and bake for 10 minutes at 450 degrees.
Remove, slice crosswise, and serve with warmed pizza sauce on the side.
Enjoy!
[/print_this]
I have never met a cheese that I didn't like. I love cheese!  Cheese GLORIOUS Cheese…Oh how I love cheese, everything about it is exciting…..when I start to eat it I want MOOOORE! (This was sung to the tune of the well known song Cheese Glorious Cheese.  You can find this song…only in my head.)   More cheese please.
For more facts on cheese and the health benefits of getting your daily dose of dairy you can visit MilkMeansMore.org this is the site for the United Dairy Industry of Michigan which falls under the blanket of the American Dairy Association.

For more dairylicious recipes you can follow the UDIM on PINTEREST, Twitter, and on Facebook.
Disclaimer: I was asked by the United Dairy Association of Michigan to develop this recipe for the month of April which is national grilled cheese month!  As always everything on Eat2gather is 100% my opinion! I am grateful to be able to partner with the UDIM.  It's partnership like this that keep Eat2gather up and running!