I went on a cheese buying spree before the Holidays.  I love me some cheese!  Goat cheese, or chevre if that sounds better to you, holds a particularly special place in my heart.  I know, I know, calm down….I realize not everyone has come around on this subject, but please don't leave just take a look and believe.
Believe….
Believe….that goat cheese is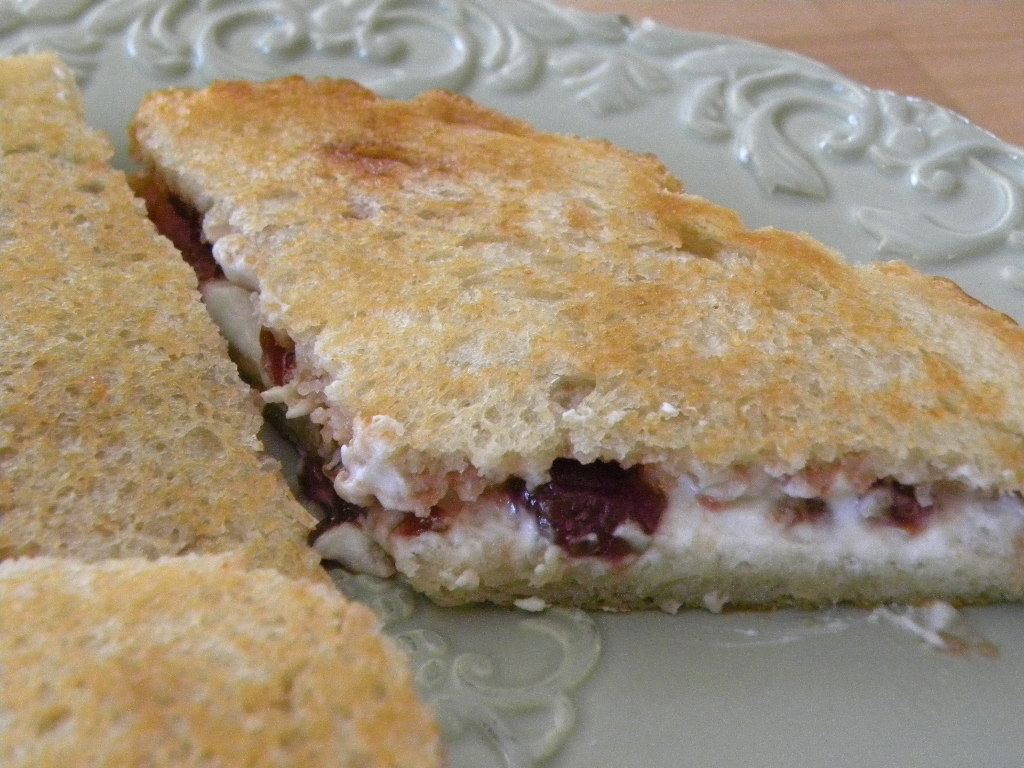 a very luverly thing.
Particularly when it's paired with Cherry Jam and Sour Dough Bread.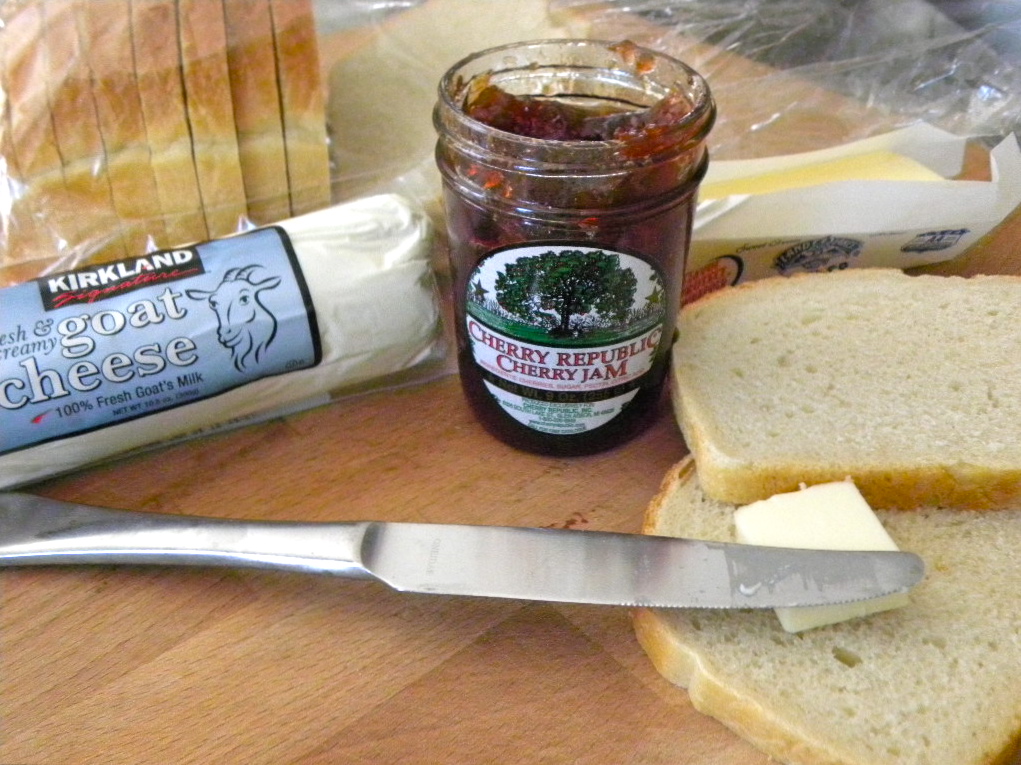 Like I said I bought a bit of cheese before Christmas, my eyes were bigger than my cheese board apparently because I had a whole stick of goat cheese left and was whining to my seestor about how I couldn't bear to throw away goat cheese,  and how I'm the only goat cheese lover in my home, and what a lonely life I lead….wah-wah-blah blah.
So she says, "I had a yummy goat cheese and strawberry jam grilled cheese out for lunch the other day.  And how about those Lions?"
"WHAT! You had what,with who?  Tell me again, what did you have for lunch?  And who are the Lions?"
It's not like jam or fruit on a grilled cheese is a foreign idea. I have created this yummalicious sandwich a time or two. But I had not thought of simply jam and goat cheese.  So simple.  So perfect.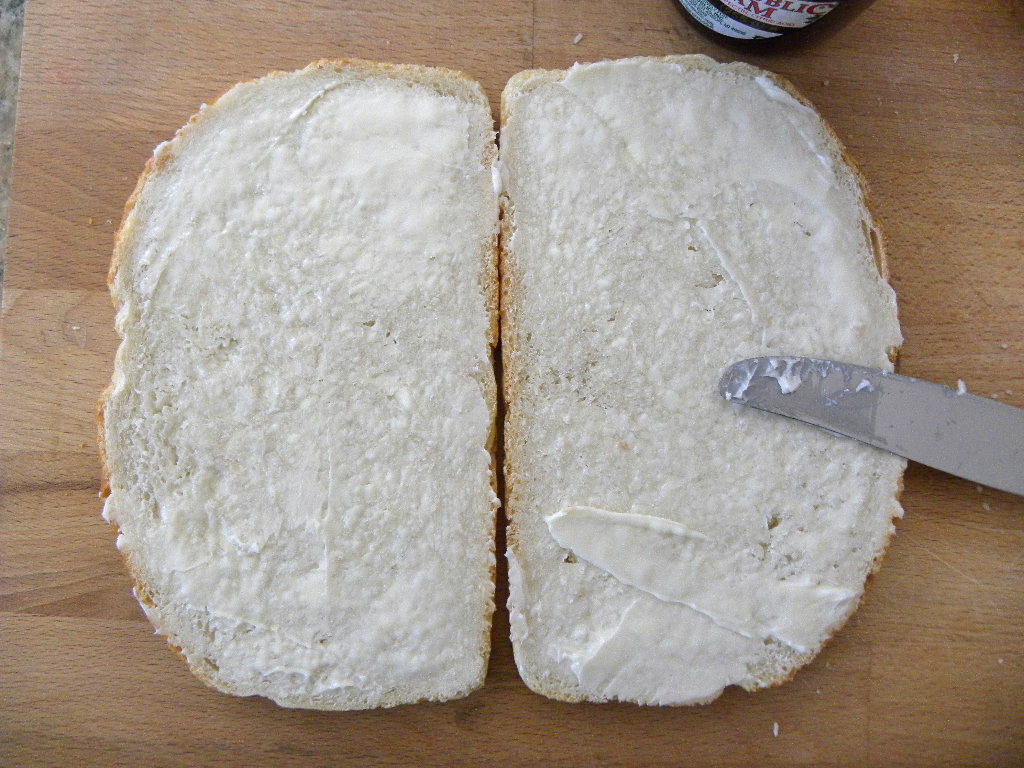 Generously slather two slices of sour dough bread with butter.  I thought a nutty whole grain sour dough would be scrumptious also, but all I had was white.  So Weeschnau!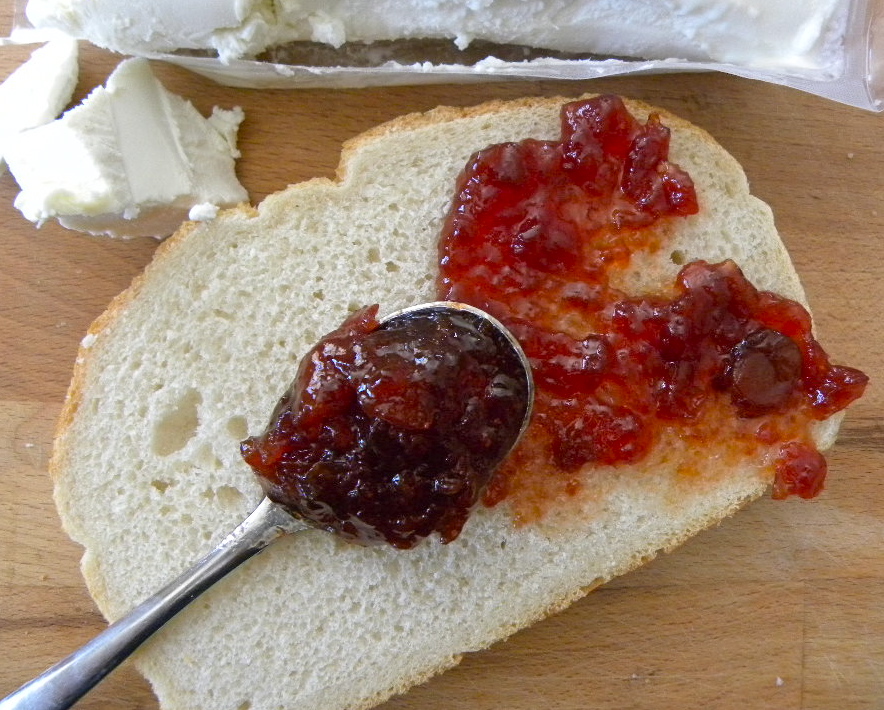 Two heaping spoons of Cherry Jam from the Cherry Republic in Glen Arbor, Meechigan.  THE only place to purchase cherry jams, jellys, wine, cookies, salsas…well you get the idea.  They also have a Cherry Almond Butter that would be mucho spectacularO on this sandwich.  My seestor said she had hers with strawberry jam, that sounds good too, as does apricot…Mmmm see,  good stuff huh?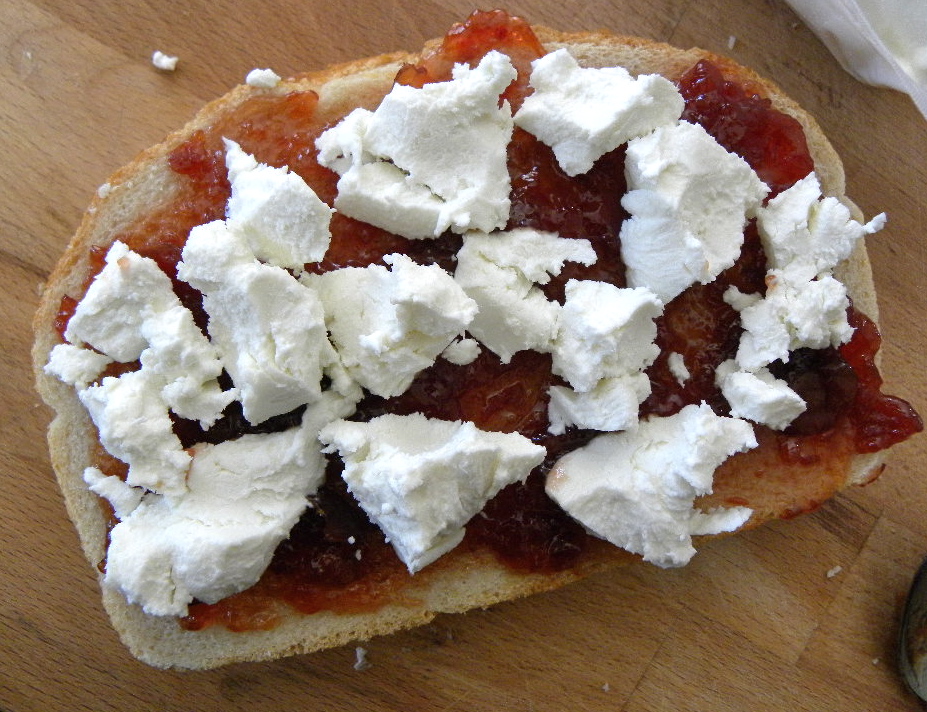 Crumble about 2 ounces of goat cheese on top of the jam.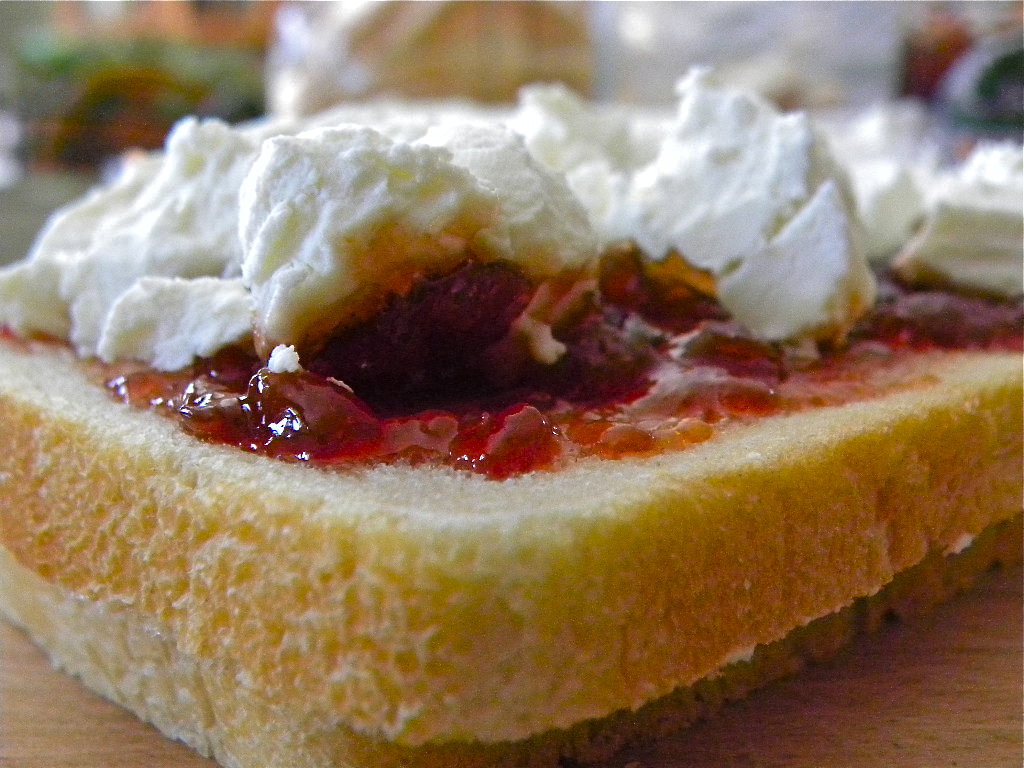 How's this for some perspective?   Life is good with a little goat cheese on top!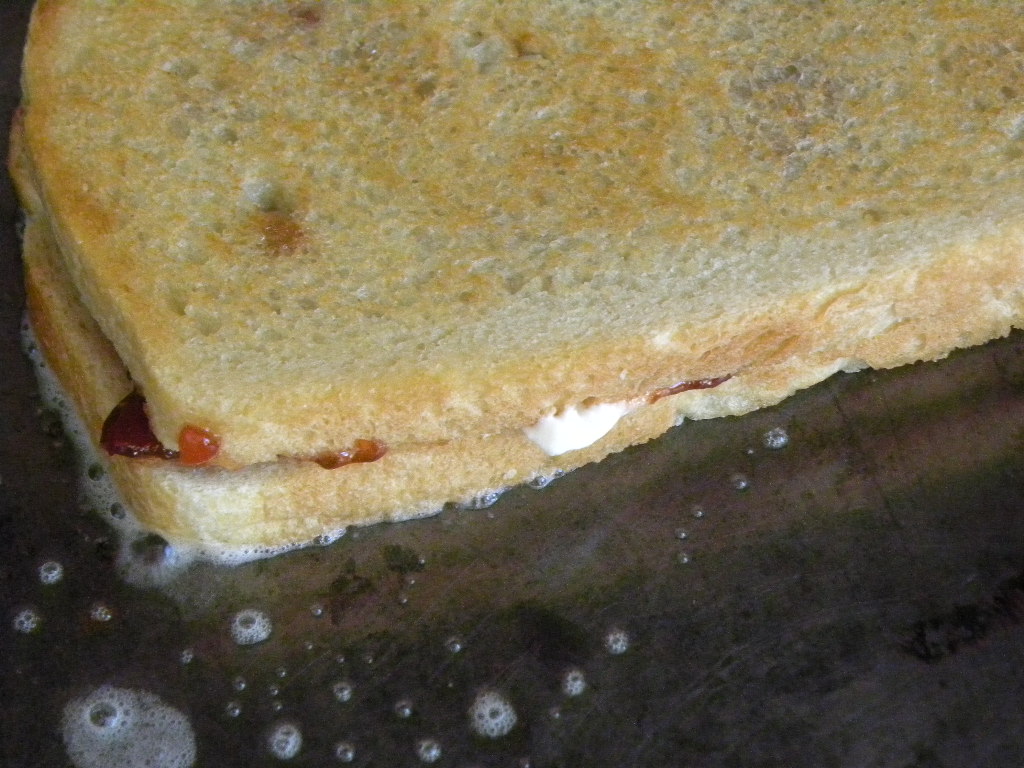 Slap that baby on the griddle or in your Panini maker.  Grill till golden.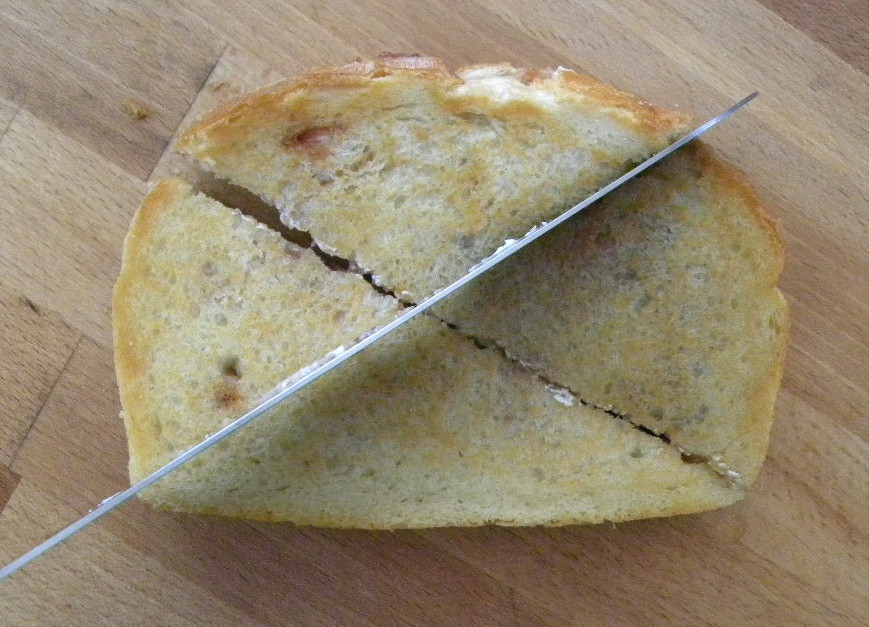 How do you like your grilled cheese sliced? Triangles? In half? In half the long way or the short way?  Or maybe you don't like yours sliced at all.  I'm a triangle girl myself. Something about cutting a grilled cheese into triangles, and exposing the maximum surface area of melty goodness. Heavenleee!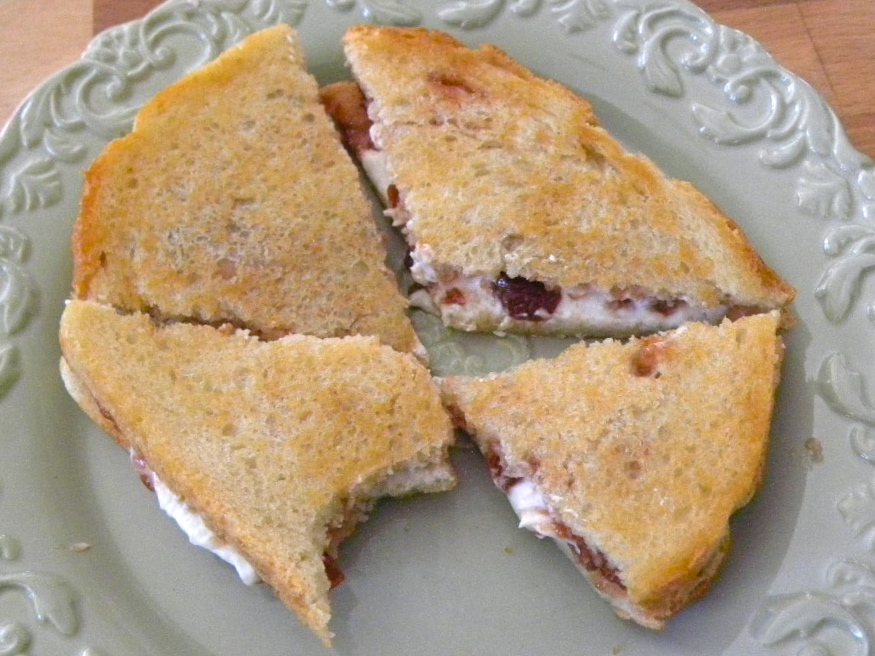 I was attempting to get a picture of this ridiculously simple deliciousness when I lost my mind and took a giant bite, or maybe it was two medium bites.
Believe me this was so good.  I still have some cheese and jam left if you want to stop by I'll make you one!
Remember:  "It's not easy bein cheezy!"