Meals 4 Sharing Fridays: Lasagna~ making someone a special meal.
Hello! It's Friday, and you know what that means!!
It's time to link up your favorite recipes and ideas for sharing meals with others.
It's super easy to link up, just follow the 1,2,3 below.  Don't forget to add a link back to Eat 2 Gather somewhere in your post!
Last night I served my family lasagna for dinner, it's one of their favorite meals.  My son asked, "why'd you make lasagna tonight mom, is somebody coming over?"   Nope! Just because I love ya son.  Truth is I was making a meal for my littlest teacher and her family, so I figured I might as well make a pan for us too!
Lasagna is not  hard to make.….but it is a process, and it might just dirty a few pans.  As long as I'm going to dirty every pan in the kitchen I figure I might as well make it worth my while so I usually make a double batch. I know there are easier ways to make this layered plate of deliciousness, but well I just wanted to share my extra pan dirtying version!
What's your "special" go to meal for company?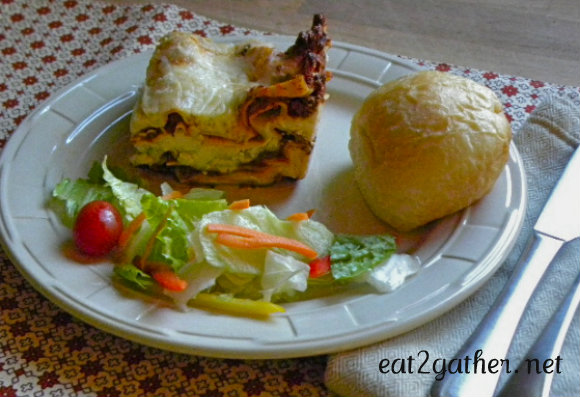 The key to whipping together a double batch of lasagna is organization.  Make your self an assembly line.  Then give you chitlins a holler to wash the pile-O pans!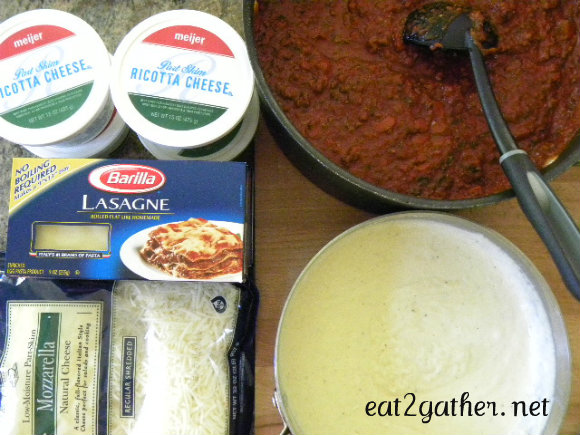 The players: Ricotta, no-boil Lasagna Noodles (this saves a step and a pan), The Sauce, Cheesy Sauce, Mozzarella.  Now it time to go to town putting together the scrumptious, decadent layers of cheese and sauce.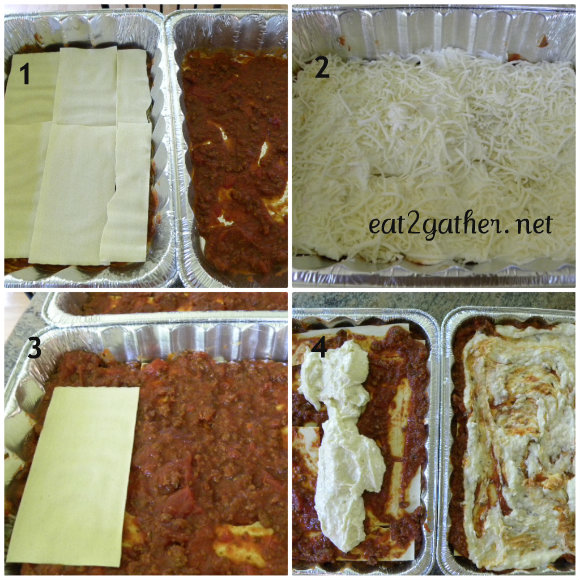 1. Sauce then a layer of noodles.  2. Spread ricottta on noodles, sprinkle with mozzarella.  3. Layer of noodles and sauce.  (REPEAT 2 & 3)  4. Last layer: Noodles, thin layer of sauce, cheesy sauce, heavy sprinkle of mozzarella, cover with foil, bake at 375 for 45 minutes, remove foil bake an additional 15 minutes.  Let set for 15 minutes before cutting….if you can wait.  Lasagna holds up better and the layers won't slide all over if you've let it cool just a bit.
[print_this]
Lasagna
makes two 9×13 deep dish pans
Double recipe of Spaghetti Sauce
4 9oz boxes Barilla Lasagna Noodles (no-boil variety)
6 cups Ricotta Cheese
2 pounds Mozzarella, Shredded
1 recipe Cheese Sauce (See below)
The key to putting this recipe together is organization. Have all your layering ingredients out, your pans ready and then start the assembly.
Lasagna Assembly:
1. First ladle spaghetti sauce in bottom of pans, cover with a layer of noodles.
2. Next spread 1 1/2 cups of ricotta cheese over noodles, sprinkle with a handful of mozzarella cheese, cover with a layer of noodles.
3. Ladle a thick layer of sauce over noodles.
4. Repeat steps 2. and 3. ending with a layer of noodles.
5. Divide what sauce is left and ladle it over the last layer of noodles.
6. Now for the cheesy sauce, spread half of the sauce over each dish, sprinkle generously with mozzarella cheese.
Cover with foil, and bake at 375 degrees for 45 minutes, remove foil and bake another 15 minutes or until cheese starts to bubble.
Note: you will have a few noodles left over, 3 boxes is not quite enough. Also feel free to use more or less cheese in the layers of the lasagna.
Enjoy!
[/print_this]
It aint easy bein' cheesy….sorry I had to say that.

I don't always add this cheese sauce to my lasagna,  but when I do I get extra oohs and aahs.  It adds that extra Uhmph!
Heres how to whip up Cheesy Sauce: Over medium heat melt 1 stick of butter in a sauce pan, whisk in 1/3 cup flour, continue to whisk until bubbly and thick, gradually add in milk whisking continuously, then add heavy cream.  When sauce is smooth and thick…but not too thick (if it seems too thick add an extra splash of milk) add parmesan cheese, salt, pepper, and a dash of nutmeg.  Whisk until smooth! Voila there you have it Cheesy Sauce a.k. a. Alfredo.
Knock Knock….
Who's there?
Alfredo.
Alfredo who?
Alfredo the cheese sauce will make you chubby?
Bah hahah ahaha ahha
I made that one up all on my own. ; )
[print_this]
Cheesy Sauce
1 stick Butter
1/3 cup Flour
1 cup Heavy Cream
1 cup Milk
1 cup Parmesan Cheese
a couple pinches of Salt
Dash of Pepper
Dash of Nutmeg
Melt Butter in a sauce pan, add flour, whisk on medium heat for 3 minutes until bubbly and smooth. Gradually add milk to butter/flour mixture whisking continuously, then heavy cream continue to whisk, until thick and smooth. Add parmesan cheese salt, pepper, and nutmeg. Whisk and cook for a few more minutes until thick and bubbly. If sauce seems too thick add a little more milk.
I love to top of my lasagna with this cheesy sauce.  It adds a decadent layer!  Toss linguine noodles in this sauce for a little Alfredo treat!
Enjoy!
[/print_this]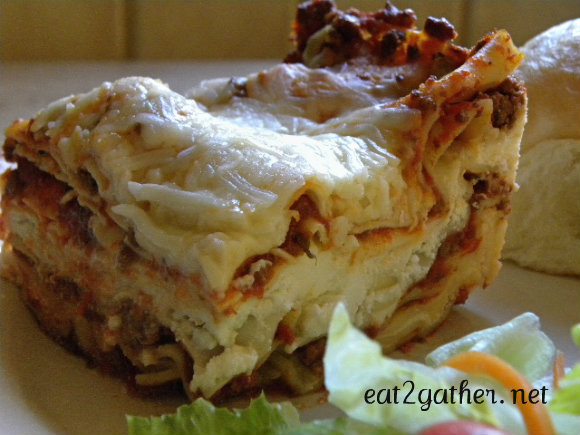 So now it's time to  SHARE  your FAVORITE RECIPES!  Here's how……
1. Click on the Add link below then Add the permalink from your post.  Please do not link your websites homepage.
2. Select the photo you wish to link to your site and include the title of what you are sharing!
3. Create a link to Eat2gather.net within your post, to share all the great recipes with your readers.  Please feel free to grab my  blog button from the sidebar.  If you share the button on your sidebar or in your post I will hug you and kiss you!!  Well not literally, but maybe if I happen to run into you. (wink)