This easy hearty make-ahead Cheesy Sweet Potato and Kale Strata will satisfy the whole family, it works for any meal, and the leftovers are phenomenal!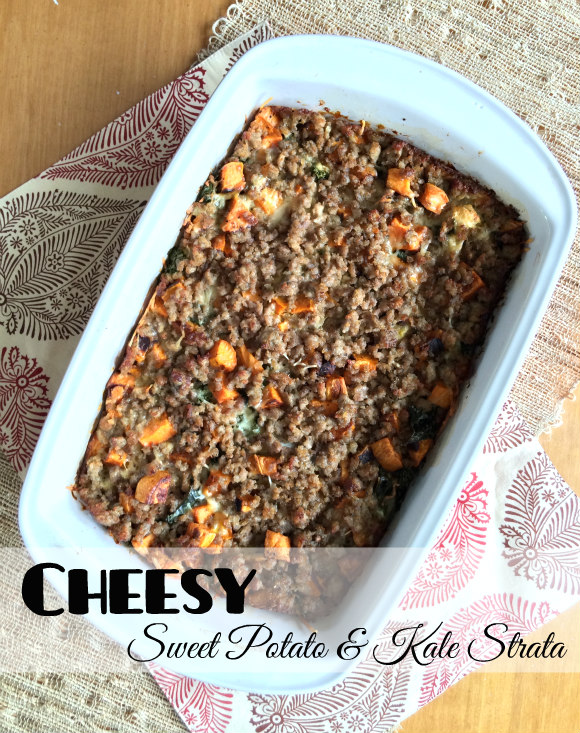 I have so much to share with you!  Number one being the recipe for the above Cheesy Sweet Potato and Kale Strata. It's no secret that we love breakfast for dinner.  Serving french toast, pancakes, or just plain ol eggs and toast, to my family for dinner never disappoints.  They love it!  One of their very favorites is when I make a strata, otherwise known as a breakfast casserole. Psst we also love breakfast casserole for breakfast too!
A top priority is making sure my family is eating a balanced diet which includes vitamin and calcium rich dairy foods!  Did you know that more than half (62%) of all teens say they do not eat breakfast every day of the week, but breakfast eaters have better attention and memory than breakfast skippers.  Without milk, families miss out on high-quality protein and other essential nutrients that ensure kids grow up healthy.  I am blessed to be able to provide my family with the nutritious foods they need, but many families right in our own neighborhoods are not, that's why it's so important to support our local food banks!  
Did you know?
Milk is the No. 1 nutritious product requested by food bank clients, but it is rarely donated. Ohio dairy farming families have joined dairy farmers across the nation in the Great American Milk Drive to deliver thousands of gallons of milk to families who would otherwise go without.
Of the pounds of food available in food banks, only 5.3 percent is dairy, and 95 percent of food banks say they don't receive enough milk to meet their clients' needs.
Without milk, families miss out on high-quality protein and other essential nutrients that ensure kids grow up healthy.
See BELOW how you can help get gallons of milk supplied to your local food banks!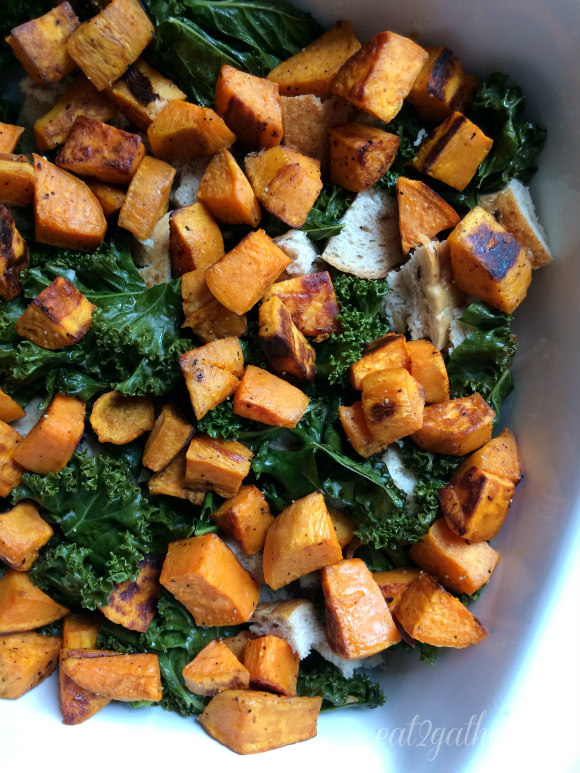 Back to the recipe…..Strata starts with bread and then layers of your favorite, vegetables, meat, and always cheese, this is then covered in an egg milk mixture and baked.  In this case I used whole wheat bread, roasted sweet potatoes, kale sautéed with garlic, and sausage.  Strata's are very easily made without meat, so feel free to forgo the meat layer to make this vegetarian.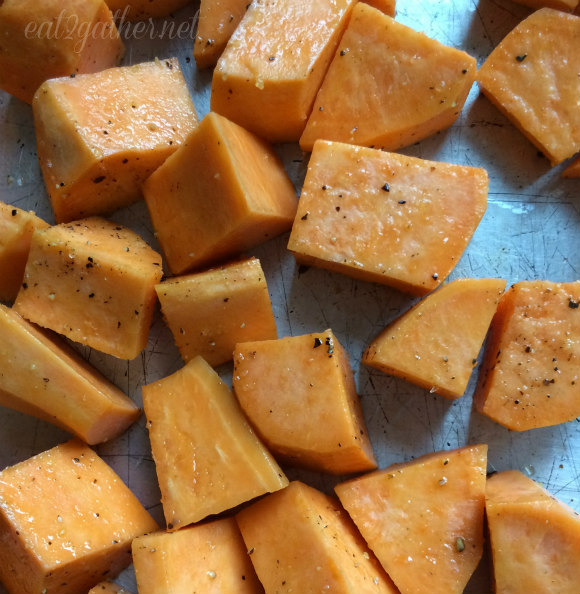 I adore roasted sweet potatoes! For this recipe you'll need to peel potatoes and cut into cubes, then roast for 30 minutes.  While your sweet taters are roasting you can get busy with the rest of the recipe!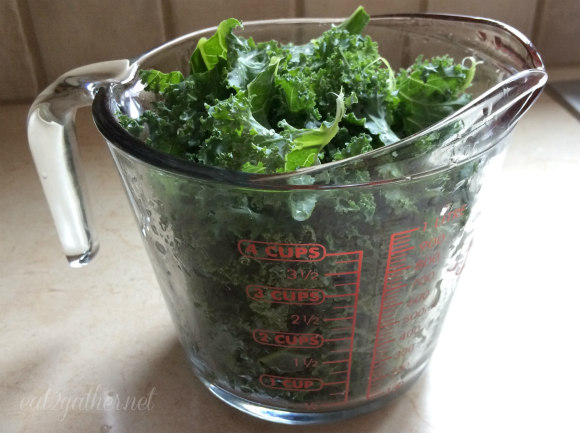 When measuring the kale I simply pulled the leaves away from the tougher middle stalk of the kale, placed them in a measuring cup like the one above.  Approximately four cups of kale, as you can see I went a little over, this recipe is great in that measurements do not need to be exact, you cannot mess this one up!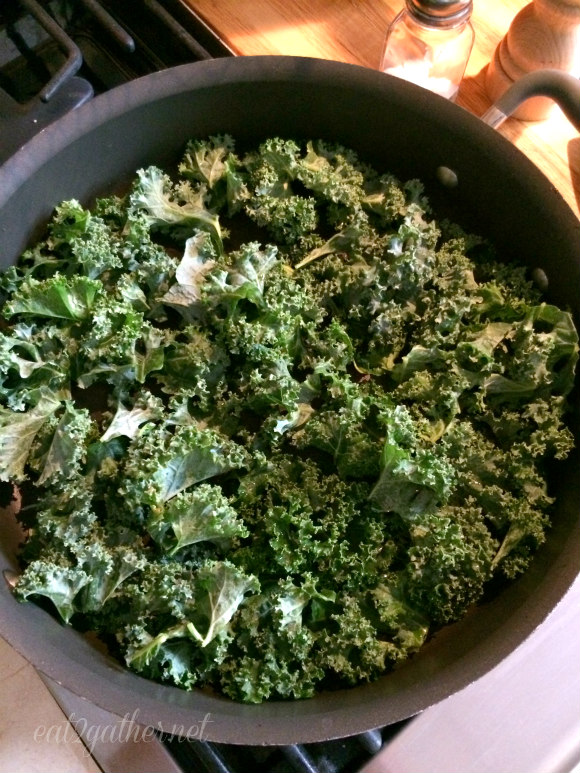 Brown the sausage, remove to a paper towel lined plate to remove excess grease.  Drain grease from pan, leaving just a little behind to saute' the kale and garlic in.  Saute kale until it just starts to soften and wilt, then remove from heat. At this point the sweet potatoes are ready to come out of the oven and you can start assembling your strata.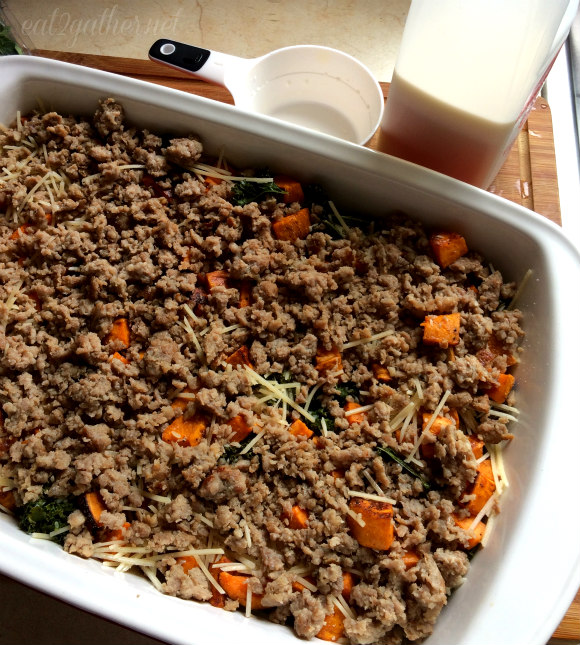 Kids in the kitchen: This is a great recipe to get your kids helping you in the kitchen.  They can tear the bread into pieces or help you break the eggs and whisk them with the milk, sprinkle the cheese, pour the egg/milk mixture.  Nibble on each component of the recipe as you go this will get them interested in the flavors while having fun putting together a healthy meal.
[print_this]
Cheesy Sweet Potato and Kale Strata
Makes 12 servings
3 Sweet Potatoes, peeled and cut into cubes
2 tablespoons Olive Oil
salt and pepper
1 pound Breakfast Sausage
4 cups Kale, cleaned, with leaves torn off the stalks
1 clove Garlic, minced
4 cups Whole Wheat Bread cubes, approximately 1/2 a loaf or 9 ounces
8 eggs
2 cups Whole Milk
1/2 teaspoon Salt
1/2 teaspoon ground Poultry Seasoning
1/4 teaspoon fresh ground Pepper
1 cup grated Parmesan Cheese
Preheat oven to 400 degrees, lightly grease baking dish with butter
1. Toss sweet potato with 2 tablespoons olive oil spread on a baking sheet and sprinkle with salt and pepper. Bake in a 400 degree oven for 30 minutes or until tender and starting to brown. Remove and set aside, and turn off oven.
2. Brown breakfast sausage in a large skillet, when all meat is brown and no pink is left, remove sausage with a slotted spoon to a plate lined with paper towel, press more paper towel on top of sausage to remove excess grease. Set this aside.
3. Using the same pan you browned the sausage in you are going to saute the kale, but first pour any grease out of the pan, no need to wipe clean just remove excess grease. Add kale to skillet over medium heat, move kale around in pan with spoon or spatula, when kale starts to wilt add minced garlic to pan and continue to cook another 3-5 minutes. Turn heat off and set aside.
4. Whisk eggs, milk, salt, poultry seasoning, and pepper together.
Now it's time to build your strata!!
5. In a 9×13 baking dish ( It is not necessary to grease pan.) spread bread cubes evenly over bottom, top with roasted sweet potato, then layer the kale and garlic mixture on top, evenly distribute sausage as your next layer, then sprinkle with cheese, and lastly pour egg/milk mixture evenly over the whole dish. Cover with plastic wrap and allow to sit for 30 minutes before baking. Remove plastic wrap and bake in a 400 degree oven for 45 minutes. Remove and cut into 12 pieces.
Enjoy!
Note: Cheesy Sweet Potato and Kale Strata can be stored in refrigerator for up to 2 days before baking. You can also cover tightly with plastic wrap pressing wrap down on to the top of strata, then cover with a tight layer of foil. Identify dish by writing Cheesy Sweet Potato and Kale Strata and baking direction on foil, then place in freezer for up to 3 months. Thaw before baking.
[/print_this]
HERE's how you can get involved with the Great American Milk Drive ->
1. LIKE & COMMENT – The American Dairy Association Mideast will donate $1 to the Great American Milk Drive for every "like," comment or share each of the bloggers' 10 recipes receive on its Facebook page between Aug. 10 and 26, which will be used to give gallons of milk to children and families across the country.
Visit these blogs for amazing recipes and comment and share to DONATE $1, it's that easy!
In Katrina's Kitchen, Chocolate Almond Butter Smoothie Bowls
Climbing Grier Mountain, Greek Yogurt Chicken Alfredo Grilled Cheese 
Shugary Sweets, Brown Sugar Latte
Inside BruCrew Life, Turkey Club Pinwheels
Food Faith Fitness, Banana Pancakes Taco Style 
Love Grows Wild, Florentine Meatballs 
Lemons of Lulu, Baked Spaghetti Lasagna 
Well-Plated, Breakfast Quesadilla
Country Cleaver, Easy Summer Veggie Flatbread
2. JOIN us for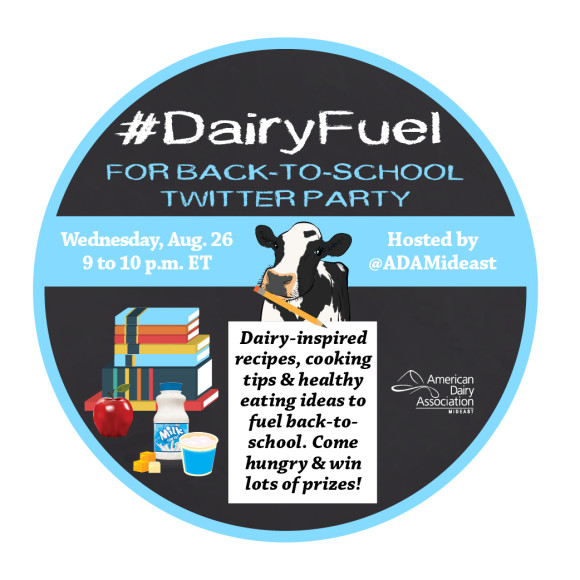 3. Stay up to date!  Keep track of  gallons donated to food banks in your state, and make donations directly to->Milk Life
Phew!! I realize that's a lot of information!  Thanks for reading and commenting!  By doing so you can make a huge difference in a childs life!
XO, Sheila
Disclaimer: I was compensated by American Dairy Association Mideast to write this post.   Please know that I only work with a select brands and campaigns that fit my philosophy on getting your family to the table and feeding them well! Thank you in advance for supporting the brands that make E2g possible.  As always all thoughts are 100%  my own!