Book Club: Birds of Paradise by Diane Abu-Jaber
Tonight is our bi-monthly "Babes Under the Covers" Book Club.  Our last club met at  Kristi's house back in March, to discuss Birds of Paradise by Diane Abu-Jaber. (Side note on Kristi, she's a librarian…..the purdiest librarian you ever did see, and not only can this gal keep her periodical indexes in order she can cook up a gol-dern storm too!)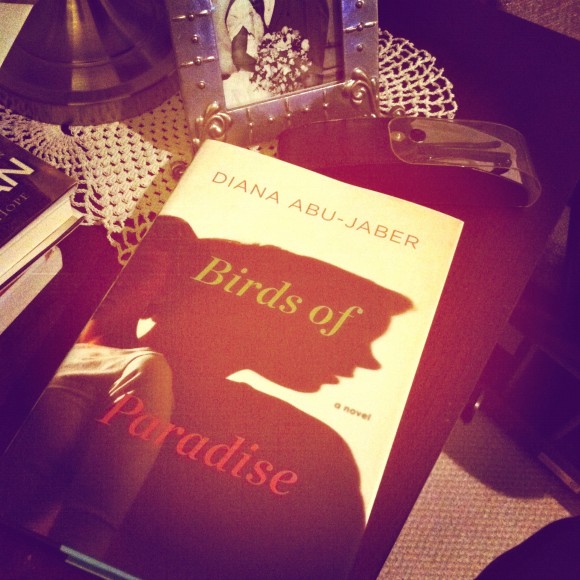 Sigh…..
Where do I begin to tell you about this book?  Keep in mind, I'm just a mom that is giving you my opionon on a book and relaying the general opinion of the other BUCs (Babes under Covers).  We chose this book because of  it's rave reviews, and high star ratings on several different book club sites, and book lists.
"A full course meal, a rich, complex and memorable story that will leave you lingering gratefully at [Abu-Jabers] table." Ron Charles Washington Post
Ron did you read this book???? Just saying….. there is no way anyone of these reviewers that gave this book rave reviews could have actually read the book.
I actually couldn't bring my self to finish it.  I got within 20 pages and said NO MORE, thank you.
The description below may intrigue you:
At thirteen, Felice Muir ran away from home to punish herself for some
horrible thing she had done—leaving a hole in the hearts of her pastry-chef
mother, her real estate attorney father, and her foodie-entrepreneurial
brother. After five years of scrounging for food, drugs,
and shelter on Miami Beach, Felice is now turning eighteen, and she
and the family she left behind must reckon with the consequences of her
actions—and make life-affirming choices about what matters to the
most, now and in the future.
Here is what Amazon had to say:
A multilayered, beautifully textured novel about family and self, self-indulgence and generosity, against the vivid backdrop of contemporary Miami.
In the tropical paradise that is Miami, Avis and Brian Muir are still haunted by the disappearance of their ineffably beautiful daughter, Felice, who ran away when she was thirteen. Now, after five years of modeling tattoos, skateboarding, clubbing, and sleeping in a squat house or on the beach, Felice is about to turn eighteen. Her family—Avis, an exquisitely talented pastry chef; Brian, a corporate real estate attorney; and her brother, Stanley, the proprietor of Freshly Grown, a trendy food market—will each be forced to confront their anguish, loss, and sense of betrayal. Meanwhile, Felice must reckon with the guilty secret that drove her away, and must face her fear of losing her family and her sense of self forever.This multilayered novel about a family that comes apart at the seams—and finds its way together again—is totally involving and deeply satisfying, a glorious feast of a book.
I wanted this book to make me fall in  love with Miami and  take a book vacation to South Beach.  Instead it scared the ba-jeebies out of me.  After reading Birds of Paradise,  I don't think I will ever want to visit that God forsaken place.  The book descriptions, make the story sounds interesting, in fact it is.  It's just too bad the author couldn't at least tell the story that she set out to tell.  There are main characters who just drop out of the book never to return, weird and confusing.  And then there is the case of a mom so lost in her mille-feuilles (What ever the heck that is…sorry I'm just a simple cookie, cake, and pie girl.) that she hardly bats an eye when her 13 year old daughter disappears into the Miami night scene, and is gone for months and years at a time with out a word.  I don't know I just didn't get this book.  Who chooses to roll pastry and not pound the pavement looking for your little girl who has run away.
There was a couple BUCs that actually enjoyed Birds of Paradise.  I will have to say, it made for a interesting discussion…..all 15 minutes of it, we were hungry we decided to move on to the food!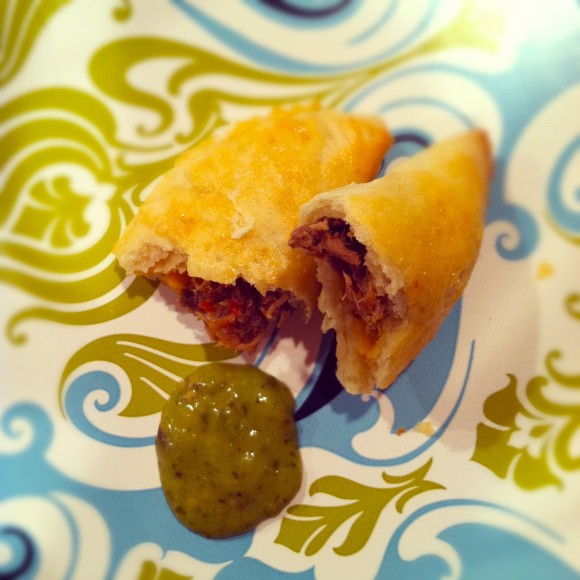 The best part of the night for me
was the food!  It was so good.  Out of this world good.  I love how each BUC  is so creative at preparing food that reflects the book that we read.  Dam I wish we hadn't all read
The
Help
, because we could have had some mighty fine vittles at that discussion!!! Might be worth reading the book again. Sorry bunny trail…
Kristi made amazingly tasty Empanada!  Sweet and savory, served with guacamole, salsa, and Mojitos.  It was culinary Cuban heaven!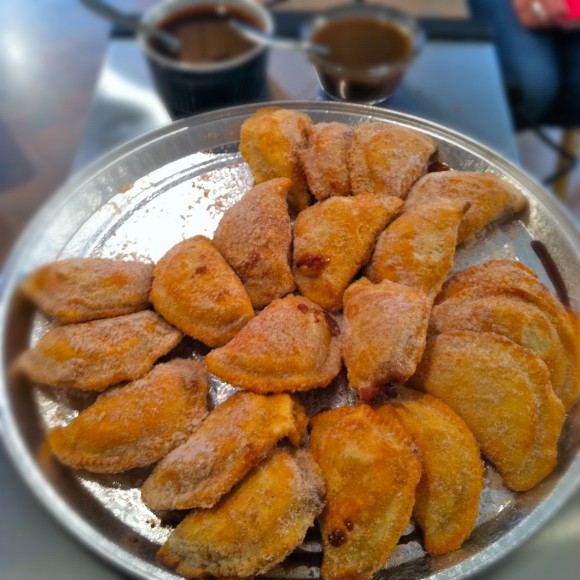 She found her recipes at 3 Cuban Guys website.  They were fabuloSO!  We gobbled them right up we did, we did, and then we moved on to the Chocolate filled empanadas, served with hot fudge and caramel sauce.  This is what you call crazy goodness!  The secret to these little guys is in the phone number….yup I said phone number, if you have an On the Border  you can do a 1 ringy dingy, 2 ringy dingy, and so on and so forth to order yourself their dessert empanadas.  They are simply to die for.  So good I don't think I would ever bother trying to make them on my own!
Overall: The Babes gave this book a thumbs down, the only Babe that said she liked it wasn't able to come and defend the book.  I will reiterate that the story idea was intriguing, and had skads of potential, to bad Abu-Jaber couldn't have a do over.
Details of the night: I think I kinda gave you the scoop already.
Tonight we are meeting to discuss Steven Kings 11-22-63.  FYI I loved this book!
July Book Club: Miss Peregine's Home for Peculiar Children….wonder what sort of chow we will have for that book club?  I would love for you to join me in reading this book!  
 What is on your Summer Reading list?