Book Club ~ 2 time travel reads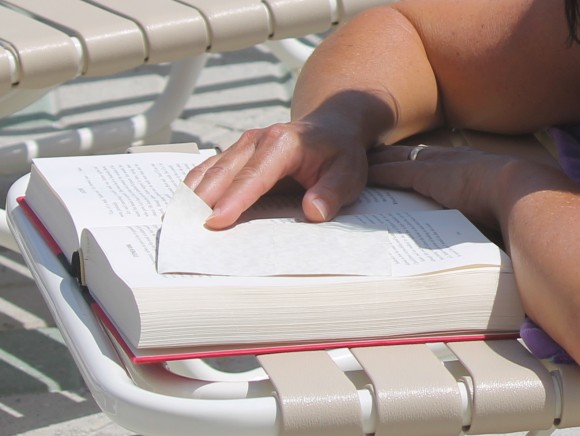 One month left of Summer reading!  What have you read this Summer?  What season do you tend to read more in?  I seem to pack in more reading in the Summer.  I'm not sure why.  I guess it's the layed back nature of our lives, more beach time, and vacationing allows me to read more.  Thank goodness for my book club, Babes Under the Covers (BUC's for short), they keep me reading the whole year through!
I thought I would share with you the BUC's thoughts on our last two reads.  In case you don't remember, we meet bi-monthly our May book was Stephen Kings 11-22-63.  Can you say 852 pages?   This book separated the readers from the "kinda readers" .  A couple of the girls didn't even try to read it, a handful started and never finished.  I think only 5 of us had it finished by the night of book club.  I admit although I too usually shy away from anything over 400 pages, I loved 11-22-63.  This book has it all!  Love story, history, suspense, action, crime drama, did I miss anything?  Oh yeah, and time traveling!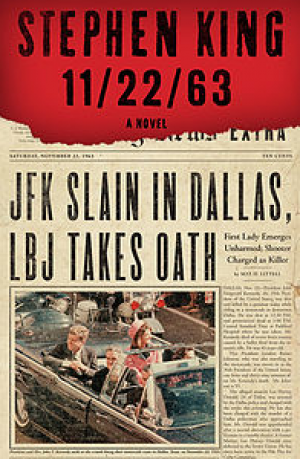 Jake Epping, 11-22-63's main character,  is easy to love.  He is a thirty     something divorced high school English teacher that finds himself with the opportunity to change history.  What he finds along the way is a bit more than he bargained for, because history you see does not like to be messed with.  And when it is messed with it has a way of fighting back.  When given the opportunity to change history, Jake's real motivation comes from the desire to change the course of the schools custodian, Harry Dunning, future.  Harry had  suffered severe trauma as a child, and Jake wants to help turn his life around.
"So Jake takes the plunge – to change Dunning's story, Oswald's story, Kennedy's story, America's story and consequently, his own. He exchanges modern convenience and style for classic cars, sock hops, fatty foods and an adventure into the unknown. Along the way he'll travel through New England and the South, stop murders, mess with gambling bookies and the mafia and meet a high school librarian named Sadie Dunhill who will become the love of his life. But the past is obdurate as Jake discovers and nothing in his story or everyone he interacts with goes exactly to plan." (excerpt taken from About.com book review)
11-22-63, is a great vacation or Summer time read.  Stephen King has a way of making you love each and every character, and telling a story that draws you in, making you believe this fantastical idea of time travel could actually be true.  People do disappear everyday….maybe they just fell down a rabbit hole into the past and chose to stay there!  Doesn't sound half bad to me some days.
I took the time to read the after thoughts (or whatever you call them…I loaned my book to a friend, so I'm doing this from memory people…and my memory is not that great), I found it interesting that Stephen started writing his book back in 1973 only 5 years after the events of JFK's assassination.  Apparently his wife talked him out of writing it, sighting that maybe it was too soon, and that it wouldn't be received well.  I think she was smart in doing that, it gave time to let history unfold which only added to the depth of this book.  One of the BUC's is very good at researching books while she reads them.  She did alot of digging up the past online, she also thought is was best King waited.  Many of us were just babies or not even born yet, so 11-22-63 was a great lesson in history that was not told in high school or college American history.
Overall: Those of us that read the whole book loved it, and agreed that we highly recommend it.  If you read it for book club, take notes as you go.  Or as questions come up in your mind about  things that you might want to discuss with your group.  I think because of this books length it's easy for these details tend to slip from our memories.  Or from my memory at least!
Details of the night: Lori was our  host.  She showed up at the door to greet me with a yellow card in her hat.  (Now if I hadn't lost the pictures I took I would have a picture of all the details for you…but the pics slipped away in to lala land)  Lori is the researcher…I was telling you about.  She was the hostess with the mostess!  The food was casual but delicious.  She even went online and ordered the Moxie Soda that was often talked about in the book!  Why a yellow card in her hat?  Well now you're going to have to read the book to find out now aren't you!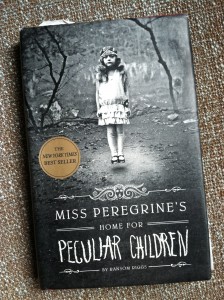 July's book club pick was Miss Peregrines home for Peculiar Children.   This is one book I would never in a million years read, if I had not been assigned it.  First of all I couldn't find it….because it was in the teen fiction section at Barnes and Nobles.  What really is the difference between teen and adult fiction these days?  Just wondering…..Ok I don't get me started on that, let's get back to Miss Peregrines.
This book sucked me in.  I usually take on average 1-2 weeks to read a book, depending on how busy life is.  I read this book in 3 days!  Granted there are a few pictures.  Which I also loved, because the characters are so peculiar…it truly is hard to put into words.  Just in case you wondered all the photos in this book are real pictures, however altered they may be.  The use of old black and white photographs, that the author Ransom Riggs found, is truly a strike of creative brilliance!   My question was did he write the book and then fit the pictures in or did he find the pictures and then write the book around them?
If you've read Miss Peregrines what do you think?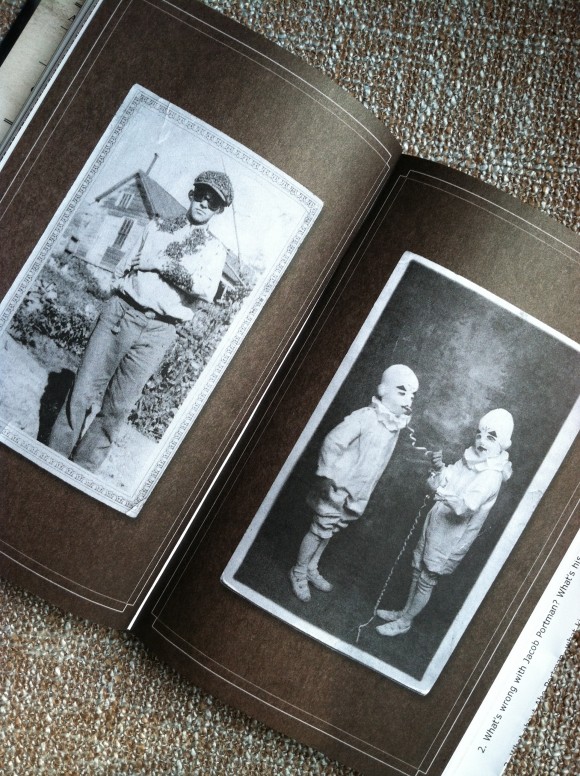 Jacob, the main character, is a rich, odd, spoiled teen from Florida, who has always had an extremely close relationship with his Grandfather.  Over the years his Grandfather has told him stories about his childhood, and showed him pictures to support these stories. But  now as a young adult Jacob finds these stories hard to swallow.  This unbelief, and his grandfathers undying determination to make Jacob believe the stories make Jacob wonder if his grandfather is quite right in the head.  It's not until his Grandfathers bizarre murder that Jacob decides he needs to find out the truth about his grandfathers childhood once and for all.  This journey takes him to a far away island, and a journey back in time that eventually helps explain many things about stories and things his grandfather had done in the past.
Overall: We all enjoyed the book, agreed that it was an interesting story.  It was by far the best discussions we have had.   We agreed that the pictures were a bit unnerving and creepy, but they made the book unique.  The book seemed to lead us down the road to a sequel.  We will have to wait and see what Ransom Riggs has in store for the future of this time traveling book.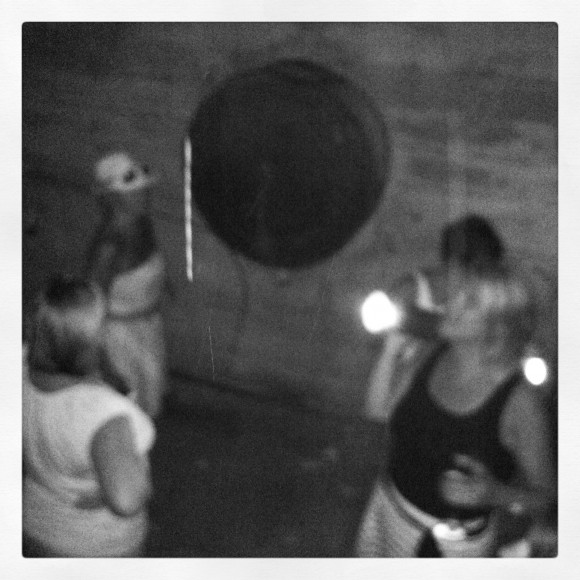 Creepy Field Trip
Details of the night: Meg hosted.  She served a beautiful spread that included her specialty, Cheese & Ham Roll-ups ,  I can never get enough of these tasty morsels!   I've got to get the recipe from her for  to share with you, they are so addicting!
Later after our discussion, at dusk, with the moon heavy in the sky our Hostess decided it was a good idea to take us on a creepy field trip, into the depths of her cottage garage basement.  I've got it all on video.  I'm just waiting for the OK from the BUC's to put it on the WWW.  I have to warn you ahead of time , the video involves, wine, screaming, mouse traps, screaming, a creepy old key, screaming, did I say that we screamed a little bit in the video, and well laughed alot.  Check back for further details on the scream fest book club adventure video.
Did I already ask you....what have you read this Summer?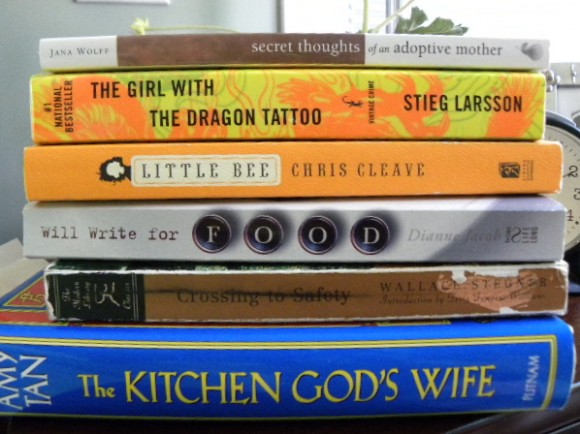 This is what's on my nightstand, some I have read, and want to read again, others not sure if I will get to them.  Have you read any of these books?  I really want to read Sarah's Key.  I think I might need to head to the library in the morning.
What's UP NEXT: The Kitchen Gods Wife by Amy Tan ~ September 
The Last Romanov by Dora Kevy Mossanen ~ November
Happy reading! Sheila