Hello today I am visiting my dear friend Rachel's blog Rachel Cooks.  Rachel is hosting me today for her A day in the life…. series.  So if you want to see what a day in the life of me looks like, grab a cup-o-joe and head over!

Here's the LINK.  It's really super exciting stuff ; ) !!  So brace yourselves!
HOUSE KEEPING:
1. I love to hear from you all so never hesitate to email me, or leave me your 2cents in the comments ; ).
2. Thank to everyone who did the survey I had up on my blog a while back.  It was super helpful, and as a result you will be seeing a few changes happening here at E2g!
3. As a result of my choice to stand behind the Eggo brand last week I received a lot of positive feedback, and I thank you for that!  But I also got a few not so nice comments.  I totally respect what you all have to say, I want you to know that if I feel it necessary I will at times choose not to post certain comments.  I do read them all and I take what you have to say to heart.  With that said I also want you to know that I will never work for a brand I do not believe in 100% and use in my home on a weekly basis.  I have turned down many offers as a result of the strong standards I have set for myself in regards to this.
4. I want to thank all of you who follow and share Eat2gather on Facebook, Twitter, and Instagram.  You are the back bone of my blog.  I love you man.
5. We just returned from Spring Break in Florida, my brain is mush.  Do you get mush brain on vacation?  No schedule. Sun. Beach. I love traveling with my family.  When we road trip I never want to come home. Is that bad?
Here are a few snippets from our vacation.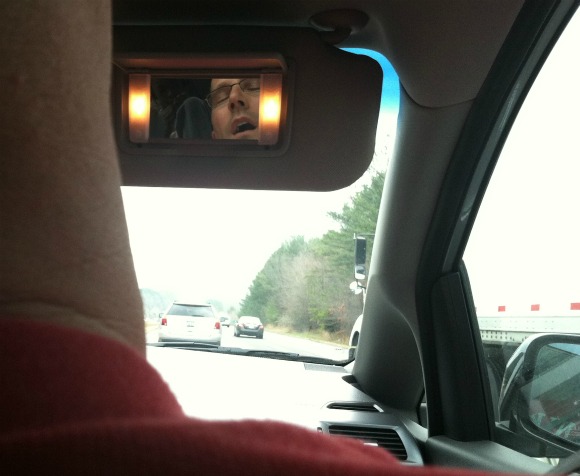 Kenny is going to love me for this.  HahahAH!  Oh he's so cute isn't he?!  I was driving and the kids where getting restless, so they decided to take some pics of their father while he tried to catch a few winks!  We got into some traffic on the way down…it was Good Friday on I-65 south, it was utter craziness.  We actually ran into some friends from our town while sitting in stand still traffic in Nashville, rolled down the window and had a chat!  What are the chances?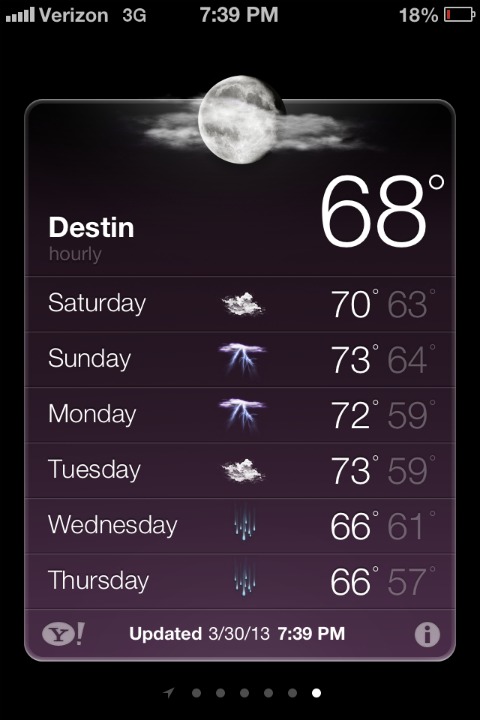 Thankfully we made it to Destin safe and sound, but the weather looked like it was not going to cooperate….I think it was an April fools joke because Saturday through Tuesday were beautiful, Wednesday, Thursday, Friday not so much!  Oh well, we found other things to do.
1. Movie marathon.  Fun Size (the kids watched this movie 51,000 times), Argo, My Big Fat Greek Wedding, School of Rock, Nacho Libre (we love Jack Black), Here Comes the Boom (awesome movie BTW!), Big Miracle…..hmmm seems like there where more.
2. We visited Barnes and Nobles.  I got a few hundred food magazines, my son bought the Duck Dynasty book….he's loving it…it also has recipes in it!! So we all read when we weren't watching movies.
3. We shopped, and shopped, and shopped. Ugh to my wallet.
4. The kids played pool….no not in the pool, it was too cold to swim in.  Thankfully our rental house had a pool table in the garage.  That came in very handy!
5. We went for walks when it wasn't raining. Long walks.  Long bladder testing walks.
Speaking of April Fools…did you fool anyone this year?  Oh do tell!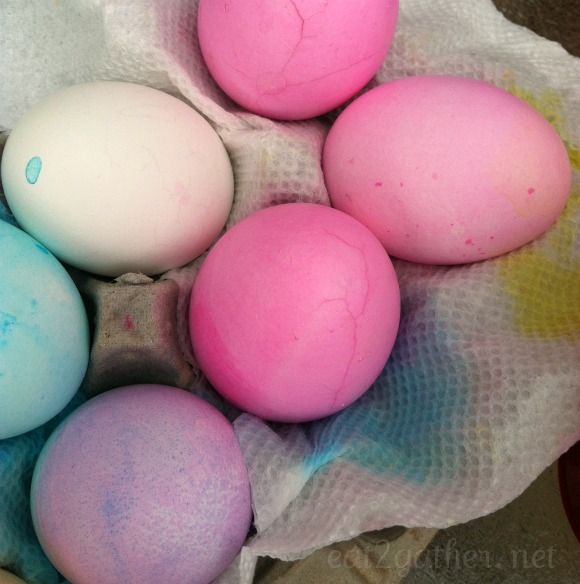 We colored eggs together on Easter Sunday after we watched LifeChurch.TV online.  TIP:if you don't have vinegar for your egg colors, but you do have limes for your beers you can use the juice from the limes for your egg colors.  Just in case you ever run in to that sort of thing.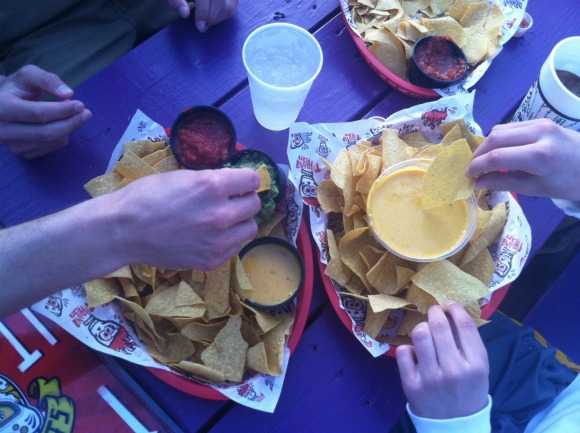 One of our favorite places to eat in the Destin area is Tijuana Flats. It's the best.  It's cheap and the Tex-Mex food is amazing.  I love their fish tacos.  Help me I'm in love. I've been dreaming about them since last year and couldn't wait to eat them again, and now the cycle is repeating.  The queso is quite addicting too!    We met 4 other families here for dinner, very laid back easy place to meet friends and take your family.  Definitely recommend this place. (Other restaurants I recommend in Destin would be  Dewey Destins, Mellow Mushrooms, Pomano Joes, The Whale Tail)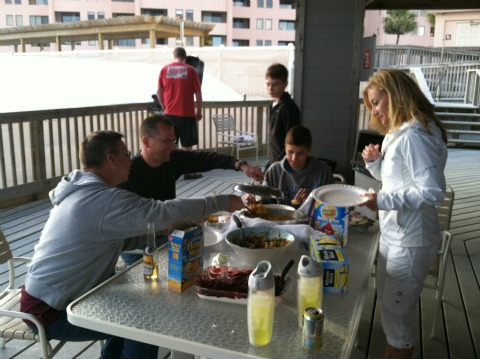 We had a little fish grill out with some friends.  It was very fun but I might have eaten too much of this stuff.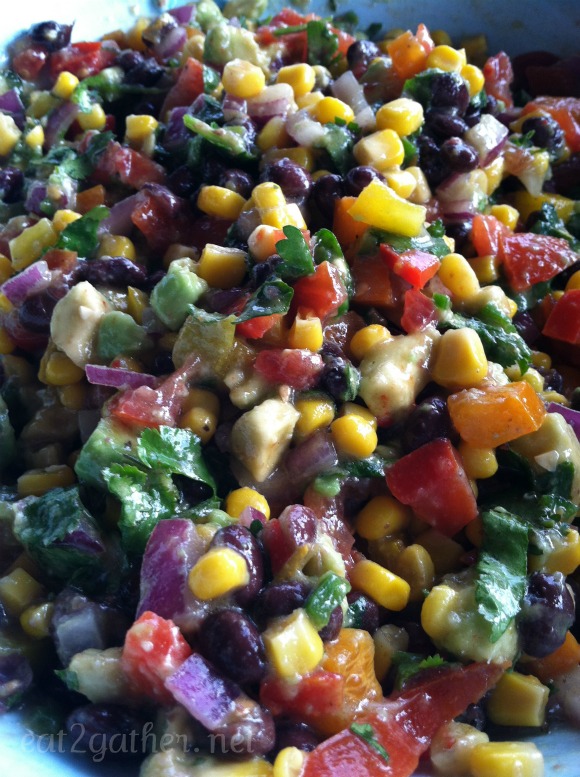 Do you make Bean Salsa..or do you call it Cowboy Caviar?  Whatever you call it, it is dang good.  I love it on everything.  It is especially good piled on top of fresh grilled fish.  Tasty stuff right there!  I will share my version of this scrumptious dip soon!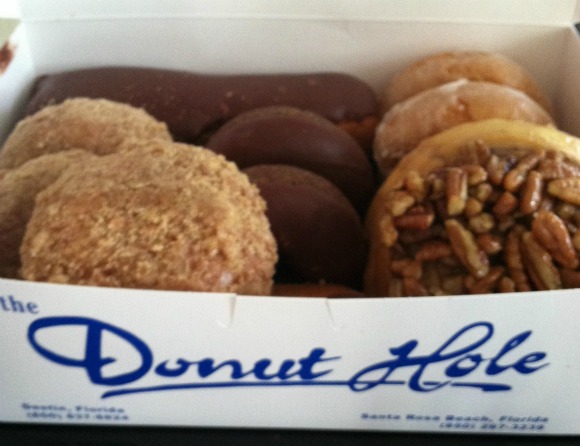 The Donut Hole.  If you like donuts, key lime pie, or sweet potato pancakes you must stop here.  At 9am the line was out the door and down the side of the building for donuts!  The Red Velvet Donut is one of the best I've ever tasted.  The Key Lime Pie here aint to hateful either!!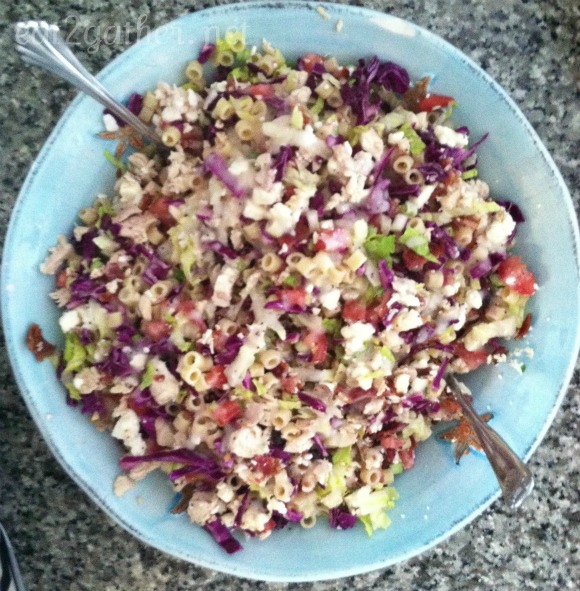 I made the Hairless Bear Chopped Chicken Salad.  There is a story behind the making of this salad.  You wanna hear it?
Usually when we rent a house for vacation I bring along a few of my "can't live with out"  kitchen items.  This year I decided to see if I could live with out them.  I CANT!!  There were 62 knives in this house and I could not have defended myself against an intruder with any of them!!  No sharpener either.  No cookie sheet, or baking pans.  No peeler.  No grater.  Are you feeling my pain?  So of course I decide that I need to make Chopped Chicken Salad because I for that I need almost every utensil I didn't have!  I'm a boy scout at heart so I set about making a baking sheet out of aluminum foil for the bacon…started cooking the bacon then I went to town on the rest of the veggies with a giant serrated bread knife.  I'm sure I looked like the Swedish Chef from the Muppet's, food flying everywhere.  It was just my friend Cathy and I in the house, the men had taken the kiddos mini golfing.  Also good to know was that Cathy was coming off having a horrible virus and was not getting around so well. She came down to see what I was up to…because she smelled bacon and heard me choppin' like a freak of nature.  Just then we both noticed smoke billowing out of the back of the stove, then a tiny spark in the oven turned to a medium sized flame.  We both stared at it.  "Oh crap the bacon has caught on fire!"  Somehow the grease from the bacon was dripping down to the bottom of the oven…I might have devised a faulty pan.  Then like a rock star I opened the oven and with one quick maneuver I grabbed the bacon out and threw it on the top of the oven, shut the door and turned off the oven.  So the bacon was out, but the fire blazed on!  Oh my goodness what do we do.  Cathy and I are now literally spinning in circles.  Cathy is standing on her tip toes jumping up and down and I am flying around trying to open window that are stuck shut, and flinging open cabinets looking for a fire extinguisher.  At some point I heard Cathy say "this is not good".  I bolted out the door (mind you I was wearing my bathing suit, had not showered, was bare foot, not a purdy sight!)  and ran to the house next door that was being renovated.  I ran around to the back of the house and started screaming HELOO HELLO HELLO WE HAVE A FIRE NEXT DOOR!  Ok so then Brad Pitt from Thelma and Louise comes out on the back patio.  OH my my my. This is only getting worse.  I told him I couldn't find an extinguisher so he runs over (he did ask if it was ok if he entered the premises before he ran in to rescue two DAMsels in distress).  The the lower floor was full of smoke, and Cathy was poised to call 911.  Brad Pitt located the extinguisher, and then miraculously the flame went out.  Poof!  Brad Pitt left.  Cathy had a good laugh, and decided we would not tell the boys what happened, but then they walked in and we told them everything.
Moral of the story:  Know where the rental house fire extinguisher is at all times.  If you are going to make a baking sheet out of aluminum foil make sure it's triple layered.  Always bring your "can't live with out them" kitchen tools…because you may die in a fire because you didn't have them and you may need to use a sharp knife on an intruder or a cucumber.
Thankfully this salad was really good…or maybe I was just super duper hungry from all of  the drama that ensued because of it.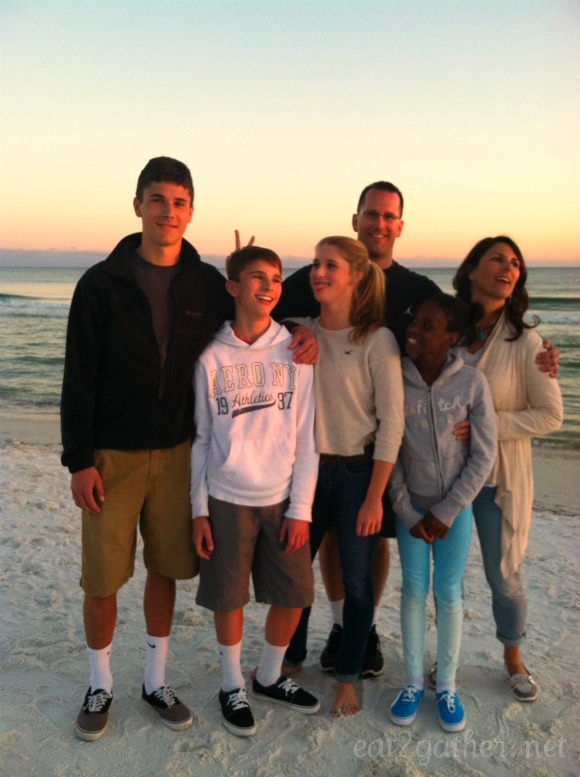 There we are.  The whole famdamily.  How do people get those perfect family pictures?  I don't understand those people.  They are not my people.  I think they are aliens posing as picture perfect family people.  I will admit just once I want my family to look like we are those alien shutterfly card type people.  Just once.
Amen.
Have a great day!  Don't forget if you have time to stop by Rachel Cooks!
Sheila