Steak Sauce…and dinner with friends
This past weekend Kenny and I got to spend a couple days at a beach house on the Big Lake, with 12 of our favorite people in the whole wide world.  How lucky are we?  This was the second year we have done a beach weekend together.  It was unanimously decided that we will be doing this weekend together until forever…or until we're 99 which ever comes first.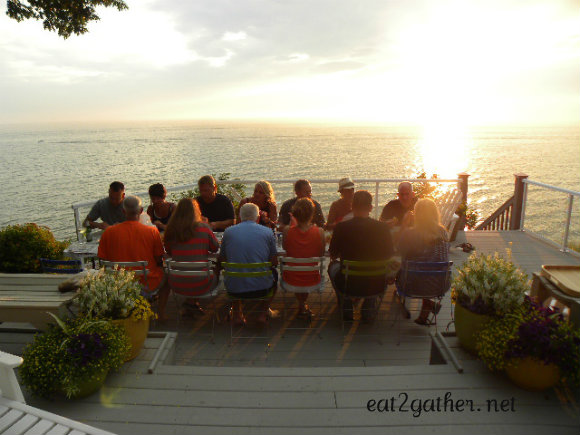 We've barely come out of our food comas, and we are already looking forward to next year.  But seriously it's not all about the food, (well maybe it kind of is) but the food comes in a close second to the friendships.  If we hadn't gotten in our quota of laughing for the year 2012, we made up for the entire year withing 48 hours during this one weekend together.  I wish I could tell you about some of the gut busting pranks, and nonsense that went on, but we have an agreement……What happens at the Beach stays at the Beach.  Oh it's all good clean fun, don't be getting any goofy ideas.
What I can share with you is the food.  Big D and I were given  the Friday night dinner assignment.  Which was perfect because we got all our cooking done the first night and then sat on our duffies the rest of the weekend.   Everyone was feeling sorry that we got stuck with cooking right away,  we're hoping to get the same assignment next year!
Here's what we served:
Grilled Beef Tenderloin with Bar Americain Steak Sauce
Roasted Vegetables done on the grill
Steamed Green Beans
Red Wine Mushrooms
Heirloom Tomato Salad with homemade Blue Cheese Dressing
bread from farmers market
Big D's Berry Cobbler
My homemade Vanilla Bean Ice Cream
It was pretty incredible. I heard murmerings of 5 star, and a few best meal evers, lots of moans, and yummy noises.   We served basically the same meal last year with a few alterations.  I always say, "if it ain't broke don't fix it!".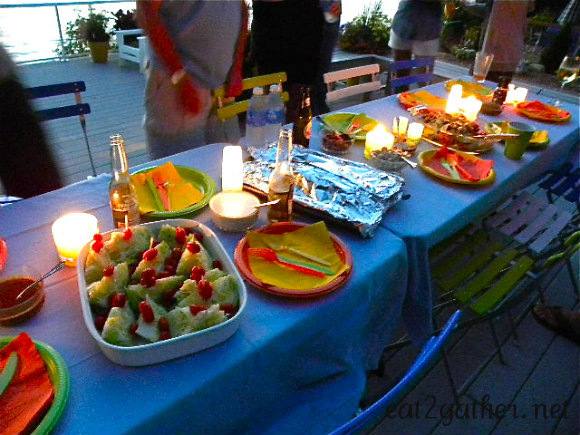 Table circa Summer 2011.
Beef Tenderloin is something I only fix for special occasions.  It is so blasted expensive, but it's so worth it.  So if you want to make a meal that's super easy, and will really impress this is the menu for you!  The rub for the meat and the steak sauce are from Bobby Flay's Grill it cookbook. I made a few minor measurement adjustments, but basically it's Bobby's recipe, and its A-may-ZING!
[print_this]
Bobby's Bar Americain Steak Sauce
from Bobby Flay's cookbook Grill IT!
1/3 cup Dijon Mustard
1/3 cup Whole Grain Mustard
1/3 Cup Molasses
3 tablespoons Ketchup
3 tablespoons Honey
1 tablespoon prepared Horseradish
1/2 teaspoon Salt
1/2-1 teaspoon freshly ground Black Pepper
Whisk together the mustards, the molasses, ketchup, honey,and horseradish in a bowl. Add in the salt and freshly ground pepper, cover bowl and refrigerate for at least 30 minutes or up to 1 day before serving. Bring to room temperature before serving with your grilled meat.
Note: This sauce is also amazing used as a grilling sauce for chicken.
[/print_this]


Here's how I make my Beef Tenderloin:
-Make the Bar Americain Steak Sauce, the above recipe is more than enough for 12 people.
-Then go to the bank take a loan out.
-Head to your butcher and have him weigh you up a 6-7 pound piece of beef tenderloin, carry it like a precious baby out to your vehicle, buckle it in, because heaven knows if you got in an accident on the way home, and that baby flew out the window and hit the pavement, it would be sad….really sad.
-While you're at the butcher, purchase a pound of bacon, go home cook it up for your kiddos.  Pour the grease off and save it for the BT.
-About 2 hours before grilling the beef tenderloin, take it out of the refrigerator and place it on a platter, letting it come to room temperature.  Rub the bacon fat all over it, then cover it with Bobby's Spice Rub for recipe click HERE..   I LOVE this spice mix it's fabulous, make lots and keep it on hand always!
-When you are ready to grill turn your grill up to 375-400 degrees and grill the tenderloin for 10-15 minutes on a side, depending on how thick your meat is. Tenderloins should be served rare to medium rare.  Turn only once.  Remove from grill and cover tightly with aluminum foil, let rest for 15 minutes before cutting.  This last tid-bit of information is very, very important.  If you take your tenderloin off the grill and cut into it too quickly, all the juices will run out and it will not be nearly as juicy and flavorful.  Good things come to those who wait!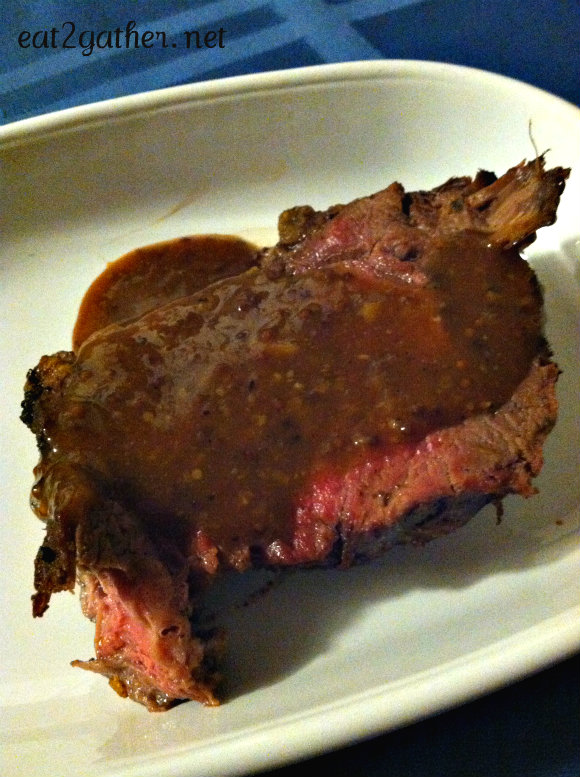 There it is 5 star Grilled Beef Tenderloin with Bar Americain Steak Sauce.  It's a very luverly thing.
But what is quite possibley even more luverly are these mushrooms.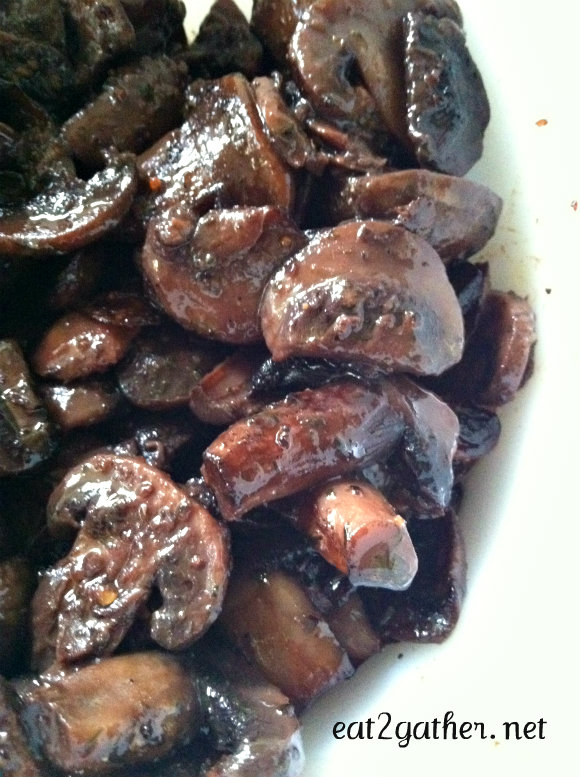 Which we all decided would be nice for bathing in.  They barely made it to the table.  People kept creeping into the kitchen and snagging them out of the pan!  You people didn't think I noticed…I did notice, and yes I too snagged a mushroom or two before dinner.  I will share this recipe soon I promise.
What meal do you love to make for friends? Or would you rather friends cook for you?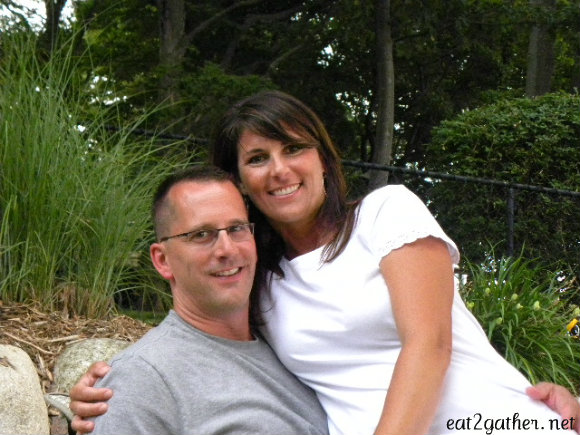 My new favorite picture!   Even though we were with a group of friends, Kenny and I snuck off and took walks together on the beach, I love being with friends, but I love being with my best friend the most!
Cheers! Sheila
P.S.  To the untrained eye that smile on Kenny's face looks like one of joy to have his wife on his lap, but in all honestly he was saying "umpf! I think you shouldn't have eaten that last piece of tenderloin last night Sheil".