Creamy Marinara with pasta is a 20 minute goto meal that my family always loves!  Add a salad and garlic toast and you've got yourself the perfect meal.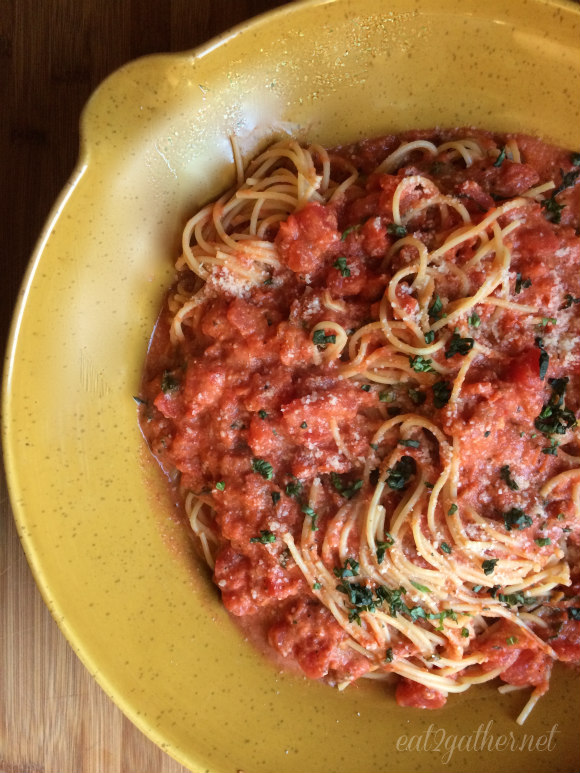 I love this meal because it's quick, easy, and I almost always have all the ingredients on hand, and its one of my kiddos favorites!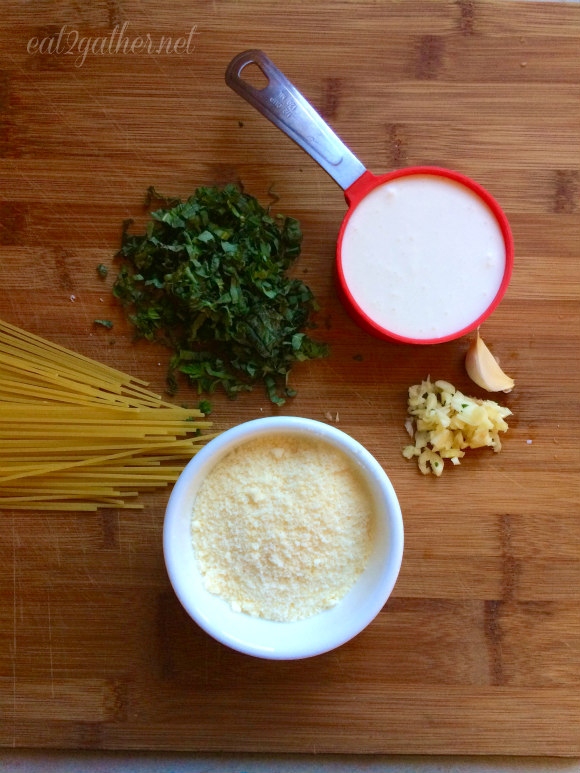 Creamy Marinara is a meatless sauce that comes together with a few pantry and fresh ingredients in a matter of minutes!  Don't have fresh basil and garlic use dried.  Like I said this recipe is easy and forgiving.  The only thing that is unforgivable is if you don't make this for your family!!

Heat up olive oil in a large skillet, add some dried Italian seasoning, garlic,  and saute' to release the flavors, then add 2 cans of tomatoes, heavy cream, parmesan cheese, a few more spices and Voila!  You've got Dinner!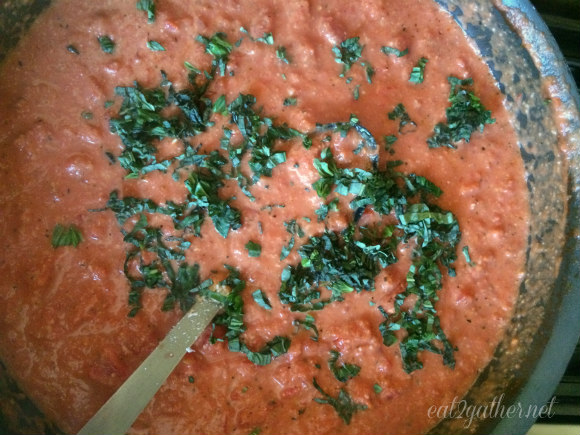 Is that not a thing of beauty?  So fresh and full of good for you ingredients!  You can add any type of pasta you like to this sauce, I added spaghetti just because it's what I had on hand, but honestly any ol' noodle will do the job.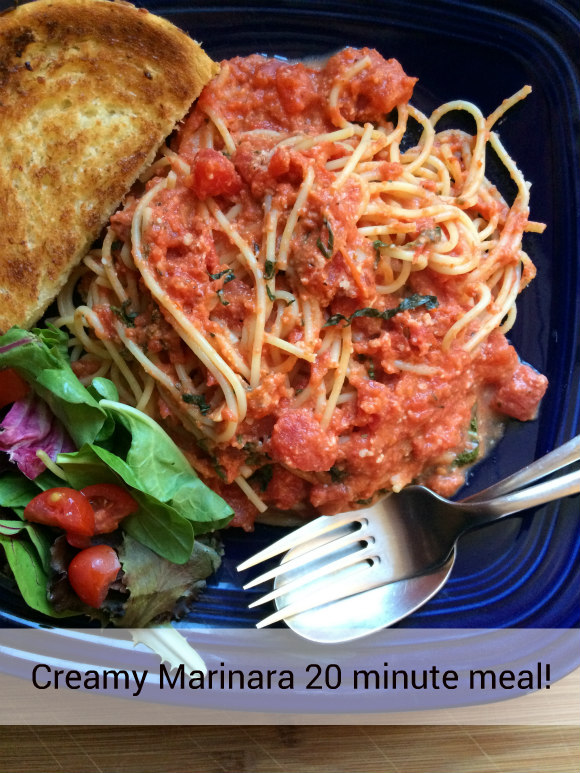 Believe it or not I actually love to spend hours in the kitchen cooking away to my heart's content, but honestly ain't noBODY got time for that these days!  More and more I'm turning to quick and easy homemade meals to get my family around the table.   I hope Creamy Marinara sends your family running to the dinner table, and asking for seconds!
[print_this]
Creamy Marinara – 20 minute Meal!
Serves 6
Prep time: 5 minutes
Cook time: 15 minutes
Ingredients:
1 tablespoon olive oil
2 garlic cloves, minced
1 teaspoon Italian seasonings
1 28 ounce can crushed tomatoes
1 28 ounce can diced tomatoes
1 tablespoon sugar
1/8 teaspoon red pepper flakes (optional)
1 cup grated parmesan cheese
1/2 cup heavy whipping cream
1/4 cup chopped fresh basil
salt and pepper to taste
1 pound pasta cooked according to package directions
Directions:
1. Add olive oil to large skillet over medium high heat, after 30 seconds add garlic and Italian seasonings sauté for 1 minute.
2. Add both cans of tomatoes, sugar, and red pepper flakes if you like. Cook for 5 minutes, stirring occasionally, allowing to come to a low bubble and begin to reduce. You will want to place a cover on your pan so the sauce doesn't splatter out all over.
3. Turn heat down to low add in cream and parmesan cheese stir until cheese has melted and incorporated into tomato sauce. Taste, add salt and pepper to your liking.
4. Add fresh basil, and cooked pasta stir over medium heat for 3-5 minutes allowing sauce to thicken and adhere to pasta.
5. Serve with more parmesan cheese and fresh basil as garnish with garlic toast and a fresh salad as sides.
Enjoy!
Note:  If you do not have fresh garlic or basil you can substitute 1 tablespoon dried basil = 1/4 cup fresh chopped basil and 1/4 teaspoon garlic powder = 2 garlic cloves minced.
[/print_this]
Recently I had the opportunity to spend some time with my one of my favorite sponsors the United Dairy Industry of Michigan:

Several other bloggers and I were lucky enough to go behind the scenes of the Prairie Farms processing plant; where we had the chance to learn about milk quality and safety and see how some of our favorite dairy foods are made!  I was flabbergasted at the care and precision that goes in to the safe processing of milk and other dairy products.  I will never again take for granted a jug of milk, or a carton of cream again!  So much care and hard work goes into safely processing the dairy products that we purchase everyday.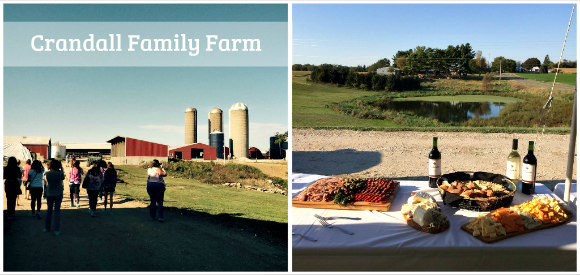 Next we toured the 5th generation Crandall Family Farm in Battle Creek, where we were shown the behind the scenes of their 365 day dairy operation and enjoyed dinner el fresco on the front lawn!  It was amazing!  Everytime I have the chance to visit a Michigan Dairy farm I leave with a sense of awe at the dedication and hard work that goes into producing safe quality milk for Michigan consumers.
For more information on dairy and amazing recipes follow United Dairy Industry of Michigan on Pinterest, Facebook, Twitter, and YouTube!
Disclaimer:  I am proud to be a part of  blogger network that works with the United Dairy Industry of Michigan to help share recipes and ideas on how to incorporated protein and vitamin rich dairy products into your every day meal plan. Thank you for helping support Eat2gather by supporting your local dairy farmers!