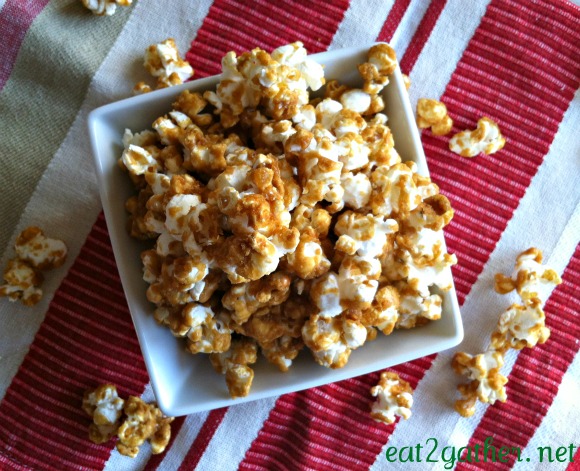 Oh my goodness who needs chestnuts roasting, the aroma's of egg nog and pine tree's?  All you really need is the fragrance of gingerbread baking.  Or in this case Gingerbread Caramel Corn.  Nothing compares!  I think it's the combo of the spicy ginger, nutmeg, and molasses mixed with the brown sugar butter smells of caramel all wrapped into one.  It's unbelievable!  It's a trigger smell…you know one of those smells that as soon as you smell it, it sends you back to a delicious time and place.
Every year some friends and I do a weekend in Chicago.  You can't go to Chicago with out having Garretts Popcorn!  I dream of their Chicago Style, which is Cheese and Caramel Corn mixed.  Nobody does it like Garrets, and I won't go to Chi-town with out having it!  Ken once circled the block 10 times while I stood in line for popcorn….whatta guy!  I had sampled the Gingerbread Popcorn.  It was so yum, but I couldn't sacrifice my Chicago Style by ordering it instead, so when I got home I recreated it!  If I may say so myself I did a dern good job!  It's quite possibly better!!!
Gingerbread Caramel Corn was one of the first recipes I blogged, but the post was random, and the title was Fa la la la la, so it was hard to find (I was clueless about SEO back then…still am really). So anyway I decided Gingerbread Caramel Corn deserved a redo!
Here,  for you,  my friends, is my new and improved Gingerbread Caramel Corn recipes with FO-toes!
WARNING: This caramel corn is highly addictive.  Once you start consuming you may be unable to stop.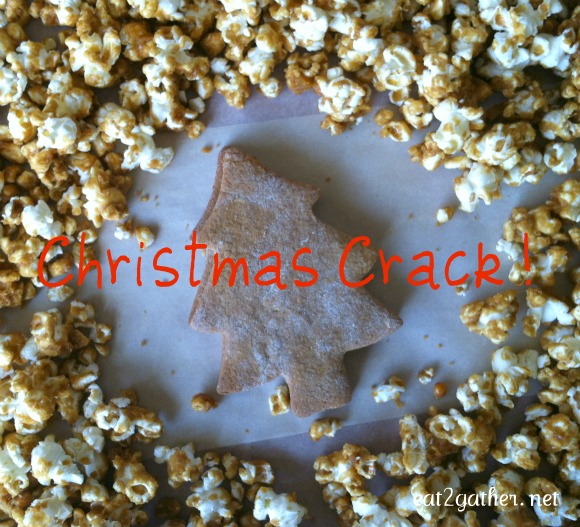 Be prepared!   You will want to double the recipe and then make it multiple times.  It's perfect for gifts.  Fill up paper lunch bags, write a little message on it and give them to anyone and everyone!  Commit random acts of Christmas Crack kindness and you will be el populair-O in your neck of the woods.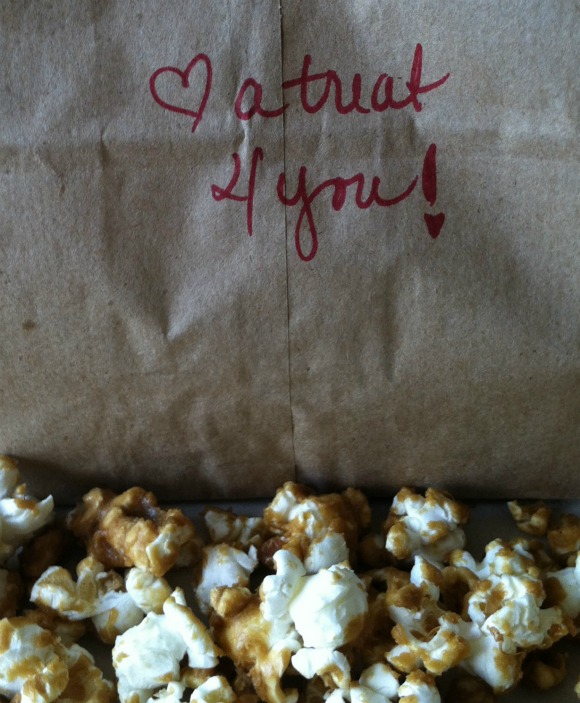 My friend Dee just happened to be dropping off some of her super lovely art for me, so I left her this little treat. Pssst Dee is giving me one of her amazing prints from her Christmas collection to GIVEAWAY before Christmas!  So excited!
OK peeps here is how ya do it!  It's easy, it's not the paper bag version that is hitting the top of the charts this year, but so what if you dirty a few pans!
Nom Nom nom nom….it's so worth it!
[print_this]
Gingerbread Caramel Corn
10 cups air popped Popcorn
3/4 cup Butter (1 1/2 sticks)
1 cup Brown Sugar
2 tablespoons Dark Karo Syrup (light works fine too)
2 tablespoons Molasses
1/2 teaspoon Salt
1 tablespoon minced Crystallized Ginger (or 1/2 teaspoon ground Ginger)
2 dashes Nutmeg
1/4 teaspoon Baking Soda
Preheat oven to 250 degrees.
Pop popcorn and place in a roasting pan or on baking sheets. In a sauce pan melt butter, add brown sugar, karo syrup, and molasses, cook over medium heat until mixture because smooth and starts to boil. Let boil for 2-3 minutes, stirring continuously. Remove from heat, add crystallized ginger, nutmeg, and salt, stir for a minute or so to make sure the ginger heats up and the flavors are well distributed. Add baking soda give it a good whisk, mixture will react and start to foam up, this is good. Now drizzle caramel over popcorn, with a spatula fold caramel into popcorn gently. Place in oven for 10 minutes, remove from oven give caramel corn another fold, bringing the caramel up from the bottom of the pan onto the popcorn. Return to oven bake for another 10 minutes. Remove and dump gingerbread caramel corn onto parchment paper or your counter top. Let cool.
Enjoy!
[/print_this]
 HERE'S HOW: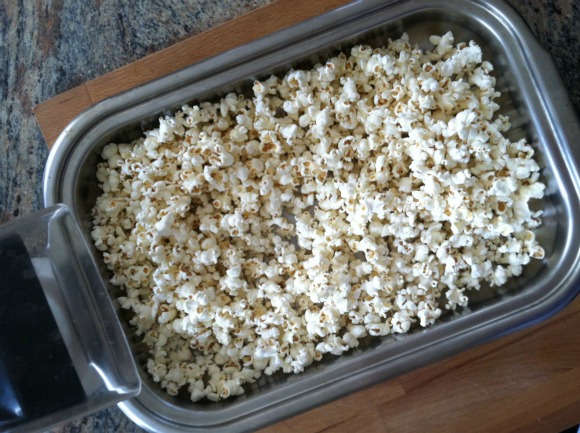 Pop popcorn.  10 cups.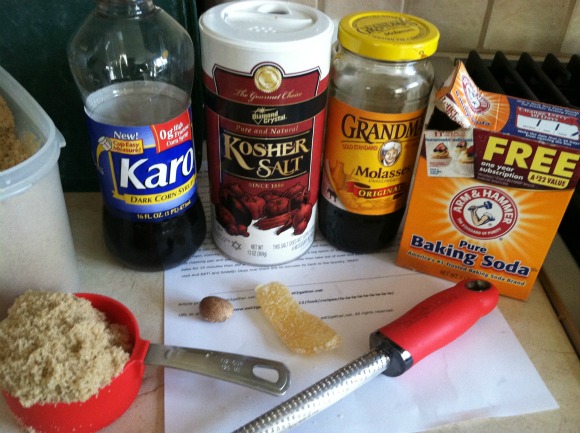 This is what you will need to make your house smell amazing…and well it once mixed together it is spectacular baked on popcorn!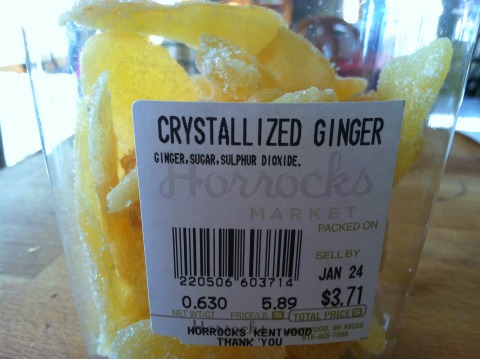 This would be crystallized ginger.  Sometimes this stuff can be hard to find.  I know Trader Joes carries it at a reasonable price.  It's one of my beloved secret ingredients.  I like to suck on it too.  It's sweet and spicy, and it makes nasto breath go buh-bye.   If you cannot find crystallized ginger then you can substitute 1/2 teaspoon of ground ginger.

 One piece should be enough, slice into thin strips, then chop into little bits.  It's sticky so make sure your knife is sharp.

Melt butter in sauce pan, add brown sugar, molasses, and karo syrup.  Stir continuously.  Bring to a boil, let boil while stirring for 3 minutes.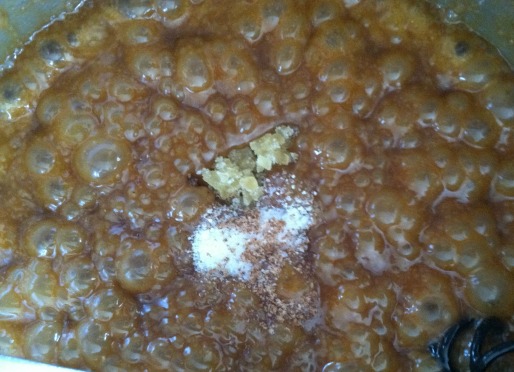 Remove from heat, add in salt, nutmeg, and ginger.  Stir for a minute to make sure the ginger incorporates into the caramel.

Now it's time for some fun!  Add the baking soda, this will react causing the caramel to foam up slightly, stir until caramel is light and foamy, about 30 second.  Pour gingerbread caramel over the pop corn.  Fold together with a spatula.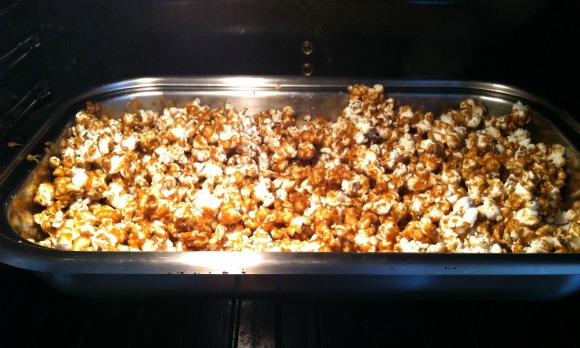 Pop in a preheated 250 degree oven for 10 minutes.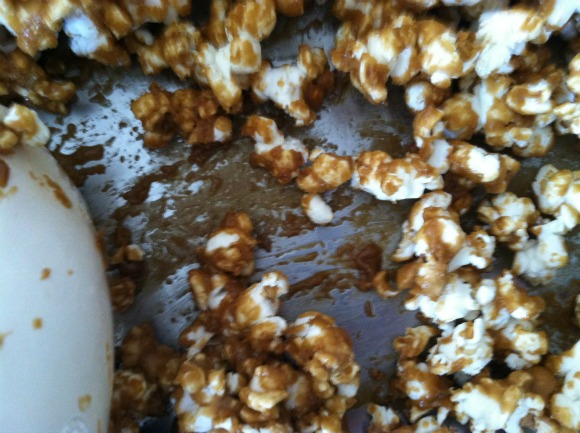 Remove from oven, using spatula give the pop corn a gentle stir.  Making sure to get any caramel, that may have melted to bottom of the pan, up on to the popcorn.
Return to oven for another 10 minutes.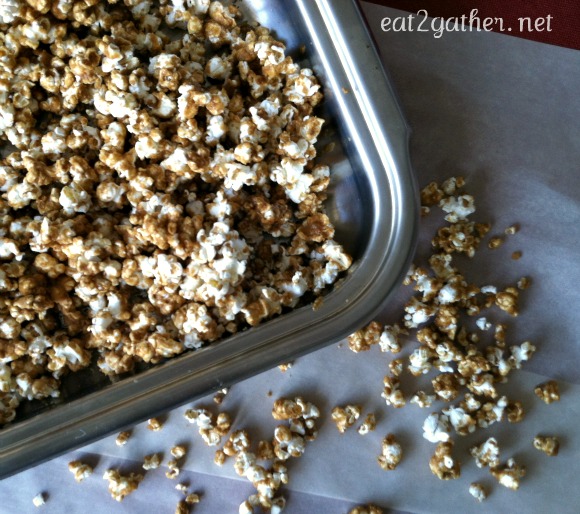 Remove and pour out on parchment or waxed paper to cool.
BEWARE if you even take just one nibble of this smacktacular treat you may not be able to stop, and your family will find you sprawled out under the Christmas tree stoned from this highly addictive delicacy.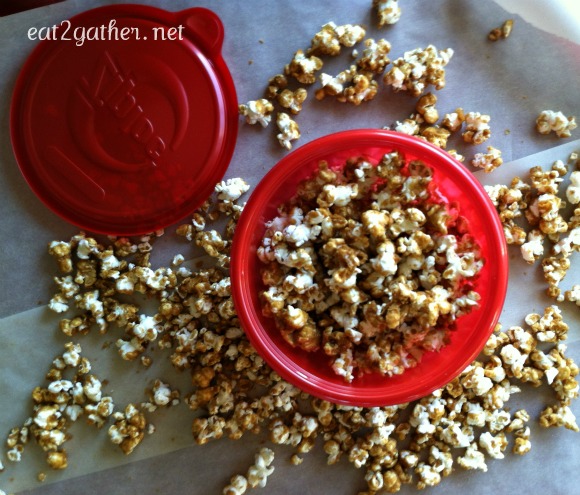 So since you need to take heed to my warnings pack it up, give it away! And when all the giving has been gave, then make yourself a batch.  Just for you!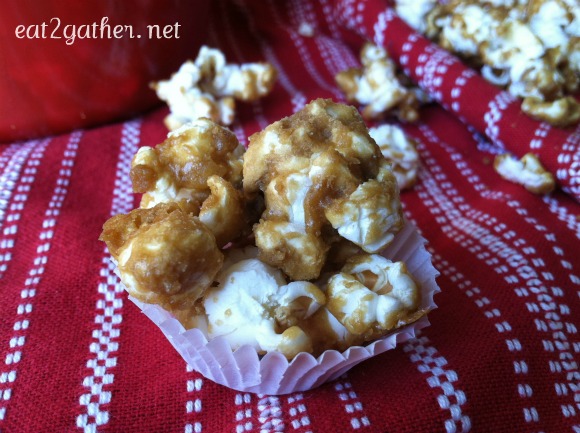 Gingerbread Caramel Corn is a perfect Holiday nibble to put out  next to everyones plates at a dinner party.
This weekend I'm in Chicago with my gals, for our annual "shopping" trip.  I'm sure we will be stopping at Garretts, I hope they have samples of the gingerbread popcorn again this year so I can compare….I'm still pretty sure I got um beat!
Sleigh bells reeeeng are ya lis-nen….in the laaaane snow is glis-nen….a beee-U-teee-full night…hmmm hmmm hmm hmmm Walkin' inna winter wonderland!
What songs get stuck in  your noggin this time of year?
Luvya, Sheila