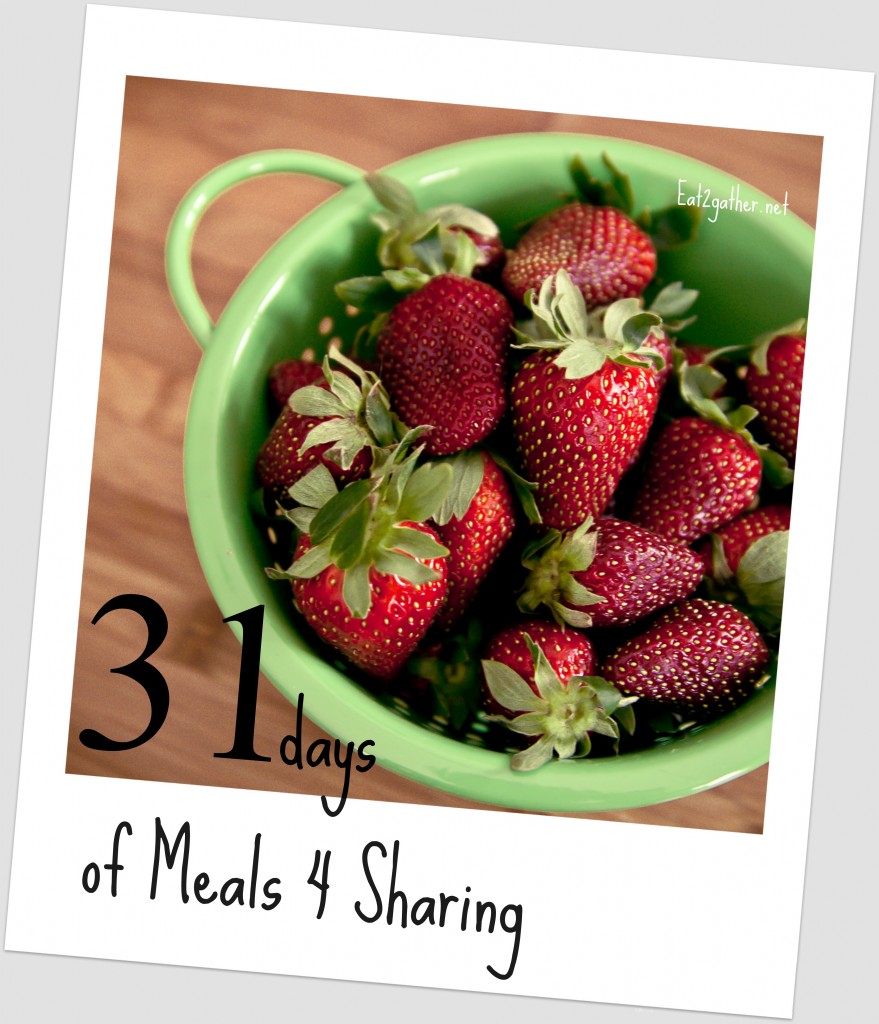 After reading my friend Sandy's blog about how she and a few other bloggers are going to spend 31 days writing on a chosen topic, they are passionate about.  This inspired me to finally write about my passion for sharing meals with others!
I have to admit, I am a bit intimidated by a writing everyday for 31 days!  When I first read about what the other bloggers were doing I thought I could never, ever come up with 31 individual posts on one topic.  But meal sharing is my passion, so I thought I should give it a try.   It took me about five minutes and I had a page full of thing to write about….I guess that's what you call a passion!
During this series I will give you new recipes, and revisit old favorites.  All of the recipes will be "easy to share" recipes.   I will show you ways that you can get involved in meal sharing.  I will also help you to see that it's not as hard as you may think it is to share a meal with another person or family or even a complete stranger.  I will also give you some tips on organizing your own meal ministry.
I hope my passion for sharing meals with others inspires you look outside of the box in regards to what "meal ministry" means to you.
I would love to know if you too are joining in on the 31 days or if you would like to write about 31 days of Meals 4 Sharing on your blog, I have a nifty little blog button for you!  Just shoot me an email and I will send you the html computery stuff.
__________________________________________________________________________________
Here is how to get started if you want to participate 31 Days (wording from Melissa at The Inspired Room):
1. Pick a topic you love to talk about. It can be a single topic or a series of related topics forming a 31 day series. There are no real rules!
2. Put together a general outline of post ideas to make sure you feel comfortable with writing 31 posts on your chosen topic. You don't have to write complicated posts, they can be as simple as a photograph or a few lines of text. Don't overwhelm yourself. Simple is really best.
3. Once you know your topic, commit. Publish a post on your blog telling the world you are doing a series in October. You can make a button if you want to! I made mine with Picnik and I'm pretty dang proud of myself if I do say so. Design one you like!
4. On October 1st, we'll host a linky (details on how to link up will be provided closer to October) where you can link up your blog and your 31 day topic so we can all be inspired by YOU.
5. If you don't want to write but just want to enjoy the series, that is OK too!
The Nester also has a great post on how you can join in the 31 day series.
__________________________________________________________________________________
So there you have it!
Starting Saturday, October 1, 2011 I will begin my first 31 day journey.  I'M SO EXCITED!!!  Not sure how all the linky stuff is going to work, but I am keeping my phalanges crossed!
Much love,
Sheila