where 2 eat during ArtPrize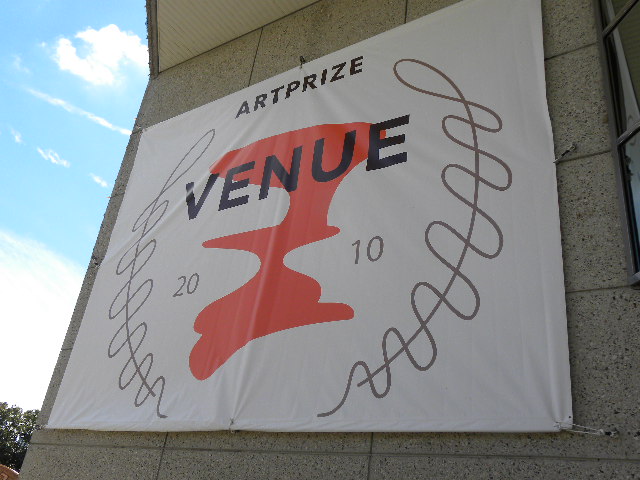 It's ArtPrize again!  Grand Rapids, Michigan is home to the worlds largest prize for art.  What is ArtPrize exactly?  It's hard to describe…you should really come check it out, but I'll try and explain.  ArtPrize is part arts festival, part social experiment, its an international art contest decided soley by public vote.  Want to know even more check out the ArtPrize website.   The competition officially started last Wednesday, September 21, at 5pm and runs through Oct 6th.
I'm just a teensy bit excited!
I LOVE ARTPRIZE!
I love to be surprised by what ingeniously gifted and innovative people from all over the world bring to this creative table, called ArtPrize.  I love the hustle and bustle that ArtPrize creates in the city.  I love going out to eat before, during, and after a long day of walking around the city exploring all the mind blowing ArtPrize entries.  Of course it always ends up being about the food for me doesn't it?!
So here are a few of my top choices for good eats during ArtPrize.  Some are within the ArtPrize boundaries, most are just outside of ArtPrize map.  Which means you will most likely want to hop in your car and drive just a bit….or you could walk.  Suit yourself. I will add an orange AP by the eateries within the boundaries.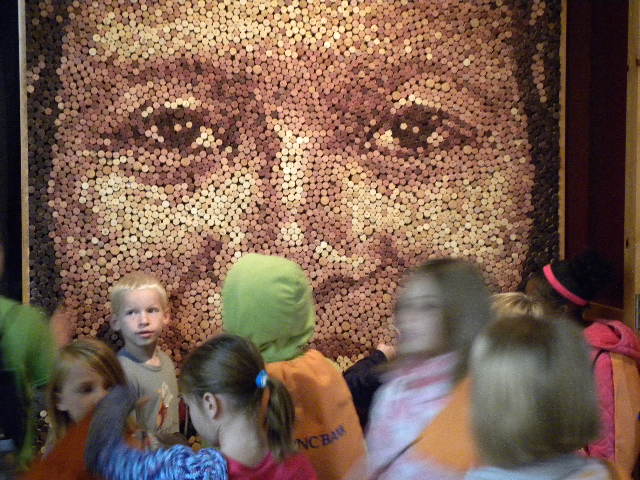 BREAKFAST:
Sundance Grill AP ~ downtown on Pearl St.
This is actually a great place for breakfast, lunch, and dinner.  Sundance has been downtown for at least fifteen years, if not more, and has consistently put out delicious food with a southwest flair.
The Omelette Shoppe and Bakery AP ~ downtown on Michigan St.
The Omelette Shoppe and Bakery is just what it's name says it is!  They have great omelettes and a large selection of bakery items.  They are also open for lunch.
Real Food Cafe ~ a short drive from downtown. 2419 Eastern Ave SE
This is my favorite.  I love me some Real Food!  Everything here is perfect.  I literally could eat here everyday.  They also serve lunch, which looks fabulous, but I always get breakfast.  It is well worth the five minute drive from downtown.
Gaia Cafe ~ short drive/you could walk.  209 Diamond Ave SE
This vegetarian eatery is legendary in Grand Rapids.  They have been around for what seems forever.  Making us carnivores into believers.  Their Chai Tea is nothing shy of  genius.  Don't be shy walk right on through the kitchen and help yourself to the water and beverage area, and have yourself a seat.  Your server will get to you don't stress it.  The vibe here is crazy laid back and the cookies are the BEST!  You cannot leave without getting a togo bag of cookies.  Because you will need a snack while you walk around ArtPrize. Gaia is also great for lunch!
Wolfgangs ~ located in EastTown, you could walk 1530 Wealthy St SE
As you will see, if you check out Wolfgangs website, this place is an original. Consistantly serving yummy breakfast for many years.  The seating is abundant as is the portions size…you will not go hungry here, you may even be able to skip lunch.  Although this restaurant is huge, it is so popular that the line still snakes out the door most weekend mornings, so be prepared to wait.  The bagel breakfast sandwiches are well worth it!
LUNCH
Marie Catrib's ~ located at 1001 Lake Dr.
Marie will make you feel like you went home for lunch!  Great Greek/Mediterranean food.  Dine in/Take out.  Best Gluten Free Bakery in town.  If nothing else stop and grab yourself a coffee and one of her brownies.  They are KIL-HER!!!  This is a great neighborhood with lots of shops and places to eat.  Marie's is my #1 pick for lunch, but she also puts out a fabulous breakfast and dinner!
Sushi Yama AP ~ 146 Monroe Center
If you are a Sushi lover this place is the best kept secret in Grand Rapids, and it's right smack dab in the middle of everything ArtPrize!  There is a sign out on Monroe Mall directing you to the lower lever of the McKay building.  The Mango Rolls are spectacular.
The Schnitz ~1315 Fulton St E  Just outside of ArtPrize boundaries you could walk.
If you are looking for a sandwich, then this is the place.  The Schnitz is a real live deli.  With a huge selection of soups sandwiches and all kinds of other goodies!  Beware the sandwiches are uber giant!  Even if you ask for a half you will get a whole, they just cut the fillings in half.  I always take part of my sandwich home, if I don't share with someone.
The Fourth Street Deli AP ~ 528 4th Street NW  ****Sadly this is no longer open, but the below mentioned Cherry Deli is.
Another well kept secret.  This is the sister deli of the Cherry Deli, so if you have partaken of the goodies there, you will love Fourth Street.  There isn't a Panini I haven't met here that wasn't out of this world yummy….for lack of a better word.  And the soups, homemade, thick, delicious, unique flavors.  If you skip the soup here, it's….it's…WELL it's just not right!
Electric Cheetah ~ 1015 Wealthy St SE
Amazing selection of sandwiches, salads, also heartier entree's.  I have never been disappointed with the food at the Cheetah…the service is hit or miss, but the food is always fantastic.  Just a block down the street heading East you will find Uncle Cheetahs Soup Kitchen, which I hear is also amazing, but have never tried.
****This area of Wealthy street is a great place to head if you are hungry there are many  fantastic choices for good eats.  A few more would be: Erb Thai, Wealthy Street Station, Winchester, Brick Road Pizza some of the best pizza in GR!,
Palace of India ~ 961 Fulton St, a walkable distance from downtown This is also no longer open.
If you love Indian food and you have never gone to the Palace of India for lunch you need to!  They have the best lunch buffet.  I am not a big fan of buffet's, but this one is fantastic.  They keep the food fresh and the buffet area is clean.  They are very generous with the naan bread.  Anyone who is not stingy with their bread gets an A+ in my book.  It does get busy right at the noon hour, so try to hit it just before or after 12:45.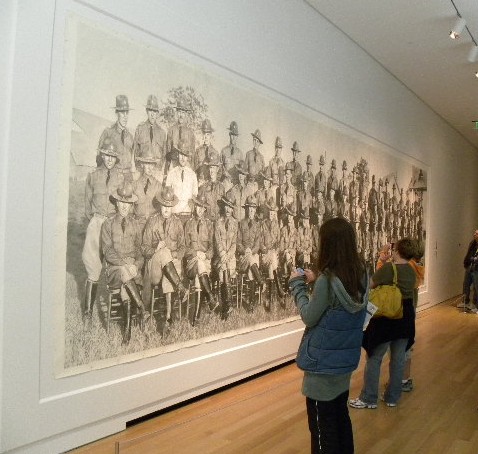 The 2010 winner of the ArtPrize. Chris LaPorte's 'Calvarly' 28′ pencil drawing.
DINNER:
Big O's AP-(pizza/cuban/italian) 80 Ottawa Ave
Great Pizza, sandwiches, and pasta dishes.  This place is also smack dab in the middle of all things ArtPrize, being that it is right on the backside of the GRAM.  If the weather is nice you could order a pizza for take out and sit in Rosa Parks Circle and people watch.  Space is limited, and sometimes there is a lack of help, BUT I have never been disappointed in the food.  Very kid friendly.
Little Mexico -(Mexican)~ 401 Stocking Ave NW definitely walkable  This is also no longer open.
The price is right the food is plentiful and the margaritas are mucho deliseeOso.  Great place to head if you have a hoard of hungry kiddos.  There will be chips and salsa in front of you before you can sit down.  This is one of our favorite places to eat out with our family.  It's consistant, we know what to expect, and we always leave full.
Bistro Belle Vita AP-(Italian) ~ 44 Grandville Ave SW
After a long day walking around town you might just want to settle in for a comfy dinner at the Bistro.  If you are eating with children this may not be the place to go, depending on your dining out with kiddos comfort zone.  Families are welcome, they offer a wonderful variety of pasta's and pizza, as well as many amazing entree's.
Bangkok Taste AP-(Thai) Jefferson St 1st block south of Fulton street on the West side of the street
Go check out all the amazing audible art at St Cecelia's and then head over to Bangkok Taste for lunch or dinner.  We eat at this restaurants mother location in Jenison all the time and love it!  The menu is similar, possibly better than the Jenison location.  They don't have a website up yet, and Yelp has not found them so forgive my lack of address.  Hey I gave you directions…you'll find it.
Leo's AP – (seafood) 60 Ottawa Ave NW
Leo's is the priciest option on my list, but it is right in the middle of all things ArtPrize, AND Leo never disappoints.  Because of the price you may not want to haul your brood in here, but we have taken our children here once or twice and were always made to feel welcomed.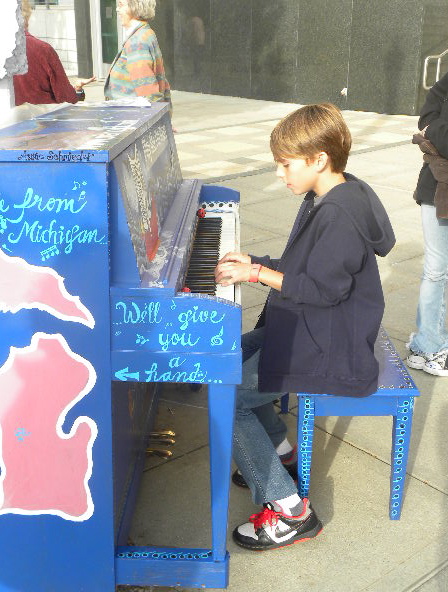 Luke playing a tune on one of the piano's placed around the city during ArtPrize last year!
You should have NO problem finding someplace to eat downtown Grand Rapids.  I just wanted to share some of my families favorites…just a few, there are many more.  The absolute BEST place to search for restaurants is YELP.  Type in the city, the cuisine, how much you want to spend, and bing bam boom there you have it, Yelp will give you a list of just what you are looking for breakfast, lunch, or dinner.
I hope you venture down to ArtPrize and don't forget to register to Vote!  Head into St. Cecelia's I'm volunteering there a few days during the contest.  We will get you registered and on your way to check out the sites, and with time left over to eat…because that's what it's really all about isn't it?
Have fun!