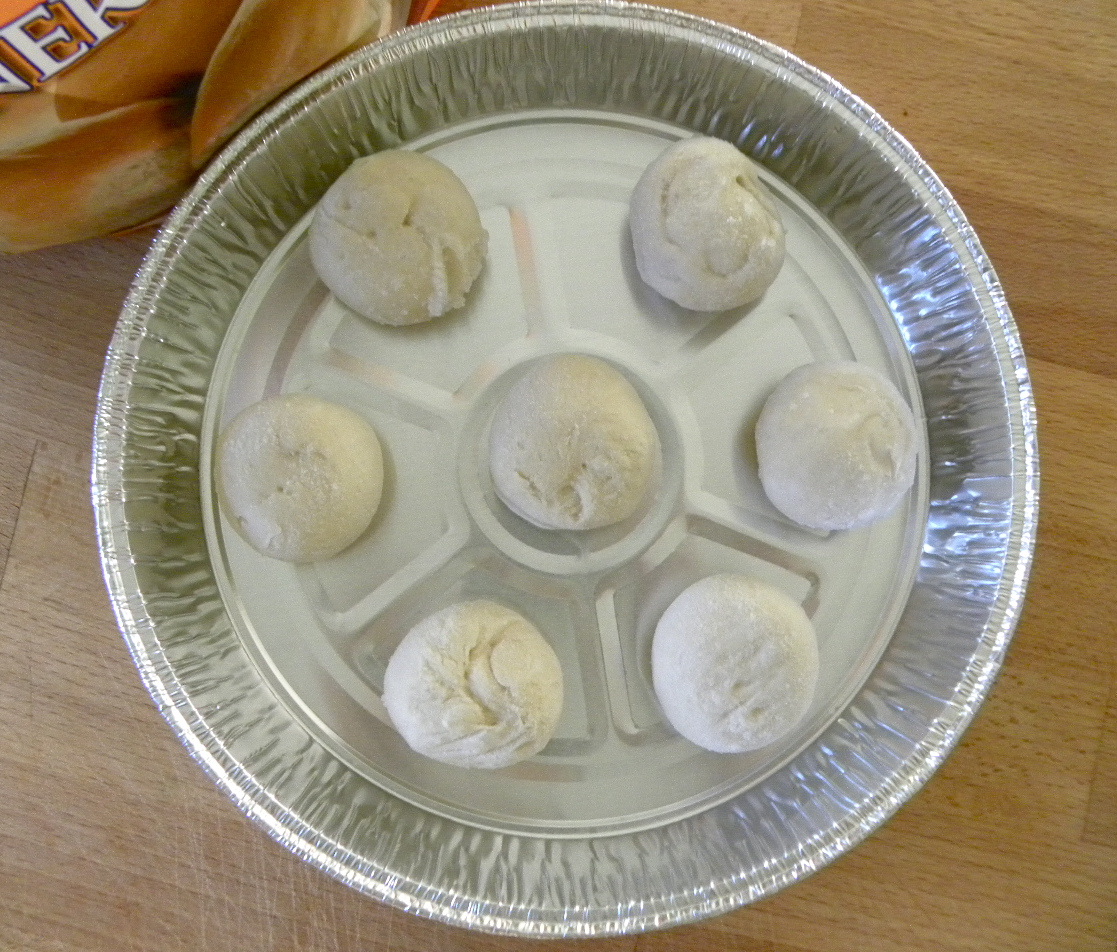 I almost always try to use disposable containers when bringing someone a meal.  It makes it easy for them.  No. 1 they don't have to worry about having my dish setting around their house until I come and get it.  No. 2 they don't even have to wash it if they don't want to.   I do tell people that they don't have to get the containers back to me, because I have had someone wash them and bring them back, Bless their Hearts!
One gallon freezer Ziploc bags are a great for sharing meals.  They work especially well for anything that needs to be warmed up in a pan, or placed in a bowl.   Baked goods are perfect shared in Ziploc bags.  I've poured spaghetti sauce, apple sauce, and chili in them.  Stuffed muffins, cookies, salad, and meatballs in Ziploc bags.  They are something you most likely always have around, that makes them super convenient.  Freezer bags are best, because then if they want to freeze it and take it out later they can, and the freezer bags are sturdier.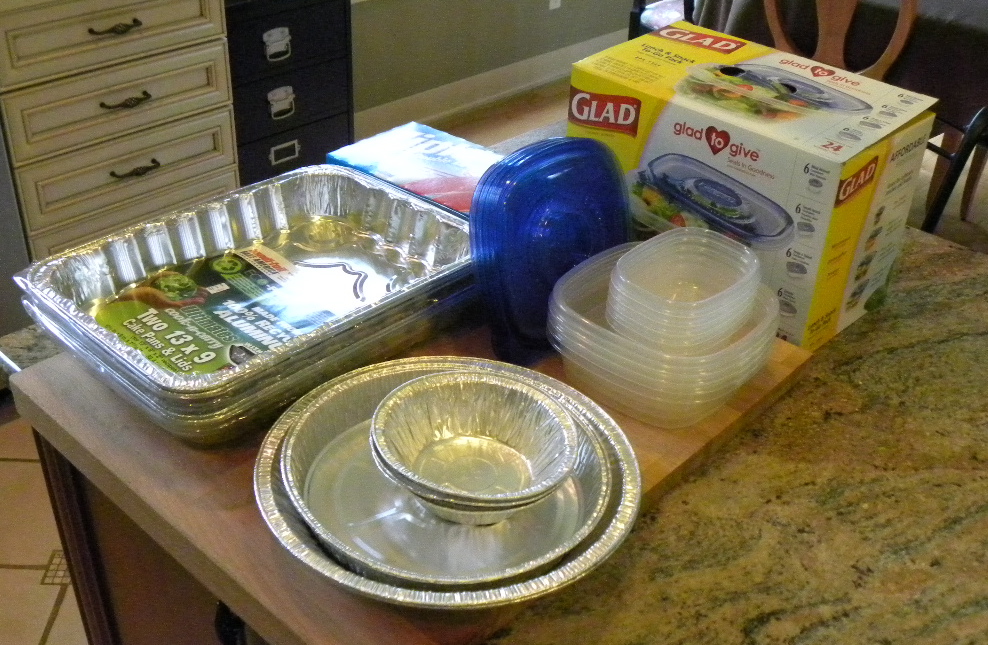 I realize that aluminum pans and plastic containers can get expensive. I often watch the Costco coupons and buy the plastic containers in bulk, or I have gone to restaurant supply stores and purchased them in mass supply.  BUT…..I know this still costs denaro.  It is perfectly fine if for cost reasons, or waste reasons you do not want to use disposable containers.  However, IF lending out your 9×13 baking dish is keeping you from bringing someone a meal, here are a few things you can do about that…….!
Set up a time to pick up your dish when you drop it off.  Tell them they can leave it on their porch or somewhere outside, so you don't even have to disturb them when you pick it up.  Church kitchens can also be a common spot to return dishes too if your meals have come from someone at church, let them know they can leave it there for you; a common ground for you both.  My personal problem with this and the reason I used disposable 99% of the time is because I'm a huge numbskull and I can never, ever remember to pick up my stuff, even from church.  But I know you are not like me, so don't let this hold you back!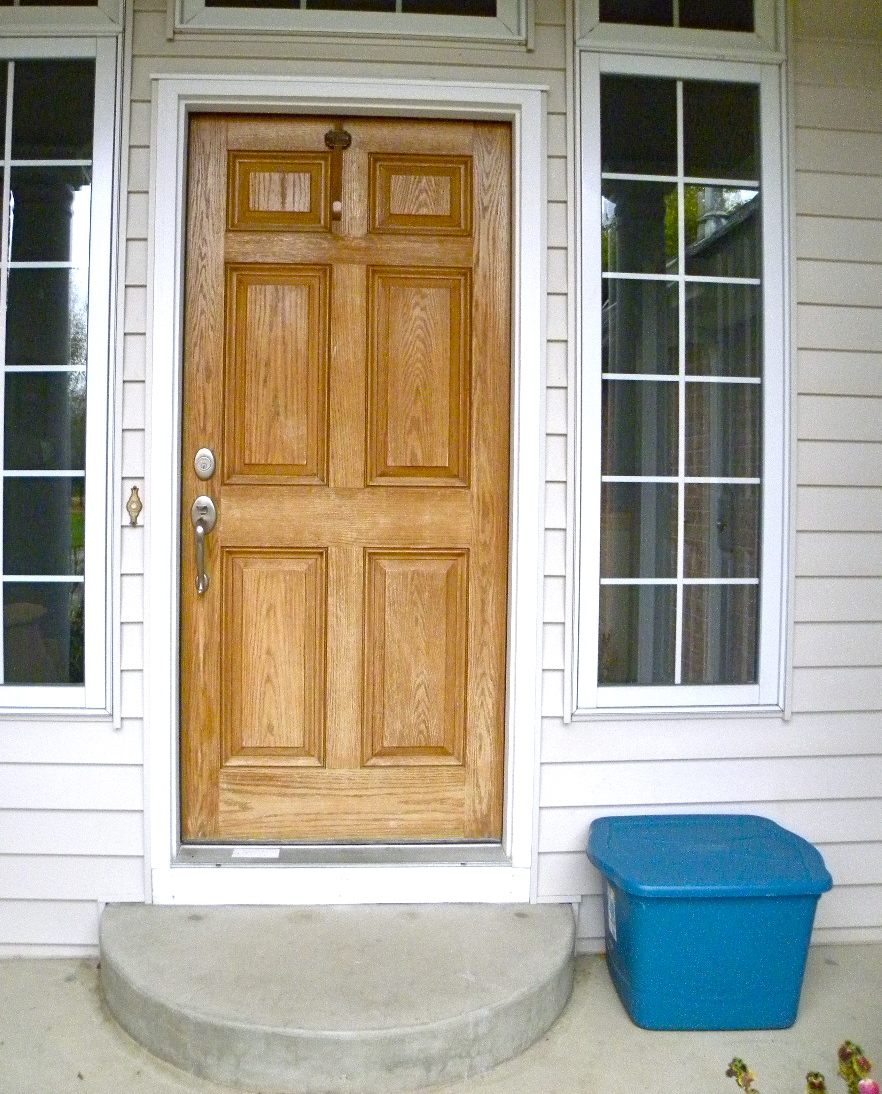 Recently I brought a meal to someone and they had a Rubbermaid container on their porch so people could pick up their dishes at their convenience. They also had a Thank You note taped right in the dish, which I thought was super thoughtful and it saved them looking up addresses and spending money on postage too!
When you bring someone a meal what type of container do you bring it in?
Another great idea that I have never used, but someone once shared with me was the idea of picking up dishes and containers for pennies at garage sales and using them when you bring someone a meal.  It's a great recycling practice.  And if you never get the dish back no biggie!
Thanks so much for stopping by Eat 2gather!
PLEASE leave a comment, just HOWDY is nice.  I luv to get comments!
Because I love ya'll so blasted much I've got a GIVEAWAY coming up real soon!  But for now I'm gonna keep it a secret.  Psssst it's a really good one, you are gonna wanna tell all your galfriends!
Have a luverly Day!
Sheila
If you have missed previous days of the 31 days of Meals for Sharing....
31 days of Meals 4 Sharing
Day 1 ~my Heart for Meal Ministry
Day 2~ "I'm not comfortable with bringing someone a meal"....
Day 3~ Reasons 4 sharing a meal.
Day 4~ Quick Easy Apple Sauce
Day 5~ Organizing a Meal Schedule
Day 6~ #1 reason-No reason at all!
Day 7~ #2 reason 4 sharing a meal Baby....baby...baby...ooooo
Day 8~ Chicken Supreme
Day 9~ It doesn't have to be home cooked to be a Blessing
Day 10~ partnering 2 SHARE a meal
Day 11~ DARE
Day 12~ #3 reason Hostess Meal
Day 13~ #4 reason Back 2 Work
Day 14~ Chicken Salad - the perfect meal 4 SHARING