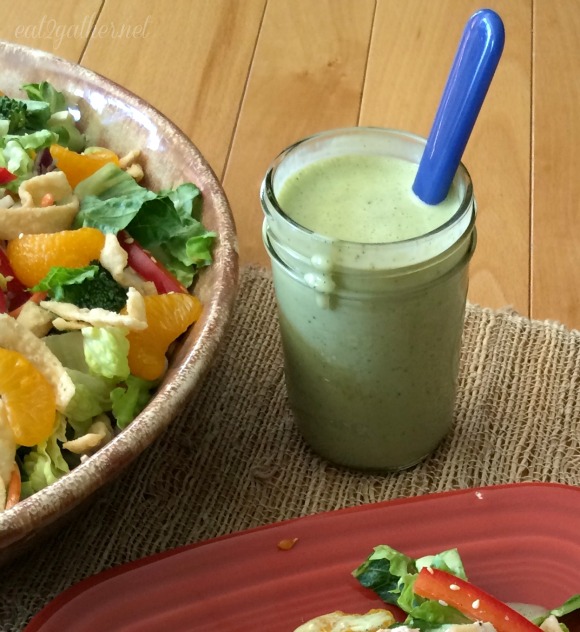 I am so excited about this salad!!  Why? Because my family loves it!  When my family gets excited by the food I make them, I get excited.  They were actually talking to each other about it!  Crunchy Asian Salad with Yogurt Lime Dressing was a buzz in our home.  Buzzzz!  I actually overheard Luke my "particular" eater (not picky, just particular) saying to his sister (my undiscriminating eater) "did you have that salad mom made? MMMmmMh! it was so good, except for the oranges, I picked them off."  See? Particular.
I think it's the crunch!  Oh and the cheese….we love us some cheese!  And quite possibly the creamy dressing with Asian flavors….we also love Asian flavors!

By adding a protein, such as grilled chicken, you can make this salad into a meal, but believe me it is perfect as is, no meat required!
Salads run a close second, in our home, to crock pot meals for those nights when we can't all make it to the table at the same time.  It's easy to have a salad all ready in the refrigerator, so all they need to do is pull it out, plate it up, and enjoy a healthy meal.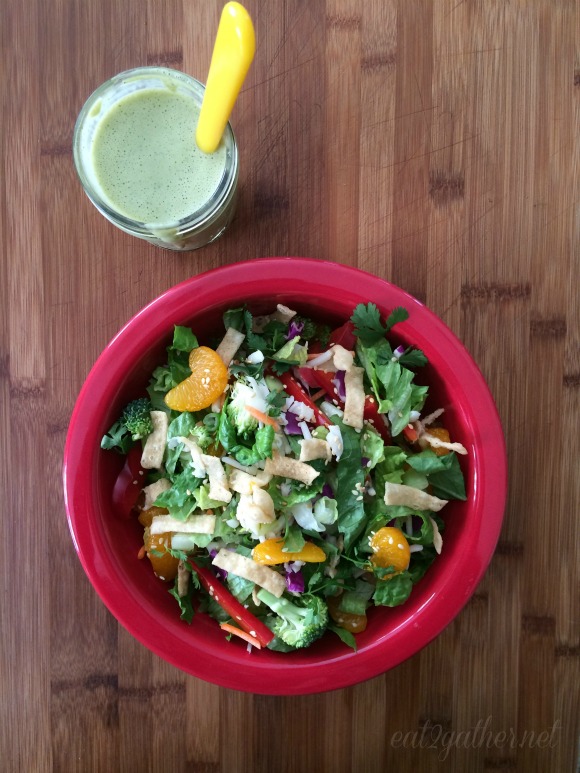 The dressing on this salad was good enough to drink….can you say salad dressing smoothy?!  Ok,  well maybe you wouldn't want to drink this dressing but you will defiantly want to drowned your salad in it.  Even my husband who eats his salads like a rabbit, sans condiment, loved it.  Although truth be told I poured the dressing on my salad, and he drizzled, who is this man?!  The plain greek yogurt adds the perfect creaminess while adding additional protein and calcium to your diet…unless you drizzle, well then you're just plain missing out on the benefits!
[print_this]
Crunchy Asian Salad with Yogurt Lime Dressing
serves 6 
level: Easy
prep time: 20 minutes
kid friendly: four thumbs up from my kiddos, they went back for seconds, kids love crunchy
2 heads of Romain Lettuce, chopped, washed, and spun dry
1 12 ounce bag Rainbow Salad, (cauliflower, broccoli, red cabbage, and carrots)
1-2 cups Shredded Mozzarella Cheese
1 Red Pepper, seeded and cut into thin slices
4 Green Onions, cleaned and sliced thin
1 15 ounce can Mandarin Oranges, drained
1/4 cup toasted Sesame Seeds
2 cup Crunchy Wonton Strips for salads
Creamy Yogurt Lime Dressing
1/2 cup Plain Greek Yogurt
1/2 cup Mayonnaise
1/3 cup fresh Cilantro
1 Lime, juiced (about 4 tablespoons)
2 tablespoons Sesame Oil
2 tablespoons Brown Sugar
1 1/2 tablespoons Soy Sauce
1/2 teaspoon powdered Ginger
1/4 teaspoon Garlic Powder
fresh ground Pepper to taste
1. Toss lettuce, rainbow salad, cheese, pepper, onion and oranges together in a large salad bowl. Top with sesame seeds and crunchy wontons just before serving.
2. Add all of the dressing ingredients to your blender, blend until smooth and creamy; aproximatley 1 minute. Pour dressing into a mason jar until ready to serve. Creamy Yogurt Lime dressing can be made a day in advance.
Note: Turn this delicious salad into a meal by topping it with grilled chicken, sliced steak, or shrimp.
[/print_this]
For more light and delicious recipes that incorporate dairy be sure to tune into the United Dairy Industry of Michigans Pinterest Boards, Twitter, Facebook, and Instagram .  And if you haven't seen them you NEED to check out UDIM's YouTube channel with quick and cleaver how-to recipe clips!!
Disclaimer:  I am proud to partner with the United Dairy Industry of Michigan to bring you delicious healthy recipes made with cow's milk.  Because of these great partnerships E2g is able to bring you and your family around the table to enjoy great food!  As always all opinion and ideas are 100% my own.