31 days:: Chicken Salad ~ the perfect meal 4 SHARING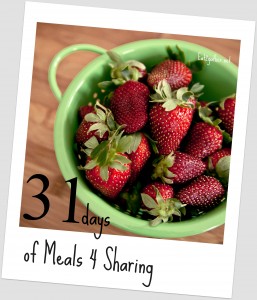 Welcome to 31 days of Meals 4 Sharing.  It's already day 14!  Time flies when you're having fun!!  I have made Cherry Chicken Salad many times for others.  The reason that I share it so often, is because everyone loves it!   I am always having people say to me, "oh my goodness when you brought over that chicken salad….".  If I may brag it is pretty darn good stuff!
While vacationing up in the Cherry Capital of the World, Traverse City, many years ago I ordered  the Chicken Salad Plate at a restaurant that I cannot remember the name of.  I think it has since closed, but anyway…..the chicken salad was so delicious that I went home and did my best to recreate it.  It was slightly sweet from the dried cherries and had a great crunch from the toasted nuts, celery and onions.  Perfect meal for lunch, dinner, and in between!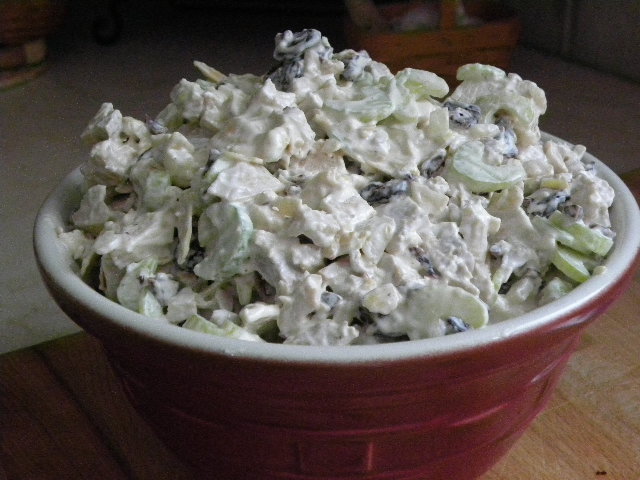 That's what makes Cherry Chicken Salad  a great meal to bring to someone.  They can eat it at their convenience.  Just pull it out of the refrigerator and Voila!  They don't even need to turn on the oven, perfect for kids and anyone else that is oven illiterate. (I didn't want to offend by saying dad's, but well truth be told my Kenny is lost in the kitchen so for guys like him, this meal is perfect!)
[print_this]
Michigan Cherry Chicken Salad
6 cups boiled, and cubed Chicken Breast
1 cup chopped, Celery
1/2 cup finely chopped, Sweet Onion
1 cup Dried Cherries, rough chopped
Dressing:
1 cup Mayonnaise
1/2 cup Sour Cream
juice of a 1/2 Lemon
1 teaspoon Sugar
1 teaspoon Seasoning Salt
3/4 cup Nuts (your choice~ slivered Almonds, chopped Pecans, Walnuts)
-In smaller mixing bowl whisk together ingredients for dressing.  In a larger bowl combine the first four ingredients then pour dressing over top and  fold in to chicken mixture.
-3/4 cup nuts, slivered almond, chopped pecans, or walnuts toasted
Toast nuts in a 350 degree oven on a baking sheet for approximately 3 minutes.  Let cool then fold into Chicken Salad.
[/print_this]
Chicken Salad is a great meal to bring to someone who has just had a baby, pair it with some croissants from the bakery, muffins, or cookies.  A perfect go to meal for new momma.
I have also doubled the recipe and brought this to someone right after they lost a loved one.  So often after there is a loss in a family, there are lots of visitors, people coming and going.  Chicken salad is great to have around to feed anyone at anytime.  It can be pulled out and put back in the fridge for unexpected or expected visitors.  Make this salad, go to Costco and grab a tray of croissants, a tray of  giant muffins, and grab a pack of bottled water the family will be set for next couple days, and so thankful to you for your thoughtfulness.
Cherry Chicken Salad is so easy!  And it really is the perfect meal to share for almost any reason.
What is your go-to meal for sharing?  I would love to hear?
If you have missed previous days of the 31 days of Meals for Sharing....
31 days of Meals 4 Sharing
Day 1 ~my Heart for Meal Ministry
Day 2~ "I'm not comfortable with bringing someone a meal"....
Day 3~ Reasons 4 sharing a meal.
Day 4~ Quick Easy Apple Sauce
Day 5~ Organizing a Meal Schedule
Day 6~ #1 reason-No reason at all!
Day 7~ #2 reason 4 sharing a meal Baby....baby...baby...ooooo
Day 8~ Chicken Supreme
Day 9~ It doesn't have to be home cooked to be a Blessing
Day 10~ partnering 2 SHARE a meal
Day 11~ DARE
Day 12~ #3 reason Hostess Meal
Day 13~ #4 reason Back 2 Work
Enjoy!
Sheila