This yogurt-based sauce is refreshing and full of flavor! It's perfect for using as a dip with pita bread and vegetables, or as a sauce with grilled meats.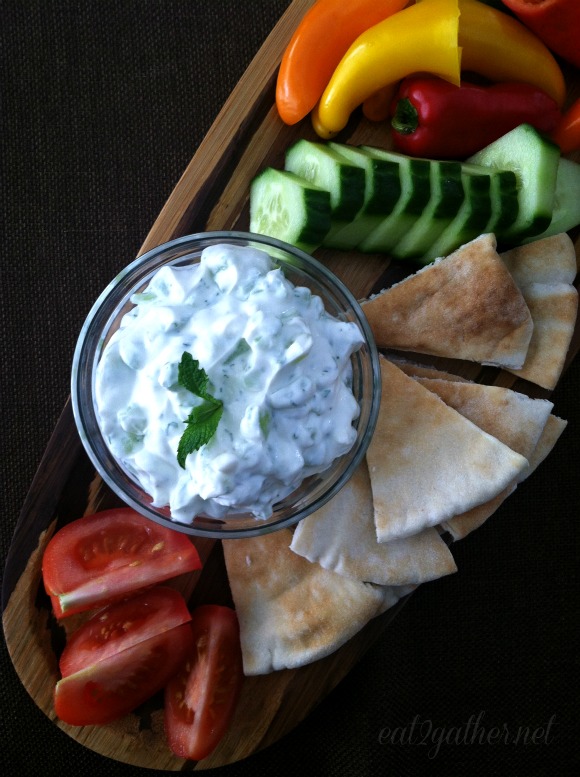 Tzatziki is fresh and light and it pairs well with grilled meats, it's perfect as a spread for wraps, and equally as amazing as a dip with vegetables and triangles of pita bread.  I use no-fat greek yogurt making this recipe virtually guilt free.  The health benefits you get from the calcium and protein in this recipe are not to be matched when paired with fresh vegetables and/or grilled meat.  Tzatziki dip will be your new go to dip of the summer!
For those attending the BlogHer Food conference on May 16-17 in Miami, Florida, please stop by the American Dairy Association Mideast booth in the exhibition area to sample this delicious dip the evening of Friday, May 16 from 6 to 7:30 p.m, I'm looking forward to meeting you there!
Come say HI! I would LOVE to meet you! Friday from 2:30 – 3:15 I will be serving up samples of my Mango Ginger Power Smoothie, at the ADA Mideast booth, so be sure to stop by for that tasty treat!
You won't want to miss the ADA Mideast booth!  It will be the one with the giant splash of milk and Daisy the dairy cow.  Well Daisy is not real, they wouldn't let us really bring her, she's just a life sized cow cut out!
Get your picture taken with Daisy the cow!   At the ADA Mideast #DaisyDoesMiami picture booth!  Tag Ohio Diary Farmers also use the Daisy does Miami hashtag on instagram and you will be entered to win an ICE CREAM MAKER!!  While you're there making friends with Daisy (and me) and sampling my goodies don't forget to drop your card in the jar for another chance to win an iPad Mini!!
Say CHEESE….. As in Swiss cheese!  Ohio is the No. 1 Swiss cheese producing state in the nation!  So the American Dairy Association Mideast will have samples of two prize-winning Swiss cheeses throughout the conference!  Thirsty? White, chocolate, and strawberry milk will also be available for attendees!
Pssst!  I'm not the only one that will be at the ADA Mideast booth, come say HI! to Katrina from In Katrina's Kitchen she will be serving up her scrumptious Fondue and her mouth-watering fruit dip.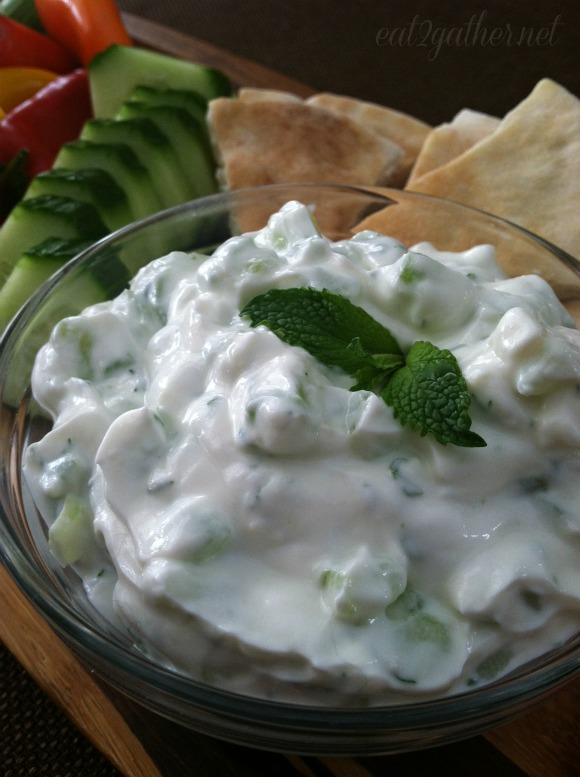 The first time I ever tasted tzatziki oddly enough was in Germany.  I was living there going to school at the time, and a friend took me to a Greek restaurant,  I fell in love with Greek food, and mostly tzatziki.  I always asked for and extra bowl of it on the side! It was like nothing I had ever had back home.  After returning home, I found that my home town was lacking in Greek /Mediterranean restaurants so I wrote (this was back before email) a letter to my girlfriend and asked her if she could get me the recipe for tzatziki.  I was shocked to find out how simple it was!

Yogurt, cucumber, garlic, lemon and herbs = the most delicious healthy dip ever!  I have to admit I'm pretty conservative with the garlic, because it tends to linger on me for days and weeks and no one enjoys being near me when I've had too much.  So feel free to go gangbusters on the garlic if you like, most would say the more the merrier!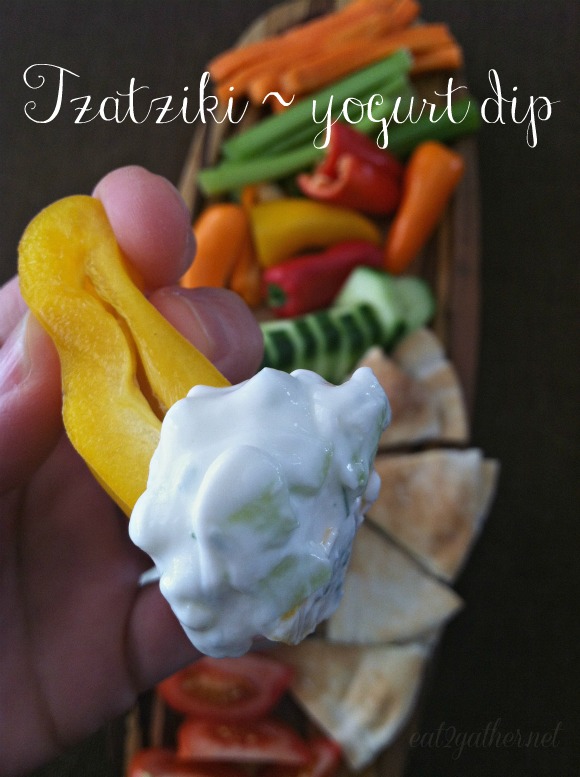 I'm sharing the recipe for Tzatziki on the Drink Milk Blog today as part of an ongoing partnership. I've worked with the American Dairy Association Mideast many times and I'm super excited to be able to represent them at the BlogHer Food Conference in Miami this week!   So head on over to grab the recipe for Tzatziki on the ADA Mideast website along with many other great recipes. The ADA Mideast website is a great resource!  
Enjoy! Sheila
Connect with the American Dairy Association Mideast on  Pinterest | Twitter | Instagram | YouTube
Disclaimer:  I want to thank the ADA Mideast for sponsoring me to attend Blogher Food 2014 in Miami.  As always all thoughts and content are my own.