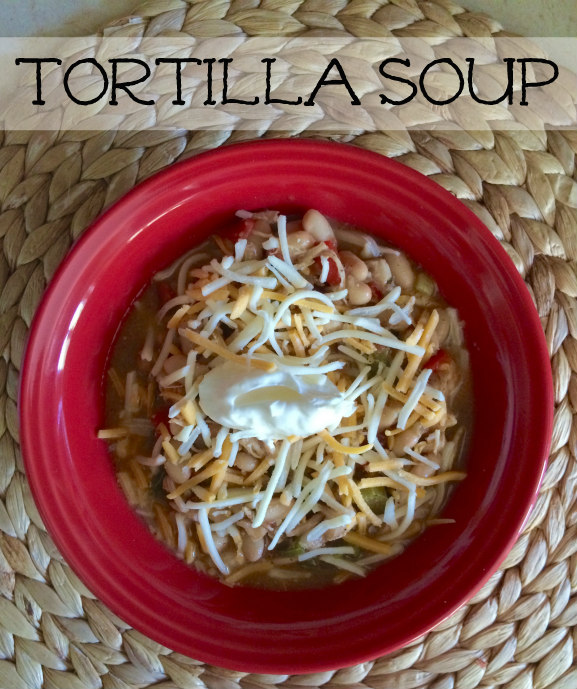 I hesitated to share this recipe, because I think there are like 3.8568 bazillion recipes on the world wide web for tortilla soup, but then I thought I bet they're not as easy and yummy as mine!! Ha!  This soup can be made and eaten right away, or sometimes I make it and throw it all together in the slow cooker turn it on low and let it go for a couple of hours, depends on schedules.

Slow cooker works great for those nights when everyone is coming and going and needs to eat at different times. I don't know about you but I'm waving the white flag of surrender to family meal time. I just cannot get my family together. There aint no gathering in our eating. Shazbot! I'm having faith that this will change and once school volleyball season is done before club starts and middle school swim starts we will have a week or two of gathering 2 eat 😉 Fingers crossed!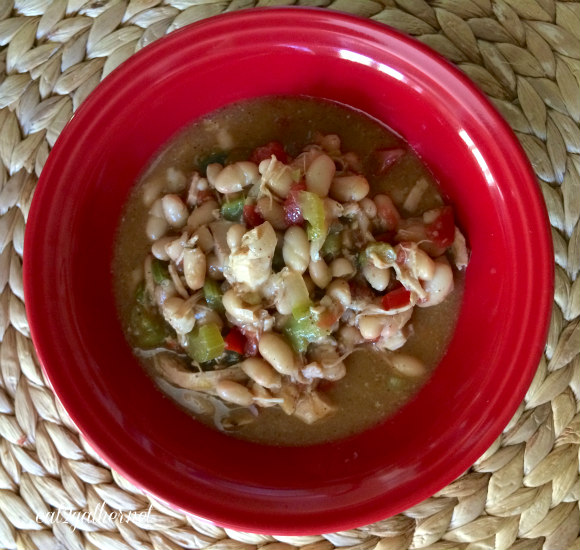 Most of the time I just whip this up last-minute, like wah….you people want dinner? OH phooey! Crackers and cheese won't do? I swear when these kiddos are all gone, Ken and I are going to live on cheese and crackers (specifically triscuits!) also chips and salsa. Maybe every fourth night I'll get the bug to make dinner or if the kiddos and their rugrats come home I'll cook up a feast.
So anyway….this is easy. Make it and then bang a couple of pots and pans together and yell COME AND GET IT!!
[print_this]
Tortilla Soup
serves 10
1 tablespoon Vegetable Oil
1 cup chopped Onion
1 cup chopped Red Bell Pepper
1 cup chopped Green Pepper
4 stalks Celery, diced
2-3 cups shredded Chicken
4 cups Chicken Stock (more if you like)
1 48 ounce jar Great Northern Beans, drained not rinsed
1 10 ounce can Rotel Tomatoes
1 tablespoon Chili Powder
1 teaspoon ground Cumin
1/2 teaspoon Season Salt
1/2 teaspoon ground or dried Oregano
1/4 teaspoon Garlic Powder
Tortilla chips, Grated Colby Jack Cheese, Sour Cream for serving
1. In a large soup pot, or dutch oven heat oil add onion, celery, and peppers saute until soft about 5 minutes.
2. Add Chicken, chicken stock, bean, Rotel, and spices.
3. Bring soup to a boil, turn down low and allow to simmer for 10 minutes.
Serve: Crunch up tortilla chips in bowl, enough to cover bottom of bowl, ladle soup on top of chips, top with cheese and sour cream.  Cilantro, chopped onion, and avocado are also yummy on top of this soup for extra crunch and freshness if you have them!
Note:  This soup can also be made meatless, use vegetable stock and leave out the chicken, add extra veggies like corn, and carrots.
Enjoy!
[/print_this]
Have a great weekend!
XOX, Sheila