When do you start thinking about your Thanksgiving Day Dinner?  My sister and I start talking about the next years dinner, pretty much while we are eating the current one.  Crazy…I know!  Who's going to host?  Who's going to come?  Where should we get the Turkey from, frozen or fresh.  Should we change up the sides, or keep them the same?  Pie….how many. Should we have appetizers…or is that over the top, OK appetizers it is!  What time should we eat?  In the end each Thanksgiving Day meal is pretty much identical to the last give or take a side dish or two.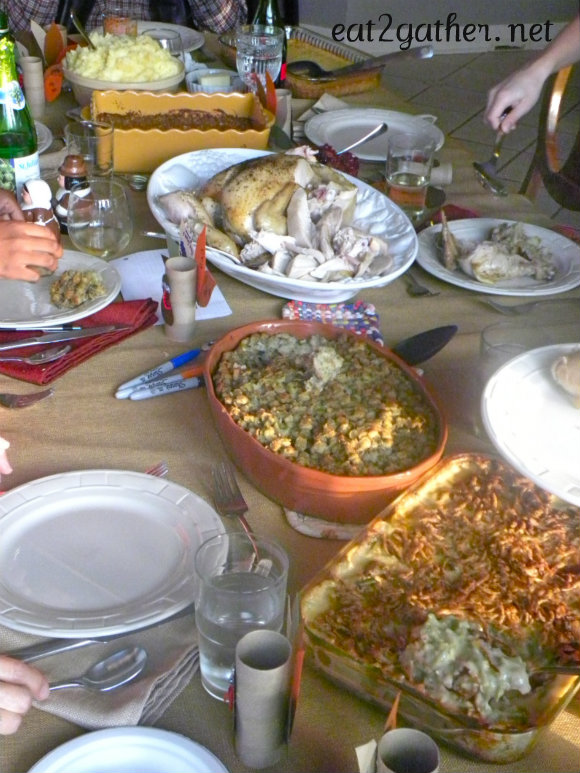 While I was obsessing over the what, when, and where of this years Thanksgiving Feast I came across mountains of  mouthwatering vittles! From appetizers to pie and everything in between!  I even found some scrumptious ways to use up your Turkey Day leftovers.  I certainly  couldn't keep it all to myself.
It's nice to share!!
Because there is no way I could possibly uncover all the scrumptiousness out there!
I'm calling all cooks to

SHARE

their  favorite THANKSGIVING DAY

recipes, inspirations, &

traditions

!  
LINK UP below and if you don't have a blog, but would like to share PLEASE do so in the comments!
So here we go A ta P….Appetizers to Pie 😉  This is what I found!
Appetizers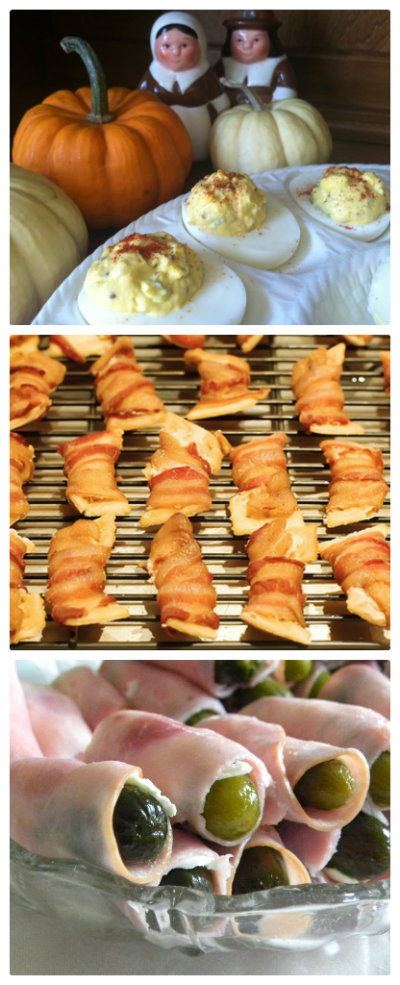 I just had to share two of our favorite pre-feast appetizers Deviled Eggs and Polish Roses, sandwiched between are The Pioneer Womans simple Holiday Bacon Appetizers…I went old school on ya with the appetizers!
Speaking of Ree, if you didn't know this already she is the Queen of Thanksgiving.  Yes it's true.  If you don't believe me well then you better head on over to ThePioneerWoman.com and see for yourself! Well DON'T GO now!  Check PW's Thanksgiving specialties out after you've finished here!
Libations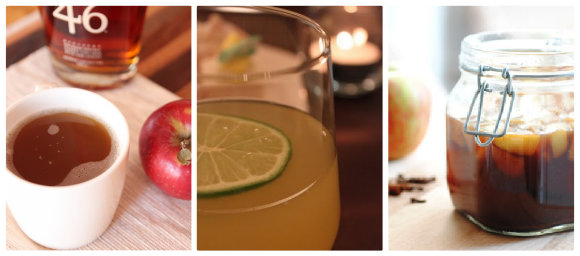 I say a luverly little Nip is always good to calm the nerves before guest arrive and while preparing a large meal!  From left to right Spiked Ginger Cider from  Bran Appetit, who could go wrong with Mele Cotte's Party Punch,  and Apple Spiced Bourbon Infusion from the Kitchn.  We always enjoy Hot Spiced Wine as our (adult) drink of choice.
The Sides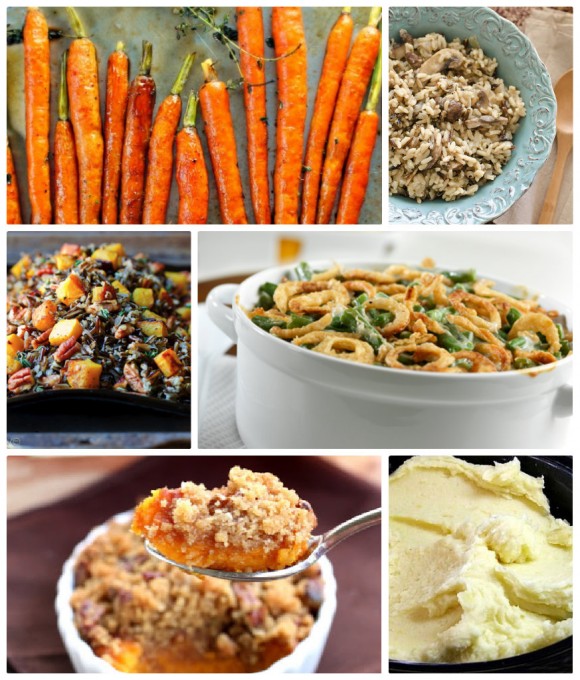 Glazed Whole Roasted Carrots from Simply Scratch, Pennies on a Platter is serving up Wild Rice with Mushrooms, Black and Orange Forbidden Rice w/Acorn Squash and Pecans from A Spicy Perspective…so gorgeous!  Then we have my personal favorites Green Bean Casserole,  and The Girl Who ate Everything's Sweet Potatoes.  Last but not least Recipe Girls scrumptious and easy Make-ahead Mashed Potatoes.  Oh! so many choices so little space in my tummy!
Gravy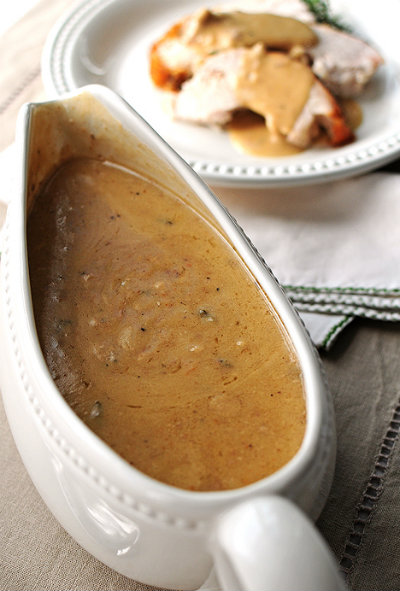 Have you heard the saying "Good Gravy!"? Drippings, juicy, saucy…need I say more or are you drooling all over yourself!  Amy from the beautiful blog She Wears Many Hats put together this excellent post on Turkey Gravy.  You also will want to check out her slurp…drool…mouthwatering Mayonnaise Roasted Turkey!   That's some good chompin right there folks!
Turkey & Stuffing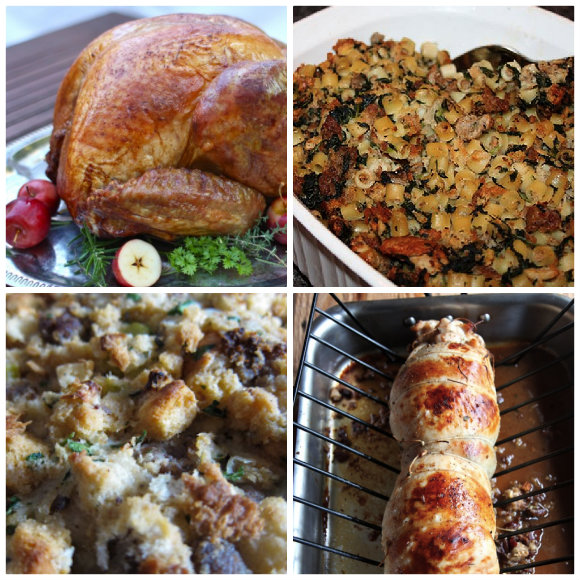 Clockwise: Simply Bites ~ The Best Way to Roast a Turkey (the simple way),  Aggie's Italian Thanksgiving Stuffing…I'm pretty sure I could make a meal out of this scrumptiousness!  Have you been to Elaine's blog, a fellow Michigan girl?  The Italian Dish…it's beautiful and I am so making her Stuffed Turkey Breast!  And then there's Mrs B's traditional Thanksgiving/Christmas Stuffing. Oh how I love stuffing let me count the ways! (pssst I will be sharing my crock pot stuffing soon!)
Rolls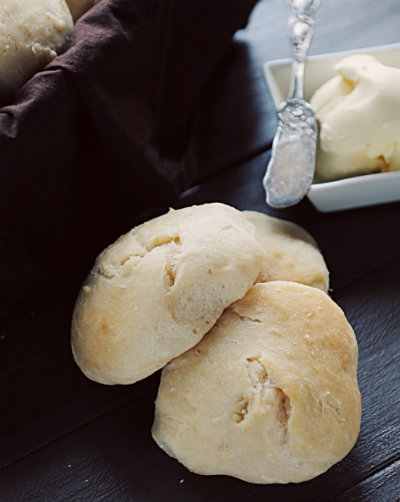 Indulgence. A beautiful delicate hot roll is a must for sopping your gravy up!  And these dinner rolls, from Dine & Dish, made with a bread machine are perfect for sopping! I hope you give Kristen's  Country White dinner Rolls a try!
Pie & Dessert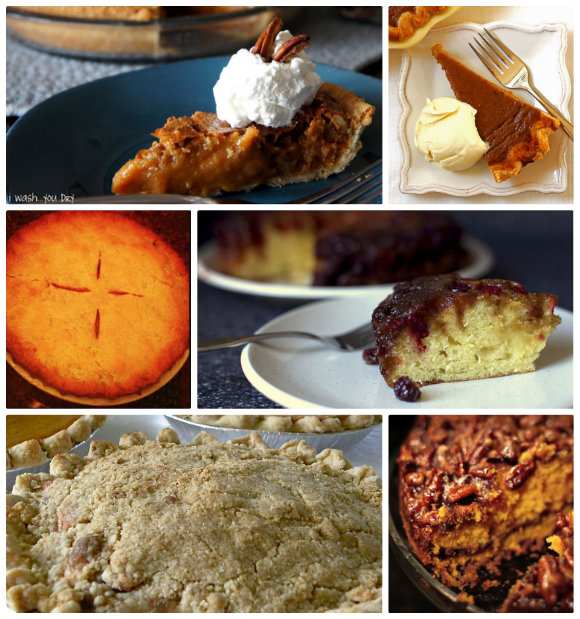 If you know anything about me, you should know I cannot resist pie!  Glorious, heavenly, decadent pie.  I realize there is more to life than pie, (that was hard for me to say…) so I mixed in a few other lovely desserts.  Caramel Pecan Pie the epitomy of decadent.  And then there is the traditional Pumpkin Pie from my sister of all things pie, Carrie at la Pomme de Portland, I love this girls pie, but I love her even more!  Growing up we always had Mincemeat Pie, but I have to admit I've never made one,  At Home with Kim makes a beauty.  Upside-Down Cranberry Cake from Smitten Kitchen…one word luverly!  Dutch Apple by me. 😉  Trish from Seasons of My Life's Caramel Pecan Pumpkin Cake.  Does it get any better than this?!  I say no! It does not!
So now you've eaten all you can eat, you can barely stand to look at those plastic cartons full of leftovers.  It doesn't have to be plain and boring….although I have to admit, I could eat the same Thanksgving meal warmed up everyday till Sunday…oooh so good!  But if you're not like me and you need some new ideas for what to do with all that leftover turkey this is for you!
Leftovers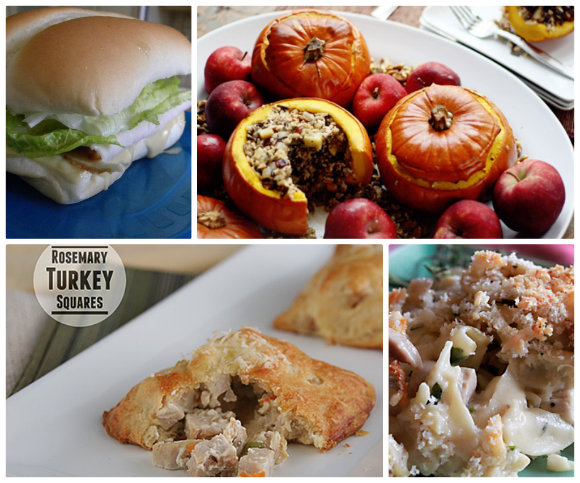 If it's a hankerin' for a Turkey Sandwich you've got then try this Wasabi Sandwich Spread.  It will spice up any sandwich or burger.   Turkey, Wild Rice, Apple, and Cranberry Stuffed Pumpkins…a beautiful way to repurpose leftover turkey, brought to you by In Sock Monkey Slippers!  Rosemary Turkey Squares from Taste and Tell, Turkey Tetrazzini from Simple Comfort Food.
 Table Decorations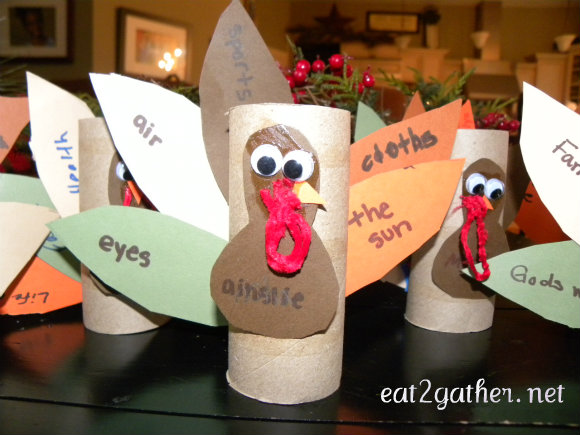 We had so much fun making these Thanksgiving Table Decorations last year, from repurposed paper towel tubes.Go to Crumbs and Chaos for the how to!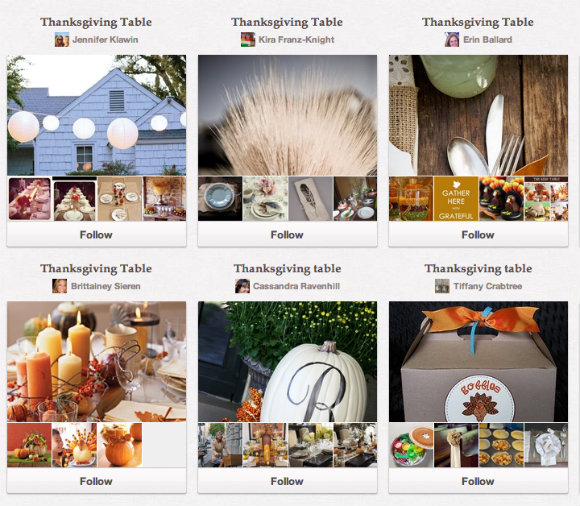 And of course you can find more ideas than you could ever possibly use in a lifetime on PINTEREST! 
NOW IT'S YOUR TURN!!! 
Link-Up your favorite Thanksgiving recipes, inspirations, & traditions!
SHARING will continue through Thanksgiving Day!
Please FOLLOW Eat 2 gather  on FACEBOOK, TWITTER, PINTEREST and Instagram EAT2GATHER and keep up to date on all the Holiday scrumptiousness that will be goin' down around here!!