Michigan Cherry Vanilla Bean Scones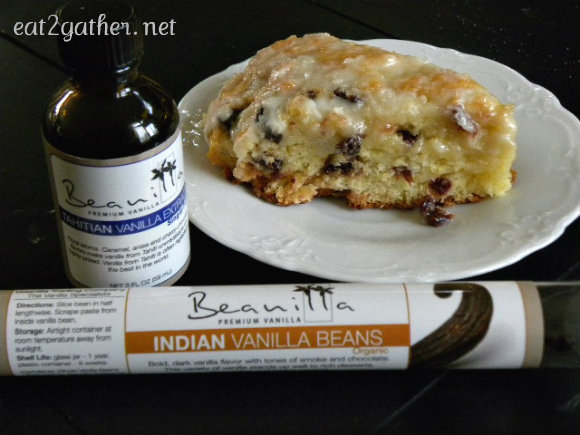 I had to create something from the amazing swag I received at Taste of Michigan.  But what?   I decided to use the Indian Vanilla Beans, and the Tahitian Vanilla extract that Beanilla, a Michigan company so graciously gave us.
I made Michigan Cherry Vanilla Bean Scones.  I know. I know.  I'm a scone head.  I love me a nice scone and a cup-a-joe.
If you bake, even just once a year, please know this really good vanilla will make all the difference in your product.  Real vanilla extract, fragrant, rich, dark beautiful vanilla.  Vanilla is an ingredient that should not be taken for granted!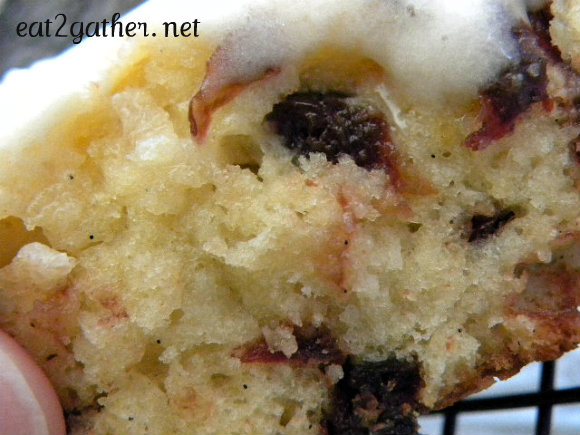 Can you see the tiny flecks of vanilla bean through out the scone.  Luverly little scone wouldn't you say?  I achieved this by steeping the vanilla bean in hot half and half, then scraping the vanilla paste out of the bean, and putting it back into the warm milk.  Then I made a buttery glaze and added  a generous amount of  Tahitian Vanilla.  Tahitian Vanilla boasts flavors of caramel, anise, and cherry-chocolate so it paired perfectly with the dried cherries and the richness of the cream cheese in the scone.  Voila!  Scone perfection…..if I do say so myself!
[print_this]
Michigan Cherry Vanilla Bean Scones
12-16 scones
3 cups Flour
1/2 cup Sugar
1 tablespoon Baking Powder
1 teaspoon Salt
1 stick cold Butter, cubed
4 ounces cold Cream Cheese (1/2 a brick)
1 Egg
1 whole Beanilla Indian Vanilla Bean
1 1/4 cups Half and Half, or milk
1 cup roughly chopped Dried Cherries
Icing
1 cup Powdered Sugar
a dash of Salt
2 tablespoon melted Butter
3 tablespoons Half and Half or Milk
2 teaspoon Beanilla Tahitian Vanilla Extract
1. Measure half and half into sauce pan, turn heat on medium low. Cut  1 vanilla bean in half, then split each half down middle toss beans into milk and bring to a low boil. Remove from heat and let cool. When cool enough to handle remove vanilla beans, using a butter knife scrape paste from the inside of the bean, and return paste to warm milk. When milk is completely cool you can start step 2.
2. Combine dry ingredients in a mixing bowl. Flour, sugar, baking powder, and salt. Cut in 1
stick of cold butter, cubed and 4 ounces of cold cream cheese with a pastry cutter. Until consistency of oatmeal.
3. Whisk egg into vanilla bean half and half. Make a well in dry ingredients, pour in the wet, fold to combine. STOP
when you have dough barely combined. You do not want to over work dough.
4. Rough chop 1 cup of dried cherries, add to dough. When dough still has some dry flour in bowl take your bare hands and gently pat dough into a ball working in extras flour. Now pinch dough into two separate balls.
4. Preheat oven to 425 degrees. Line baking sheet with parchment paper. Place both balls of dough on baking sheet and pat into 3/4 inch thick rounds. Place baking sheet in freezer for 15 minutes. Remove and cut each round like a pie, into slices, cutting almost all the way through, but not quite.
5. Place scones in preheated 425 degree oven. Bake for 25 minutes.
6. Remove from oven and lift off baking sheet by picking up parchment paper at both ends, place on a cooking wrack.
7. Whisk icing ingredients together until smooth, drizzle over warm scones.
Note: If you do not have half and half you can use milk. Also if you are unable to find indian vanilla beans, or tahitian vanilla extract don't let this stop you from making these scones, feel free to use what ever beans and extract you have available.
[/print_this]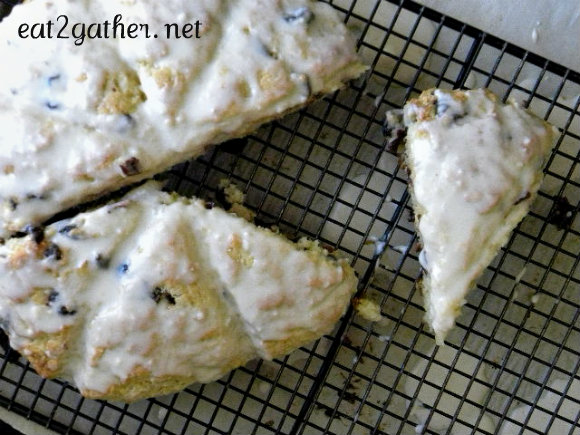 Thank you Beanilla!  I love your vanilla products!
What are you all up to this weekend?  Are there any scones in your plans?  Yard work? Soccer games?  Bedroom painting?  I'd love to hear what you are up to!
Have a good one! Luvya, Sheila