Ash Wednesday marked the beginning of the time period set aside to prepare for Easter.  Growing up in the Catholic faith I feel I have a deep sense of what Lent is about.  As an adult I chose to leave the Catholic Church and practice my faith and  raise my children in the Protestant Church.   If you are not familiar with Lent or what it means to observe the 40 days before Easter, this article does a great job of explaining.
Growing up, my family, only observed the "no meat on Fridays" during Lent.  Although we don't practice this in our home now, I am still aware and remindful of the traditions I grew up with.  Growing up we consumed our fare share of  Fried Fish from the American Legion Hall and Tuna Noodle Casserole.  Ewwwe makes my gallbladder cringe, just thinking about it.  We still take the kids and meet my Dad one Friday during Lent at the American Legion for the fish fry.  I have to admit even though I need a lipitor and my hair smells like grease when I leave it's fun going back to the old hall with its nicotine stained walls, sagging ceiling, and creaky fans in the corners; seeing all the same people that have been going there every Friday during Lent since forever.
I wish when I was growing up that Costco had exsisted with it's easy bags of perfectly portioned Salmon and Tilapia.  Might have spared me a few unwanted fat cells.  Here's a couple quick and easy ways to make scrumptious fish pockets for the Lenten Season or any day of the year.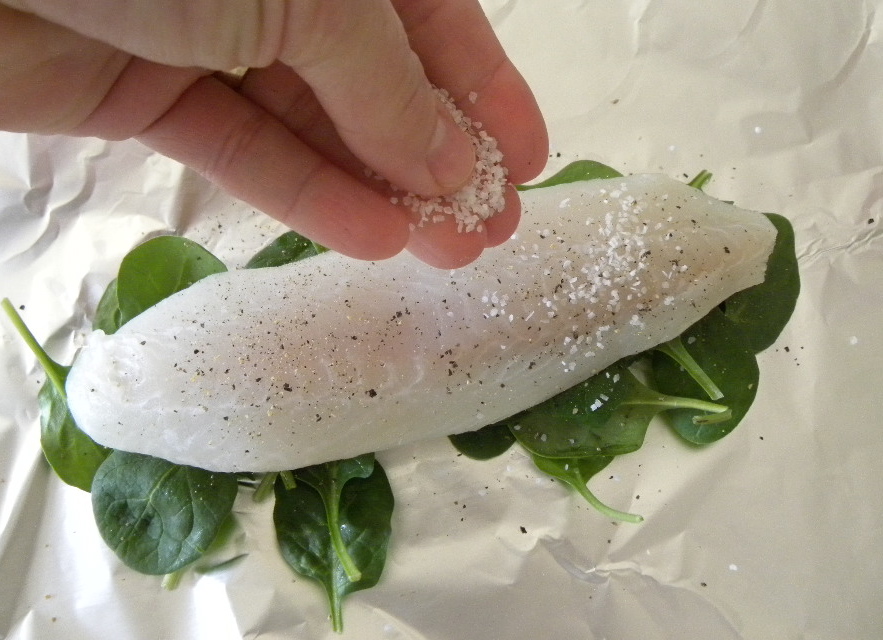 I prefer Tilapia, however Salmon will work here too.  On a square of aluminum foil place 1/2 cup Baby Spinach, lay one Tilapia filet on top of Spinach, salt and pepper .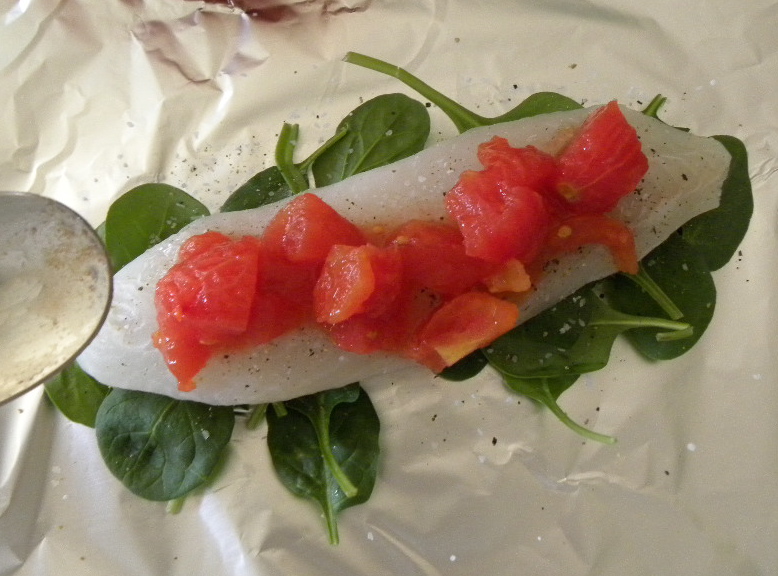 Layer 1-2 tablespoons Diced Tomatoes from a can on top of filet.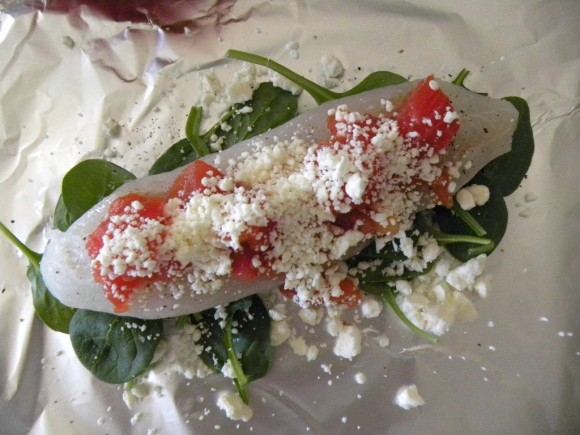 Crumble Feta Cheese over top of diced tomatoes, 1-2 tablespoons per filet.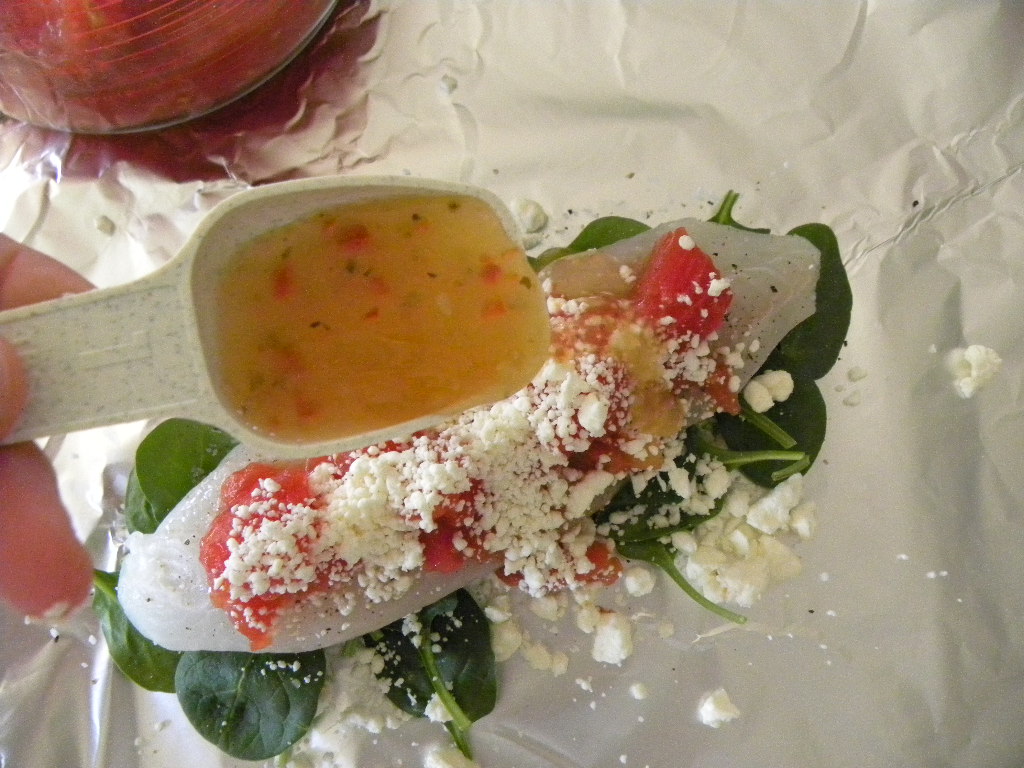 Drizzle 1 tablespoon Wishbone Italian Salad Dressing over filet.  I have also used Ranch Dressing, and if it's a non Lenten meal bacon crumbles  are fantastical sprinkled over this.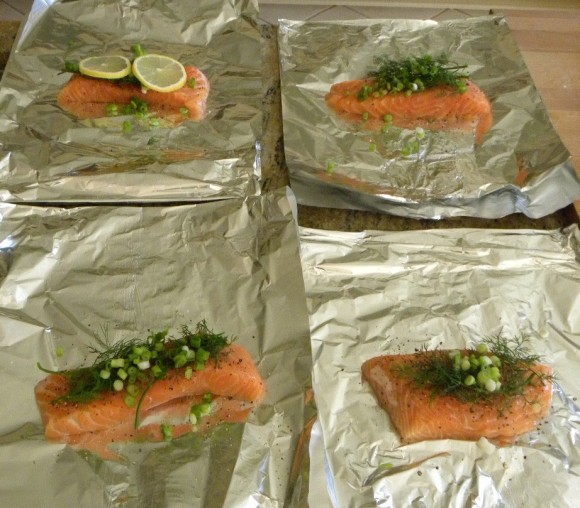 Additional ideas would be dill, lemon, green onion, salt and pepper.  Get creative!  Salsa with Peppers would be lovely.  Teriyaki or BBQ sauce drizzled over the fish filet is also a favorite around here.
What would you put in your fish pocket?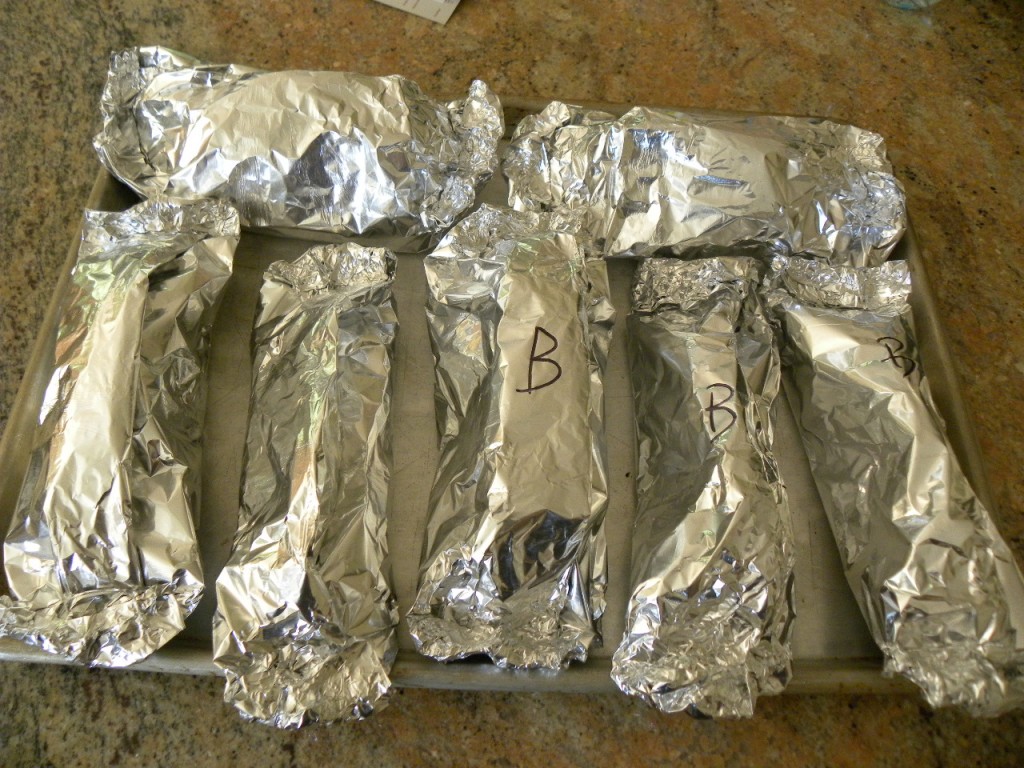 Wrap fish filets up with seam at the top and the ends tuck up toward the top to keep all the juices in.  If I am doing different flavors I mark the pockets with a marker so I can remember what's what with out opening them all.
Bake at 400 degrees, 12 minutes for Tilapia, 15 minutes for Salmon.  Remove from oven and let sit for 5 minutes before opening, this will allow the steam to continue to cook the fish and keep all the juices in.   You can also throw pockets on the grill.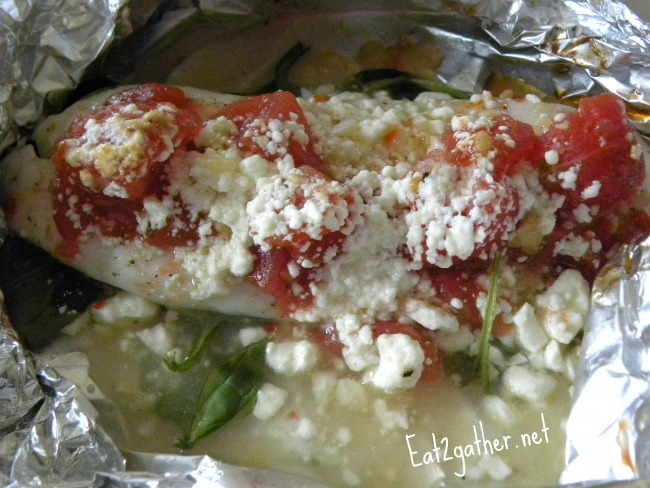 The Tomato and Feta Tilapia Pocket is my favorite.  Fresh, lite, delicous…who needs a plate you could eat it straight from the foil….or maybe you are slightly more civilized than I, in that case get a plate!
Are you ready for Meals 4 Sharing Fridays? Come back tomorrow and see what I have to share regarding bran, digestion, and muffin tops.  I am also taking a mini trip to my gal Kim's blog so take a second and pop over there tomorrow and say Boy Howdy!