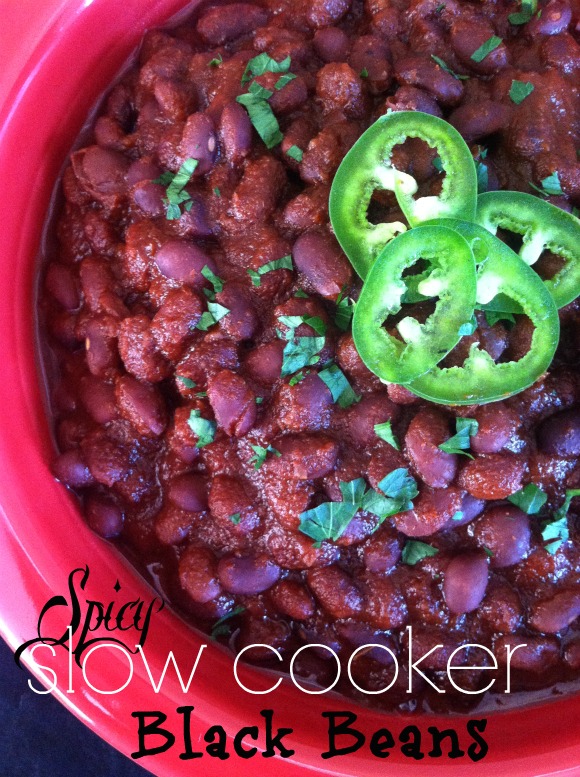 We love the Spicy Black Bean Dip from Trader Joes.  The problem is the closest TJ's is 3 hours away on a good driving day.  Hit traffic or bad weather and you're looking at 4 hours to Detroit.  I usually stock up when I go, or when friends make the pilgrimage they know to grab me some.  But frankly I'm tired of waiting.  I want my bean dip when I want it!  My friend Sara inspired me to try cooking dried beans in my slow cooker, I figured why not add a few spices and such and see if I can't figure out TJ's black bean dip.  Have you tried this dip?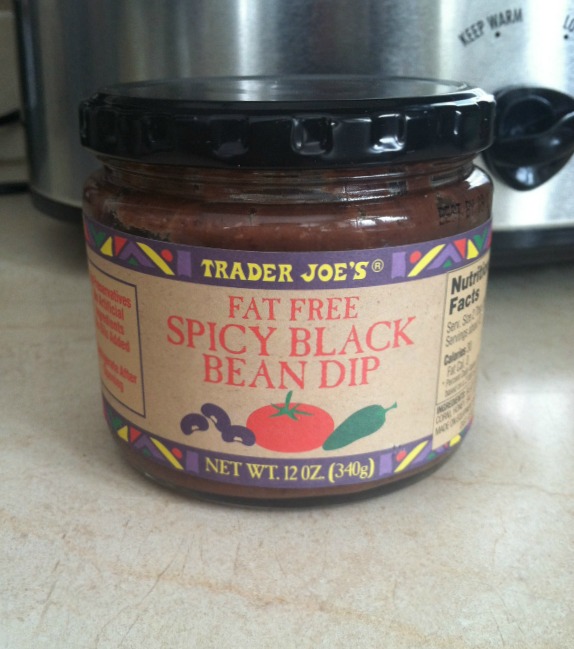 It took a few tries, but what I came up with is pretty darn close to the TJ's jarred version, maybe even better because it's more versatile. Spicy Slow Cooker Black Beans keep well for over a week stored in your refrigerator and you can use them in so many different ways!  Eat them as a side dish to any Mexican fare, or grilled meat.  Eat them as a dip.  Put them in quesadillas,  burritos, or tacos.  Use spicy slow cooker black beans as the bean layer for Mexican Layer Dip!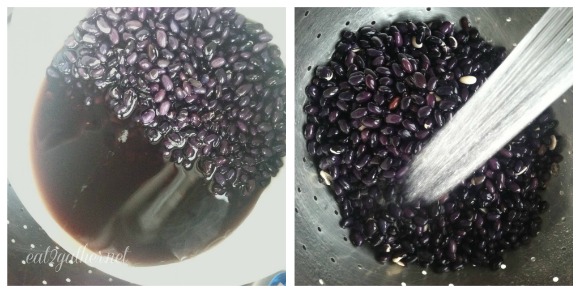 This recipe does take a little forethought, but hey good things come to those who wait,  right?!  Place 1 pound of dried black beans in a large bowl cover with water and let sit for a minimum of 2 hours, or over night is best.  Drain and rinse beans.  Place them in a 5 quart slow cooker.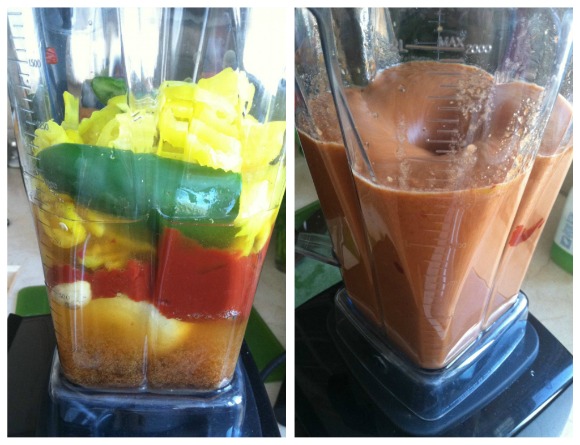 Place the follow ingredients in a food processor or a blender;  a peeled medium onion, cut into large chunks, three chipolte peppers in adobo sauce, 3 cloves garlic,  tomato paste, brown sugar,  pepperoncini plus juice, cumin, and a jalepeno pepper.  Blend this together really well like an onion smoothie.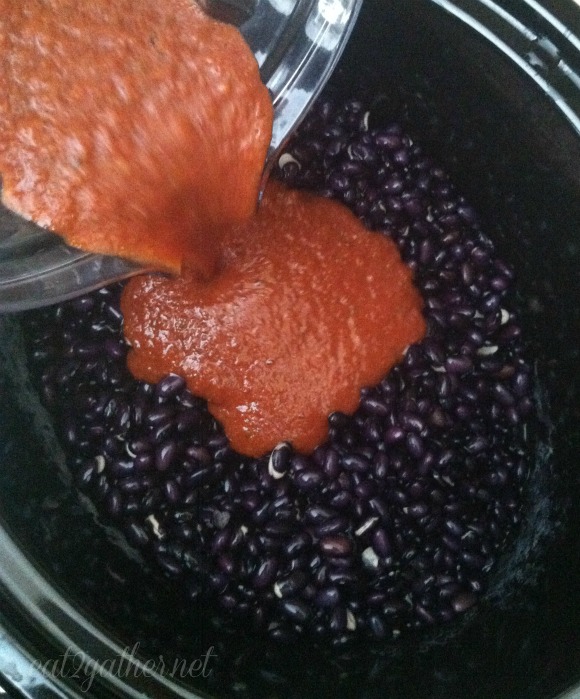 Pour the onion smoothie over the black beans in the slow cooker.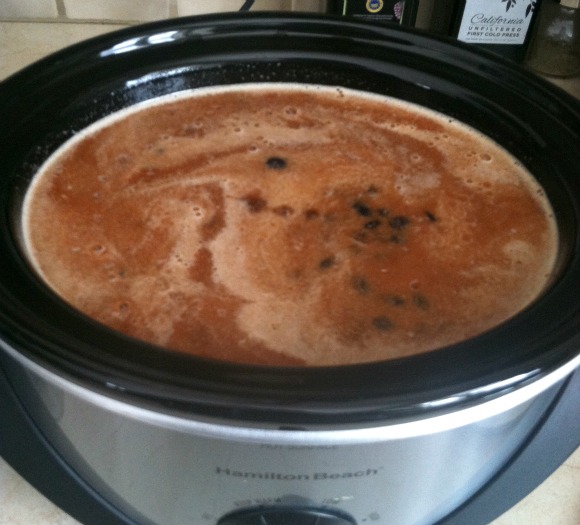 Add 2 cups of chicken broth, turn dial to high and cook for 6 hours.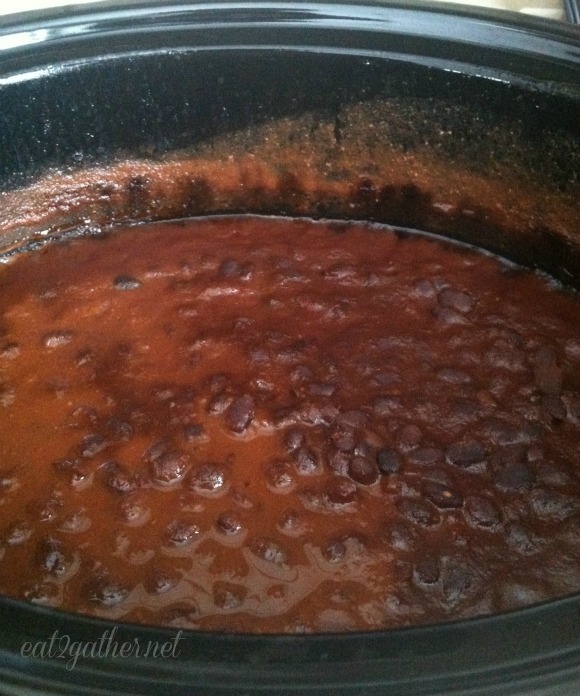 The beans will take on the liquid, and the smoky flavors of the chipotle peppers and spices.  Some slow cookers run hot, if that's the case with yours and you feel like you need to turn it down to low and let it cook longer I would say , just do it!  That's all there is too it!  If you're feeling friendly you could even put some in jars and share with  friends!  I think I would need to make a double batch in order to share, my family devoured this batch.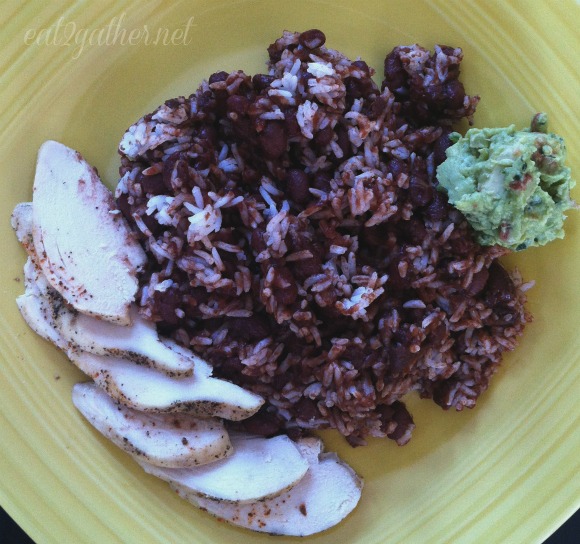 I love having these beans on hand, they are a great compliment to so many dishes.  Not to mention the fact that they are low in fat, and good for you.  Sometimes for lunch I will warm up a bowl of spicy black beans and eat them as dip with tortilla chips while I catch a few peeks of the Chew.
So here's the recipe and to follow I've shown you a couple more ways we love to eat these tasty beans!
[print_this]
Spicy Slow Cooker Black Beans
1 16 ounce bag dried Black Beans
1 medium sweet Onion, skinned and cut into chunks
3 Chipotle Peppers in adobo sauce
3 clove Garlic
1 6 ounce can Tomato Paste
1 16 ounce jar Pepperoncini's and juice
1 Jalepeno, top cut off, and seeds cut out
1/4 cup Brown Sugar
1 teaspoon ground Cumin
2  cups Chicken Broth or Vegetable Broth
juice of 1/2 Lime
salt to taste
Place beans in a large bowl cover with water, making sure water is at least an inch over the beans. Let set for a minimum of 2 hours best if over night. Rinse and place in large slow cooker, I use a 7 quart cooker for this recipe.
Add onion, garlic, tomato paste, whole jar pepperoncini with juice, jalepeno pepper, brown sugar, and cumin in a blender or food processor.  Turn on high and blend until everything is combined and it's the consistency of an onion shake! Pour over beans in crock pot, scraping sides of blender bowl with a spatula to get all the goodies out and in with the beans. Pour  broth in with the beans. Cover and cook on high setting for 6 hours.  Stir occasionally if you can.
Enjoy!
[/print_this]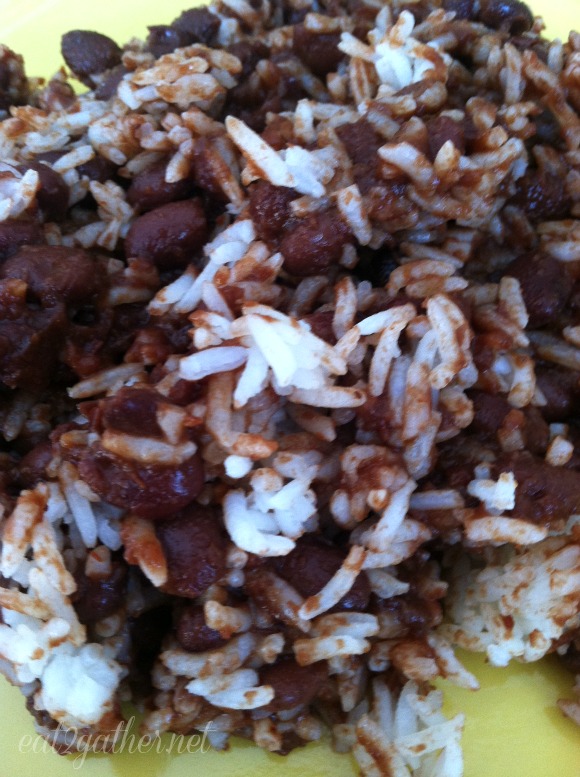 My kids are active, and I need to make sure that I have healthy options ready for them so they don't run out the door to practice with their tummies empty or full of junk.  My oldest will often mix Spicy Black Beans with rice and warm it up in the microwave for a quit pre practice snack.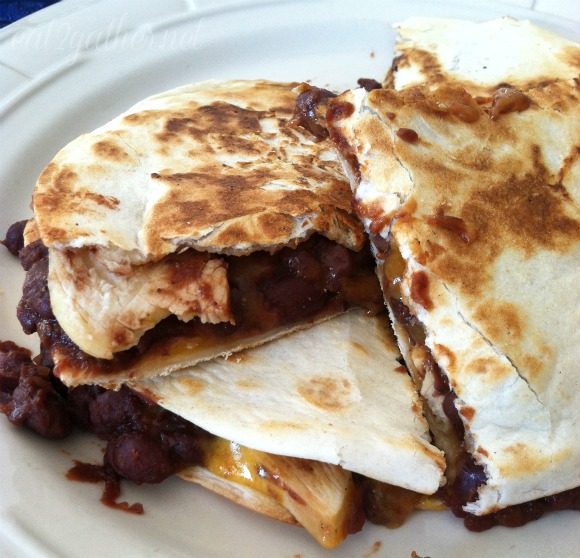 Thank the good Lord above for quesadillas!  What kids doesn't love a quesadilla and if you can fill it with flavorful ingredients what could be better?  Chicken, cheese and spicy black bean quesadilla pleases everyone in my home.  Leave out the chicken or substitute with deli ham it's still a winner every time!
Drum roll…..this is my favorite way to eat these beauties!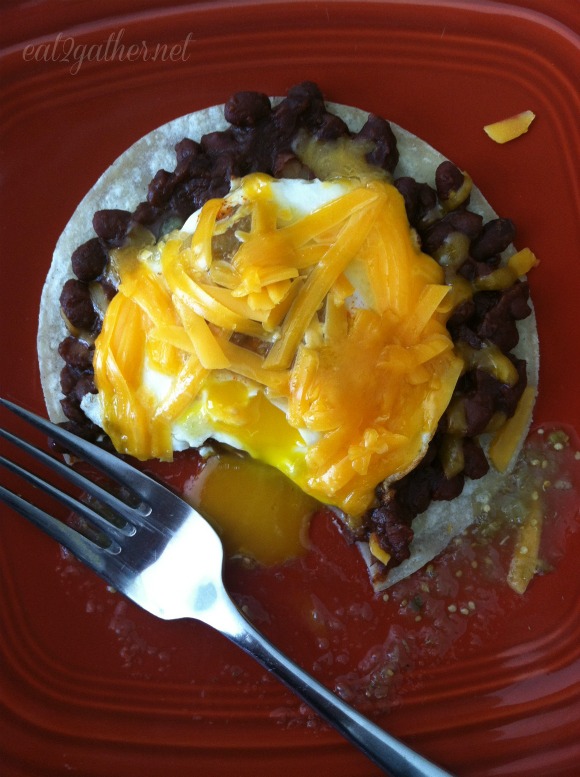 Can I get an Amen?!  Huevos Rancheros you are a friend of mine…I like to eat you with a little salt and lime!  True confessions right here.  Corn tortilla ever so slightly warmed in a frying pan, topped with spicy black beans, then an egg sunny side up, cheddar cheese, and a dollop of salsa verde.  Heaven….I'm in heaven….I could eat this every single day for lunch for the rest of my life!
and with that I say again…
Amen.
Peace out, Sheila